"I'm selling my iPhone to my friend, and he wants to know if Apple can unlock it. Right now, it's on AT&T, and he needs it on a different carrier. Will Apple do that? If so, how much will it cost?"
- Apple Support Community
Whenever you get a brand-new or a second-hand iPhone, you may think you can use it anytime you want. Right? Not exactly. Some carriers have put a "lock" on your iPhone to limit your activity to their specific network. Even if you switch to other carriers, the lock may still be there. Thus, you need to unlock your device from certain carriers. But how much does it cost to unlock an iPhone? Do you have any ideas?
If not, go over this post carefully before making any decisions.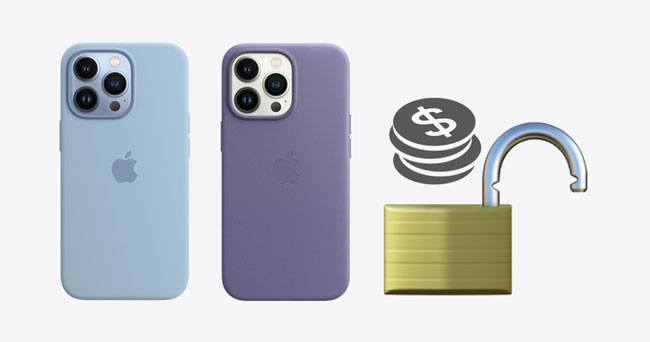 Part 1. How Does Carrier Phone Locking Work?
Part 2. How Much Is It to Unlock an iPhone by Carriers?
Part 3. How Much Is It to Get an iPhone Unlocked in a Tech Shop?
Part 4. How Do Third-party Phone Unlockers Work?
Part 5. How Much Does It Cost to Have an iPhone Unlocked via a Third-party Program?
Part 6. Things to Know Before Buying an iPhone with a Contract
Bonus: FAQs about Cost to Unlock an iPhone
Part 1. How Does Carrier Phone Locking Work?
To attract as many customers as possible, most carriers will adopt several fascinating baits to customers, including a discount on the phone price, monthly installments, purchase plans, and upgrade options. Besides, your service provider locks your iPhone only for its network to prevent you from easily switching to other carriers without its consent.
If you want to use other carriers, you have to contact your carrier's customer service or enter an unlock code instead of taking out the SIM card. Moreover, carriers will also limit the network bands, avoiding compatibility with other networks. Consequently, a wrong removal of the carrier lock will lock your SIM card and brick your phone.
A bricked phone will be on the carrier's blacklist and ban you from any service. Luckily, in 2014, enforcement of the Unlocking Consumer Choice and Wireless Competition Law forced cell phone carriers to unlock eligible phones for free. However, the eligibility standards differ among providers.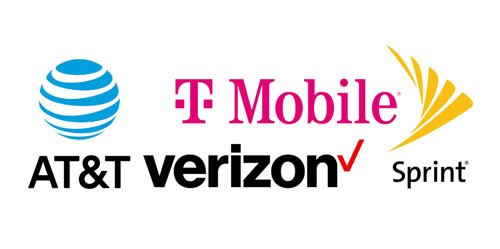 See also:
How can you easily back up iPhone data to Windows 11/10 PC? Please don't miss these 3 methods.
Congrats! You can now effortlessly bypass FRP lock on Android.
Part 2. How Much Is It to Unlock an iPhone by Carriers?
Since the Unlocking Consumer Choice and Wireless Competition Law in 2014, carriers have made unlocking phones fair. Nowadays, when you sell your iPhone online, you will find your unlocked device is worth more than that locked with a carrier. Thus, there is no universal cost to unlock an iPhone.
IMEI is the unique identification number of your iPhone, and many service providers will ask for the IMEI number to check your eligibility. You can find the IMEI number on the iPhone box or the device back. Additionally, you can also check it in the Settings app > About phone or by entering *#06# on the dial panel.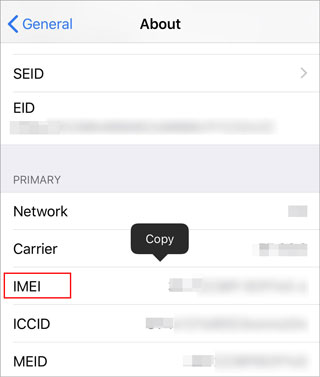 Below are the eligibility for most carriers:
Cost to Unlock an iPhone on AT&T:
Unlocking an iPhone from AT&T charges nothing, but you have to meet the following requirements:
Your iPhone isn't lost, stolen, or involved in fraud.
You have paid off all bills.
Your device isn't activated with another AT&T account.
Apart from that,
Deployed military professionals can unlock their iPhones anytime without waiting for the plan to cease but need to continue paying for the bill.
Devices with a two-year business contract will have to wait for 30 days until other earlier requested devices are unlocked.
Devices with an installation payment or term agreement must be active at least 60 days before unlocking. Also, you need to pay off the plan or finish the contract.
Cost to Unlock an iPhone on Verizon:
The newly purchased iPhone on Verizon will be automatically unlocked after 60 days of continuous usage, provided with no fraud, loss, or stolen issues. And the deployed military professionals cannot have to wait for the 60-day period to end. However, if you are in a hurry, you can call them at 800-922-0204. The request for unlocking costs nothing.
Cost to Unlock an iPhone on Sprint:
Although Sprint USB merged with T-Mobile recently, the unlocking request is free. But the older Sprint phones have to meet the following requirements:
The iPhone has been activated on Sprint for at least 40 days.
You have paid off the service, installation payments, or Lease Agreements.
Leased devices have completed the leasing payment.
The account linked to your iPhone is valid.
The device is not reported as stolen, lost, fraud, or flagged.
Besides,
The inactive devices need to contact Sprint Customer Care.
Military personnel can unlock up to two devices per phone number per year upon offering the necessary documents.
Cost to Unlock an iPhone on T-Mobile:
T-Mobile offers several ways to request an unlock, including support for certain newer Sprint phones. The eligibility requirements are as follows:
All payment plans need to be paid off.
Your iPhone is not IMEI blocked or reported stolen, lost, or fraud.
The account associated with your iPhone is in good standing.
The device has been activated on T-Mobile for at least 40 days.
The prepaid devices must have been activated for one year or above on T-Mobile. Or, each active line on your account has $100 in refills after purchase. If you want to unlock a device replacement or military personnel device, you must contact T-Mobile Customer Support.
You might need: This guide can help you transfer songs from a computer to an iPhone 11 with 5 safe and efficient methods.
Part 3. How Much Is It to Get an iPhone Unlocked in a Tech Shop?
Unlocking an iPhone in a tech shop takes more prolonged and costs higher than the carrier's method since it is difficult for a small third-party business to unlock an Apple device, and they usually have to pay more fees for the contact than what they charge you.
However, not all locked carriers are supported. Thus, communicate with them before unlocking your iPhone and ensure that they are not a temporary store if the unlocking doesn't work in a few days. Also, it would be best if you ask for warranty and refund terms.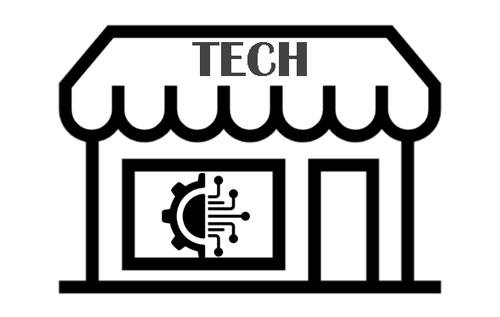 Part 4. How Do Third-party Phone Unlockers Work?
Most third-party unlocking services use the up-to-date algorithm and your phone's IMEI number to generate the unlock codes or access to unlock code database of major carriers. And it is a good choice to unlock your iPhone if you cannot meet the carrier's eligibility requirements.
However, using third-party unlocking services can be dangerous. They charge a certain amount of money and need your credit card information. What's worse, some services will lead to host or other problems if they ask you to ship your iPhone to them.
So, be a little patient to find the most worthwhile and trustworthy third-party unlocking services to get your iPhone unlocked.
Part 5. How Much Does It Cost to Have an iPhone Unlocked via a Third-party Program?
We recommend you contact your carrier to free unlock your device before using any third-party programs. However, if you need a third-party app, try Phone Unlock (iOS) to remove Apple ID, screen lock, iCloud activation lock, Apple ID, and MDM in a few clicks. We recommend it only because it is effective and smart to use. We are not a sponsor for it, nor gain any bonus.
How much does it cost to get a phone unlocked? Most third-party companies in the market charge about $30 to unlock an iPhone, saving you much money compared with purchasing a brand-new iPhone for $1,000. Specifically, Dr.Fone - Screen Unlock (iOS) charges $49.95 per year for five mobile devices and one PC.
Besides, CellUnlocker also quotes for unlocking an iPhone with different carriers:
AT&T: $90
T-Mobile: $139
Verizon: $30
Sprint: $139
Other third-party services include:
UnlockBase
MobileUnlocked
UnlockRiver
UnlockUnit
Unlock Radar
Cellphone Unlock
Below is the overview of how much to unlock a phone with third-party services:
iPhone: $20 to $80 for some carriers and $120 to $220 for premium & high guaranteed unlocks.
Samsung: Start at $3 and range between $20 to $30 for higher-end models. Models with some carriers even cost up to $80.
LG: $10 to $25.
Sony: $15 to $35.
Google Pixel: $28 to $50. Models from some carriers even charge $80 to $90.
Huawei: $30 to $80.
OnePlus: $60 to $80.
Nokia: Start at $13.
Generally, the cost to unlock a phone locked by AT&T is lower than the other three big carriers. Also, prices vary with international unlocks, like in the Philippines, India, or Japan. You may have to check the services guaranteed for the device unlock in such regions.
Further reading:
How to Remove Activation Lock without Previous Owner?
How to Bypass LG Lock Screen without Reset? (Solved)
Part 6. Things to Know Before Buying an iPhone with a Contract
Before purchasing an iPhone, you should consider the following things.
Check the available offers of a special model across Verizon, T-Mobile, and AT&T.
Check the unlock price for the desired iPhone and buy an unlocked iPhone better.
If you want to buy an iPhone with a contract, study the percentage of contracted iPhone buyers between 2016 and 2018.
Know the prepaid iPhone rules if you want to buy a prepaid iPhone from one carrier.
Think twice before signing a long-term phone contract and a discounted iPhone with a carrier.
Bonus: FAQs about Cost to Unlock an iPhone
You may also want to figure out the following things.
1. Is unlocking a newer model higher than an older one?
Absolutely. For an Android device, the price gap is small (for example, $10 to $20). But for iPhone, the price may get doubled.
2. Does my carrier play a role in the cost to unlock my iPhone?
Yes. For example, an AT&T iPhone 6 costs between $20 and $30, but a T-Mobile iPhone 6 will cost more than $200. All in all, not only carrier, the iPhone model, and your iPhone's blacklist/financial status will also affect the unlocking cost.
3. What is the cost of unlocking an iPhone with unpaid contract bills?
An iPhone with unpaid contract bills needs a premium IMEI service, and it's hard to estimate the price without knowing the iPhone model and carrier. Nevertheless, the final unlocking price may be twice that of a normal IMEI unlock service.
For example, a clean AT&T iPhone 8 will cost only $20 to get unlocked, but the premium IMEI service of the AT&T iPhone 8 will cost over $220.
4. What is the cost to unlock a blacklisted iPhone?
It's hard to say whether you can unlock a blacklisted iPhone or not. You can check out the iPhone IMEI Unblacklist Eligibility to see whether you can unlock your blacklisted iPhone. You will also find out what carrier blacklisted your iPhone and why it did this.
Get an available premium IMEI unlocking service and follow its suggestions if you can unlock it.
You may also like: Unlock AT&T iPhone? One Passage to Answer Your Questions!
Final Words
That's "how much does it cost to unlock an iPhone". As you can see, carriers offer you the best way to unlock a clean iPhone. Thus, we suggest you try contacting your carrier first before unlocking your iPhone.
However, suppose your iPhone is not eligible to be unlocked by your carrier. In that case, you can choose a reliable third-party unlock service to get it unlocked, for instance, Phone Unlock (iOS). Although most third-party unlockers charge higher, they make you find hope in despair. I don't recommend you take your locked iPhone to the small tech shop. If you have to do this, check their qualification and communicate with them before paying a visit.
Finally, we hope it is helpful to you. If you have something to tell us, please leave a comment below.
Related Articles:
8 Top-ranking iPhone Unlock Software to Unlock Your iPhone without Passcode
How to Unlock iPhone for Free in Effective Ways? (Proven)
How to Unlock Android Phone without Code? SOLVED!
How to Unlock a Stolen iPhone without Passcode in 3 Ways?
How to Unlock iPhone with Unresponsive Screen? (Full Guide)