"Hi there, guys. Is it possible to skip the SIM NOT SUPPORTED screen on iPhone 4? The phone is not iCloud locked, but it just needs SIM activation. I have tried the sliver 5.5 iPhone bypass method, but it didn't work. The phone returns to the Hello screen after Apple Tech 752 Silver 5.5 bypass procedure. Any help will be appreciated."
- Posted by Brendon TM in Reddit
According to some iPhone users, the SIM card unsupported issue happens now and then. Suppose that is the case for you. So how do you bypass iPhone SIM not supported screen? Don't panic! Among the eleven methods listed in this article, you will always find the simplest and most practical way.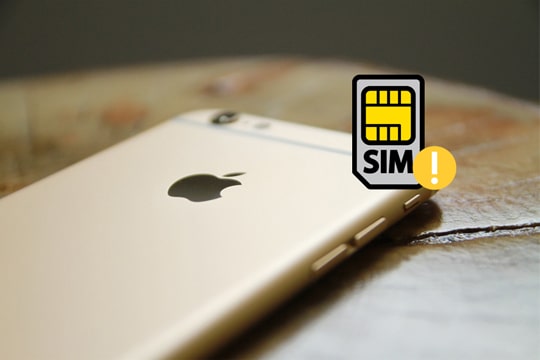 Part 1. Why Is SIM Card Not Supported on iPhone Occasionally?
Part 2. How to Make the iPhone SIM Card Not Supported Bypass?
Part 1. Why Is SIM Card Not Supported on iPhone Occasionally?
Several factors may account for the case "SIM card not supported on iPhone 11 Pro Max". Let's have a look.
The SIM tray is loose or broken.
You don't close the SIM tray completely.
The SIM plan with your mobile carrier is invalid.
The iPhone gets a SIM tray from a different phone.
The iPhone SIM gets locked.
The iOS version or carrier settings on iPhone need upgrading.
Part 2. How to Make the iPhone SIM Card Not Supported Bypass?
Carefully read the following instructions to find out how to get past the SIM card not supported problem.
Method 1. Ensure that the SIM card is active and works
The first thing you can do to unlock iPhone SIM not supported issue is to check whether the SIM card is active and enabled all the services. If you insert a deactivated SIM card into your iPhone's SIM tray, it will certainly not supported by your iPhone.
So, you can replace the SIM card with a new one from your carrier if it is active; Or, you will need to activate the SIM card plan before using it.
Method 2. Check if your iPhone is unlocked
Some carriers sell locked iPhones which can only use the network from the purchased carrier. For example, your iPhone bought from Sprint won't work with T-Mobile's network because Sprint has locked your iPhone with its network. In this case, you need to contact your carrier to unlock the carrier-locked iPhone.
After that, they should tell you how to fix the SIM card not supported on iPhone and allow you to use the network from other carriers. However, if it doesn't work for your iPhone, please turn to the third-party SIM card repair tool we will introduce in Method 11.
Method 3. Force restart your iPhone
You can also restart your iPhone to fix the glitches that have caused the iPhone SIM card not supported problem. Please refer to the following steps to force reset the different iPhone models.
For iPhone 8/SE (2nd generation) and later versions:
Quickly press and release the Volume Up button followed by the Volume Down button. Next, press and hold the Side button until the Apple logo shows up on the screen. Now, you can release all buttons.
For iPhone 7 Plus/7:
Press and hold the Volume Down + Side buttons simultaneously until the Apple logo appears on the screen. Next, release all buttons.
For iPhone 6S/SE (1st generation):
Press and hold the Side + Home buttons for more than 10 seconds. When the Apple logo displays, release all buttons.
See also:
How to Factory Reset iPhone without iTunes? (Accessible & Disabled iPhone)
4 Ways to Help You Get Into Your iPhone 12 without the Passcode
Method 4. Update the iPhone operating system
The outdated iOS version on your iPhone will give rise to many system issues, one of which is iPhone unlocked but SIM not supported. To solve this issue, you can open the Settings app, find and tap General followed by Software Update, and hit the Download and Install button if there is an available iOS update.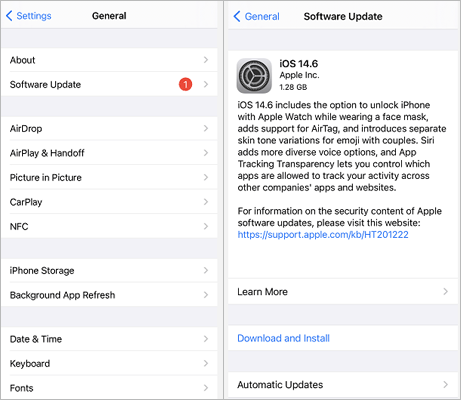 Method 5. Make emergency calls to bypass SIM card not supported on iPhone
It may sound amusing, but it does bypass the SIM card not supported on iPhone.
First, return your iPhone to the activation screen.
Second, tap the Home button and select the Emergency call option from the pop-up window.
Third, dial the number 911 or 112 and disconnect the call once connected.
Forth, press the Home button.
If it is successful, you will have already make the iPhone SIM not supported bypass.
Bonus:
Why does App Store keep asking for password on an iPhone? Let's solve it without delay.
You can unlock an iPhone passcode without a computer. This is the guide.
Method 6. Reinsert the SIM card and try again
The easiest way to bypass the iPhone SIM activation problem is to eject the SIM card from your iPhone and insert it into your iPhone again. Before doing this, power off your iPhone and check if the SIM card is stained or broken. If not, you can try the trick.
Note that this way may not always work well.
You might like: How can you change your iPhone location without jailbreak? If needed, click this link to take a look.
Method 7. Switch off the Airplane mode
Switching off the Airplane mode will stop you from using any network consumption feature and making a phone call. If it reminds you the iPhone SIM is not supported, you can check if you have turned off the Airplane mode. To do this, swipe down the drop-down screen from the home screen and toggle the Airplane icon off if it is on.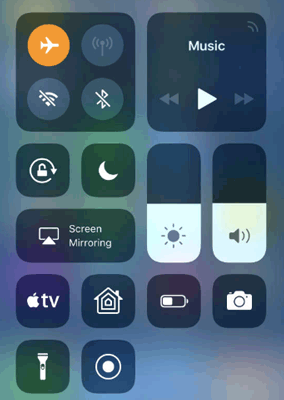 Method 8. Reset iPhone's network settings
Please take down the Wi-Fi and VPN password before proceeding since it will restore all the Wi-Fi, cellular, Bluetooth, and VPN settings to the default factory settings. If you are ready, start with these steps:
Open iPhone's Settings > choose General > click Reset > tap the Reset Network Settings option > enter the passcode to confirm the operation.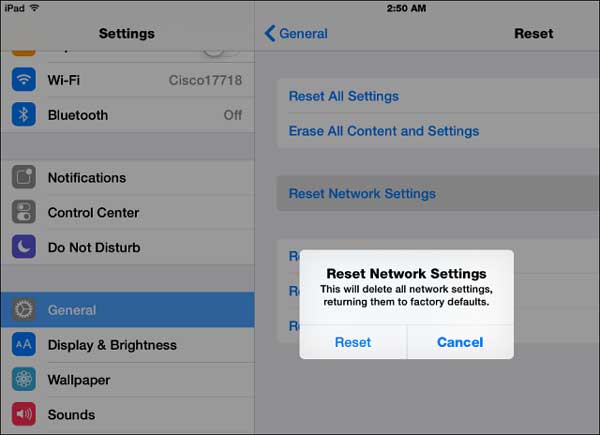 Method 9. Bypass iPhone SIM activation issue with iTunes
You can also make use of iTunes to set up your iPhone as a new iPhone. In that way, it may work for iPhone SIM not supported bypass.
How to bypass SIM not valid on iPhone via iTunes?
1. Connect your iPhone to the computer using a USB cable and open the latest version of iTunes if it does not launch automatically.
2. Select the Set Up as New iPhone option, tap Continue and follow the on-screen prompts to complete the setup. Once done, it will activate your iPhone and fix the SIM card not supported issue.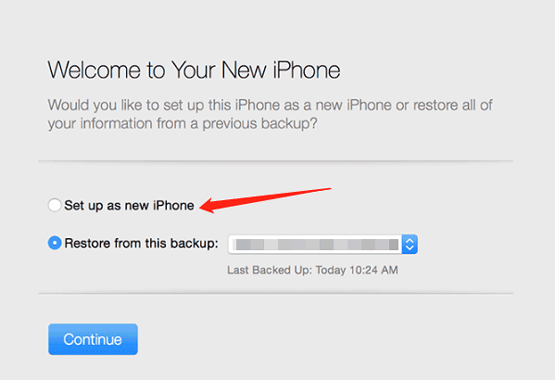 Method 10. Contact Apple Support or your carrier
You can also give the Apple Support Team or your carrier a call and request the iPhone SIM not supported bypass. Nevertheless, this service requires more than you think:
If you contract a monthly payment, like paying $40/month for two years, your carrier may refuse your request.
If you fall behind with the phone payments, they will also deny your request.
As most carriers will charge you a little bit, you'd better make sure that you have more payment next month.
Method 11. Unlock iPhone SIM not supported problem via iPhone System Recovery
If all the above methods don't work for your case, you still get the ultimate way - iPhone System Recovery. With the professional iOS system repair software, you can fix more than 32 kinds of device, screen, iOS mode, and iTunes issues on an iPhone/iPad/iPod without data loss or change.
Below are the key features of iPhone System Recovery:
* Bypass iPhone SIM activation issue with no data loss.
* Support various other iOS system issues: iPhone stuck at Apple logo/DFU mode, black/red/white/blue screen of death, frozen/irresponsive/locked screen, iPhone activation problem, battery drain, iTunes error 4005, iPhone can't restore issue, etc.
* Easiest & safest to use, and highest success rate.
* Guide you with clear on-screen instructions.
* Offer Standard and Advanced mode for different scenarios.
* Widely compatible with iPhone running iOS 16 and earlier versions, such as iPhone 14/13/12 Pro Max/12 Pro/12/12 mini/SE/11 Pro Max/11 Pro/11/XS Max/XS/XR/X/8/8 Plus/7 Plus/7/6S Plus/6S/6 Plus/6/5S/5C/5/4S/4, etc.
How to activate iPhone SIM not supported issue without data loss? You can check the following guide.
1. Connect your iPhone to the computer.
After installing the program, run it on your PC and plug your iPhone into the computer via a USB cable. Afterward, click the More tools section > iOS System Recovery to continue.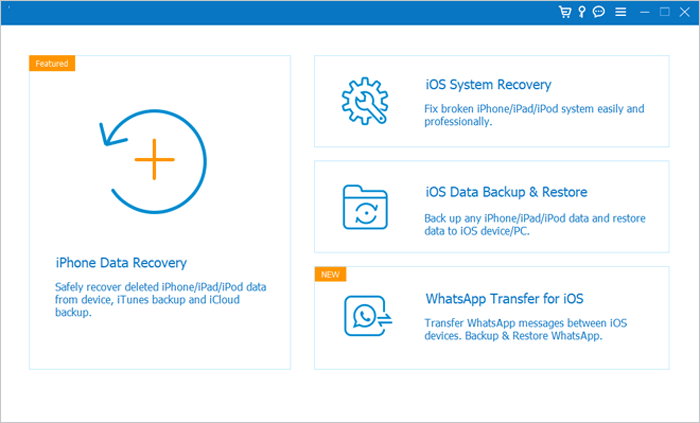 2. Confirm the device information.
The program will detect your iPhone automatically and display the iPhone problem on the interface. Then, tap the Start button and confirm the device information. If necessary, you can choose the right information from the list next to each attribute.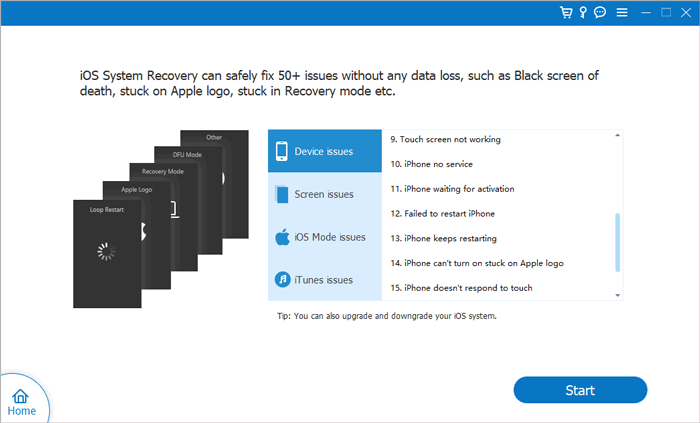 3. Complete the iPhone SIM not supported bypass.
After confirmation, click the Repair button to start bypassing the iPhone SIM not supported issue.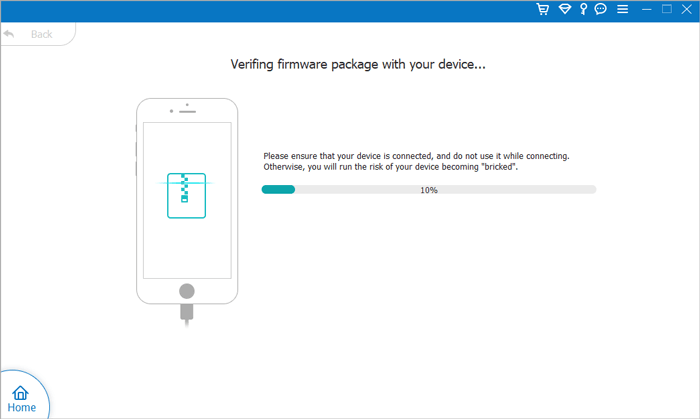 Further reading:
Top 11 iCloud Bypass Tools: Remove Your iCloud Activation Lock
How to Remove iCloud Activation Lock without Password in 2023? (5 Amazing Ways)
Words in the End
Have you found the best way for your iPhone SIM not supported bypass among the top 11 tricks? In my opinion, if you don't want to try all the methods one by one, you can directly jump to Method 11 and follow our instructions to fix the problem automatically with iPhone System Recovery. It is the simplest solution, causes no data loss, and has the highest success rate compared with other ways.
Besides, we will also reach out to you with technical support when you get into trouble. Hence, come on and give it a try?
Related Articles:
How to Unlock a Disabled iPhone without iTunes? 4 Easy Ways You May Not Know
iPhone Won't Slide to Unlock? Here are the Fixes
[Simple Guide] How to Delete Apple ID without Password on iPhone?
Apple iPhone Black Screen of Death? Here Are the Best Solutions
How to Fix the Safari Not Loading Websites in iOS 16 Issue?
How to Remove Forgot iPhone Passcode without Restore? (3 Simple Ways)