If you are an iOS user, you've at least received a "locked SIM card" message at some point in time. It can happen any time; maybe you forgot the SIM PIN and have tried entering the incorrect PIN too many times. Or, you tried switching carriers. Even a mere restart of your iPhone can lock your SIM card. You can't make calls or even send a text message when that happens. How frustrating. But that doesn't mean there's no way out.
If you are in a "SIM card locked" situation, there is no need to worry. Just follow this guide keenly to know how to unlock SIM on iPhone.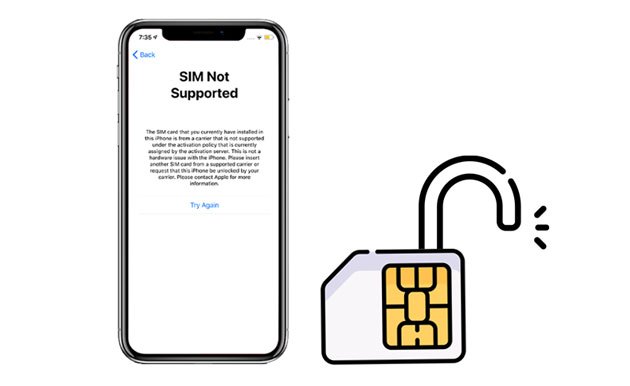 Part 1: Why iPhone Keeps Saying SIM Card Locked
An iPhone may say the SIM card is locked since the SIM card has a SIM PIN that's used to protect your account. After enabling the SIM card lock, your iPhone may bring this message often when you try to switch carriers or remove the SIM card.
You may encounter that you change to another SIM card or use a second-hand mobile phone. Fortunately, you can remove these restrictions and use any carrier. Keep reading to know how to do that.
Part 2: How to Unlock SIM Card on iPhone
Unlocking a SIM card is fairly easy. There are quite a number of ways to unlock a SIM card on an iPhone, but the below-mentioned ways are the best ones you can count on.
Way 1. How to Unlock SIM Card on iPhone via iOS Unlock (Effectively)
Once you unlock a SIM card on your iPhone, you'll be able to use it on any carrier. And it's not a must you use the carrier to unlock the SIM card. If you get the powerful toolkit, nothing will hinder you from unlocking the SIM card on your iPhone. iOS SIM Unlock is the software that can make your SIM card unlocking process easier. It is designed for all types of screen locks and SIM PINs efficiently.
This software will help you remove any carrier restrictions set for your iPhone. Besides, it is compatible with most iOS versions. This excellent tool is designed to give you the freedom to use your iPhone on any carrier. Furthermore, it will not erase your data from the iPhone.
How the iOS Unlock software helps:
* Unlock the SIM card on your iPhone without jailbreak.
* Support all carriers, like Verizon, T-Mobile, and more.
* Help you switch to different carriers and choose another plan easily.
* Remove screen passcodes on iOS devices.
* Bypass the iCloud lock on your iPhone or iPad without effort.
* Novice people can use it easily since no technical skills are needed.
Download this iOS SIM unlocking software.
How to unlock SIM on iPhone 6 with iOS unlock:
01Launch the iOS Unlock Software
Install the program on the computer and tap on the Screen Unlock > Remove SIM Locked module from the list. After that, click the Start button to begin the authorization process. Ensure the iPhone is connected to the PC with a USB cable, and hit the Confirmed icon.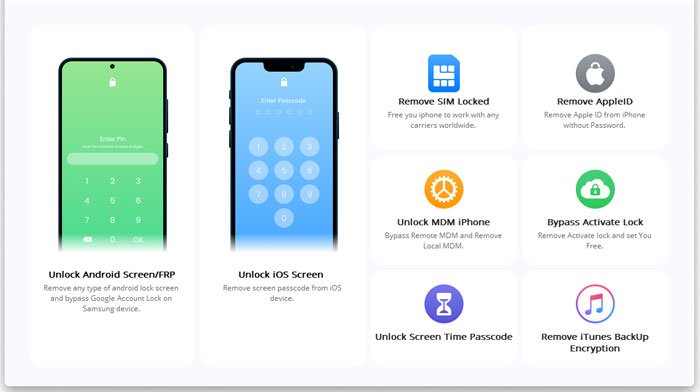 02Install the Configuration Profile
You'll get the configuration profile on your iPhone. Follow the instructions for unlocking the screen and choose Next.
Go to Settings after closing the pop-up window. Proceed to the Profile Downloaded option, click Install, then enter the screen passcode. Choose Install from the top right part of the screen and tap the same button at the bottom.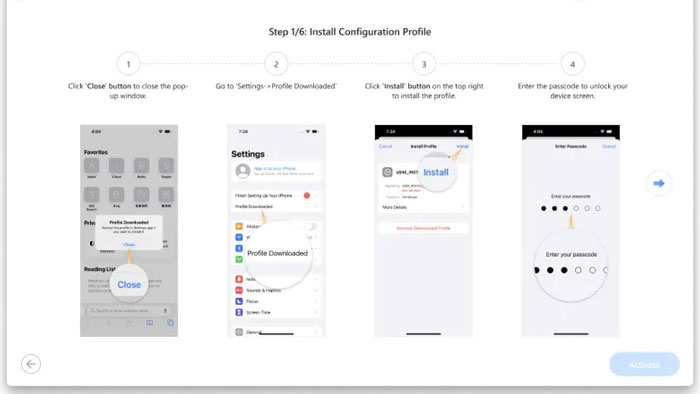 Once done, proceed to Settings and General. Select About and tap Certificate Trust Settings. Switch on the SIMHUB and click Continue to trust the certificate.
Go to the Settings app and look for Wi-Fi, and select the exclamation mark with blue color on the current network. Then tap on the Configure Proxy icon and select the Manual option.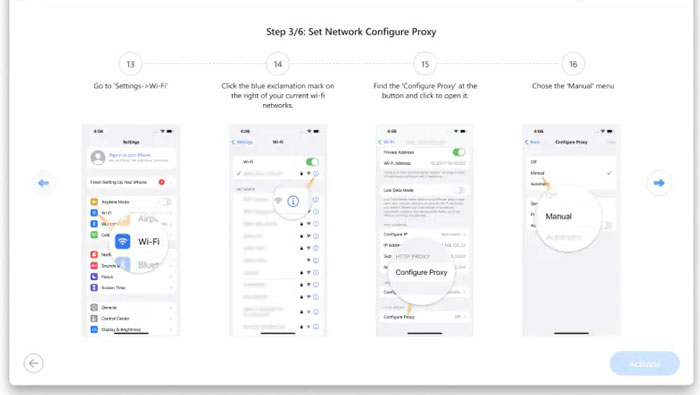 Feed in the code provided and click Save. From there, proceed to Settings > Cellular and select Add Cellular Plan. Click the Activate option to proceed.
03Unlock SIM on iPhone
A QR code will appear on the screen to ensure you scan it. Once done, tap on the blue text just below the QR code, and select Enter Details the Manual Way to enter the SM-DP+Address and Activation Code.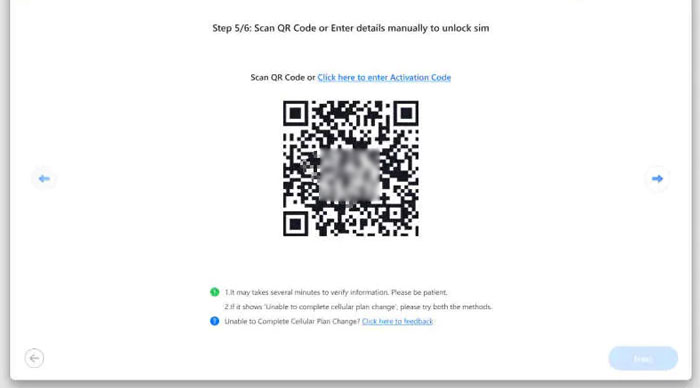 Choose the Add Cellular Plan option, wait for the process to finish, and tap Dismiss. Follow the instructions. After activating your device, go to Settings > General, and lastly, hit About and find Carrier Lock.
When you see SIM locked message, restart the device. And when it shows No SIM restrictions, open the Settings app and open the Cellular menu. Close the Turn on This Line option. Once done, you can now use any SIM card.
Read more:
Successfully Bypass iPhone SIM Not Supported Issue (Top 11 Methods)
How to Check if iPhone Is Unlocked without SIM Card [Proven Guide]
Way 2.How to Unlock SIM Card on iPhone Using Phone App
If you have set your SIM card to get locked on a PIN, then you can use the same PIN to unlock the SIM card. However, if you've forgotten the PIN, you will have to look for your carrier and contact them to unlock your SIM card using a PUK code or a default SIM PIN.
Remember, too many attempts can lead to a permanent lock of your SIM card. It's therefore advisable not to guess the PIN. Follow the below steps to unlock the SIM card using the Phone app:
Step 1: Find the Phone app on the iPhone and open it. Go to the Contacts page.
Step 2: Make a call to any random contact. Immediately after you do that, a dialog will show with the Unlock button. Tap on it to continue.
Step 3: Enter the SIM PIN, then tap on the green icon to unlock the SIM card.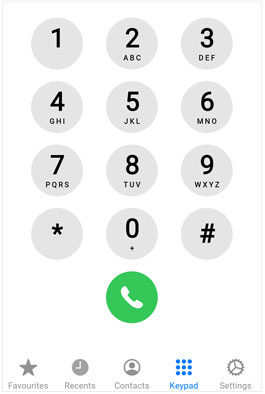 Guess you like: Would you like to remove the activation lock on an iPod touch? Here are 4 solutions for your reference.
Way 3. How to Unlock SIM Card on iPhone With the Settings App
It's also possible to unlock a SIM card by disabling SIM PIN. In that process, you may be asked to enter your SIM PIN. If you don't remember, don't guess. But, if you want to try, enter the PIN from the service document, which is a default PIN. But if you still don't find the option in Settings, try this.
Step 1: Go to the Settings application on your iPhone.
Step 2: Click on the Phone option from the list and click SIM PIN.
Step 3: Turn off the option for SIM PIN.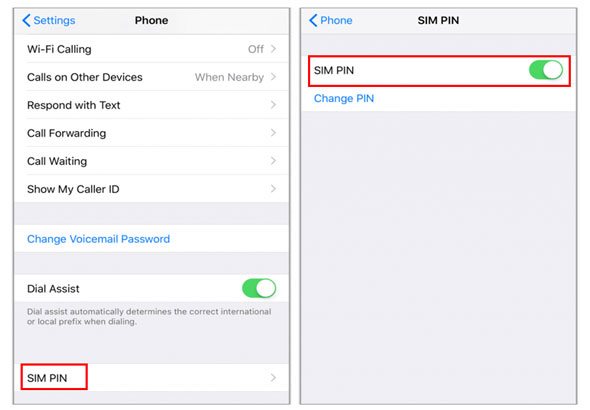 Conclusion
As you can see from the above methods, it's not hard to unlock a SIM card on your iPhone. All you need is a dependable tool like iOS Unlock. With it, you can remove the SIM lock on your iPhone with a high success rate. Anyway, if you have followed this guide keenly, there should be no problem in unlocking a SIM card on your iPhone.
Related Articles:
I Found an iPhone and How Do I Unlock It? (Effective Solutions)
8 Top-ranking iPhone Unlock Software to Unlock Your iPhone without Passcode
How to Unlock iPhone without Passcode? (iOS 16 Supported)
How to Bypass Apple ID on iPhone/iPad in 5 Ways? [Updated and Proven]
Complete Guide on How to Transfer PDF to iPhone
How to Deftly Control iPhone from PC with/without USB Cable?