Adding sound to a video is one of the best ways to attract people to your content, regardless of your goal. However, lately, TikTok has stopped the feature of uploading your own sound because of copyright issues. But you can still do that. Here are several methods on how to add your own sound to TikTok. So, get ready to let your creativity shine!

FAQs About TikTok Sound
When scrolling through TikTok, it does not take long to come across videos with thousands of views and likes. The creator has done videography at its best, perfectly adjusted lightning, and the beat of sound syncs with every scene perfectly. A video that piques users' interest may look easy to craft, but the reality is that you may find it challenging to create yours, especially when adding some sounds. Here're some of the frequently asked questions about it. Check them out:
Q1. What's a TikTok sound?
The cornerstone of TikTok is sound; it gives videos originality and flavor. Sound is one of the strategies to expand your TikTok account.
It is always important to ensure a good strategy before starting your branding on the TikTok application. If you include popular sounds in your TikTok videos, they will become famous and appear on the For You page. Believe it or not, a viral video will assist you in gaining many new followers.
Major brands are considering using TikTok to their maximum advantage as its popularity keeps expanding. With this workaround in the TikTok app, you may make your own sounds for videos you created on TikTok.
Q2. What makes TikTok sounds so important?
Like videos, sounds are also very important to succeed on TikTok. One major part of the sound experience in this platform is because there are trends and challenges on TikTok revolving around lip-syncing, dances, and ideals focused on music.
From studies, customers take sound as an important aspect of the TikTok experience. Moreover, most people prefer to watch videos that contain audio. TikTok sounds may help people reach their target audience, and you can easily add a sound to your videos to ensure your customers find you when they tap on your music playing on the video. For You page will show customers the content with the same sound they have listened to previously.
Method 1. How to Make Your Own Sound on TikTok with Music Professionally
Video Converter Ultimate stands out as one of the best video editors for computers. It is designed for novice users who don't want complex video editor tools. It is very easy to use, and you only have to tap a few clicks to get that perfect video you want. The app also offers powerful video editing features to help you create stunning videos. These features range from applying awesome filters to adjusting basic effects and more, which will satisfy your editing prerequisites. So, if you want to add a sound to your video, this is the tool.
In addition, Video Converter Ultimate edits the video effects, edits ID3, and makes GIFs with ease. This software allows you to add your sound files to your videos without effort. Its advanced features that are easy to use makes the whole process as easy as pie. You will achieve your goal. Besides editing videos, it allows compressing videos or audio in thousands of formats on Mac or Windows computers.
With that said, here are the top features of Video Converter Ultimate:
Easily add sounds to videos on a computer.
Multiple editing features.
Adjust basic effects.
Compress videos and audio in multiple formats.
Compatible with Windows PC and Mac computers.
Here are steps on how to put video sound over TikTok sound using Video Converter Ultimate:
Stage 1. Record your sounds
01Download Video Converter Ultimate on the Computer. Launch it and select Toolbox to select the Video/Audio Recorder option at the bottom of the list.
02Start by clicking the Audio Recorder option to reach the audio recording screen. Then select the recording audio using System Sound or Microphone Voice. Checkmark the Microphone noise cancellation option and Microphone enhancement when recording sound from the microphone.

Note: If you want to capture only your voice, enable the Microphone function and turn off the System Sound. To capture sound from your PC and your voice, turn both options on.
03Choose Change Microphone Source to change the source of the sound. Adjust volume to a proper value.

04After the voice recording is finished, tap the Stop icon to get to the Preview window. Tap Save to save your sound recording.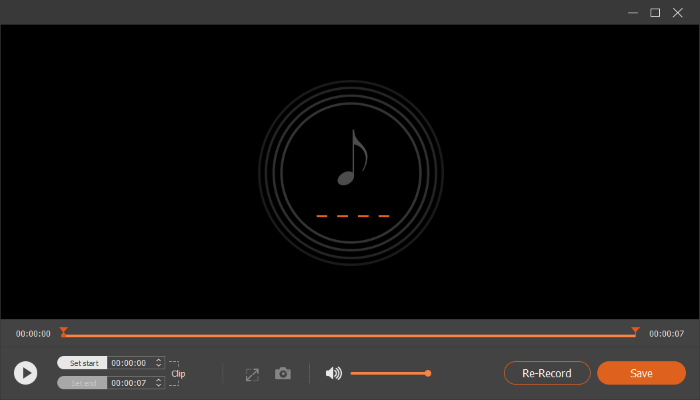 Stage 2. Add your sound to the video
01Click Edit > Audio > Add Audio, then select the audio file you recorded.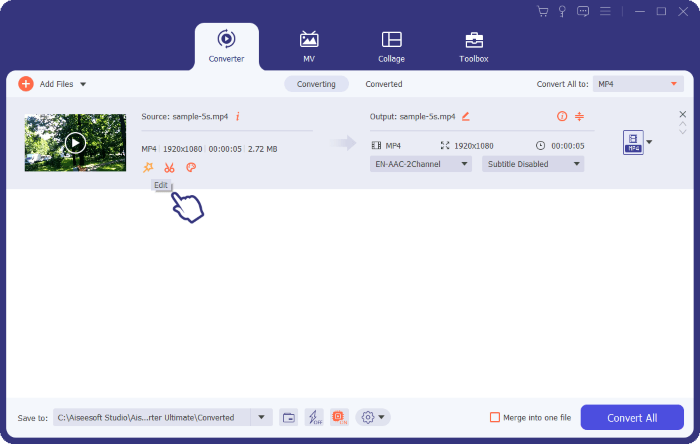 02Tap OK > Convert All to save your video file.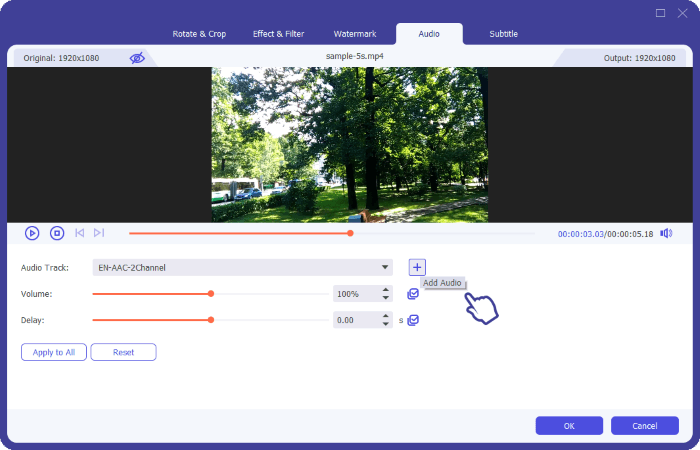 Method 2. How to Add Your Own Music to TikTok with a Voiceover Feature
TikTok application has an in-built Voiceover feature that allows you to talk over the sound whether you are shooting a video on TikTok directly via the application or just uploading a video from a device.
Follow the below steps on how to put your own sound on TikTok:
Step 1: Open the TikTok application on your device and click on the + sign button at the bottom. Start recording your video from the application by choosing the Record icon, or upload the video from the device by choosing the Upload icon and selecting the videos.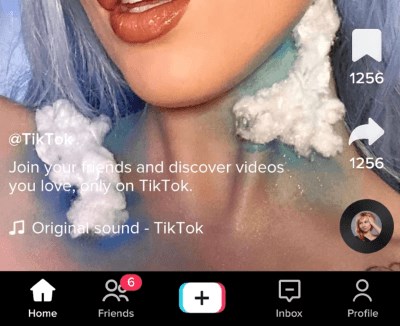 Step 2: After recording your videos or choosing them from your device, select Next.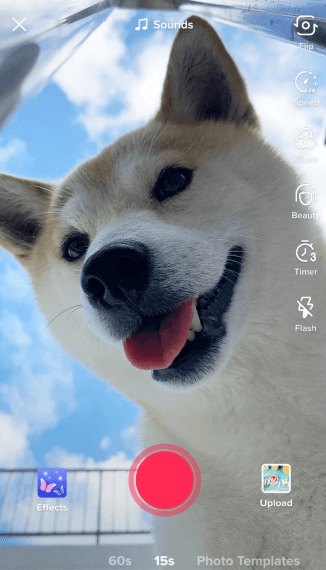 Step 3: Choose the Voiceover option at the top right section of your screen. Get the audio ready, then click or hold the Record icon to begin recording audio over the videos. Select/clear the Keep Original Sound checkbox at the bottom.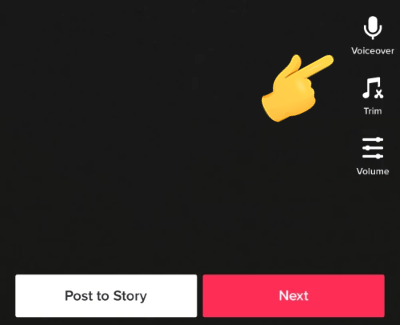 Step 4: Hit Save at the top right corner and add extra effects. You may also adjust the volumes of your videos by clicking on the Sounds button and Volume.
More guides:
[2023] How to Recover Deleted TikTok Videos on iPhone/Android/PC?
How to Change TikTok Region Safely and Quickly? [New Guide]
Method 3. How to Upload Your Own Audio to Tik Tok with Kapwing
You can also add sound to TikTok online without installing any app on the PC. Kapwing is a better online tool for the job. It is a free online tool for editing videos; you only have to create an account. With the Kapwing tool, you can create images, GIFs, and videos. It offers several editing features you can use to edit your videos perfectly. Besides, it supports importing many file formats while editing your videos and saving them to share on social media platforms.
Here are steps on how to add original sound on TikTok with Kapwing:
Step 1: Locate the video and sound you will use, then drag & drop it into the tool. Also, you can copy the video/sound as a link into the tool.
Step 2: From there, use tools like adding text, images, effects, etc, to edit the video and your sound.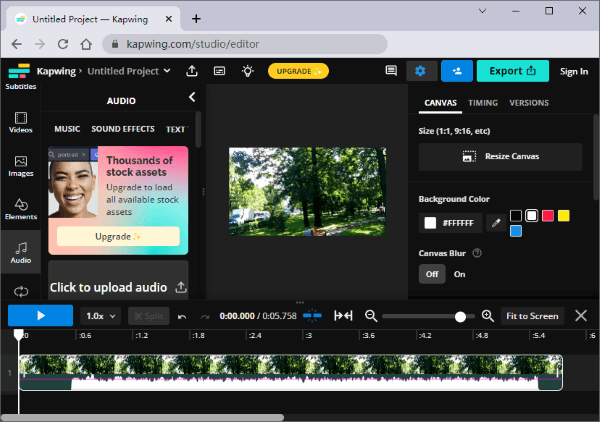 Step 3. After editing, tap the Publish icon to export the video and sound. Wait some time and select the Download tab to save them to your device. You can now share the video with sound to TikTok.
Method 4. How to Make a Song a Sound on TikTok with Quik App
Quik app is a great video editor that lets you add sound from your library to the videos. It is quite simple and can be used on Android and iOS platforms. It automatically finds the best video footage clips and keeps only what is needed.
Here is how to make your own sound on TikTok with music:
Step 1: Open the Quik application and click Studio > Create an Edit at the lower center. From there, choose the videos and tap the Let's Go! option at the bottom.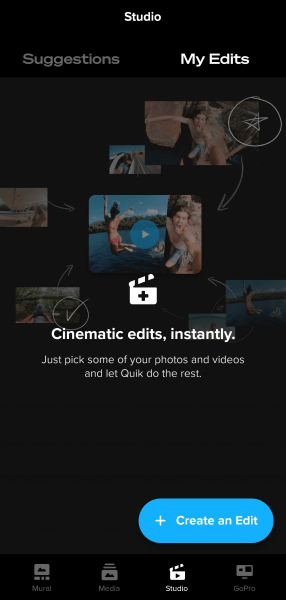 Step 2: Click on Music, the blue music library button, and MY MUSIC. You should grant the application permission to access the music library.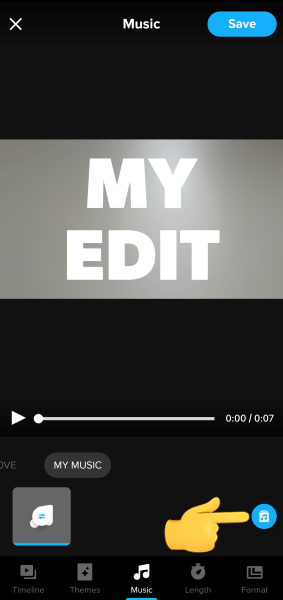 Step 3: Choose a track and click the blue + button next to it to apply it. You will see the app playing the sound over the video preview.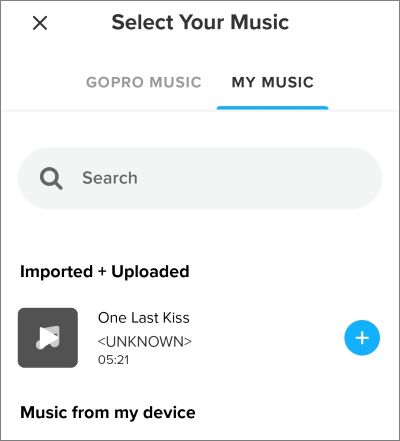 Step 4: When satisfied, choose the Save button at the lower right, then the Photo Library option to save it.
Step 5: Now, open the TikTok application, click the + sign, then select the Upload option to upload your video.
Also read:
The Ultimate Guide: How to Remove TikTok Watermark in Easy Steps
How to Crop TikTok Videos Like a Pro: Essential Techniques and Tips
Conclusion
We've provided possible methods on how to use your own sound on TikTok. Hopefully, you will find no difficulty adding your own sound to TikTok and reap the benefits. Adding sounds to TikTok videos is the best trick to succeed on this popular platform.
We suggest you select Video Converter Ultimate to add the sound file to the video. It is the most convenient app to use with no lag issues. Besides, Screen Recorder will help you record the sound on your videos.
Related Articles:
Top 14 Best AVI Video Editors | Easily Eidt Your AVI Files
Select the Best GoPro Editing Software - 10 Excellent Options
10 Best MOV Editor Options - Edit MOV Files Easily [Updated Guide]
[Vlog Software] 11 Best Vlog Editing Software for Vlog Lovers
10 Amazing MP4 Screen Recorder Options: Record MP4 Videos Easily
5 Methods: How to Screen Record on Android [Hassle-free Guide]