Are you a music enthusiast who enjoys different song genres? As they say, without music, life would be a mistake. If you found a song with great beats but, to your disappointment, it is a video; you will want to convert it to MP3 audio to save mobile traffic.
You've been surfing the internet and asking how to convert MP4 to MP3 on Windows to no avail? Well, worry no more. This article will show you some MP4 to MP3 converters on Windows and the best methods. Let's take you through it.
Part 1. Why Convert MP4 Video to MP3 Audio
In this era of technological advancements, almost everyone knows these two important file formats. One is for video, and another is for audio. So, why would you want to convert an MP4 file to MP3? Here are some reasons why:
MP3 file format can be played on any device or program.
MP3 files are smaller than MP4, so you will save storage on your device.
MP3 files have high sound quality.
Part 2. How to Change MP4 Video to MP3 Audio on Windows
You don't have to feel bad if you cannot save a song in an MP4 file format because of storage. This section outlines ways to help you get MP3 from MP4. Take a look.
Method 1. How to Convert MP4 to MP3 Windows 10/11 by Video Converter Ultimate (No Quality Loss)
The most suitable video-to-audio converter that produces results at faster speeds without losing file quality is Video Converter Ultimate. It is a top-notch tool that does video-to-audio conversion on a Windows/Mac computer without flaws. Thanks to its high-powered conversion kernel, it extracts MP3 from MP4 in high quality. It adopts the best video encoding technology to produce perfect files. The in-built enhancer mechanism keeps the original quality to a maximum.
Video Converter Ultimate edits and compresses videos or audio in more than 1000 formats. So, it is your ultimate solution to convert the MP4 file to MP3 and listen to that wonderful beat. It supports batch conversion, so you can convert multiple MP4 files at once. Additionally, it offers added features like editing video effects, compressing videos, and much more.
Key features of Video Converter Ultimate:
Convert MP4 files to MP3 on Windows and Mac computers.
Support batch conversion.
Compatible with Windows 11, 10, 8, and 7.
In-built enhancer mechanism to keep quality high.
More than 1000 file formats are supported.
How to convert MP4 into MP3 on a Windows 10/11 computer quickly and easily:
01Launch the app on your PC after downloading and installing it. Tap on the "Add File" icon. It is a button with a big plus in the middle of the interface. You can drag and drop the MP4 files or a folder.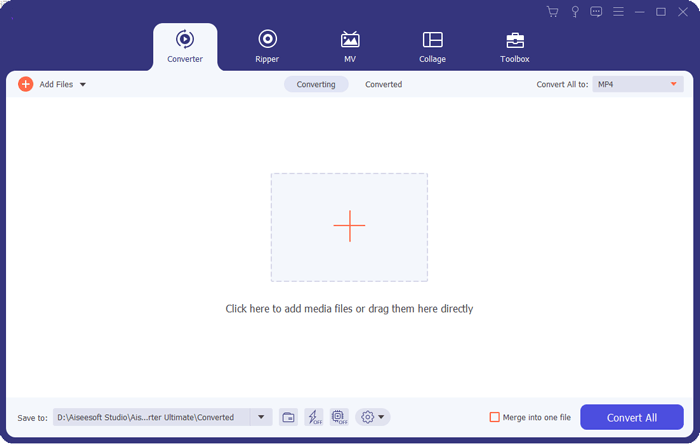 02Choose the output format using the drop-down menu of "Convert All to". Enter the output format as MP3 and customize your output audio files.
03Tap the "Browser" icon to choose the destination folder for converted MP3 audio. Tap the "Convert All" option to get mp3 from mp4.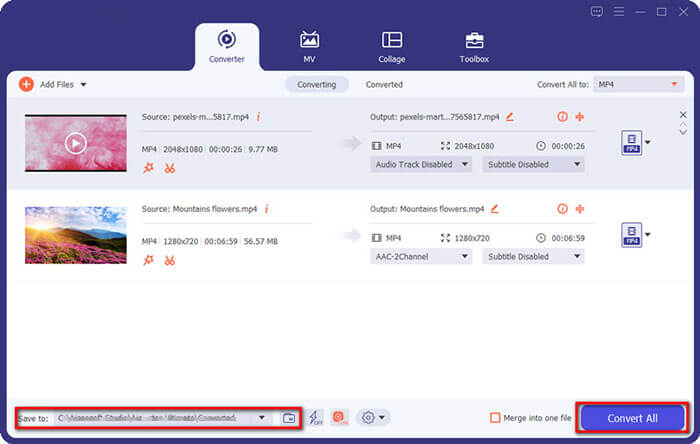 Read More:
How to Convert Video to MP3 on iPhone? This One Might Help!
How to Convert iPhone Video to MP4 without Quality Loss in 7 Ways?
Method 2. How to Turn MP4 Into MP3 via Windows Media Player
This default video and audio player for Windows computers supports formats like .wma, .mp4.mp3, and more. It's a fully packed media player to convert MP4 video files to MP3.
Here's how to convert MP4 to MP3 Windows Media Player:
Step 1. Start by opening the Windows media player on your PC and tap "File" > "Open". This will load your MP4 files to be converted.
Step 2. Tap "Organize" and choose "Options".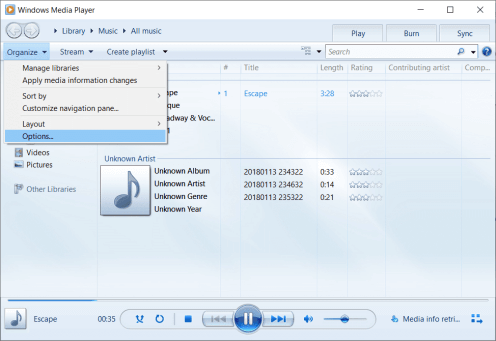 Step 3. Select the "Rip Music" option from the toolbar at the top and choose "MP3 from Format" just below "Rip settings".
Step 4. Now press the "OK" button to convert.
May Like:
[Updated] Exploring the Best Discord Video Compressor Software
10 Hot MP4 Video Editors - Edit MP4 Videos with Powerful Features
Method 3. How to Convert MP4 File to MP3 with VLC
VLC is one of the best open-source video & audio players that can be used on all platforms. With it, you can play videos and audio in almost all formats. Besides, it helps in fixing corrupted files and making them playable. It also comes with an in-built converter to help convert videos to audio and vice versa. Here are the steps:
Step 1. Run the VLC media player after downloading it. Tap the "Media" and "Convert/Save" options to launch the media window. Now click the "Add" icon and browse the available MP4 files.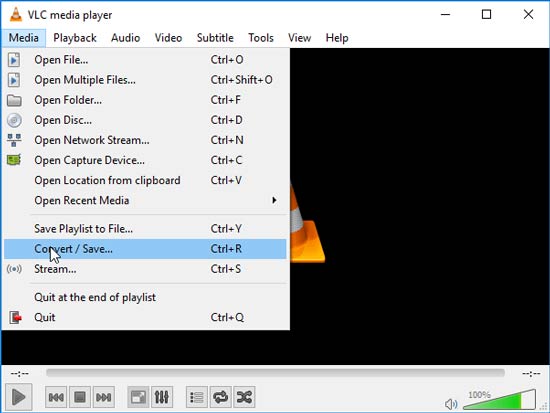 Step 2. Tap the checkbox for "Show More Options" to display more options, where you can enter start and finish times.
Step 3. Hit on the "Convert/Save" tab, which opens a new window.
Step 4. You'll then choose the output path and target file format as MP3. Lastly, tap on the "Start" icon to initiate the conversion.
Can't Miss:
12 Best Video Converter Software for Windows 11/10/8/7 (Free & Paid)
How to Convert AVI File to MP4? Solved in 5 Effective Ways
Method 4. How to Change MP4 to MP3 Through Zamzar
Zamzar is an online tool to convert files. It offers many file conversion tools, including MP4 files to MP3. Converting to MP3 from MP4 is easy with the Zamzar tool since the MP3 file is already included in the MP4. Though, it has a 50 MB file size limit that can be converted at a time.
It supports various platforms like Macs, Androids, Windows PCs, iPhones, and iPads. This way, you can process files when you want. Steps to save MP4 as MP3 on Windows:
Step 1. Choose files or a URL to convert.
Step 2. Select the format to be converted to MP3.
Step 3. Enter the email to receive the converted files. Tap the "Convert" tab to start converting the files.

Method 5. How to Switch MP4 File to MP3 with CloudConvert
This is another online website that helps users convert their files into different formats. It supports many audio and video formats and supports converting about 200 audio & video format files. To convert your MP4 videos to MP3 on Windows, follow these steps:
Step 1. Open the Cloud Convert site on a browser, then click "Select File" to browse your MP4 files from the PC.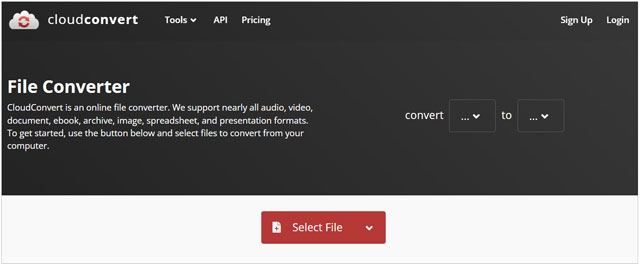 Step 2. Press the upside-down button near the Convert to tab, then choose "Audio" and "MP3" as output. Once done selecting the format file, tap the "Convert" icon. Your files will upload to the website and convert to MP3.
See Also:
How to Transfer MP4 to iPhone in a Simple and Quick Way? (5 Methods)
10 Amazing MP4 Screen Recorder Options: Record MP4 Videos Easily
Method 6. How to Make MP4 Into MP3 Using iTunes
Generally, iTunes is an Apple Assistant, but it is also a media converter compatible with various encoders such as MP3, MAW, ACC, etc. You can use it to convert MP4 into MP3 since it is available on Mac/PC.
Step 1. Install iTunes on PC. Launch it and head to "Edit" > "Preferences" and then to "General" and "Import Settings" options.
Step 2. In the "Import Using" section, select "MP3 Encoder" and hit "OK" to close the Preferences page.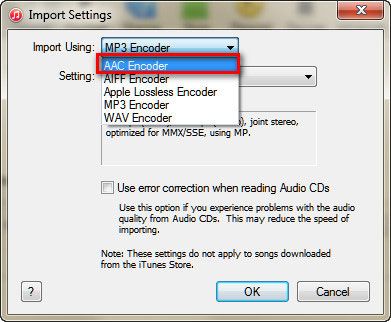 Step 3. Press the "Shift" key, head to "File", and "Convert" the "Convert to MP3".
Step 4. Select your MP4 file from the popup menu. iTunes will begin changing the MP4 file to MP3; you can find it in your library.
Summary
That's all about converting MP4 files to MP3. Presumably now you have a clear method for the question "how do I convert MP4 to MP3". From all these methods, it is highly recommended to use Video Converter Ultimate, the most convenient. It allows batch conversions with no quality loss.
Related Articles:
How to Convert 4K Video to 1080P Without Losing Quality
Unleash Creative Potential with the Ultimate Snapchat Video Editor App
5 Surprisingly Easy Ways to Transfer Videos from PC to Android
How to Transfer Videos from Mac to iPad? (Step-by-step Tutorial)
Best Video Compressors of 2023: A Comprehensive Review
Practical Video Lighting Editor List: Make Video Brighter in Easy Steps