Have you saved many voice recordings on your iOS device and would like to turn them into MP3? Generally, voice memos are saved as .m4a on iPhone. Even though M4A offers high-quality standard audio files, it's only accessible on Apple products such as iTunes, iPhone, iPod Touch, and iPad. Therefore, compared to the MP3 format, .m4a is lower in compatibility. Due to this, you will want to change to MP3.
How to convert a voice memo to MP3? This article introduces the best methods to save voice memos as MP3. Keep reading to learn more.
Part 1. Why Change Voice Recording to MP3
Essentially, there are numerous reasons why you may want to change a voice recording to an MP3.
First, an MP3 is compatible with many devices, and you do not have to install add-ons before listening to the recordings.
Also, MP3 saves space on the device compared to voice recordings. This improves storage capacity on your Mac.
Finally, the MP3 format is much easier to share with other people.
Part 2. How to Convert Voice Memo to MP3 by Video Converter Ultimate
Converting voice memos to MP3 will only be simple if you use professional software. Video Converter Ultimate is an all-in-one solution that converts videos and audio into thousands of file formats. It is the best video converter tool, with millions of users worldwide.
Video Converter Ultimate adopts the best video encoding features, which helps deliver the original quality to maximum and even better. It is a trustworthy converter tool that will convert M4A to MP3 in simple steps. Apart from supporting M4A, it also supports various audio file types such as WAV, WMA, MP3, AVI, and much more.
Moreover, if you have many videos you want to convert, do not sweat it. Its batch conversion allows you to convert many files simultaneously with a click. So, whether you have hundreds of voice memos on your device, this tool is your best option. It is not time-consuming; you will have your converted MP3 files in just a few minutes. Besides converting audio files, it compresses different files into your desired size without losing quality.
Key highlights of Video Converter Ultimate:
Convert M4A to MP3 with ease.
Support batch conversion.
Enable to edit and compress files.
Remove the watermark from video perfectly.
Work on Windows and Mac computers.
Here's how to change voice memo to MP3.
01Install Video Converter Ultimate on your PC. Next, tap "Add Files" to add your voice memo files. Or you may drag your voice recordings to the software.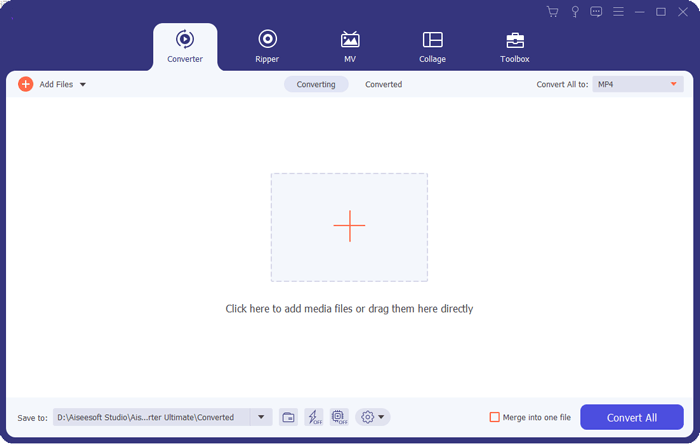 02After adding your voice memos to the tool, you'll see details like time length, original format, etc. Choose "MP3" as file output from the menu on the left panel.
03Now, choose where the converted files will be stored. Then tap on the "Save to" tab at the lower corner, then press the "Convert All" icon.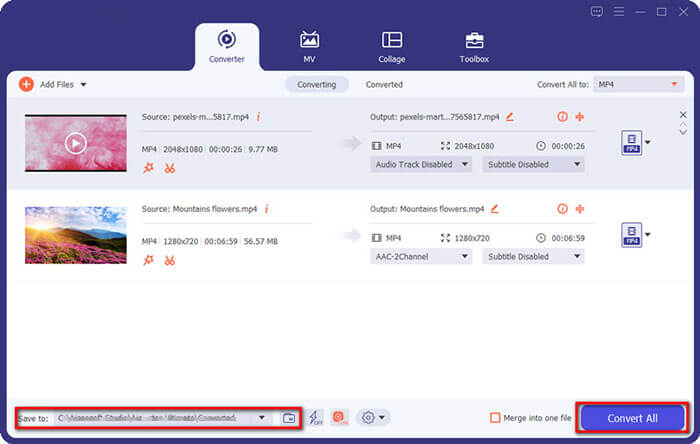 Read More:
[3 Ways] How to Make a Voice Memo a Ringtone on iPhone Effortlessly?
How to Transfer Voice Memos from iPhone to Computer without iTunes [4 Simple Ways]
Part 3. How to Turn Voice Memo Into MP3 on Mac with iTunes
You can also use Apple's iTunes to change your M4A files to MP3 on a Mac computer. If you have a macOS Mojave or a lower version, you will easily convert your files to a more compatible format like MP3. iTunes also supports other file formats like AAC, ALAC, WAV, and AIFF. Here's how to turn voice memos into MP3 using iTunes:
Step 1. Start by linking the iPhone to your Mac computer, then unlock it. Allow the computer to access the iPhone files.
Step 2. Next, launch iTunes, and tap on the "DEVICES" button. From there, head to "Music" and take your voice recordings. If you cannot see voice memos, turn on "Sync Music" and then check the "Include voice memos" option. After that, press the "Sync" icon so that the voice recording will sync to Music Library. You'll find your voice memos to music playlists on the computer.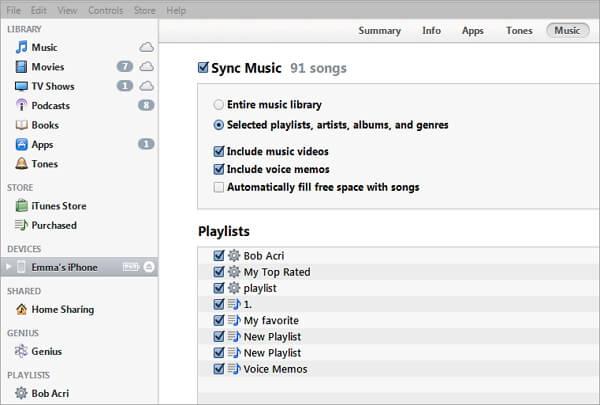 Step 3. Now set the settings for the Music Import by heading to "Preferences", then click on "General/Files" and tap on "Import Settings". Now use the MP3 Encoder option in import settings, then confirm the selection by clicking the "OK" tab.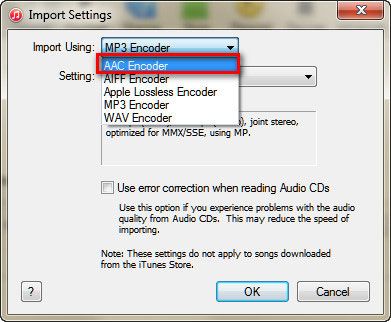 Step 4. Click on "Voice Memos" and ensure it's selected. From there, proceed to "File" and "Convert". Tap on "Create AAC Version".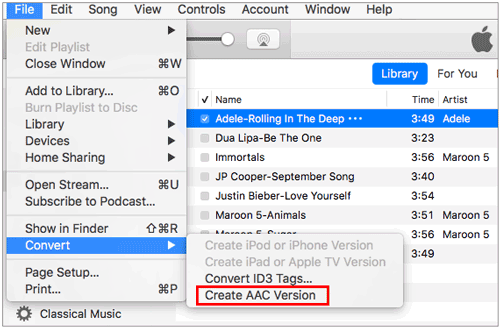 If you've selected the AAC encoder option in import settings, you should find the option for "Create AAC Version".
After successfully converting your voice recordings to MP3, click on a file, press "Show in Finder", and use your converted files as you wish.
May Like:
How to Recover Voice Memos from iCloud Smoothly | 2 Advanced Solutions
How to Recover Deleted Voice Memos on iPhone with or Without Backup?
Part 4. How to Convert a Voice Memo to MP3 on iPhone
You can also convert your voice memos to MP3 with just an iPhone. It is straightforward as long as you have your phone. However, you must download documents by Readdle on the device and start the conversion process. Here are steps to convert voice memos to mp3.
Step 1. Save your voice recordings to local storage on the phone. Open the Voice Memos application, click "More" below the file to convert, and choose "Save to Files".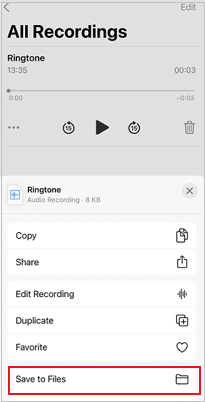 Step 2. Install the Documents by Readdle on iPhone. This app converts voice memos to MP3 on iPhone for free. You'll find it in App Store. Click "Get" and install it. After you install the application, click on the "Open" option to launch it.
Step 3. Open the Safari browser and head to the Convertio website. Ensure you'll press "Go" from the keyboard to navigate the page. Convertio tool works with the Documents by Readdle app to change voice memos to MP3.
Step 4. Click "Choose File" in the center of your screen and the "Browse" option next to the More menu.
Step 5. Now, find voice memos on your iPhone and click on them. You will then see the Convertio website. Choose "MP3" from the drop-down menu under the file name.
Step 6. Click "Convert" under the original file. The process will take a while, depending on the file size and the internet connection. Finally, click "Download" to save the files to your iPhone.
Can't Miss:
How to Recover Deleted Voice Memos on iPhone via 4 Methods
How to Convert MOV to MP3 for Free [8 Ways Offline & Online]
Part 5. How to Save Voice Memo as MP3 Using Google Drive
Google Drive is also a viable and free option to change your voice memos to MP3 file format. Since Google Drive has integrated audio and video converters, you can directly convert the voice recordings to MP3 and then save them to your device. Also, you can leave your files there for easier access. Here are steps to export voice memo as MP3 on Google Drive:
Step 1. Find the files on your iPhone and choose them, then click the "More" option with a three-dot menu. Tap the "Save to Files" option to save them to a folder on your iPhone.
Step 2. Install the Google Drive application on your iPhone and click "Plus Sign", then upload your voice memos files to Google Drive.
Step 3. Now convert the files to MP3 format on your Google Drive. Just open the Google Chrome browser on the computer, sign into Google Drive, then hover over the files. Right-click on it, tap "Open with", and choose "CloudConvert". Grant permission to use the CloudConvert tool.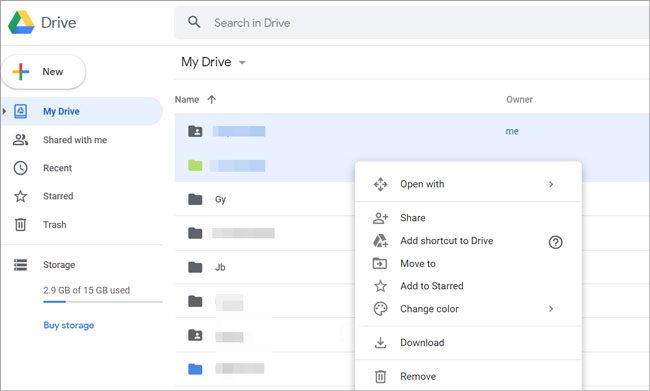 Step 4. Choose the output format as "MP3" and press the "Convert" tab. Your voice memos will be saved as MP3s on your device.
Step 5. Tap "Download" and your converted files will be saved to Google Drive automatically next to the M4A file.
See Also:
The Best MP4 to MP3 Converter: 13 Hot Software You Can't Miss
[Easy Guide] How to Transfer MP3 Files to iPod with or Without iTunes
Part 6. Frequently Asked Questions on Converting Voice Memo to MP3
Q1. How long does it take to convert voice memos (M4A) to MP3?
Generally, converting voice memos to MP3 is pretty fast, especially if the recordings are short. A voice memo that's only a few minutes long will finish converting in seconds. A longer voice memo or multiple of them may take longer. So, the time it takes to convert voice recordings to MP3 will depend on the file size and the internet connection if you're using it. However, you will convert multiple voice memos in just minutes with Video Converter Ultimate.
Q2. Is it safe to convert my voice memos to MP3 on Video Converter Ultimate?
Yes. It is a trusted and reputable software that adopts the highest security standards. No one can access your files after you've converted them.
Conclusion
There you have it. These are the top easy methods to change your voice memos to MP3 files. You can now easily change your files to a more compatible file format and access them on any device you desire. We specifically suggest you use Video Converter Ultimate. It is the best voice recorder to MP3 converter. There are no file restrictions since it supports batch file conversions, and you won't waste time converting one file at a time.
Related Articles:
How to Convert Video to MP3 on iPhone? This One Might Help!
[SOLVED] How to Make MP3 Ringtones on iPhone 14/13/12/11/X Easily?
Top 10 Audio Compressors to Compress Audio Without Losing Quality
Revolutionize Media: The Best Tools for M4A to MP4 Conversion
Effortlessly Reduce File Sizes: The Ultimate File Size Reducer Tool
Unlock Ultimate Sound Experience: Discover the Best MP3 Converter for Mac