Facebook has become a popular platform for sharing live broadcasts, whether it's a personal vlog, a company announcement, or a live event. However, there may be instances where you want to save a Facebook live video for offline viewing, sharing with others, or archiving.
Can you save Facebook live videos? Sure. In this article, we'll explore the various methods and tools available to download Facebook live video, whether they are your own or belong to someone else. We'll also delve into troubleshooting issues you might encounter. Let's get started.
Part 1. How to Download Your Own Facebook Live Video
Facebook itself provides an option to download live videos. After concluding your Facebook live video, it is automatically published on your timeline. As long as you don't remove it, you have the option to download it to your computer, phone, or tablet. Here's the process to download Facebook live video:
Step 1. Open the Facebook app on your mobile device or access Facebook through a web browser on your computer. Log in to your Facebook account if you're not already logged in.
Step 2. In your Facebook profile, navigate to the Live section on your timeline. You can do this by clicking on your profile picture or accessing your activity log.
Step 3. Scroll through your live videos and choose the one you want to download.
Step 4. Next, click on the three dots located in the upper right-hand corner of the video player and choose the Download Video option.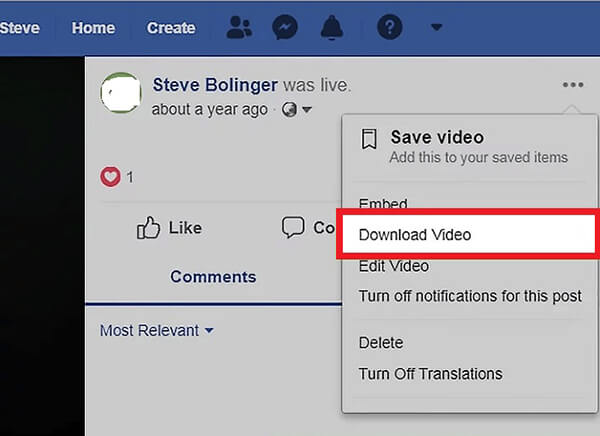 Step 5. Allow the download process to run its course, and patiently wait for it to reach completion.
Now that we know how to download our own Facebook live videos, how can we download someone else's Facebook live videos? Unfortunately, the above-mentioned steps do not work for videos from other people. Facebook only allows you to save videos for later viewing or to share with friends. However, there are some online Facebook live video downloaders that will enable you to do so. This will be covered in the next part, so let's continue reading.
You May Like:
[Online Media Tools] 9 Best Online Video Downloader Tools
The Ultimate Guide to the Best Video Downloader: Top 10 Apps for Windows
Part 2. How to Save Facebook Live Videos Using Online Facebook Live Video Downloader
Several online Facebook live video downloaders can also help you download live video from Facebook, no matter someone else's or your own. These tools are user-friendly and work for various platforms and devices. Let's explore them.
Way 1. How to Download Facebook Live Video via FDOWN.net
The FDOWN.net is an online software tool designed to help users download videos from Facebook. It typically works by allowing users to input the URL of the Facebook video they want to download, and the tool then fetches and provides the video file for download. Here is how to use it to download video from Facebook page:
Step 1. Go to your Facebook feed or timeline, click on the Share option below any video, and then select Copy Link.
Step 2. Open a web browser and go to a Facebook video downloader website.
Step 3. Find the provided text box on the downloader website and paste the video URL into it, then click on the Download button.
Step 4. Click on Download normal quality video or Download HD video (if available) to start downloading the video.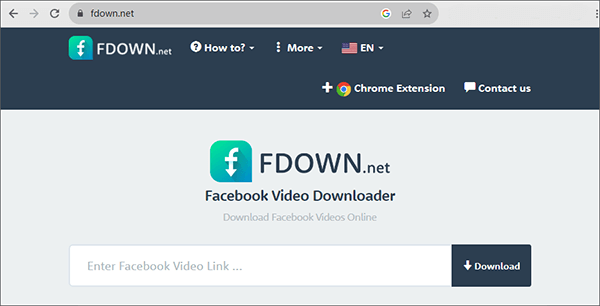 Way 2. How to Download Live Video from Facebook via Savefrom.net
Savefrom.net is an online software tool designed to facilitate the downloading of online videos from various platforms, including popular social media and video-sharing websites such as YouTube, Facebook, Vimeo, and more. Users can simply input the URL of the video they wish to download, and Savefrom.net provides a means to download the video content to their device for offline viewing. Here is how to use it to download Facebook live video to computer:
Step 1. Copy the video's URL from your browser's address bar and store it in your clipboard.
Step 2. Go back to the Savefrom website within your browser and insert the video link you copied into the specified input field. Typically, the Facebook video downloader will commence automatically, but if it doesn't, you can manually initiate the process by clicking the Download button.
Step 3. You'll see a list of quality and format choices. Before starting the download, pick your desired option from the dropdown menu.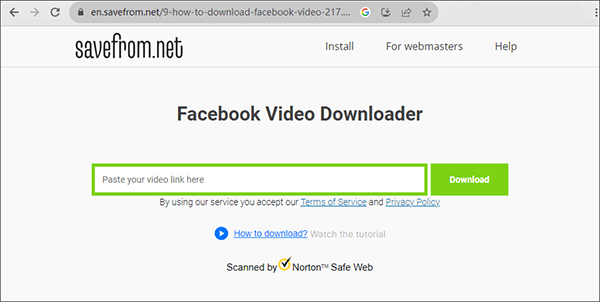 Further Reading:
Download YouTube Videos on Windows: 9 Proven Methods Revealed
How to Save TikTok to Camera Roll? [5 Quick and Easy Methods]
Way 3. How to Download Facebook Live Video to Computer via FDownloader.Net
FDownloader.Net is a versatile Facebook video downloader that excels in fetching high-quality videos from Facebook, including formats like Full HD, 1080P, 2K, and 4K. With our Facebook video downloader, you can easily capture Facebook videos and even convert them to MP3 format, allowing you to save MP3 music from Facebook. Here is how to save Facebook live videos via FDownloader.Net:
Step 1. Insert the URL of the Facebook video you wish to download into the provided search box.
Step 2. Choose your desired file format and video quality, then click the Download button to initiate the download process.
Step 3. Please wait for a few moments as the processing is finalized, and the download is transferred to your device.

Part 3. How to Download Facebook Live Video Using Browser Extensions
Browser extensions can simplify the process of downloading Facebook live videos. Some popular extensions, such as Video DownloadHelper and Social Video Downloader, are available for both Firefox and Chrome. Install the extension of your choice and follow its instructions to download videos. For instance, let's look at how to download Facebook live video using DownloadHelper:
Step 1. Launch Google Chrome, search for Video DownloadHelper in the Chrome Web Store, and click Add to Chrome > Add extension to complete the installation.
Step 2. Access a live video from your Facebook account.
Step 3. The extension will automatically detect the playing video, indicated by the extension icon with three balls turning colorful.
Step 4. Click on the highlighted three-ball icon in the top right toolbox, and it will display a menu with various options for downloading the Facebook live video.
Step 5. Select one of the options and click the arrow icon located in the right corner.
Step 6. A new window will appear. Click on Quick download to instantly download the Facebook live video in MP4 format to your computer.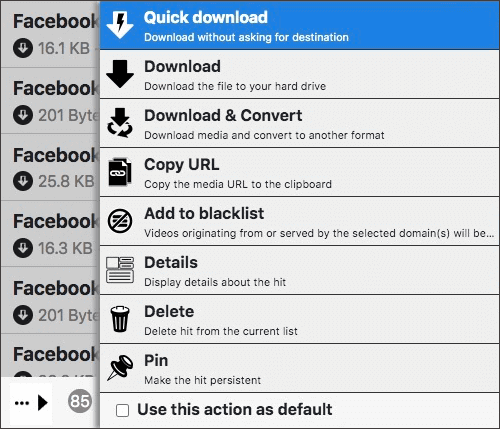 Learn More:
[Useful Tricks] How to Download a YouTube Video Without YouTube Premium
[New] How to Download TikTok Videos Without Watermark on iPhone
Part 4. How Can I Save a Live Video from a Facebook Group?
Facebook groups come in two main categories: public groups and private groups. Public groups are accessible to anyone, and you can instantly become a member. In contrast, private groups have restricted content access. You can either request to join and await approval from the group administrator or receive an invitation from an existing member.
To download a live video from a public group, you can utilize the same steps we previously discussed for downloading videos from a Facebook page. However, for a Facebook private group, it can be a bit more complex. The simplest approach is to send a membership request to the group's administrator. Once you've been accepted into the group, you can then employ the methods mentioned above to download videos from Facebook private groups.
Part 5. Why Can't I Download My Facebook Live Video?
If you've attempted these methods and still encounter difficulties when trying to download a Facebook live video, here are some potential reasons and corresponding solutions:
1. Outdated Software or Extension
If you're using an outdated version of the tool or Chrome extension, it may not function properly. To address this:
Check for updates and ensure you have the latest version.
If the issue persists, consider uninstalling the tool or extension and then reinstalling it.
Reboot your device before reinstalling the software or app.
2. Private Video
Facebook restricts the downloading of private videos for privacy reasons. In this case:
Contact the video owner or group administrator and request that they make the video public.
Alternatively, ask the owner to share the downloaded file with you if they're willing.
3. Digital Rights Management (DRM) or Copyright Restrictions
Some live videos may have DRM restrictions or copyright locks, preventing download. When this is the case, you won't be able to download the video due to legal restrictions.
Also Read:
Download YouTube Private Videos: Navigating Privacy and Permissions
YouTube Video Downloader Without Watermark [Online & Offline]
Conclusion
In conclusion, downloading Facebook live videos can be achieved through various methods, depending on whether you're the video owner or not. By following the steps outlined in this guide, you'll be able to save your favorite Facebook live moments with ease. Happy downloading.
Related Articles:
From Bilibili to Offline: The Best Bilibili Video Downloader Revealed
How to Extract Subtitles from Video? Solved in 6 Effective Ways
12 Best Video Converter Software for Windows 11/10/8/7 (Free & Paid)
How to Change Video Format Like a Pro? [Online & Offline Tools]
[Comprehensive Guide] How to Enhance Video Quality in 6 Ways