How to change country in Google Play Store? Moving to a new region can bring lots of fun and, at the same time, give you a hard time. It requires substantial effort to adapt and use technology in a manner that is useful to you. Changing your country in Google Play Store is one way to make this transition easier.
Before changing your phone's Google Play location, there are a few things you need to remember. Google permits you to change Play Store location only once every year. Therefore, do not waste it. Also, you will need to make a payment from your new location. Lastly, you will lose your Google Play balance from your old county.
It is also good to remember Google limits the content you see on Play Store depending on your region or country.

Part 1. Why Is Changing Country in Google Play Store a Game-Changer?
Like many online stores, Google Play Store limits access to various services and applications based on location, provided to Google Play via your Phone's GPS. For instance, you may find an important application on Google Play that isn't available in your region. Also, there could be location-based features and contents in applications that cannot be accessed in your location.
Changing your Google account location may only be a viable option to enable you to access the services and applications without restrictions and enjoy all the services offered without limitations.
Also, you may have permanently or temporarily relocated to another country and want to adjust the Google Play location to your current location. Ultimately, the content you access and see will be determined by your Google Play location.
However, when changing location, you need to keep this in mind:
You can only change location in your Google Play once per year. If you decide to change it, you can change it after one year.
After changing your country, your old country Google Play balance cannot be used in your new country. You risk losing access to certain products and services if they are not accessible in your new country.
See more:
[2023] How to Change Work and Home Location on Google Maps
4 Proven Ways to Change Location/Country/Region on Instagram
Part 2. How to Change the Country in Google Play
Google determines your current location based on your IP address. This enables them to enforce its geo-blocking limitations, preventing people outside of authorized regions or countries from accessing certain content. You can change the country in your Play Store either by moving to a different region or masking your real IP.
Here are methods for Play Store app country change:
Way 1. How to Change Google Play Store Country with a VPN
A VPN usually encrypts traffic and hides your real IP. It is a perfect geo-spoofing tool to prevent Google from knowing your real IP. You can connect to servers from different parts of the world and get IPs from the places you want. This will enable you to see the content that is not available in your country.
Here is how to use a VPN on Android to change Google Play region:
Step 1: Look for a reliable VPN and install it on your phone (such as Atlas VPN, TunnelBear, Surfshark, or Windscribe); use the credentials to sign in and connect to the server in a country of your choice.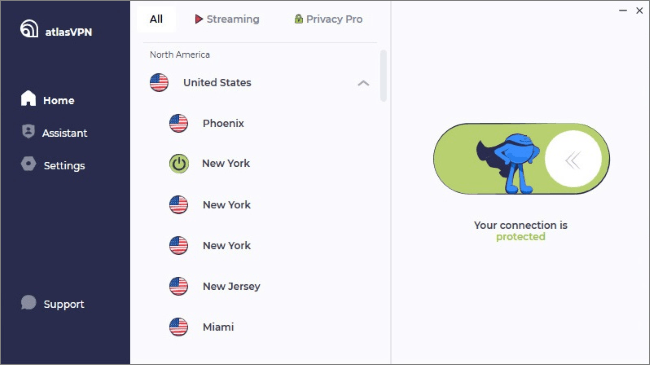 Step 2: There would generally be two kinds of proxy mode in the VPN tool - Global and Local Agent; choose Google Play Store as the target app if you can choose specific apps to use the Local Agent mode (if you can not use the Local Agent mode on Google Play Store, try Global Agent mode instead).
Step 3: Clear your data and cache and open Google Play Store. You can then check the results.
After following these steps, check the paid application and look at the currency symbol. If it resembles the selected VPN server location, you successfully changed your Google Play Store country. You can choose as many locations as you wish by repeating this process.
VPNs change your country temporarily in Google's eyes. You can return to your original country on the Play Store by turning off the VPN anytime. With that said, it is important to pick the right VPN.
Way 2. How to Change Region of Google Play Store on Android Manually
With just your Android Phone, you can easily change the location in both your Google Account and Google Play Store. Read the following steps to know how to change country on Google Play manually:
Step 1: On an Android device, open Google Play Store. From the displayed menu, select Settings.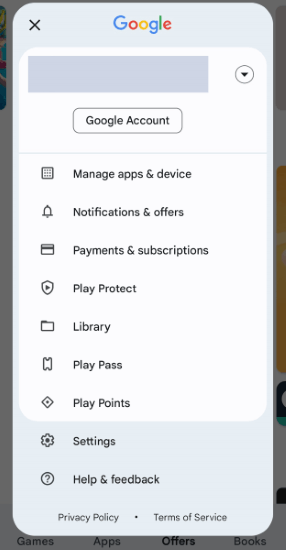 Step 2: Press on the General section and locate the Account and device preferences option. After that, look for the Country and profiles option. Now you will be able to see your current country location.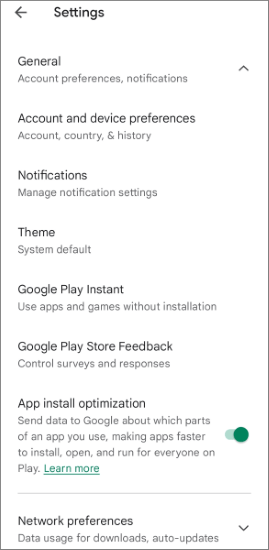 Step 3: Now tap the options under Switch to the [Country] Play Store to change your location. Click on Continue for verification.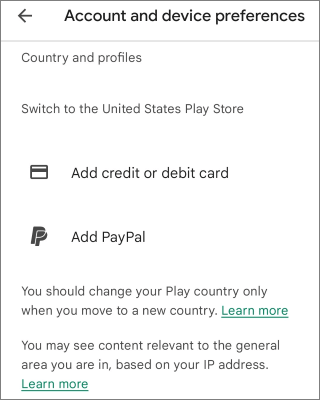 Step 4: You will have to change the payment methods of the new country. If you fail to see an option to change the country, either your IP is yet to synchronize with your new country, or you have already changed the country's location within a year.
More relevant articles:
Top 10 iTools Virtual Location Alternatives for Android and iOS Devices
Top 3 Ways to Fake Location on Zenly [iPhone & Android Supported]
Part 3. How to Fake Location and Change Country in Google Play Store [Effective]
We have shown you how to change a country on Play Store manually and via VPN. However, these approaches still have some limitations. If you manually change your Google Play location, it will take up to 48 hours for the Play Store to accept this modification. Also, you can only change the server location of a country once a year. Many servers are unreachable if you decide to use VPN, and some servers require you to pay. This makes the processing time taking and expensive.
To avoid this chaos and hurdles, we recommend using the Android Location Changer tool to fake your location on Android devices. This tool allows users to travel anywhere through their phones and works in every situation. You can instantly change your GPS location to anywhere with just a simple click. Moving around customized routes is also easier, thanks to its joystick feature.
This tool works incredibly in faking your location; you don't have to change your country's Google Play location. Other than that, it is integrated with countless innovative and versatile features, including:
Work with location-based apps such as social platforms, AR games, etc.
Compatible with all Android and iOS versions, including Android 13 and iOS 16.
Joystick to simulate the movement of GPS freely when playing games.
Change GPS location on iPhone and Android .
Export and import files to save your favorite routes.
How to use Android Location Changer to change the region of Google Play Store:
01Download, install and open Android Location Changer on your PC.
02Click Get Started. Use a USB data cable to connect your device to the computer, then choose the USB connection. Ensure your computer and Android device are connected using the same WiFi network. After choosing the device, please use the guide in the program to open USB debugging.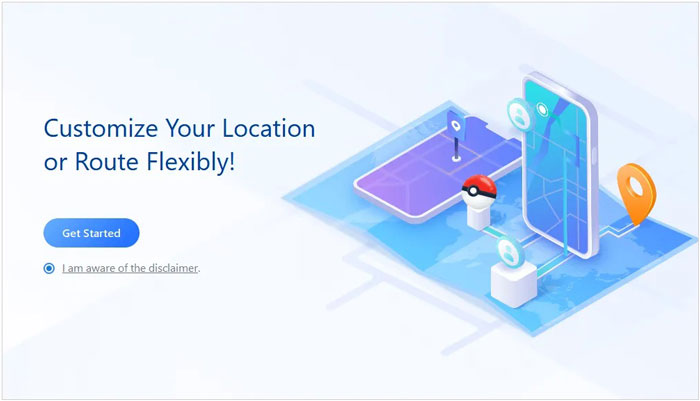 03It will start to load the map. After the map is loaded, select a destination on the map. In the upper right corner, choose Teleport Mode. Now you can zoom in and out of the map and pick your destination.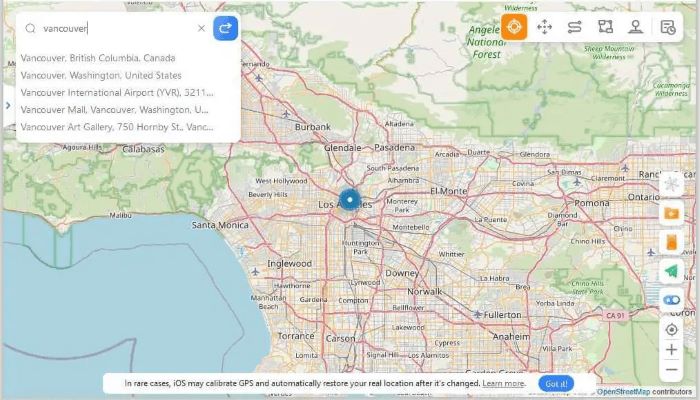 04As you select the destination, a pop-up on the sidebar will show the destination information, such as the place name, distance, and coordinates. Tap Move and the location in your Android and all location-based apps like Play Store will be changed.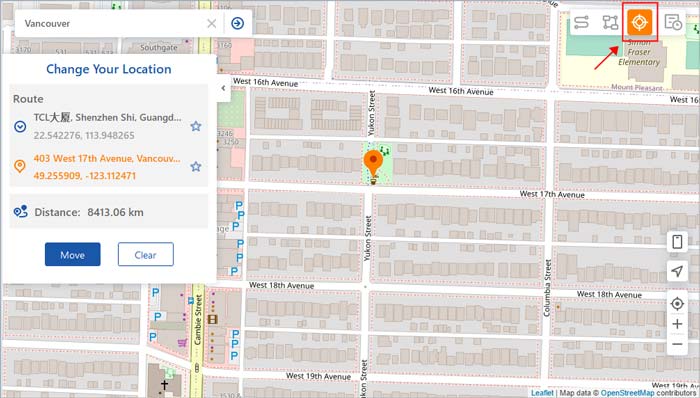 Conclusion
It can be incredibly annoying and inconvenient when you cannot download certain apps in your Google Play store simply because of your location. The most straightforward solution to change your GPS location is using the Android Location Changer location changer. With this tool, you can quickly and seamlessly change your GPS location with unparalleled speed, efficiency, and convenience.
Related Articles:
How to Change Location on Facebook Marketplace?
How to Stop Someone from Spying on My Cell Phone? [With Preventions]
How to Fake GPS with No Root on Android? [8 Trustworthy Apps]
[Skout Change Location] How to Change Location on Skout in Simple Ways?
How to Share Location on Android with Your Family and Friends
How to Change Your Location on Snapchat for iPhone & Android