Instagram is undoubtedly one of the world's most popular social media platforms. It lets you follow, tag, and share unique location tags, exposing your business to many potential customers. Also, you can use fake location tags on your account to trick your relatives and friends into believing you have visited the place. This article will discuss how you can change your location on Instagram, whether you're a normal user seeking to prank friends and relatives or a business owner.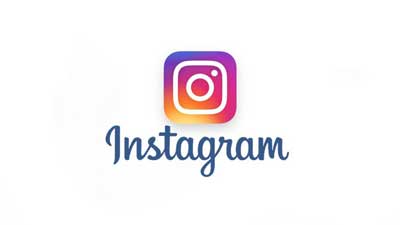 Part 1: Why Change Location on Instagram?
Company owners and individuals can both benefit from faking their location on Instagram. Below are some of the key benefits of changing location on Instagram business profile:
1. You can utilize a location or hashtag to search for a post on Explore. When you do so, you will be able to see all posted posts or articles with the relevant hashtag or location.
2. If you are a business owner, adding a location will help you generate significant exposure for your company through your Instagram account. By establishing custom locations, you make your business visible on the maps, making it easier for other Instagram users to find your brand.
3. Using multiple locations on Instagram helps you attract clients from different places to your newly established business.
4. Changing your location on Instagram helps you increase interactions on your pictures.
5. Finally, tailored location tags increase your business' advertisements significantly.
You may like:
6 Feasible Ways to Spoof GPS Location on iPhone
One Click to Make Full Use of Location Services on iPhone
Part 2. How to Change Instagram Location Using Instagram Location Changer
The best way to change login activity location on Instagram is by spoofing the GPS location of your device. The Instagram Location Changer is highly recommended for changing GPS locations on Android and iOS devices. The app comes with a joystick feature to simulate GPS movement. You can change your location to anywhere in the world instantly. What you need to do is following a short and easy procedure to change your location on your posts without necessarily having to move.
Key Features of Instagram Location Changer:
* Effortlessly changes Instagram location on your Android/iOS to any place in the world.
* Add customized routes to simulate movements. (Very beneficial to those who want to play Pokémon GO).
* Save your history for future use.
* Easy teleport to any part of the world with just a click.
* Compatible with most location-based applications, including WhatsApp, Facebook, Instagram, etc.
* Works well with both Android and iOS devices.
How to Change Your Location on Instagram using Instagram Location Changer?
01Download the program on the computer, then install it. Launch it and click the "Get Started" option.
02Connect your device. Before you move any further, use your USB cable to connect the phone or tablet to this computer. Unlock the phone, immediately you'll see a pop-up asking you to grant your device permission to connect to the computer. Tap "Trust" and then enter your password to confirm.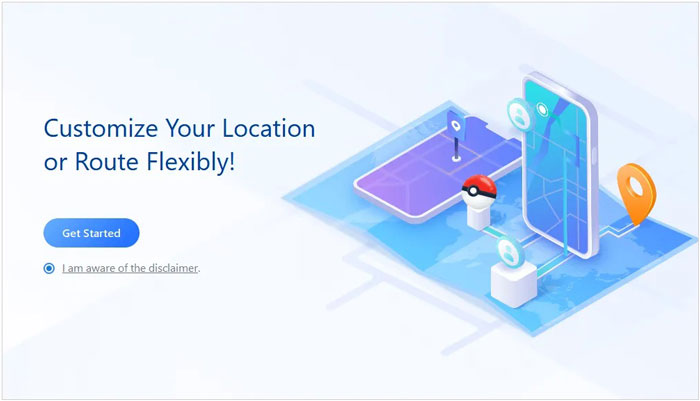 03Activate the Teleport mode. You will see a map on the screen showing your current actual location. On the upper right corner, click the "Teleport" button. To be exact, it is the 3rd icon from your left. This will let you select any desired destination on your map that will be added as the fake GPS location. Alternatively, you may type the name of your desired destination on the search bar and search for it.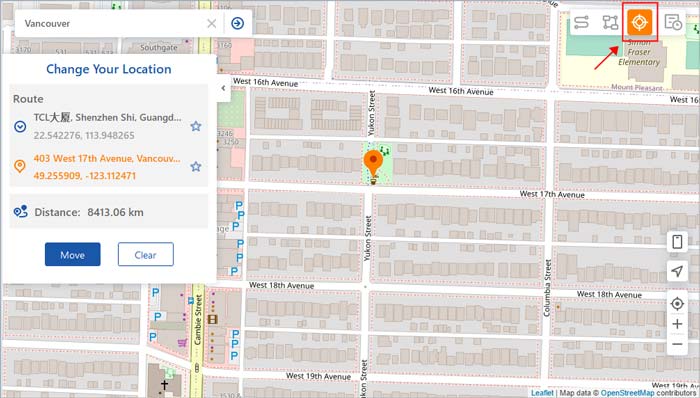 04Change the location. After selecting a location of your choice, tap on the "Move" option from the sidebar that pops up on your left to change the GPS location of your device. Now, you can see your new GPS location on your map. Your GPS location on the phone will change synchronously.
05Now you can open your Instagram to add your fake location before you send your post. First, open your Instagram application on the phone and click the "Add Post" option. Choose a photo and tap "Next." Tap the "Add Location" option, and you will see the current fake location in the list of suggestions. Select the appropriate location and proceed to upload your post.
See more:
Why Is My Location Wrong on My iPhone? (Fixes Included)
How to Change Home Address on iPhone? 5 Ways You Will Need
Part 3. How to Change Location on Instagram Profile with a VPN
Changing login activity location on Instagram on iPhone or Android phone is very easy if you have a good VPN. Below are the steps you need to follow:
Step 1: Subscribe to VPNs that work with Instagram, e.g., ExpressVPN. Download ExpressVPN from your iOS App Store or Android's Google Play Store.
Step 2: Open the app and log in using your credentials.
Step 3: Restart your tablet or smartphone and give it time to boot back up.
Step 4: Open the ExpressVPN app immediately and link to one of its servers.
Now you can access your Instagram page as if you are somewhere else.
Part 4. How to Change Location Color on Instagram with Your Facebook Account
You probably have a business page on Facebook. (How to change location on Facebook marketplace?) Consequently, you may want to link your Facebook business GPS location to your Instagram. Luckily, you can change Instagram location settings smoothly and natively with these social applications by following the steps below:
Step 1: Open your Facebook app and click the "What's on your mind?" bar to create a post.
Step 2: Click the check-in option to select the new location.
Step 3: You will see an arrow with the Instagram symbol on your screen.
Step 4: Enter the changes you would like published and tap the Post option. This will share the new location with your followers on Instagram instantly. It is that simple!
Part 5. How to Change Instagram Account Location via iSpoofer on PC
An iSpoofer app is a software that simulates GPS and runs on top versions of Mac and Windows (Best Fake GPS Apps). The app supports most models of iPad and iPhone and doesn't even need jailbreak access. It allows you to easily change location on your Apple device and unlock a wide range of options in your location-based apps like some dating apps or Pokémon GO games. Below are the steps you should follow to change location on IG on your iPhone using iSpoofer for your computer:
Step 1: Download and install the iSpoofer app on your computer. Next, download and install iTunes on the computer if you already have it.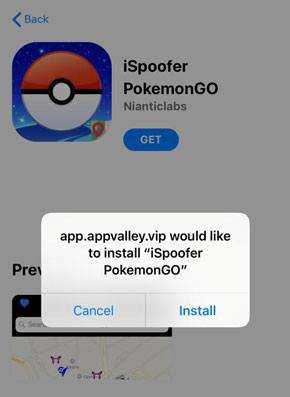 Step 2: Connect your iPad or iPhone to the computer using your USB cable. Unlock the device and tap "Trust" when asked whether you trust the computer. Once you've done so, iSpoofer will detect the device automatically.
Step 3: Click the "Spoof" option on your iSpoofer software to select a location of your choice.
Step 4: Next, click the "Move" option to change the location of your device to your desired destination.
Step 6: Finally, open your Instagram app and use it with the new GPS location.
You may also like:
How to Play Pokemon Go Without Moving [Detailed Steps for Android and iOS]
How to Perform a Facebook Location Change [Automatically & Manually]
Part 6. FAQs on Instagram Location Changing
Q1. How to change the location color on the Instagram story?
Tap and hold a finger on any color circle. Once you've done so, a color grid appears on the screen. Now move the finger crossways your screen and select the color that you are interested in. Hereafter, release the finger to spread the color on your desired area.
Q2. How can I hide my Instagram location?
To hide location on your Instagram, go to your device's "Settings" and select the "App Management" option and then tap the list of applications. From this list, pick Instagram and navigate to "Permissions." From the list that appears, tap on Location. To hide your location, tap the "Deny" box to check it and save your changes.
Q3. How Can I Add Location to My Instagram story?
Swipe to the left to create a story and click the emoji symbol. Select the "Location" option and type your desired location.
Bonus Tip: Best Locations to Get Instagram Likes
Now you've learned the advantages of changing IG location and the methods of doing it. You may now wonder which locations will add more likes and traffic to your account. Below are some of the places that will bring value to your Instagram account:
1. London
London is one of the most popular locations on Instagram. Its hashtag has over 150 million posts. Therefore, choosing London as your fake location is greatly recommended because it will attract a huge audience.
2. Italy
Italy is another dreamy and well-known place for many people. Its hashtag has over 144 million posts; therefore, you can use it as your fake destination to attract more audience to your Instagram posts.
3. California
California is a well-known location on Instagram, with more than ninety-four million posts uploaded under its hashtag. Therefore, this location can attract more comments and likes to your posts on Instagram and give your company the necessary exposure.
Wrap Up
You have learned how to change country on Instagram for iPhone/Android. The ball is in your court. Choose the method that will work for you the best, though using Instagram Location Changer app is the most recommended method. Remember, changing your Instagram location using the above-listed methods can attract more likes and traffic to your account, giving more exposure to your business.
Related Articles:
How to Fake Twitter Location Easily | FAQs and Solutions [Proven]
How to Fake GPS on Android without Mock Location?
How to Fake GPS with No Root on Android? [8 Trustworthy Apps]
[Huawei Mock Location] How Do I Change My Mock Location on Huawei P40 Pro/P30 Pro/P20 Pro?
How to Change TikTok Region Safely and Quickly? [New Guide]
Top 10 iTools Virtual Location Alternatives for Android and iOS Devices
Explore the World from Home: How to Fake Location on Snapchat Map