What is "allow mock locations in Developer options"? Turning on the mock location feature allows you to change your device's location to any place in the globe. If you use location-based applications, such as dating and gaming apps, you might be aware of the importance of the mock location feature. This feature is available on all Android devices in the developer's option section. However, many people do not know how to use the mock location Android feature. Let us guide you on all you should know regarding the mock location feature in this article.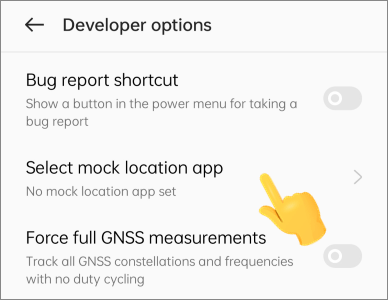 Part 1. The Uses of Mock Location Feature
Mock location is an essential developer functionality that has gained traction due to its diversified use. This feature is very useful, and below are some of its uses:
Helps users to virtually set their location to any place to test and check how the app functions. This is to say, if you're a developer, you can easily check how your application operates from anywhere.
Allows users to disguise their current locations and download applications or access app features or content that isn't available in their region.
Similarly, the Mock Location feature enables you to get local updates on weather reports based on a location.
It is used to change locations in dating applications such as Tinder to access more profiles that aren't available in your region.
It helps in playing location-based gaming applications such as Pokemon Go.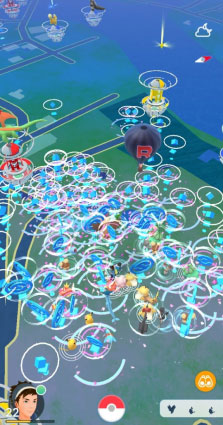 Part 2. How to Enable Mock Location on Android Devices
Mock location is a very helpful feature that enables users to perform various tasks. For instance, with this feature, you can fake your location and play Pokemon Go, access social dating apps, and do a lot more. In that case, you need to know how to turn on the Android mock location feature on your device. It is pretty easy. Below are the steps to allow mock locations:
Step 1. Start by unlocking the Android phone. Locate the Build number in Settings > About Device > Version > Build number. In some phones, you need to locate Software Information on the Settings page.
Step 2. Next, you need to click on the Build number 7 times consecutively to unlock the Developer options on the phone.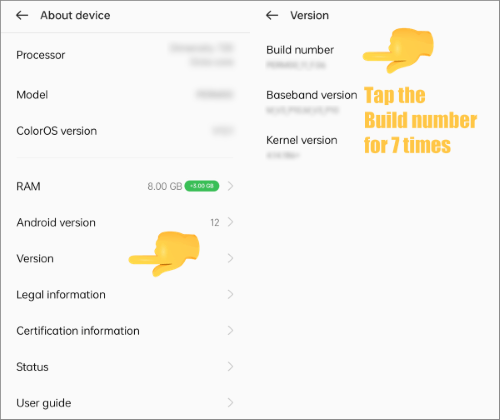 Step 3. Return to Settings > System settings > Developer options.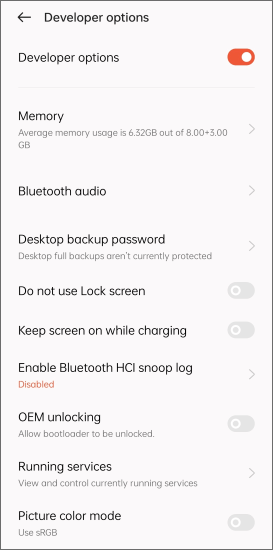 Step 4. From the list of options, find the Allow Mock Locations function (or similar functions) and enable it.
Part 3. How to Disable Mock Locations on Android Devices
The mock location function is one of the most important features on Android devices. It lets you spoof your location to any place you want. This means you can freely access those restricted contents without moving from your current location.
Now that you know how to enable mock location, it is also important to understand how to turn it off. When you learn these two techniques, spoofing your location won't be a piece of cake.
Here is how to turn off mock locations Android:
Step 1. Head to Settings > System settings on Android.
Step 2. Locate the Developer option at the bottom, and switch it off.
Also read:
Top 3 Ways to Change Location/Country/Region on Netflix Easily
[Comprehensive Review] Undetectable Mock Location Apps Recommended
Part 4. How to Use Mock Locations to Change Your Location via Location Spoofer Apps
After enabling the Mock Location feature on Android, you can change your location seamlessly. However, you need third-party software to make it happen. Luckily, there are plenty of free location spoofing applications from the Play Store you can use to switch your location to another place. You just need to identify an app, download it on your phone, and start changing your location.
Here are some apps you can use:
App 1. Fake GPS location
One popular app you can download on your Android and change location is Fake GPS location. It is a top-rated Google application, with many attesting to having worked for them. With its many features, it enables you to change your location hassle-free. You can save a GPS location and use it later.
Here is how to use this tool:
Step 1. Install the Fake GPS location application on your Android.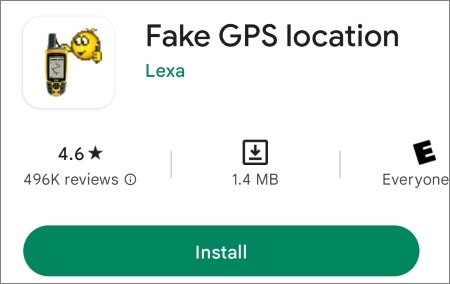 Step 2. Go to Settings application and click on System settings > Developer options. From there, click on the Select mock location app. Now, choose the Fake GPS location application and enable it for location changes.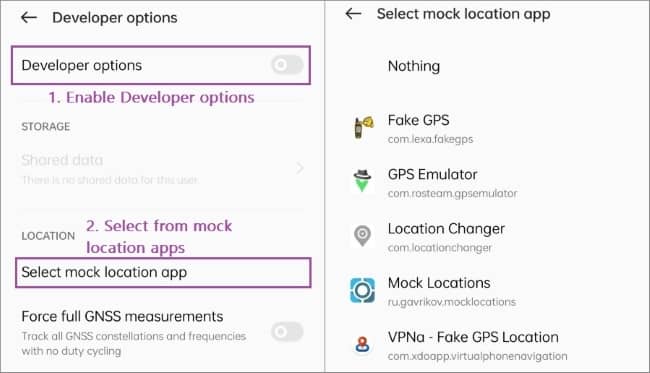 Step 3. Launch Fake GPS location application. Choose your desired location by dragging the pin to the place and clicking the Start icon to change the location.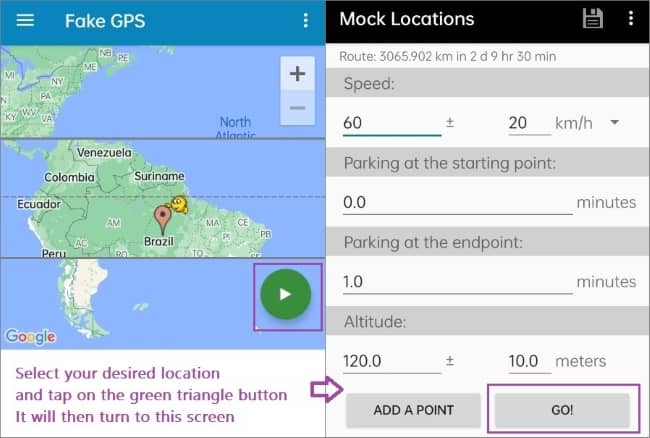 App 2. Mock Locations App
Mock Locations application is also another simple, efficient spoofing application that changes your phone's GPS to anywhere you want. With this application, simulating location to any place around the world will be very easy. Perhaps you want to change your location to a certain place to test the apps/services or don't want someone to know where you actually are.
Here is how to use this tool:
Step 1. Start by downloading and installing the Mock Locations application from the Play Store.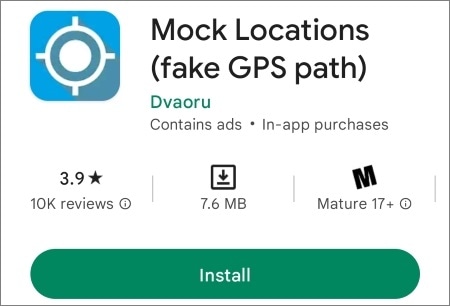 Step 2. Launch the app, then enable Allow mock locations in the phone's Developer options. After that, choose Mock Locations application as the phone's mock location service in Developer options.
Step 3. On the Mock Locations application, click on Select mock location app tab and choose the app to test. Find the location you wish to use as your location.
Step 4. After selecting the location, click on Set mock location to finalize the switching process.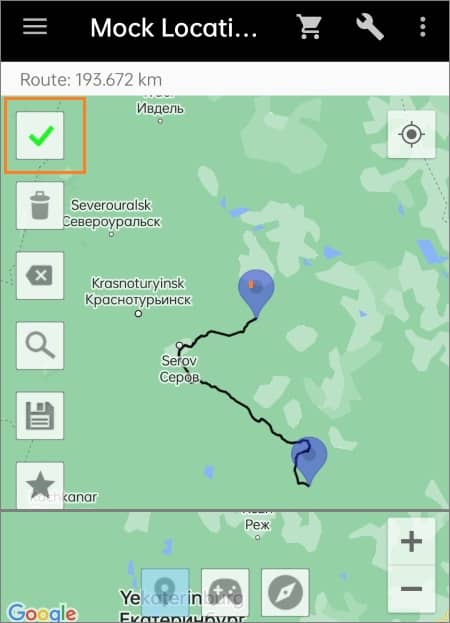 App 3. Location Changer [PC]
You may want to change your Android device's GPS location for security reasons, to play location-based games, to access geo-restricted resources, etc. In some cases, you will require a stable connection to use the fake location effectively. There is a large pool of location spoofing applications, and some are unreliable. But what is the best Android mock location application? Location Changer app - a professional location spoofing application that is easy to use and reliable.
With the Location Changer app, you can change your Android/Apple device's GPS location, create a fake movement route, set a customizable movement speed, save your location information, export/import your location data, etc. It is a peerless application that is liked by millions across the globe. This application has an intuitive and easy-to-use interface that makes it the best option for experts and novice computer users.
Key Features
Enable users to change their Android/iPhone device's GPS location.
Work natively with location-based applications such as social platforms, AR games, etc.
Users can use its Joystick to simulate movements while playing games like Pokemon Go.
Allow users to export and import location information using GPX files.
Work natively with all Android and iOS devices.
Below is how to change your Android device's GPS location using the Location Changer application:
01Download, install, and launch the Location Changer application on your Windows or Mac computer.
02Hit the Get Started button, select USB connection mode, link the Android phone to the computer using a USB cable, and enable USB debugging mode.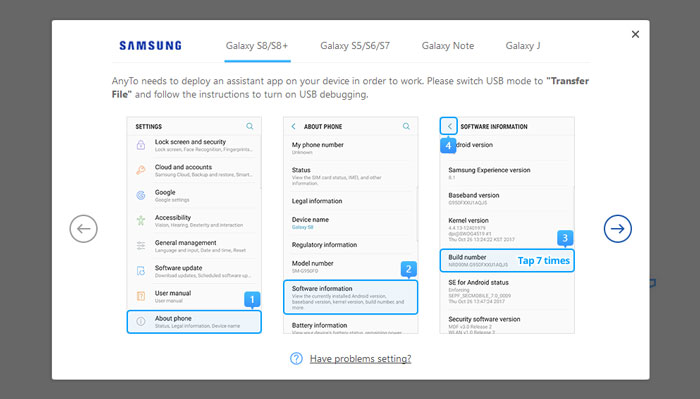 03Select a location mocking mode as either Gaming or Social, depending on your intentions. The gaming mode can only support Pokemon Go. Let us go with the Social mode, a mode that works with various location-based applications such as WhatsApp, Facebook, Google Maps, etc.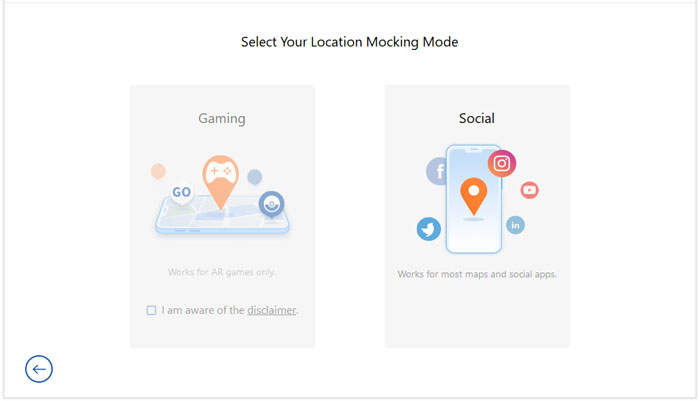 04Click the Social Mode option, and the Location Changer application will begin to install a GPS Assistant into your Android phone. After installation, locate the mock location option on the Developers options and select the GPS Assistant app from the list of applications.
05Hit the Teleport Mode option in the upper right corner of the computer's screen, select your location of interest after zooming in and out of the map, or key in the GPS coordinates of your destination and hit the Move button.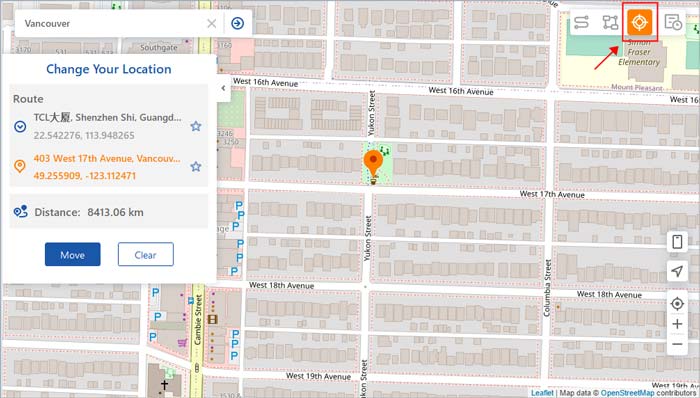 Read more:
Explore the World from Home: How to Fake Location on Snapchat Map
Fake GPS Location for Tinder: Why and How to Do It in 2023
FAQs About Mocking Locations
Q1. Why should I use an Android fake-location tool?
There are various reasons why you would want to spoof your Android device's location. For example, you may wish to change your device's location to avoid being tracked by malicious people, access location-restricted content such as movies, TV shows, etc., play location-based games like Pokemon, test Android applications on different regions, and more.
Q2. Which is the best mock location Android 13 application?
Location Changer. It is a professional Android and iOS device location spoofer that is easy to use and reliable. The application is primarily designed for faking Android and iOS device locations using a Windows or Mac computer.
Q3. Can I enable Mock Location on my iPad/iPhone?
Unfortunately, the iOS operating system lacks a built-in mock location option. As such, it is not possible to fake your iPad/iPhone's location without jailbreaking it. Luckily, you can change your iPad/iPhone's location using a professional location spoofer like the Location Changer application.
Conclusion
The Android mock location feature is very helpful in enhancing the privacy of your location information, testing applications, accessing location-restricted content, playing location-based games, and more. Luckily, we have guided you on how to use the Mock Location feature to change your device's location. For a better and more reliable connection, we recommend you use a professional location spoofing application like Location Changer. With this tool, you can easily fake your Android/iOS device's location within a short time.
Related Articles:
How to Fake Twitter Location Easily | FAQs and Solutions [Proven]
How to Share Location on Android with Your Family and Friends
How to Fake Location on iPhone iOS 16/15/14 in 4 Ways? [2023 Updated]
Pro Tips for Pokemon Go Spoofer on Android: Master the Virtual Journey
How to Fake Location on Find My iPhone Without Anyone Knowing
Easily Fake Google Maps Location with 4 Methods [Ultimate Guide]