How to Transfer Photos/Pictures from iPhone to Mac Easily?
Q: How do I download photos from my iPhone to my iMac? I can't find a connection in iTunes that allows a transfer. Can anybody tell me how to do it? Many thanks.
Transferring photos from iPhone to Mac is an ideal way to back up pictures and release iPhone's storage capability. So that you'll never worry about suddenly losing photos from iPhone without any backup and you can save the new photos in your iPhone as you like. Export pictures from iPhone to Mac can be a simple task or troublesome task for different people. The key point is to find an effective way. In this article, we could like to show you three different methods to transfer photo from iPhone to Mac. You can compare them and decide which one is better according to your own specific needs.
Method 1: Using iPhoto to Import Photos in OS X
Method 2: Coping Photos with Mac Built-in Preview
Method 3: Asking Help for A Reliable iPhone to Mac Transfer
Method 1. Using iPhoto to Import Photos in OS X
If the photos you want to export to Mac are taken by your iPhone, then you can use iPhoto to finish the transferring from iPhone to Mac OS X. Below is the simple steps for your reference.
1. Connect your iPhone to Mac, then iPhoto will automatically launch and open to the Import window. All photos in your iPhone will be listed under "Camera Roll" option.
2. Here, you can import all iPhone photos into iPhoto by clicking "Import All" button. If you only want to import a few pictures, then just hit the "Import Selected" button as you like.
After importing photos to iPhoto, a dialogue box will appear and ask you would like to delete the original pictures from your Camera Roll. You can delete or undelete the original photo at your will.
Method 2. Coping Photos with Mac Built-in Preview
Preview is the Mac built-in function, which acts as an image viewer very well. But actually, it is also a good file importer. To copy photos to Mac, you only need:
1. Plug your iPhone to Mac and launch Preview on your computer.
2. Select "Import from iPhone…" from the File menu. Here, you can choose "Import" or "Import All" to get all the pictures or the specific photos.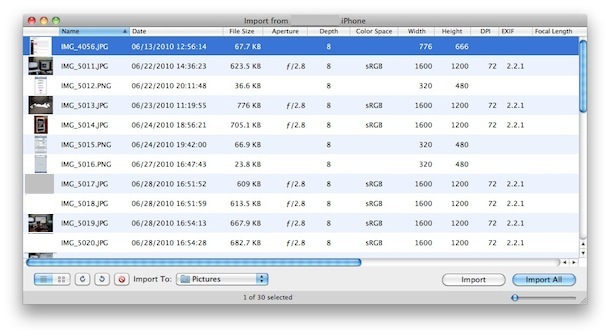 During the process, you can choose the output destination by yourself. So after importing, you can open the folder you set before to check the exported pictures freely.
Method 3. Transfer Photo from iPhone to Mac with Third-party Program
Coolmuster iPad iPhone iPod to Mac Transfer is the program, which enables users to export all photos to Mac with one simple click. With it, no matter the photo is taken by your iPhone, or the images are downloaded from the websites, you can copy them to OS X without any limitation. (This tool also has a Windows version for PC users' reference.)
This iPhone to Mac Transfer is really easy to use for every user. No matter how many photos you want to transfer, or how large the file is, you can export them at one time. And all transferring process will be finished within 2 simple steps:
1. Launch transfer tool on your Mac and connect iPhone to Mac.
2. Preview and mark photos you want to transfer, then click "Export" to finish it.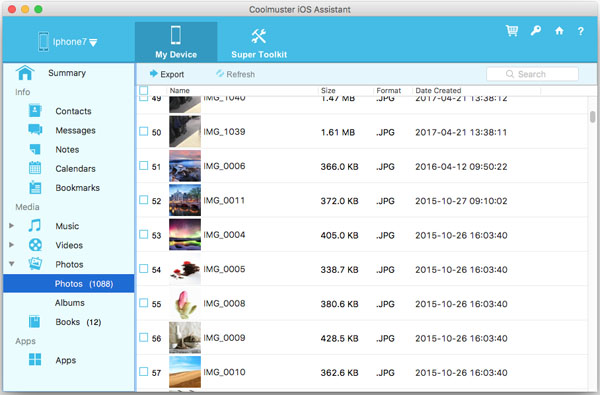 Which One is Better?
Above is the three different methods for transferring photo from iPhone to Mac, which one is better according to your needs? Actually, in my opinion, I think the third one is the best method to solve your transfer problem. Because it is not only a simple iPhone Music Transfer, but also a reliable iPhone Contact/SMS/Note Recovery. With it, you can transfer anything from your iPhone to Mac easily.