iCloud is a smart way of protecting your photos with its real-time syncing capabilities. iPhone users often prefer iCloud as a storage service due to its convenience and ease of use. As a pre-installed application, it offers 5GB of free storage to back up photos when there is a stable WiFi connection. Whenever you take a photo on an iPhone or create a photo album in the Photos app, it will immediately be synced across all devices, such as iPad, Macs, etc. It's easy to understand why iCloud has become indispensable for people who value their photos.
Despite the undeniable perks of iCloud, you may encounter technical issues now and then. One of the many problems users face is iCloud photos not syncing. Several measures can be taken to fix syncing problems with iCloud photos. In this article, we will discuss potential causes and solutions to help you resolve such an issue quickly.
Part 1. Why Are My iCloud Photos Not Syncing
iCloud is one of the go-to solutions for iOS users looking to back up their photos and transfer them between devices. When connected to WiFi, iCloud allows users to access their cloud storage and upload or download photos. But why is iCloud not syncing photos? Well, there could be several reasons, such as;
Unstable internet connection - If your WiFi connection is unstable, it might impede iCloud's ability to successfully synchronize your photos. Synchronization always requires your device to be connected to a good WiFi network.
iCloud storage is full - iCloud provides 5GB of storage space for free to keep all your files in one place (Not enough iCloud storage?). Unfortunately, once you reach that limit, data synchronization will cease unless you upgrade to a paid plan or remove other files to create more space.
iCloud Photo Library is disabled on your device - Another reason for iCloud photos not syncing is that your iCloud photo library is disabled. This feature should always be turned on for your images and videos to upload automatically. If it's off, iCloud cannot get permission to back up the pictures.
You used different iCloud accounts on your devices - Whenever you plan to sync data with iCloud, remember that it is essential to register an account using your Apple ID and password. To keep all your devices in sync via iCloud, make sure each one uses the same credentials. Otherwise, if different accounts are used on both iPhone and PC, syncing photos between them will not be possible.
System or iCloud running problem - Your iCloud backup depends on the status of your devices and the iCloud app. If you experience any issues with a poor battery or an outdated system or iCloud version, it could result in halted photo syncing on your iCloud account.
You may like:
Restore from iCloud Paused? Fix It with 9 Solutions Here!
Top 7 Solutions to Fix iCloud Photos Stuck at 1%
Part 2. Fixing Photos Not Syncing to iCloud
Apple's iCloud Photo Library provides an invaluable platform to manage, edit, and share our photos across multiple device platforms seamlessly. With this service, you can easily sync your pictures between different devices. Besides, you can edit your pictures and share them to iCloud Photo Library. However, you may need a paid account to use its features fully.
If you find that your iCloud photos are not syncing properly, the iCloud Photo Library may be at fault. Don't feel helpless; follow this guide, and learn the tricks to get out of this problem.
Ideally, you can use these tips to easily resolve iCloud Photo Library syncing issues on iPhone/iPad and Mac and ensure all of your photos are saved.
2.1. How to Fix iCloud is Not Syncing Photos with iPhone/iPad
Solution 1. Check your internet connection
Are your iCloud photos failing to sync? It could be because of a lost connection. Check if there is a WiFi connection or cellular data if you are using the Cellular option. If the internet has been disrupted, try restoring it before you consider syncing again. Also, ensure that data services are enabled and working properly when uploading photos through a cellular data network. Here is what to do:
Step 1. Head to "Settings" on your iPhone and choose "Photos". Find "Wireless Data."
Step 2. Click on "Wireless Data," then select "WLAN and Cellular Data" to allow photo syncing to iCloud via Cellular or WiFi. If you don't have WiFi, your device will use cellular automatically.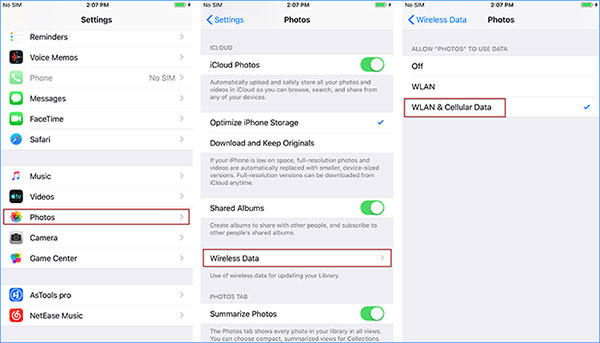 Solution 2. Check your iCloud Storage
An iCloud account, by default, offers 5GB of storage for saving photos and documents. The error message "photos not syncing to iCloud" may signify that you have passed the limit. To resolve this issue, it is recommended to delete any unnecessary files from your account, such as apps, Drive files, videos, or other information. Doing this will create more space and allow your iCloud library to update accordingly. Another tip to solve the issue is upgrading your current plan.
To check iCloud Storage, open the settings application on your iPhone and tap on your username. Now choose "iCloud" and select "Manage Storage." Here, you will be able to see the available storage space in iCloud. (How to free up iCloud storage?)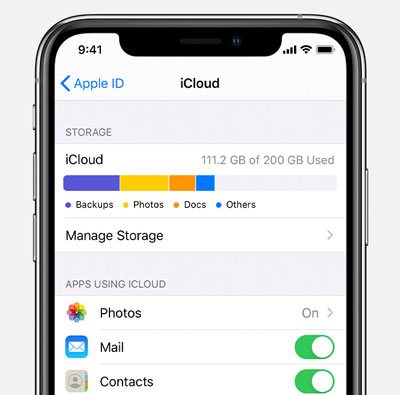 Solution 3. Update Your Device
Still, facing photos not syncing to iCloud issues? Try checking if your iOS system is up to date. An outdated version can cause various issues in your device, so updating it could be a potential fix.
To update your iPhone's iOS, go to Settings and click "General." Then look for "Software Update." If there is an update, install it on your system. Doing this will enhance your phone's performance and remove any bugs causing the issue.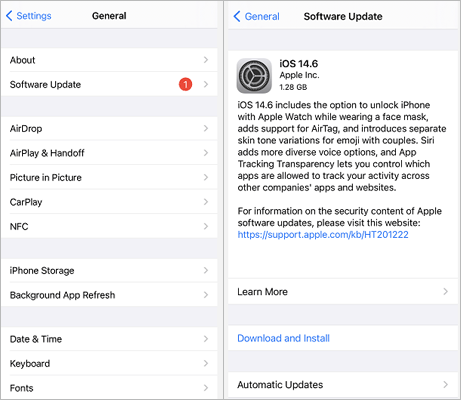 Solution 4. Disable and then Enable iCloud photo library
If you're experiencing problems with iCloud photos not syncing to iPad, a simple reset is sometimes all it takes to solve the issue. You can reset the iCloud photo library through the settings apps to sync your pictures again. Head to "Settings," then to "iCloud," click on "Photos," then turn off the "iCloud Photos" option.
Now reboot your device then repeat the process again and switch on the photo library.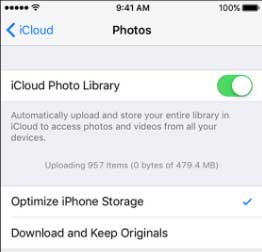 Solution 5. Update the iCloud settings
If you're having problems uploading photos to iCloud, then your device is likely not permitted to do so. Setting up your iCloud correctly is essential for ensuring that everything runs smoothly, including granting permission for photo uploads. Follow the steps to update iCloud settings on your iOS device:
Step 1. Click on "Settings" application from your device's screen. When on the settings page, click on your Apple ID.
Step 2. Now choose "iCloud" from the screen.
Step 3. On the iCloud menu page, choose "Photos" located below "Apps Using iCloud."
Step 4. From the screen, switch on the "Sync This iPhone" option.
Solution 6. Restart the Device
Restarting your iOS device is one of the simplest solutions to iCloud photos iPhone not syncing issues. However, how to restart an iPhone may vary depending on its model.
To reboot various iPhone models:
iPhone 8 and above - Press the Power + Volume buttons and hold for a few seconds. Release them and slide them to switch off. Hold the Power button and release it when you see the Apple logo.
iPhone 7/Plus - Press and hold the Power button for a few seconds and drag the power slider to turn it off. Now long, press the power button again till you see the Apple logo.
iPhone 6s or earlier - Hole Power + Home buttons for some time till the power off slider shows. Slide to switch off the device and press the Power and Home buttons again to power it on.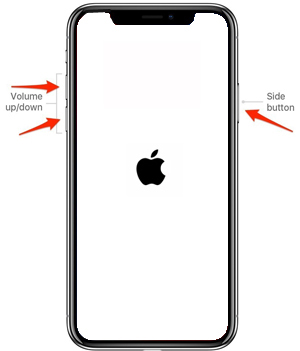 To Restart iPad devices:
iPad without Home buttons - Long press either the volume and top button till you see the slider to power off the device. Slide it to switch off the device, wait for a few seconds, and turn it on again.
iPad with Home buttons - Long press the top button until you see the screen's power off slider. Slide it to power off the device and turn it on again.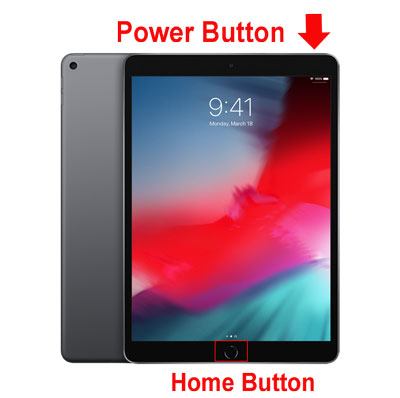 Solution 7. Sign out of Apple and In Again
If your iCloud photo library on iPhone isn't syncing, the reason could be an issue with your Apple ID. This can easily be resolved by simply re-logging into your account.
To do that, open "Settings," click on your profile, tap "Sign Out," and then log into your Apple ID again. (Forgot iCloud password?)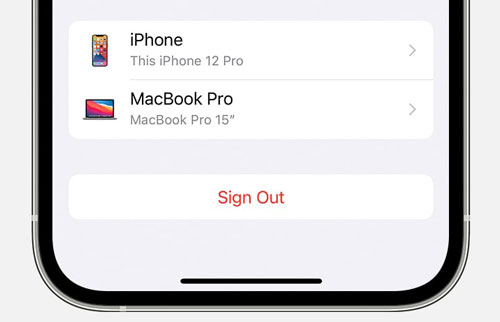 2.2 How to Fix Photos on Mac Not Syncing to iCloud
Mac users are also faced with the same issue of photos failing to sync, which isn't new. Try these easy tips to resolve iCloud photos not syncing to Mac problems:
Solution 1. Switch on iCloud Photos
Are you confused as to why photos on Mac not syncing to iCloud? It's possible that iCloud Photos is not enabled on your computer. This can occur when you have just finished configuring a new Mac and did not activate iCloud Photos. Here is how to switch on iCloud Photos on Mac:
Step 1. Open the "Photos" application on your Mac.
Step 2. Choose "Photos" and tap "Preferences" from the menu bar.
Step3. Turn on "iCloud" and mark the box next to "iCloud Photos."
If you choose the Download originals setting, you will only download original files in your Photo library onto your Mac. Alternatively, if you need to save space on your computer, select Optimize Mac Storage, which reduces file resolution.
Solution 2. Check the Apple ID Used on Mac
You may be astonished to learn that many individuals make different Apple IDs for their computers and phones. Consequently, the pictures won't sync up if you are signing into iCloud with different accounts on your devices. To fix this issue, open the "System Preferences" application and choose "Apple ID." You will see the Apple ID; check to confirm it's the correct one used on all other devices.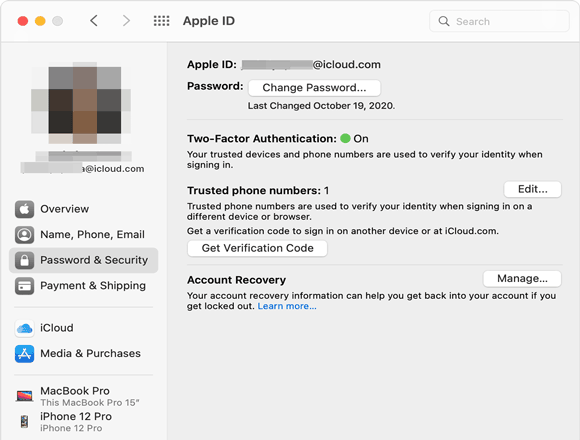 Solution 3. Turn off the Sync Option and turn it On Again
Struggling to sync your photos? Disable and re-enable iCloud Photos by navigating to "Photos" and "Preferences" in the menu bar. Then uncheck the box beside "iCloud Photos" under the iCloud tab. After that, reboot your Mac, and check this same box again when you reopen Photo App's preferences window. Doing so should bring a successful sync once more.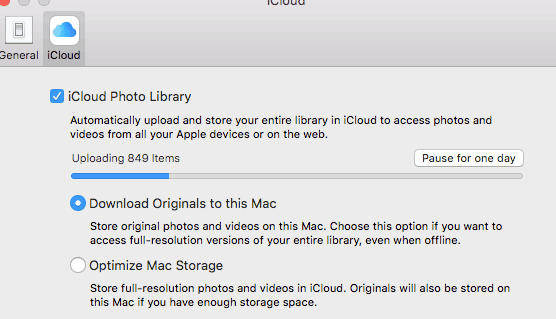 Solution 4. Restart Mac
Rebooting any device is known as a quick way of fixing any glitches in the system. Similarly, if your photos can't sync on your Mac, try this technique. Just open the Apple menu and choose "Restart".
Solution 5. Ensure the Operating System is Up to Date
Updating the operating system of your Mac computer will help avoid the problem with the Photos application. Here is how to do that;
Step 1. Open the Apple menu, then choose "About This Mac."
Step 2. Choose "Software Update"
Step 3. Click on "Update Now."

Solution 6. Check the iCloud System Status
Confirming that iCloud Photos is operating on the server is also a good option. To do that, go to the System Status website on Apple and check the status next to "Photos." If any issues are found, you'll have to wait for Apple to solve them.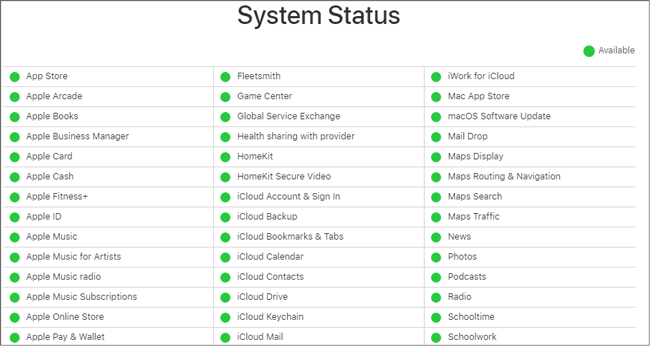 See more:
7 Common Solutions to Fix iCloud Upload Stuck Issue Easily
iPhone Won't Backup to iCloud, How to Fix It?
Part 3. Best Alternative Method to Back Up Your iPhone Photos
Save yourself the heartache and stress of losing your photos by backing up photos via Coolmuster iOS Assistant. This tool makes it easy to securely back up your iPhone photos to your computer. It supports many file types, from photos, music, and videos to music, ringtones, and more. If your pictures aren't syncing to your iPhone, try this tool and see how effective it can be.
Apart from data backup, this tool also serves as a perfect document manager for all your files. It's compatible with most iOS devices such as iPhone iPads and iPods, even the latest generation of iPhones.
Key Features of Coolmuster iOS Assistant;
It can back up and restore all files on an iOS device in one click.
Transfers iOS data after previewing and selecting.
You can add, delete, and edit all data saved on your iOS devices directly on your PC.
Manages your iTunes backup data and iOS files on the computer.
Very compatible with most generations of iOS devices, including iPhone 14/13/12/11/X/8/7.
How to backup your iPhone photos to computer easily via iOS Assistant?
01 Install Coolmuster iOS Assistant on the PC, and launch it to get to the main interface. Now connect your iPhone and click "Trust" as prompted. Click "Continue" to proceed.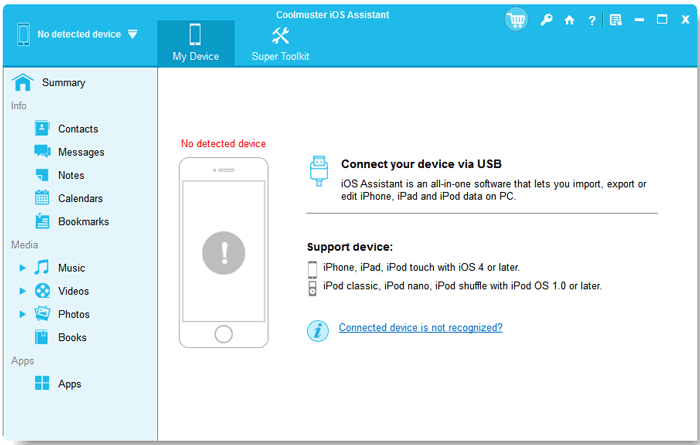 02 After the software detects your device, you will see it on the screen with each file folder arranged on the interface.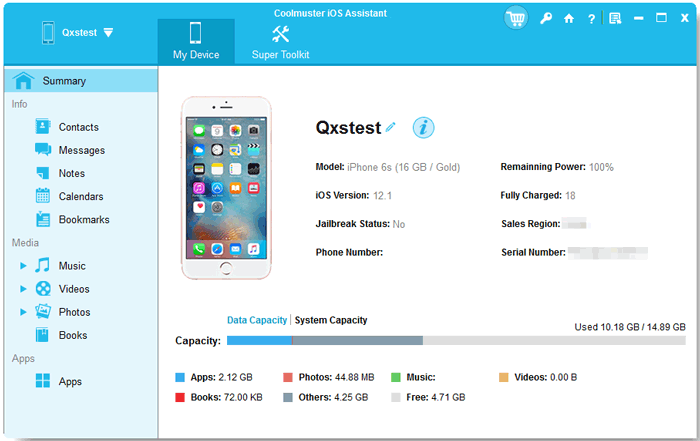 03 Choose the Photos folder from the left panel. Click on it to open and preview the files as you choose the pictures to transfer to PC. Once done, click "Export" and choose the right file format.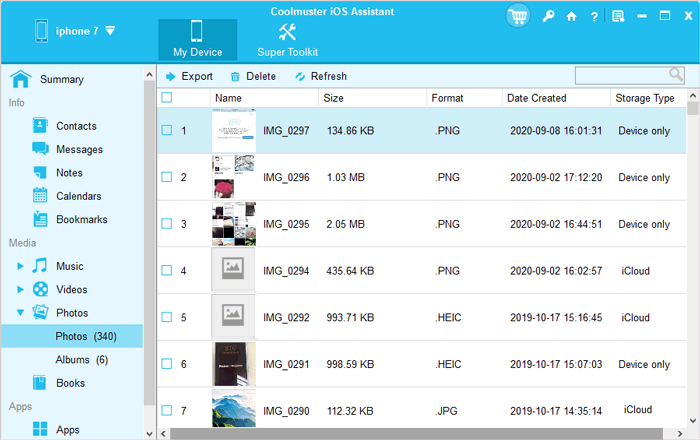 Recap
You now know why you may face an 'iCloud not syncing photos' problem and how to rectify it. Minor software issues can be solved by rebooting the phone, checking the connection, or using your Apple ID. Yet, if that doesn't solve the issue, it might be time to reach out for assistance from Apple Customer Care; you certainly don't want this problem to persist any longer.
To be safe, backup your photos to your PC using Coolmuster iOS Assistant. That way, you can keep your cherished memories safe.
Related Articles:
How to Fix iCloud Back Up Now Greyed Out?
Fast Fix iCloud Contacts Not Syncing | 8 Ways and Powerful Alternative
iCloud Backup Failed | iPhone Not Backing Up to iCloud (12 Fixes)
Contacts Didn't Transfer to New iPhone? 7 Flexible and Easy Fixes
Fix iCloud Link Not Working or Loading | Effective Solutions