AirDrop is a unique program that uses Bluetooth and Wi-Fi technologies to move photos between two iOS gadgets. This unique application allows you to share photos at an extremely fast speed without losing data. AirDrop is very useful, especially when sharing pictures. However, AirDrop allows sharing photos between iOS devices only. Want to learn how to airdrop multiple photos from one device to the other? This article will guide you on how to do it.
Part 1. How Many Photos Can You Airdrop at Once?
Apple has not specified the specific number of photos one can share using AirDrop at once. Theoretically, you can move as many pictures as you want. Nevertheless, the below factors affect AirDrop picture-sharing efficiency:
The speed of your Wi-Fi network.
Your device's specifications, such as CPU and RAM.
The available storage space.
Tip: AirDrop not work on iPhone? You can check this guide to fix AirDrop not working on the iPhone issue.
Part 2. How to Airdrop Multiple Photos with Effect
What will happen if you attend a party and take plenty of beautiful photos with your friends and colleagues? Your friends will request you share the pictures with them, and the most convenient method of sharing the photos between iPhones would be airdropping them. Let's learn how to airdrop photos.
Method 1. How to Airdrop Pictures Between Two iPhones
Want to learn how to share pictures between two iPhones? Below are the respective steps for airdropping photos between two iPhones:
Step 1. On the home screen of your iPhone, scroll down and access the "Control Center" section. Tap on the "Bluetooth" option, select the "AirDrop" app, and then the "Wi-Fi" icons to switch them on.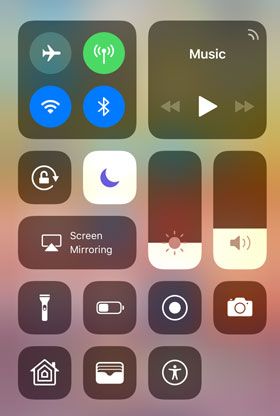 Step 2. Launch the "Photos" application and choose the photos you want to airdrop. You can choose them selectively or select all at once.
Step 3. After selecting all the respective pictures, click on the "share" icon on the bottom-left part of the screen.
Step 4. After tapping the "Share" icon, a screen with an AirDrop icon will appear. Now select the device to which you want to send the pictures, and the file-sharing process will begin since the Bluetooth and Wi-Fi features are enabled on the two devices.
Read More:
How to Transfer GIF Pictures from iPhone to Mac in Different Ways?
How to AirDrop from iPhone to PC Windows 11/10/8/7 in Six Practical Ways?
Method 2. How to Airdrop Photos from iPhone to Mac
AirDrop is a great way of sharing pictures between iPhones and Mac computers. Below are the steps involved:
Step 1. Open the AirDrop application on both devices.
Step 2. Open the respective file/files you wish to Airdrop. If you want to transfer multiple files, launch the Photos application and click the "Select" option to pick out all the pictures you wish to Airdrop.
Step 3. Tap on the "Share" icon on the screen's bottom-left part. Select the "AirDrop" option.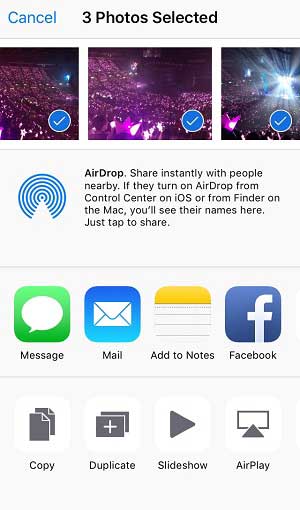 Step 4. Choose your respective iOS gadget from the available options and hit the "Send" button.
Step 5. Hit the "Done" button after the pictures have been sent successfully.
May Like:
Easy Ways to AirDrop from iPhone to Mac [Support Various File Types]
How to Transfer Files from iPhone to Mac without iTunes [Full Guide]
Method 3. How to Airdrop Pictures from Mac to iPhone
You can also airdrop pictures from your Mac to your iPhone. Below are the steps that you should follow:
Step 1. Launch the "Finder" application, tap on the "Go" option, and hit on the "AirDrop" button.
Step 2. Switch on the Bluetooth and Wi-Fi features on both devices. Set your Mac's Bluetooth feature to be visible by "Everyone" or "Contacts Only", depending on if the iPhone device is saved in your Mac's contacts.
Step 3. Select the images you want to send and drag and drop them to the recipient's picture. After that, click on the "Send" button. Or you can launch the Photos application, select the images you want to share, hit on the "Send" button, select the "AirDrop" option, hit on the recipient, and finally hit the "Done" button.
Can't Miss:
How to Transfer Songs from iPhone to iPhone Using AirDrop [Step-by-Step]
How to Transfer Photos from Mac to iPad in 2023 [Validated]
Part 3. Frequently Asked Questions on AirDrop Multiple Photos
1. Can you Airdrop multiple photos?
Yes, you can airdrop multiple photos at once using the method mentioned earlier.
2. How many photos can I airdrop?
There is no specific limit to airdrop photos on Apple devices at once. The number of photos you can airdrop at once may vary depending on various factors, such as the size of the photos and the available storage space on your devices.
3. How can I enable AirDrop on my iPad or iPhone?
You can enable the AirDrop feature on your iPad or iPhone by following the below steps:
Step 1. Launch the "Settings" application on your iPhone, Scroll down the screen, and tap the "General" button. After that, select the "AirDrop" option.
Step 2. Select the transfer option as "Contacts Only" or "Everyone" and turn on the Wi-Fi and Bluetooth feature. Your AirDrop application is now enabled.
4. Why is the AirDrop not working on my Mac computer?
Some factors that may make your AirDrop fail to work on your Mac computer include: enabling Airplane mode, using your iPhone's hotspot, and software glitches affecting the Bluetooth connections.
Bonus: How to Transfer Photos from iOS Device to Compute Using Professional Tool
Another wonderful way of transferring pictures from your iPhone to a computer is using a professional data transfer tool. There are several professional data transfer applications on the market. However, you should select an efficient and secure tool.
Coolmuster iOS Assistant is a professional tool that enables its users to transfer data from an iPhone to a computer securely. This application work on most iPhone models and supports various data types, such as messages, texts, documents, photos, call logs, and more. Its user interface is also very user-friendly, making it a go-to option. Click the button below to download Coolmuster iOS Assistant.
Below are the simple steps for using this reliable tool:
01Move to the Coolmuster iOS Assistant application's website and download the application. Install the program on your computer and launch it.
02Use a USB cord to link the iPhone to the computer. Click on the "Trust" button to authenticate the connection, and click on the "Continue" button to move to the next step.
03Click on the "Photos" folder, preview the pictures available in that folder, and select the pictures you want to send to your computer. Click on the "Export" button at the screen's upper part and save the photos on your computer.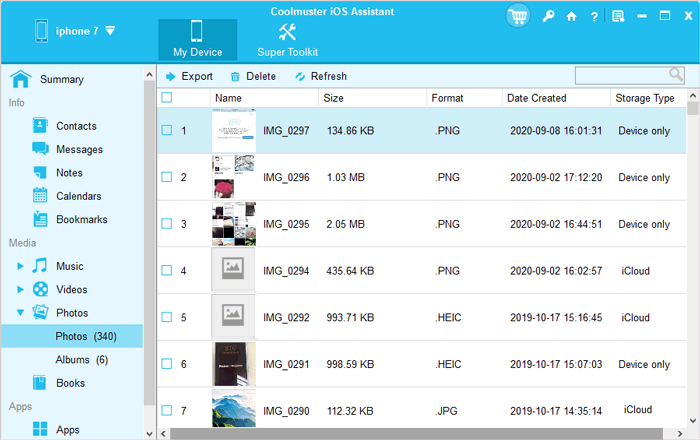 Conclusion
AirDrop is a great photo-sharing application that allows iOS device users to share multiple photos simultaneously. However, this application only works on iOS devices such as iPhones, iPad, and Mac computers. As such, there is a need to know how to use professional data transfer tools like the Coolmuster iOS Assistant application. With Coolmuster iOS Assistant, you can easily, securely, and efficiently send your iPhone's photos to a Windows or Mac computer.
Related Articles:
How to Share GIFs between iPhones Easily?
AirDrop Is Not Working on Mac, How to Fix?
Top 12 AirDrop Alternatives for Windows - Share Files Seamlessly
Seamless Cross-Platform Sharing: Airdrop from iPhone to Android
How to Transfer Ringtones from iPhone to iPhone? (iPhone 14 Included)
How to Mass Delete Photos from iPhone Handily [5 Approaches]