Huawei smartphones are becoming more and more popular and they are keeping provide great functions to Huawei fans. However, you can't uninstall certain apps that come with your phone like it's own browser instead of using a browser you prefer like Chrome. You may be able to back-up apps and personal info, but you are unable to backup system apps and their data to truly transfer everything to a new device. You are just short of having total control over a device you own. That's the main reasons why more and more Huawei users choose to root their Huawei devices.
Related Article: How to Check Android Root Status?
What you can do after rooting Huawei devices?
Rooting your phones allows you to flash custom ROMS, which are alternative versions of Android that give you "root" access to all of your phone's functions. Even more importantly, it allows access to data on both your internal memory card and your external SD card. This may be intimidating for some people since those unfamiliar with such technology can be afraid to delete major functionality programmed on your device. But the benefits of rooting your phone can include access to amazing, free apps that only work on rooted devices.
But there are many Android rooting risks you should face to. After learning these risks, it is necessary to do the following actions to make your Huawei phone data secure.
Actions to do before you begin rooting process
Action one: Back up your Huawei phone before rooting. You can create a backup of your Huawei device by using an efficient Huawei backup tool - Coolmuster Android Assistant.
Action two: You need to ensure your device will keep turn on during the process, so you should to make sure it has at least 60% charged.
Action three: Turn on USB debugging on your Huawei phone. If you don't know how to do that, you can refer to: How to enable USB debugging on Android phone.
Action four: Visit the Huawei official site and download the right drivers for your device.
Step by Step to Root Huawei Devices with Ease
First of all, you should download and install the two apps on your device:
TWRP (https://twrp.me/) - Help Android users to install 3rd-party applications and firmware on their devices.
Odin (https://odindownload.com/)
Step 1. Press the Power, Home and Volume Down button at the same time to put your Huawei phone into the bootloader mode. Then use a USB cable to connect the device to the computer.
Step 2. Launch the installed Odin on the computer and it will identify the downloaded Huawei drivers. If you see a message showing "Added", congratulations! The connection is successful.
Step 3. Choose the "AP" option and select "TWRP" image file from the program interface. After that, you can click on the "Start" button to flash TWRP recovery into your phone.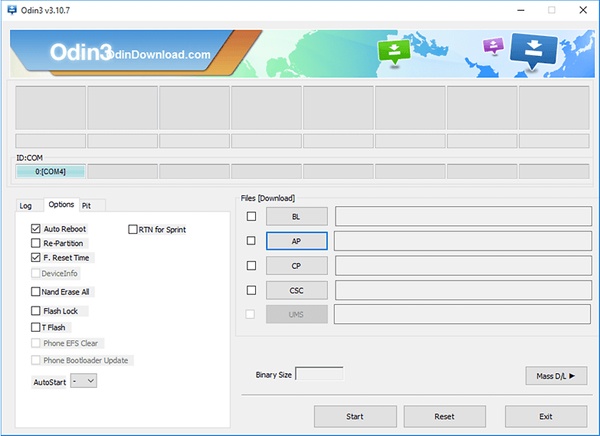 Step 4. After above operations, you will see a new window with a "PASS" message in the main menu, which means the TWRP recovery has loaded successfully. Now, you need to download SuperSU, unzip and copy the SuperSU zip file to your phone.

Step 5. Now, you can disconnect your device from the computer and put it into the recovery mode by pressing the Home, Power, and Volume up button simultaneously.
Step 6. Back to the TWRP main menu and find the button of "Install". Tap it and select the SuperSU zip file.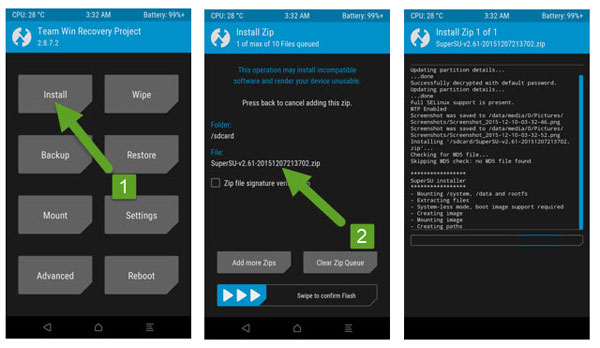 Step 7. When the flashing process is ended, you can restart your Huawei phone and you have got all root privileges now.
Related Articles:
Best Android Rooting Software to Root Android with/without Computer