How to Check Android Root Status? Rooted or Not?
After rooting your Android device, you can install more third-party applications from various sources freely, change custom themes and icons as you like. And in order to make the Android rooting process easy, we previously told you how to root Android devices step by step. But one you have tried to root your Android device, you may want to confirm whether the rooting process is actually successful. Since many people have no idea on how to check the root status, we write this article to tell you how to check whether the rooting process is completed or not, then, you can decide what to do if you fails to root Android phone.
There are many ways for you to check the Android root status. Here in this article, we list the most common ones for your reference:
Solution 1: Delete stock apps from your Android device
You can easily delete stock apps without any hassle on a rooted device, so you can have a try to delete stock apps, just the apps that you can't delete before rooting, from your Android device. If the app is removed successfully, congratulations! Your Android device is rooted!
Solution 2: Use an Android root checker app
Professional Android root checker apps can help you check the root status on your Android phone. Many such kind of apps available on the Internal, Root Checker as an example. You can search them from Google Player, download and install it on your Android device. Then, you can get an interface that inform you the device is rooted or not.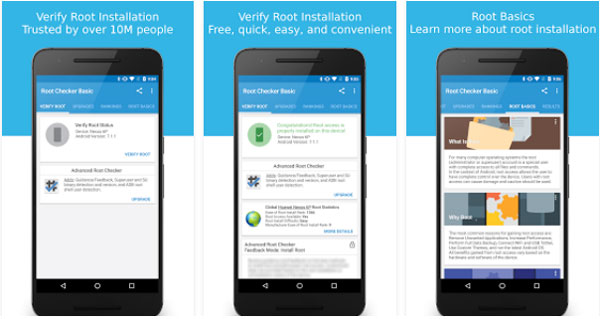 Solution 3: Use Lab.Fone for Android to Check Android Root Status
You can also use Coolmuster Lab.Fone for Android (with its Mac version - Lab.Fone for Android Mac) to confirm whether your Android device is rooted. What you should do is just as follows:
Step 1: Download and install the Lab.Fone for Android program on your computer, launch it and connect your Android device to the computer with USB cable.
Step 2: Enable USB debugging on your Android phone and install proper USB drivers on your computer, to make the device detectable by the program. Here, you'll get an interface like below requires you to grant permission on your rooted device. Just click "Allow" or "Grant" button on the device and make your selection be remembered forever.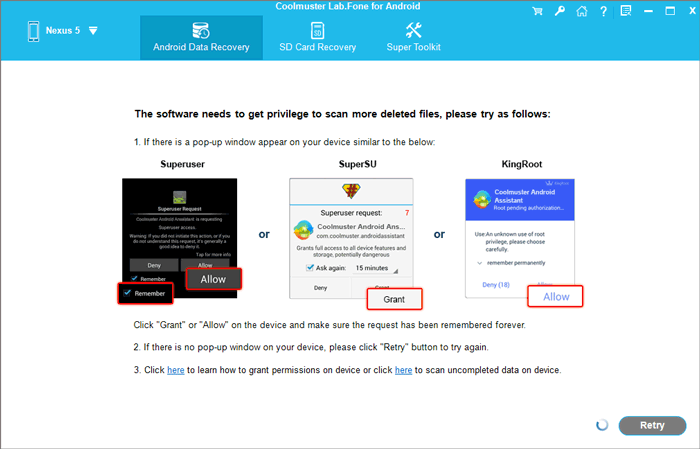 Step 3: Click the "Start Scan" button to scan all deleted, as well as existing contacts, messages, call logs, photos, etc. on the Android devices.
Related Articles:
Root Android Device with Android 6.0 Marshmallow