In the world today, our lives are surrounded by different multimedia devices. Most of them are Android devices that carry our contacts, music and pictures. Bluetooth technology embedded in them and it's used in transferring data between Android devices like personal computers.
In addition, data can also be transferred through Wi-Fi and to non-portable electronic devices hence eradicating the use of cables, adapters and wires making devices communicate wirelessly among each other. Android Bluetooth Managers enable the synchronization of data between different multimedia devices like tablets. It also allows one to play music and make calls wirelessly from any Bluetooth enabled headset.
Part 1. Best 5 Bluetooth Management Apps for Android Devices
Part 2. How to Manage Android Bluetooth Manager with Coolmuster Android Assistant?
Part 1. Best 5 Bluetooth Management Apps for Android Devices
1. Bluetooth Auto Connect
It is among the top rated Android Bluetooth managers by Android users. It connects automatically to your Android device when Bluetooth is on. However, initial connections are done manually for the first time and from then onwards, they will automatically recognizing your devices. You can connect several Bluetooth devices but it has to be done by giving priority to some devices.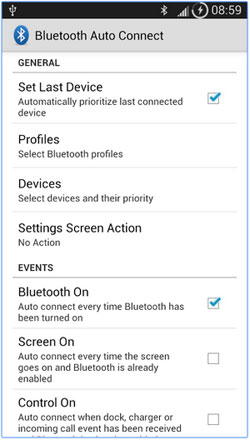 2. Btoolkit Bluetooth Manager
This Bluetooth manager automatically scans the Android devices and attaches one Android device with your contacts, making access to your contacts very easy. You can easily sort, filter the list of Android devices and even share your favorite music and files with your contacts. However, it cannot pair with PIN less devices that have Android version 4.1+.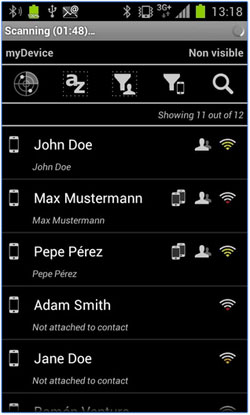 3. Auto Bluetooth
Auto Bluetooth manager automatically connects to the chosen device when receiving a call and as soon as the call ends it turns off automatically. This feature helps in saving power hence lengthening the phone's battery life. It is useful when driving a car since you will not need to stop to receive incoming calls.
You can download Auto Bluetooth from Google Play Store >>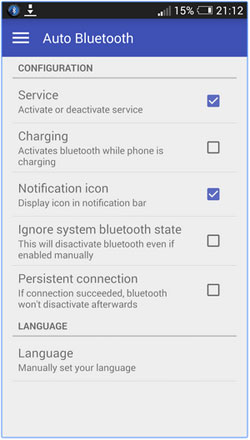 4. Bluetooth Manager ICS
Bluetooth Manager ICS is great for music lovers as it remotely connects to Android devices and plays music on a wireless headset or speakers. You only need to connect the device via Bluetooth Manager ICS and enable or disable the audio feature checkbox. However, this app has to be paid for and it does not stream music properly as it lags at times.
You can download Bluetooth Manager ICS from Google Play Store >>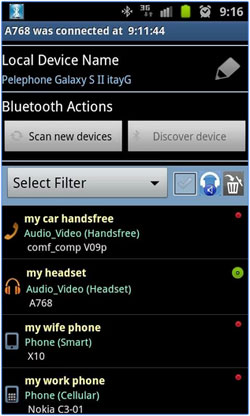 5. Bluetooth on Call
This app automatically turns on Bluetooth when on a phone call. It later turns on the power saver, when the call ends. However, for voice dialed calls, it does not turn on the Bluetooth. In addition, it does not turn off Bluetooth after charging your device.
You can download Bluetooth on Call from Google Play Store >>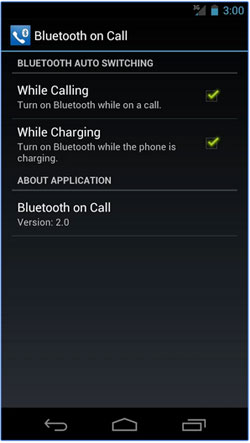 Part 2. How to Manage Android Bluetooth Manager with Coolmuster Android Assistant?
Coolmuster Android Assistant is an one-stop Android managing tool that helps Android users to in back up of files on computer with ease from any of their Android smartphone or tablet and restore everything from computer back to your Android devices.
In addition, it helps in communication as one can send short messages to many people as well as managing contacts. You can effortlessly install, uninstall and export apps on your device using this app. It is compatible with all Android phones and tablets running Android 2.3 to 4.2 or newer and it supports both Windows and Mac OS. It also safe to use and 100% risk free hence no need to worry about the safety of your devices.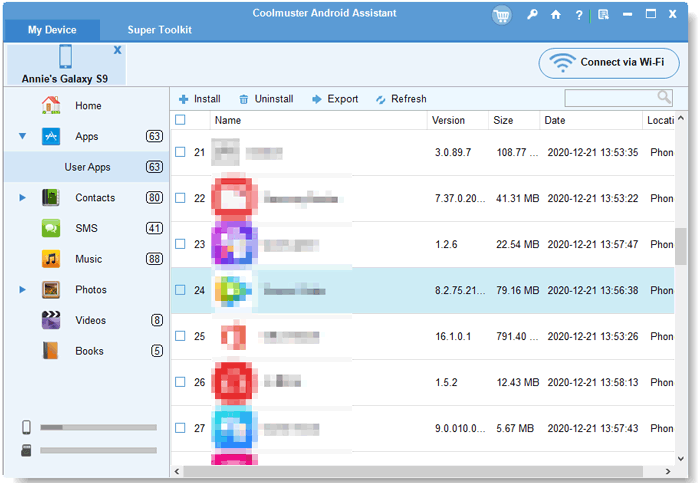 Install/Uninstall/Export Bluetooth Manager for Android Apps
- Download and install Coolmuster Android Assistant on your computer. Launch it. Connect your Android phone and you will be taken to the primary page of this software.
- Select the "App" icon on the left-side menu so as to show all applications installed on your Android smartphone. Proceed to installing, uninstalling or exporting your selected apps freely using this software.
Related Articles:
Top 5 Android Photo Organizers
How to Recover Deleted Files on Your Android