Mobile devices are increasingly being manufactured with advanced camera features finally making them the ideal devices for everything especially capturing snapshots, family photos and selfies. As one continues to take more and more photos, users need apps that will enable them manage photos on their mobile devices. When you purchase an Android phone or tablet, it comes with a stock photo management app with neat built-in features but users desire more therefore here comes the need for third party apps. Below are top 5 Android photo organizers that can help you manage pictures on Android phone or tablet.
What other people are reading?
Top 3 Android Notification Managers
Top 5 Android Desktop Managers
Top 5 Samsung Device Managers
Coolmuster Android Assistant: Export/Import/Delete Photos on Android
Android Photo Managing Ability: Coolmuster Android Assistant is a Windows and Mac OS compatible software that has the capability of managing media files such as photos in your Android device. It is packed with useful tools that allow you to organize your photos in your Android device with ease. You can delete, move and even enable you to transfer photos from your computer to your phone or from your phone to your computer. This allows you to enjoy your photos while on the go.
Compatible with different Android brands: The application is developed to be compatible with different Android smartphone brands such as HTC, Motorola, Sony, Samsung, Huawei, ZTE and LG among others. It is 100% safe application therefore no malware or viruses are available with the application.
Tutorial:
1. Download Coolmuster Android Assistant and run it on the computer.
2. Connect your Android device to computer via USB cable or Wi-Fi.
3. Select Photos tab and you can manage photos easily with various options like Export, Add and Delete, etc.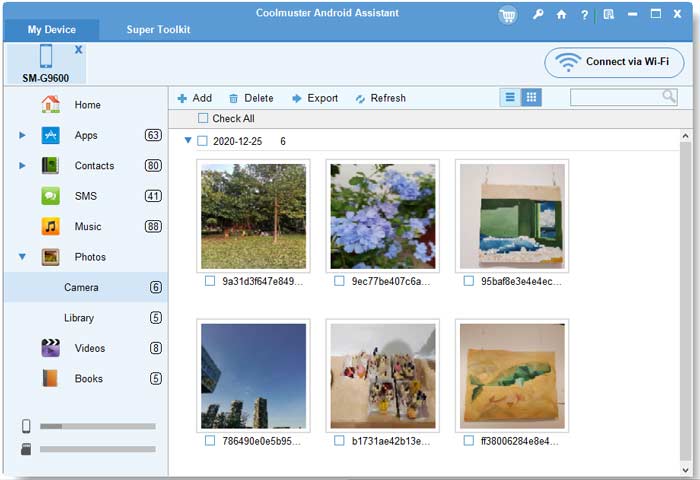 Google Photos
This is an app developed by Google to help Android users manage their photos with ease. It has a visual search tool that allows you to search photos by places, people and things and provides instant sharing where you can share photos with anyone. What's more, it also offers free high quality cloud storage for you to save your Android photos.
Pros:
* Allows you to edit your photos easily.
* Enables you to increase space in your device storage.
* You can share photos with anyone.
* You can bring your photos to life by creating montage movies, collages and interactive stories using your pictures.
Cons:
* Does not allow you to select folders you want to back up.
Photo Grid
This app is not only a photo manager but it allows users to create a collage with selected photos. Grid system allows you to combine photos quickly, style your photos with the photo editor and features with the ability to customize photo backgrounds.
Pros:
* You can edit your photos right in the app.
* You can change your photo background.
* You can create collages with the app.
* You can turn your photos into video stories.
Cons:
* Will not work with older Android devices.
Photo collage editor
This is a powerful photo management app that allows you to create amazing collages as well as edit your photos. It has an easy to use UI and features with a series of amazing photo filters. Also it has the ability to share to social media.
Pros:
* Allows you to make simple touch gestures to rotate and resize.
* Allow you to add text or stickers to photos.
* Allow you to edit photos in the app.
* Allow you to share your stunning photos on social media platforms.
Cons:
* Does not allow you to back up photos to your computer.
Flickr
This an amazing photo app that allows you to upload, organize, edit and even share your photos. Its cloud storage allows you to free your device storage. Organization of photos is simplified by using this application and it also features with the ability to edit your photos.
Pros:
* Tweak your photos by adding filters and cropping them.
* Share your photos with Flickr online community.
* Organize your photos with one gesture.
* Instant access to your online Flickr collection.
Cons:
* Cloud storage may not be enough for storing photos over a long period of time.
Related Articles:
Top 5 Android eBook Readers You Should Know