The new Android phone you bought from the store are almost the same in terms of settings and wallpapers by default. No doubt, you can personalize your Android phone as wanted and needed from various aspects, be it changing the wallpaper or adding a unique ringtone. However, not everyone knows about the usage of an icon pack which replaces all the existing icons with customized ones. An icon pack changes the interface of your phone completely and makes you feel as if you are using a new phone altogether!
Extra Bonus:
Android Alarm Clocks to Wake You up Timely
Now, let's check out these 8 free icon packs to personalize you Android phone like never before.
1.Polycon
Polycon boasts of some sleep and smart icons which gel with almost any kind of wallpaper on the phone. With more than 500 icons to choose from, you can also use the icon request feature to covers icons which haven't been covered yet.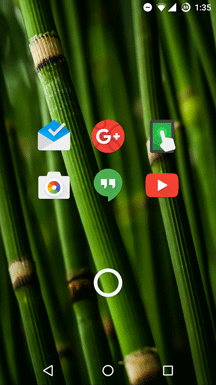 2. CandyCons
CandyCons is known for introducing Mater Design icons which are both stylish and elegant. With over a thousand icons to choose from, you will find them all in this pack! The wallpapers also complement the design equally well.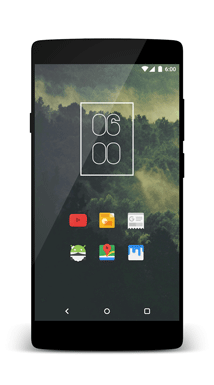 3. Glyphs by Tokems
Though a little tricky to install, it boasts of some beautiful icons which are great for you Android device. It offers a clean and sparse look with simple lines forming each icon.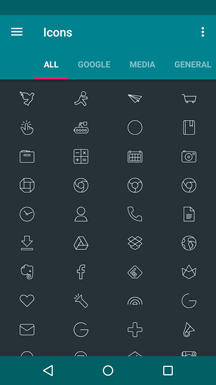 4. VIT
A current favourite amongst several users, it has a whooping 2000 crystal white icons in it and is known to add purity to the device! The icon buttons are slightly elevated with super app pictograms which give your phone a light look!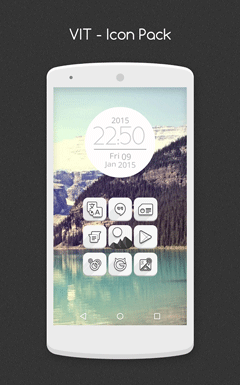 5. Stamped Black Icons
True to their name, the icons are stamped black and offer a dramatic look to the device. With over 1,000 free icons in the pack, you get full HD resolution offering a high definition display for themes and wallpapers.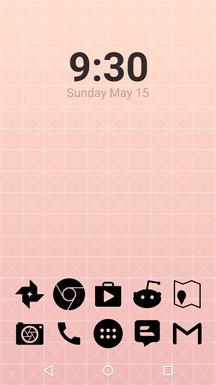 6. Simply 8-bit
The 8-bit look made popular by the 90's pixelated world view is what this icon pack has to offer.700 icons and counting, you can take your pick easily!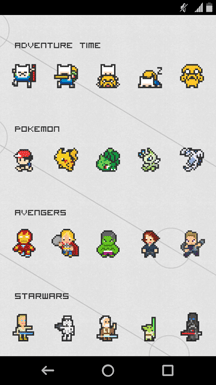 7. Candid
Being tidy and well-organized, white is the predominant color in Candid icons. With just about 180 icons up for grabs, this icon pack makes a shiny impression and gives you phone a clean look.
8. Belle UI Icon Pack
Being quite pretty and attractive to look at, this icon pack comes with almost a thousand icons which are free and compatible with most of the launchers.
How to Manage Messy Android Icon Pack Apps in Order?
With so many free icon packs to choose from, you can take your pick for the one that appeals to you the most. No matter which pack you choose, managing it on a daily basis is so easy with the Coolmuster Android Assistant which is a one-stop solution for managing your Android software while also keeping a backup of your Android contacts, apps, messages and media in one place in your computer!
How to use Coolmuster Android Assistant to manage you Android icon pack?
After opening the installed software on the computer and get your Android phone connected to the computer. Here is how you can use the Android assistant easily to manage the Android icon pack you love.
Step 1 - Choose the icon of the "App" from the menu's left-side.
Step 2 – All the apps which are installed on your Android device will get displayed.
Step 3 – You can now install, uninstall and also export any app you desire with this software in one click.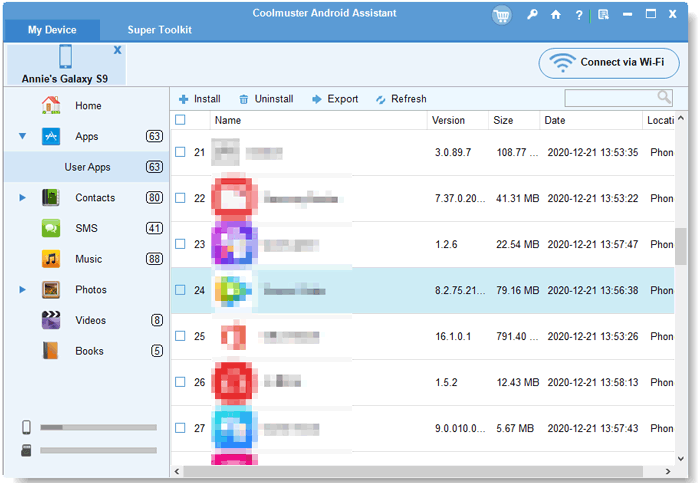 Want to have a try now? Just go ahead! Since this software can offer you more than app managing, you can use it to backup Android phone in case of sudden data losses due to various reasons. No more hesitation! This software won't let you down!
Related Articles:
Recover Deleted Photos from SD Card on Android Phone
Top 8 Samsung Smart Switch Alternatives
LG Backup and Restore: How to Back Up and Restore LG Phone