Get the Best Alternative to Samsung Smart Switch
What is the Samsung Smart Switch?
Samsung has come up with a unique app to transfer all the data of the Galaxy mobile phones or device such as contacts, messages, calendar, alarms, and recent history. All it needs is just one click to get connected. When the devices are put together 8 inches apart, the Galaxy devices are inter-connected and data can be transferred in a jiffy. So for those newest Samsung Galaxy S7/S7 Edge users, you can use this app to sync files from your old device to the new Samsung phone as you needed and wanted!
Why need an alternative to Samsung Smart Switch?
While you can definitely transfer all your media from one smartphone to another, there are some areas where Samsung has missed out on. Here is a look at some of the Samsung Smart Switch shortcomings that will make you look for an alternative.
> Missing Data - Sometimes the data transferred is misses out on some of the files or contacts. It becomes a nightmare for a person to find out the missing files and backing them up again.
> Transfer Only to Samsung Galaxy Phones - The biggest shortcoming is that it supports only Samsung Galaxy devices. Moreover, even after supporting 11 of such devices, it still has connection issues within these 11 mentioned devices. There have been several such issues been reported about the app. So, if you are thinking to transfer all your content to any non Samsung device, you definitely need to look for an alternative.
> Can Fail to Recognize Device - Whilst transferring through PC/Mac, the app sometimes fails to recognize the incoming devices.
> No Backup System - There is no online backup, i.e., files are not getting backed up when the transfer process takes place. Once the transfer is done, users have to take backup separately.
How Can Coolmuster Mobile Transfer Help?
Coolmuster Mobile Transfer (for Windows) or Coolmuster Mobile Transfer for Mac, as the best Samsung Smart Switch alternative, can help users have hassle free mobile to mobile transfers. The software is available both for PC and Mac. The transition from one phone to the other is as easy as it gets, that too, it transfers every single thing on your older device. Here are some of the major features of this professional tool that you would love:
> The number of applications and devices are phenomenal, ranging from iPhone, iPad, HTC, Samsung, LG, Sony and many more. It can be made compatible with specific telephony carriers like AT&T, Sprint etc.
> It backs up your mobile phone and transfers data outright. Yeah, but of course, it's a mobile transfer app. But not only this, it can transfer even a dead phone's data, through the computer. The phone has to be readable by a computer though.
> Data can be erased once it transferred from the older device, and erased permanently. A simple factory reset won't do the needful.
> It helps in restoring backups with just one click. Backups which are stored on various cloud services or iTunes for Mac, can be accessed easily by the handy tool and be laid out on a single click.
So, no matter you want to sync files between Android devices and iOS devices, or share files between Android devices, just get the right version and follow the below user guide to do it!
How easy is it to use?
You would love the user interface of this software. It is very easy to use and here are the simple steps to be followed to use it:
1. Connect the devices to the computer
2. Tap on Phone to Phone Transfer (one of the 3 options)
3. Select the items to be copied
4. Tap on the left or right arrow direction to begin the file transfer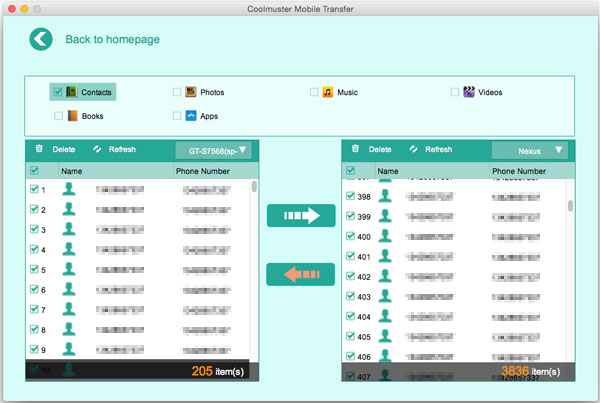 See? It is really easy to transfer all your media from one smartphone to another and even back it up. All you need is one click to initiate the process, and you can transfer everything from your favorite games to apps to different media in one go.
Related Articles:
Tips to Save Old Data to New LG G5
Choose Samsung Galaxy S7 or Google Nexus 6P
Add a comment