Most android phones have light sensors and based on the environment, the screen brightness is adjusted. However, when you use your phone in the dark you tend to get a headache or eye pain. In order to avoid this, brightness of the phone or tablet needs to be lowered. This is done by Screen dimmers. Below are some cool screen dimmers which are available today.
1. Screen Dimmer
This offers variable opacity, a notification to the users when the Screen dimmer is on, minimizing the brightness of the screen, disabling the backlight, launching of quick widgets and adjusting the opacity of the widgets, changing the colors of the filters and widgets, toggling the app with the sunset and sunrise as well as activation in silent mode and choosing apps which should launch when screen dimmer starts.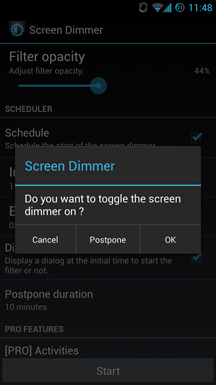 2. Screen Filter
This is more powerful than the built in brightness settings of android phones. This is a great dimmer to be used for gaming in low light, web browsing or for reading eBooks. It is a battery life saver for AMOLED displays and there are options to disable soft key backlights. It can be toggled on and off, has a brightness slider and you can even set the brightness based on the place or time.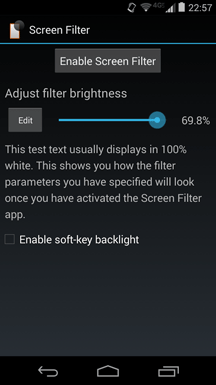 3. Lux Lite
This adjusts the brightness based on the environment and so preserves battery as well as increases the comfort for the user. It has auto brightness with root plug-in support, it features subzero brightness and one can select between auto, day, night, cinema as well as car light profiles. There is an astronomer mode which adds red filters to the display. The power user setting are a choice of interpolation, filters as well as linked sample editing.
4. Night Mode
This is simple and does not have extra features. In fact, it has limited features and it does not come with a widget. It is ad supported but can be used as an alternative to screen filter.
5. Twilight
This is easy on the eyes when reading at night as the backlight can be reduced even below the ability of the controls which the screen provides. There is no depletion or over-burning which is caused when used on AMOLED screens. In fact it is known to increase the AMOLED screen life time.
6. Bluelight Filter for Eye Care
It reduces the blue light which helps the eyes relax and the opacity filter further protects the eyes. This is extremely simple to download and use. There is a toggle switch to turn it on and off as well.
Here to Get Bluelight Filter for Eye Care >>>
Bonus Articles:
Best Alarm Clock Apps for Android Phones
Mail Apps for Both Android Devices and iPhones
Useful Guide on Managing Android Screen Dimmers
Some of these Android screen dimmers come with toggle keys and some have auto settings. Or else you could opt for Coolmuster Android Assistant for Windows. It is built to handle different phone content like contacts, apps, videos, and photos and uses one click to backup and recover data from phone backup. The content remains safe as Read Only operations are performed. You can effectively export your phone files to a computer and also import files from PC onto your smartphone. The program even lets you install and uninstall apps using your desktop and move them to SD cards. You can connect your device using USB cable and also Wi-fi.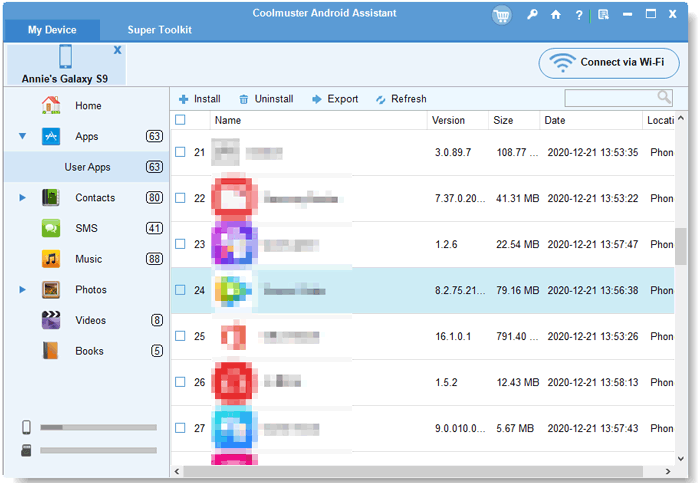 And the operation of this software is super simple. You can manage Android screen dimmers in 3 easy steps:
Step 1- Open the installed software and connect your phone to the computer.
Step 2- Choose the App icon on the left panel, which shows all the apps installed on the phone.
Step 3- You can then uninstall or even export the apps with this by choosing the right option.
Below is the free trial versions of this software! You can get the right one and give it a try by yourself!
Conclusion
Screen dimmers are essential tools for Android users who want to reduce screen brightness and alleviate eye strain, especially in low-light environments. In this article, we have introduced several screen dimmer apps that offer various features and customization options to cater to different user preferences. We hope it helps for you.
Screen Dimmer provides adjustable opacity, backlight disabling
Related Articles:
Fast Transfer WhatsApp from Samsung to Huawei
Back Up and Restore All Android Call Log History