Looking for an app to merge and combine your videos on iPhone or Android phone? Here we list top 8 apps for merging video clips on iOS and Android devices. We have introduced the main features of them and I hope there is one that you want.
Part 1: Why We Need An App to Merge Videos on iOS and Android Devices?
Part 2: The Best iOS Apps to Merge Videos
Part 3: The Best Android Apps to Merge Videos
Part 1: Why We Need An App to Merge Videos on iOS and Android Devices?
Because the latest and most advanced technology is available, people are using every piece of technology that they can to do all kinds of interesting things today. From taking photos of the morning sky to post on their Instagram accounts to contacting friends remotely on their android phones in places all over the globe, there is so much new technology that is available today, and it can be used to do virtually anything wants or that an individual may think of. Specifically, when it comes to taking videos of various activities that people do on a regular basis and they want to combine them into one series of movie shots. Having said that, here are several reasons why many people use apps to merge their apps on iOS and Android devices.
- Videos are merged to create a documentary of events that an individual has taken to show in a classroom setting or to a professional group within the educational system.
- Videos are merged to create a unique movie with the shots that they have taken over time. In these cases, people want to see them in an organized fashion.
- Video are merged to create a collection of snapshots in different places so that they can be viewed in one centralized place on iPhone or an Android device.
- Videos can be merged to design innovative presentations for a job or an interview
- Videos are merged to transfer all recordings into one centralized place. Specifically, if the individual is replacing their new Android phone with an iPhone or vice versa. Once merged, the videos can be deleted before passing the old mobile device to a new user.
People Also Read:
Next, we will divide the content into two parts to introduce you with 8 of the best apps to combine videos on your iOS device and Android device. 4 for iOS and 4 for Android. Read through and select out the one you like best.
Part 2: The Best iOS Apps to Merge Videos
Video Editor FREE
The video editor can be described as a video joiner app that has been designed by software developers to perform a wide range of different functions including merging, trimming and sharing videos. All of which is done easily so it makes the activities of editing stress-free. The best thing about this editor is that it does not require the skills of a techie since it is made to be very easy to do. This editor can be used for multiple projects on the go and it is compatible with several different file formats. However, there is one issue of concern that some people may recognize right away or once they get started, and that is it is has some feature limitations.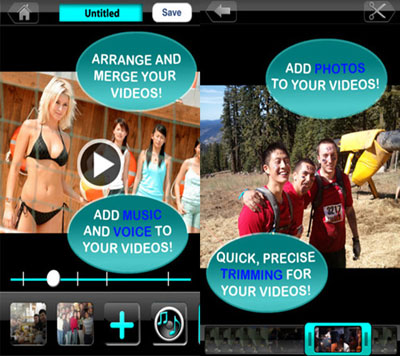 Movie Director Pro
The Movie Director Pro can be described as another type of app that is available on the market today. It has been designed by today's developers to combine several different types of videos into one. With this video combiner app, the user will have the capability to merge videos. Many of which have limitless features like background music, merging, trimming, and transitions. All of which can be used to simplify the process of enhancing your video. This app can be described as very intuitive and simple to control. However, it is important to note that it is only available in some countries for downloading.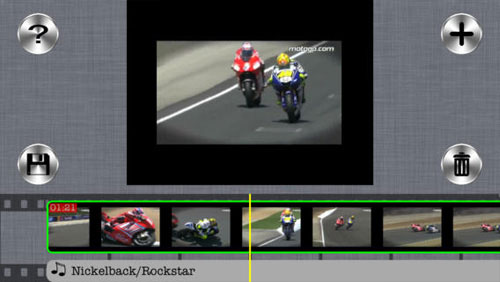 Instant Video Editor & Slideshow Maker
The Instant Video Editor & Slideshow Maker can be described as an app that has been made to combine videos together and has been made to perform several different functions including cropping, trimming, and merging at very high speeds. It is also important to note that the user will have the option of selecting those that are perfect for their projects. So, the user can also make use of functions and features that have already been pre-defined. However, it also essential that the user knows in advance, there are some functions that have been excluded that may compromise the apps overall performance.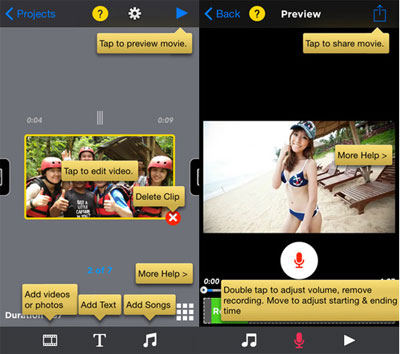 VivaVideo - Free Video Editor & Maker
The VivaVideo - Free Video Editor & Maker can be described as an extremely powerful video combiner app since developers have designed this app to combine videos for the user with ease. The user will also have an added advantage that allows them to download this app for free. Because of the built-in interface, it has been made with functionality that's great for both the professional and the beginner. Overall, it is a good app for the user, but it does have certain limitations in the use of certain features.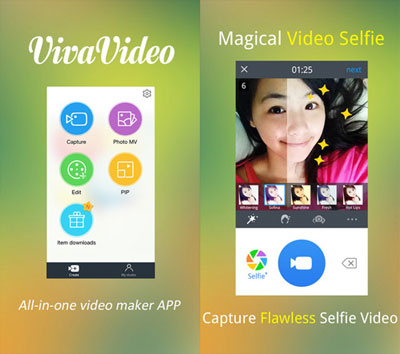 Part 3: The Best Android Apps to Merge Videos
VidTrim - Video Editor
The VidTrim - Video Editor can be described as a video merger app that gives the user the capability to combine video clips on their Android phones and other devices. The use will enjoy using this app because of the variety that it offers for editing features, including frame grabbing, trimming, merging, as well as having the capability for audio extraction. This application will also give the user the functionality of sharing these edited videos with both friends and family members. Though this video app is loaded with great features, it is prone to constant crashing because of bugs that need to be fixed.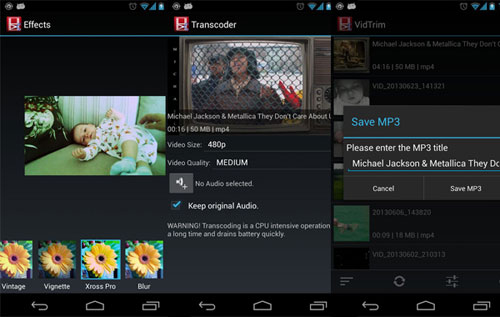 VivaVideo: Free Video Editor
The VivaVideo: Free Video Editor can be described as one of the best video merger apps. Due to its superior quality and dependability, this application has a huge presence in the app world today. With more than 60 countries across the globe using this app, the user can make the modifications with their videos with ease and it is considered to be trustworthy enough to be used a wide range of different projects. Specifically, since the user will have access to many different cool effects that's currently built-in to this application. To improve the appearance of any video, the designers have added approximately 60 cool effects that can be used to spice up merged videos. Though it is loaded with features, it may not always be the best software for its overall performance.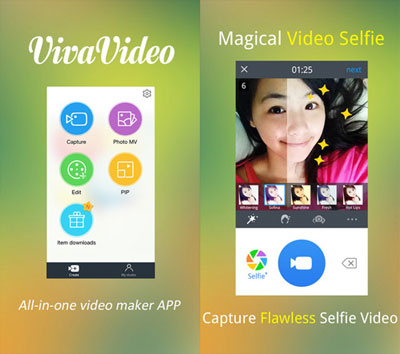 FrameBlast - HD Video Editor
The FrameBlast - HD Video Editor can be described as an easy to use application that delivers what a user needs in merging video files. It comes available to the user for free so there are no fees or charges to use this version of the application. With the use of several different great features, the user will be provided with the capability to customize their own unique video presentations. This is because the designers have included many different essential merging, clipping and other features. While this application is free for use, it can become very pricey when a user is performing these functions on their desktop.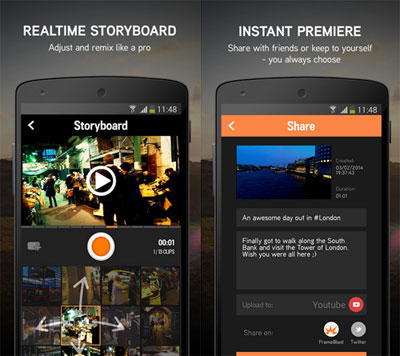 Video Editor
This Video Editor is described as a very useful and essential app for all kinds of different merging and editing activities. For some user, this app may even appear to be very simple in features and functionality, but most users may even be surprised to learn that its editing features and results are very powerful. Some people enjoy the features and the capabilities of this particular app because it allows the user to not only merge quickly but to add the types of sounds that the need for these videos. For instance, certain features make it simple to add the user's background sounds including converting their videos to MP3.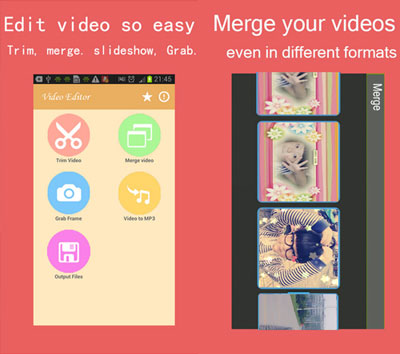 Editor's Recommendations
After combining your beloved videos, you must want to keep them well on your iOS and Android device. Well, if you have stored a large amount of videos on your Android phone or iOS device and worry about losing them for unexpected reasons. You can consider about keeping them on other storage devices for backup, such as you computer. We have two special and professional tools to help you transfer videos from Android to computer with Android Assistant, and export videos from iPhone to computer with iOS Assistant.
Related Articles:
Top 5 Android eBook Readers You Should Know
Transfer Contacts from Android Phone to Computer
How to Uninstall Apps on Android Phone from Computer
Back Up and Restore Android Data with One Click