In daily life, some smartphone users may accidentally drop their devices on the floor, and then the situation that they do not want to see happens - the phone screen is completely broken! In addition to the considerable damage to the screen, the problem is how to recover the file, which is more important than the screen itself. If the USB debug mode is turned on, it is very easy to recover files in this case. You can connect your device directly to your PC and recognize it as external storage so you can access folders and retrieve files. However, if you disable USB debugging on this corrupted Android, you will not be able to connect your phone to your PC and restore data via MTP mode. So the question is: How to enable USB debugging on Android with broken screen?
USB debugging is a way to promote the connection between an Android device and a computer so that you can access your phone from your computer and transfer data. When your phone is working properly, you can turn on USB debugging by following the steps mentioned in this article (how to enable USB debugging on Android). However, when your Android phone screen is corrupt and unresponsive, you need to use additional tools to enable USB debugging on the damaged screen.
Next, we'll introduce two different ways to teach you how to turn on USB debugging on Android with the screen broken. We also recommend an additional tool that allows you to restore and back up damaged Android devices without turning on USB debugging.
Way 1: Enable USB Debugging on Android with Broken Screen by OTG Adapter and USB Mouse
Way 2: Enable USB Debugging on Broken-Screen Android Using ADB Commands and Fastboot (Risky, only for techies)
Way 3: Recover Data from Broken Screen Android with Broken Android data extraction
Way 1: Enable USB Debugging on Android with Broken Screen by OTG Adapter and USB Mouse
This is the most effective way to try to turn on USB debugging on Android with screen corruption, it is also very convenient. Before doing this, you will need to purchase an OTG adapter and a USB mouse.
Step 1. Connect your Android device and USB mouse with a suitable OTG adapter.
Step 2. Now you can use your mouse to operate on your phone and enable USB debugging on broken screen Android.
Note: Make sure your phone is compatible with OTG adaptop. You can view the list from here:
Https://www.symlis.com/blog/2015/1/12/list-of-otg-supported-devices
The mouse will run out of battery, so keep your Android phone or tablet charging throughout the process. Then use the mouse to navigate through the settings and menus. However, if your Android screen is completely black, you can mirror the Android screen on your computer. After turning on USB debugging, you can recover deleted files from corrupted Android in a very simple way. By the way, here is a guide telling you how to recover Samsung data without USB debugging.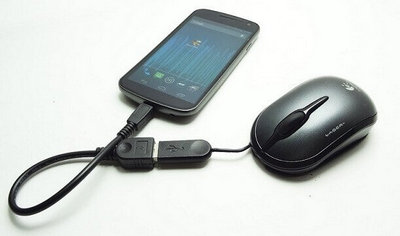 Way 2: Enable USB Debugging on Broken-Screen Android Using ADB Commands and Fastboot
Android has a power tool called SDK that is designed to debug Android devices. In the SDK, there is a tool called ADB (Android Debug Bridge) that allows you to install an APK from your computer to Android and execute a series of commands without touching the screen.
If you don't have ADB, you can install ADB from xda-developer and follow its tutorial. However, without "enable USB debugging", ADB cannot communicate with the mobile phone. Therefore, to enable USB debugging in the event of a screen corruption, you need to boot the device to ClockworkMod Recovery mode.
Step 1: Press and hold the power button + home + volume up or down (depending on the phone model) to boot Android into ClockworkMod Recovery Mode.
Step 2: Check the connection to the ADB running to confirm if the ClockworkMod recovery loading has been completed.
Step 3: At the command prompt, type: adb devices
Step 4: Then agree to back up all the data on the Android device (this takes a few minutes) command:
Adb pull / data / media / clockworkmod / backup~ / Desktop / Android-up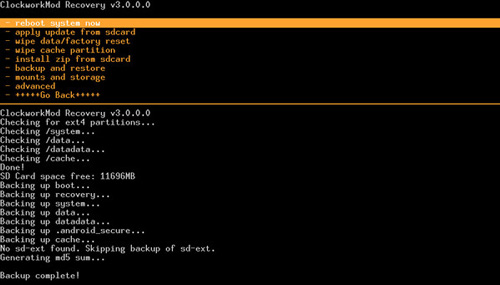 Note: This method is only suitable for professional technicians. If you don't know much about the relevant code and computer knowledge, please do not use this method to enable USB debugging. Otherwise, it is likely to cause irreversible damage to your Android phone due to a small mistake.
More Similar Guides:
Recover Data from Bricked Android
Way 3: Recover Data from Broken Screen Android without USB Debugging
Actually you can recover data from an Android phone with broken screen without enabling USB debugging. All what you need is the Broken Android Data Extraction. It is a professional application for Android users to recover data from broken/black/locked Android phone without enabling USB debugging. File types that it can extract from your broken/dead Android phone include contacts, text messages, photos, videos, music, WhatsApp messages, documents, etc.
Broken Android Data Extraction is able to recover data from Samsung Galaxy Samsung Galaxy S23 Ultra/S23/S22/S21/S20/S10/S9/Note 20/10. Follow the steps in the below to use this tool to recover Android data without enabling the USB debugging.
Step 1. Launch the program on your computer
Install and launch the Broken Android Data Recovery on your computer. Use a USB wire to connect your Android device to the computer. Then, select the mode of "Broken Android Phone Data Extraction" in the left side of the screen.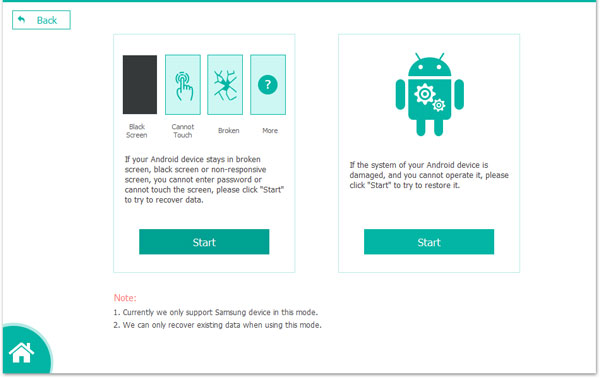 Step 2. Select the fixing mode and confirm your device info
If the connected Android device is broken due to black, broken or unresponsive touching screen, you can click "Start" button to confirm your phone's name and model, then go to next step.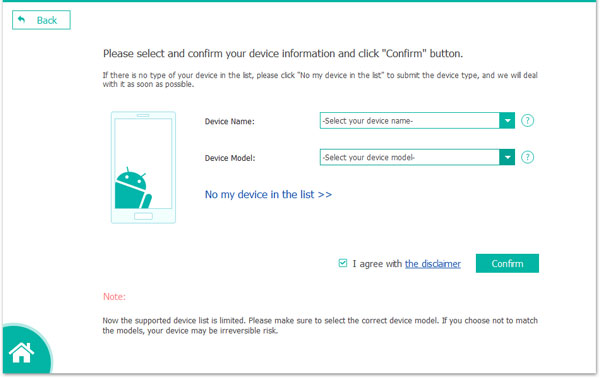 But if your Android is crashed or something wrong in the Android OS, you might need to fix the Android to normal status for continuing. Here, you need to tick "Fix Device" and enter the next step.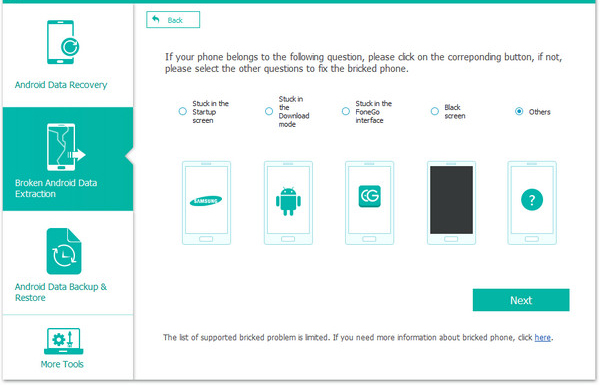 Step 3. Enter the Download mode
Follow the onscreen prompts to enter the Download mode, then you can click "Start" button to begin scan for files or download firmware to fixing the system issues.
Step 4. Recover broken-screen data from Android
All contents in your Android will be scanned out. The results will be displayed in categories for your selection. Tick off the data types you want to get back and click the button of "Recover".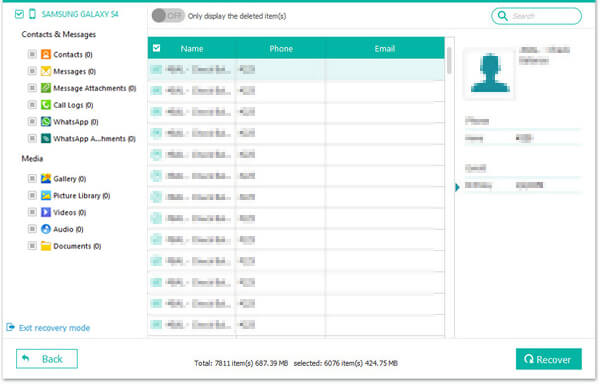 Check Supported Devices of Broken Android Data Extraction
Samsung Galaxy Note:
Note 3: SM-N900, SM-N9002, SM-N9005, SM-N9006, SM-N9007, SM-N9008 SM-N9008V, SM-N900S
Note 4: SM-N9100, SM-N9106W, SM-N9108V, SM-N9109W, SM-N910C, SM-N910F, SM-N910G, SM-N910H, SM-N910K, SM-N910L, SM-N910P, SM-N910R4, SM-N910S, SM-N910T, SM-N910U, SM-N910V, SM-N910W8
Note 5: SM-N920C, SM-N920G, SM-N920I, SM-N920K, SM-N920L, SM-N920P, SM-N920R4, SM-N920S, SM-N920T, SM-N920W8
Samsung Galaxy S:
S4: GT-I9500, GT-I9505, SCH-R970, SCH-R970C, SGH-I337M, SGH-M919, SPH-L720
S5: SM-G900F, SM-G900FQ, SM-G900I, SM-G900K, SM-G900L, SM-G900M, SM-G900P, SM-G900R4, SM-G900R6, SM-G900S, SM-G900T, SM-G900T1, SM-G900W8
S6: SM-G9200, SM-G920F, SM-G920P, SM-G920T, SM-G925F, SM-G925P, SM-G925T, SM-G928P, SM-G928T
Samsung Galaxy Tab:
Tab Pro 10.1: SM-T525
Related Articles:
Samsung Galaxy Desktop Manager Software
SMS Recovery for LG Optimus/G2/Viper/Ally
Delete Everything on Samsung Phone [Answered in 3 Methods]