How to Recover Samsung Data without USB Debugging?
USB debugging is a way to enable the connection between an Android device and a computer, so that you can access your Android device and even move data from your Android device to computer. Normally, you can enable USB debugging on Android phone easily with a few steps. But if there are something wrong with your Android phone, such as broken screen or phone damage, you can't access the phone settings to enable the USB debugging. So, you just wonder if it is possible to recover a Samsung phone without USB debugging.
Broken Android Data Extraction is an application for Android users to recover data from broken/black/locked Android phone that users can't enable USB debugging. With the help of this program, you can recover almost everything, including contacts, text messages, photos, videos, music, WhatsApp messages, etc. on your broken/damaged Samsung phone. You don't need to enable USB debugging as long as you installed the Broken Android Data Extraction on your computer to work.
Broken Android Data Extraction is able to recover data from Samsung Galaxy S8/S8 Plus/S7/S6/S5/S4/Note 7/6/5/4. Follow the steps in the below to recover Samsung data without enabling the USB debugging.
More Similar Guides:
Recover Data from Bricked Android
Recover Lost Files from Broken Samsung
Steps on Restore Samsung Data without Enabling USB Debugging
Step 1. Launch the program on your computer
Install and launch the Broken Android Data Recovery on your computer. Use a USB wire to connect your Samsung device to the computer. Then, select the mode of "Broken Android Phone Data Extraction" in the left side of the screen.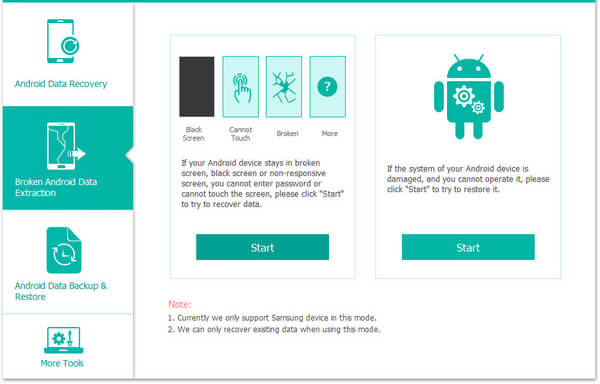 Step 2. Select the fixing mode and confirm your device info
If the connected Samsung device is broken due to black, broken or unresponsive touching screen, you can click "Start" button to confirm your phone's name and model, then go to next step.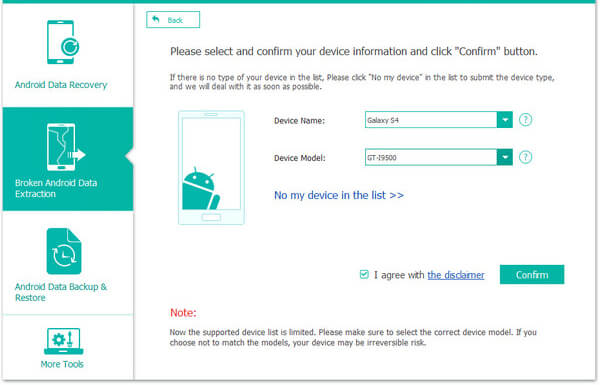 But if your Android is crashed or something wrong in the Android OS, you might need to fix the Android to normal status for continuing. Here, you need to tick "Fix Device" and enter the next step.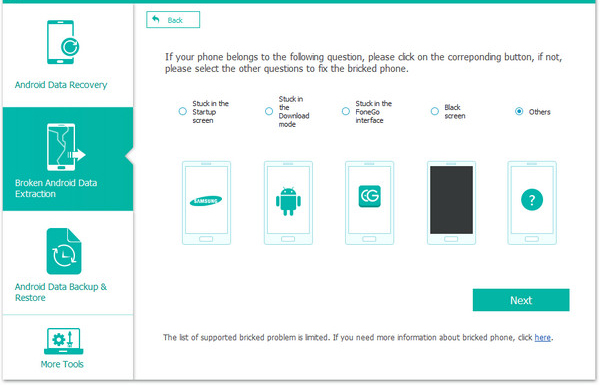 Step 3. Enter the Download mode
Follow the onscreen prompts to enter the Download mode, then you can click "Start" button to begin scan for files or download firmware to fixing the system issues.
Step 4. Recover Samsung data without USB debugging
All contents in your Android will be scanned out. The results will be displayed in categories for your selection. Tick off the data types you want to get back and click the button of "Recover".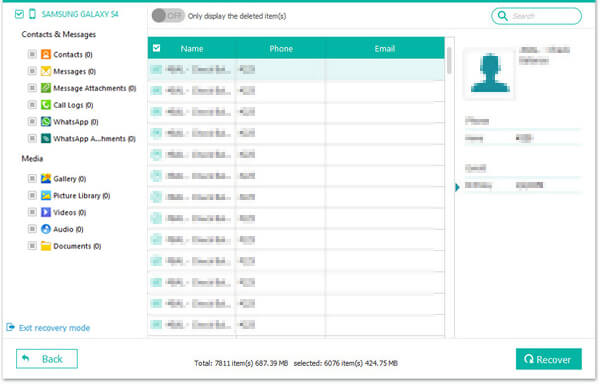 Note: If your Android is broken due to system issues, you need to use the Android Data Recovery to scan lost files again after the device returning to normal.
Check Supported Devices of Broken Android Data Extraction
Samsung Galaxy Note:
Note 3: SM-N900, SM-N9002, SM-N9005, SM-N9006, SM-N9007, SM-N9008 SM-N9008V, SM-N900S
Note 4: SM-N9100, SM-N9106W, SM-N9108V, SM-N9109W, SM-N910C, SM-N910F, SM-N910G, SM-N910H, SM-N910K, SM-N910L, SM-N910P, SM-N910R4, SM-N910S, SM-N910T, SM-N910U, SM-N910V, SM-N910W8
Note 5: SM-N920C, SM-N920G, SM-N920I, SM-N920K, SM-N920L, SM-N920P, SM-N920R4, SM-N920S, SM-N920T, SM-N920W8
Samsung Galaxy S:
S4: GT-I9500, GT-I9505, SCH-R970, SCH-R970C, SGH-I337M, SGH-M919, SPH-L720
S5: SM-G900F, SM-G900FQ, SM-G900I, SM-G900K, SM-G900L, SM-G900M, SM-G900P, SM-G900R4, SM-G900R6, SM-G900S, SM-G900T, SM-G900T1, SM-G900W8
S6: SM-G9200, SM-G920F, SM-G920P, SM-G920T, SM-G925F, SM-G925P, SM-G925T, SM-G928P, SM-G928T
Samsung Galaxy Tab:
Tab Pro 10.1: SM-T525
Related Articles:
Samsung Galaxy Desktop Manager Software