An SD card is a digital storage device that is used as memory in portable digital devices such as phones and cameras. It is very popular because of its very small size and compactness. Formatting is usually done to an SD card to make it compatible with the device or if it has becomes corrupted for some reason.
The most important thing that needs to be remembered that before you format the SD card, transfer whatever data is there in that card. Once formatted, that data is lost. Data back up is the only thing that needs to be remembered.
Preparations Required for Formatting SD Card
Before you start to format your SD card, remember that all your data would be lost. So, it is always a good idea to back up your data first. This way, you can retrieve anything that you may have lost otherwise. If you do not want to delete important data mistakenly and ensure that your SD card is formatted totally nonetheless, a good option is to use one of the apps available on the Google App Store. Here is a look at some of these apps which will make your life easier in case of a formatting has to be done. These software can help you retrieve even deleted data easily.
To organize and manage the emails, messages, photos and videos, you have to take help of a computer and this software for Android and iPhone. Using them you can backup, restore and manage everything inside your phone in a simple way. Apart from iPhone and Android, the program can transfer and export phone files like iTunes songs, audiobooks, photos, videos, songs, bookmarks and more from other iOS devices like iPad, iPod, etc. You can use the two search modes to find your files stored on the phone. Files are shown in thumbnails and in list mode with details to suit your preferences. Batch transfer of files are also possible with a single click. For example, you are free to transfer media files between Android phone and iPhone, or update to the newest Samsung Galaxy S7 if needed.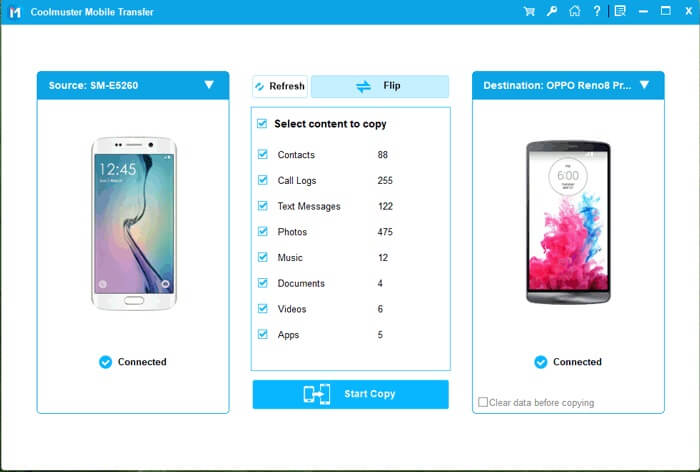 Below is the free trial versions of this software. You can download the right one and give it a try by yourself!
2. Coolmuster Android Assistant
The program is built to handle different phone content like contacts, apps, videos, and photos and uses one click to backup and recover data. The content remains safe as Read Only operations are performed. You can effectively export your phone files to a computer and also import files from PC onto your smartphone. The program even lets you install and uninstall apps using your desktop and move them to SD cards. You can connect your device using USB cable and also Wi-Fi.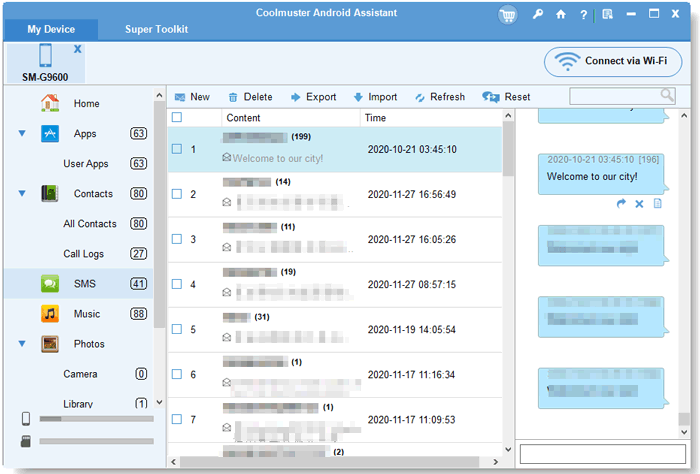 You do not want to lose out on precious data. If you've lost out on data, Coolmuster Android Assistant can help with its revolutionary technology, helping phones of all makes, in safeguarding their information. It helps you move content between smart phones and a smart phone to the PC. All your media files will be safe while the SD card will be formatted.
Steps to Format Android SD Card
Trying to go the conventional way when it comes to SD card formatting? Usually in the Android smart phones, the method of formatting the SD card is as follows:
> From the home screen: Menu> Settings. Go to SD and Phone Settings. You will get to see that the SD card is greyed out. That would mean it needs to be formatted and hence that color. That also does not mean you have to panic.
> Click Unmount SD Card and Validate. Click on FORMAT SD CARD and then follow the procedure which appears on the screen. It is extremely user friendly and there is absolutely nothing to panic about.
Extra Bonus: If you unfortunately forget to make a phone backup before formatting Android SD card, don't worry! You can click here to learn how to recover lost files from formatted SD card in an easy way!
Related Articles:
Best News Apps for Android Phones
How to Manage Android Contacts on PC
Powerful SMS Recovery Apps for Android - 9 Options
Transfer WhatsApp from Old Samsung to New Samsung in 4 Hassle-free Ways