In this technological world, mobile phones and especially smart phones have become an integral part of everyone's life. In the urban areas, especially people can hardly think of a day then they have not used their smart phones and the various apps for their needs, such as alarm clock apps or useful Android photo organizers. One of the latest phenomenons that have changed people lives quite distinctively is the news apps. Almost every newspaper nowadays has their free to install and use apps for android users. The apps enable them to scan all the news quickly as well as elaborately in whichever way they want. Here are 6 top news apps for Android phone that are currently ruling the market. Let's get them one by one:
Top 6 Android News Apps
1. Fox News
(a) The app offers live video streaming
(b) It can do a lot of multi tasking like adjusting the player size while watching a live streaming or going through the headlines while watch other coverage
(c) Breaking news flash and alerts
(d) Show coverage
2. News Republic
(a) Visually enticing
(b) Can be linked with social media profiles
(c) Customizable
(d) Smart and crisp content
(e) Complete news with graphics
3. ABC News
(a) Personalized alerts
(b) ABC News inbox to save important news
(c) Best reads
(d) Daily rewind of the whole day's news and stories
(e) Radio
4. NYTIMES
(a) Interactive comments on news and stories
(b) Top navigation for easy swiping
(c) Customizable shortcuts for best stories
(d) Daily notification with Morning Briefing
(e) Twilight mode
5. CNN
(a) Breaking news and alerts
(b) Access to local weather reports in details
(c) Video clips of coverage of the live events throughout the day
(d) Can be synced with the Android watch
6. TOI
(a) Morning and evening updates
(b) Latest news coverage and trending news
(c) Offline reading
(d) News briefs perfect for people on the go
(e) Customizable notifications
(f) Customizable font size
(g) Saving images and graphics
How to Manage Android News Apps?
If you are wondering how you can manage so many news app at one go then here is the best solution for you. The Coolmuster Android Assistant is one of its kinds and one-stop managing software especially designed for Android phones and apps. The software if capable of managing the contacts, media profiles, apps and SMS on your computer.
Features
I. Taking quick backup – The software enables you to take backups of your important data from the phone to the computer with just one click of a button.
II. Assistance for contacts and SMS – Now you can send bulk messages to all your friends with just one click. There is no need to type it out on your phone. You can type messages on your computer and send it across to as many friends as you want.
III. Perfect for media fancier and app enthusiast – You can download any media app to your phone.
IV. Read only and compatible – Almost all brands of Android phones are compatible with this software.
V. Easy to use – The software comes with wizards and buttons to make it simple for the end users.
VI. Standalone – There is no need to have any third party program to run this software.
How to use this Coolmuster Android Assistant?
After you have installed the software all you need to do is connect the phone to the computer and then you can check all your apps by using the "App" icon in the software. You can install more apps or uninstall from this dialog box. It is so simple that you would not use the phone now to manage your apps.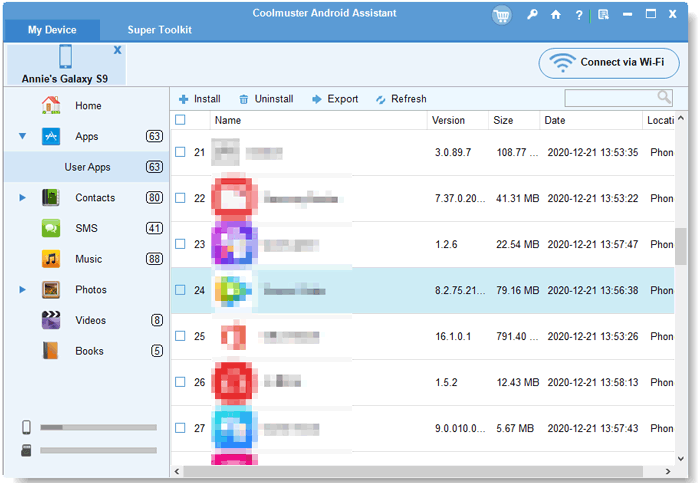 Below is the free trial versions of this software! You can get the right one and give it a try by yourself!
Related Articles:
Tips to Prepare for Android 6.0 Marshmallow
Why Can't I See My Pictures in My Gallery? Fix It
7 Phone Transfer Apps Help with Phone to Phone Transfer