"Recently, I have tried to upload a video of mine, however, it's been stuck in the uploading stage for so long and just leaves me with an endless notification that reads 'Upload 1 item', with the bar eternally moving. I tried to stop the uploading by turning off Back up & sync and restarting my phone, but that temporarily worked. I have checked the email account and Wi-Fi connection, both work well. Any advice? I would appreciate any response..."
- Excerpted from Google Photos Help forum
Google Photos backup stuck problem can be annoying when you get accustomed to storing precious photos and videos on it. When the Google Photos backup stuck on your device, you might see "Backing 1 of xxx" "Waiting for sync" "Getting ready to back up 5 items" or "checking for items to back up" without further progress. What's wrong with Google Photos? Well, the possible reasons and tested solutions are here.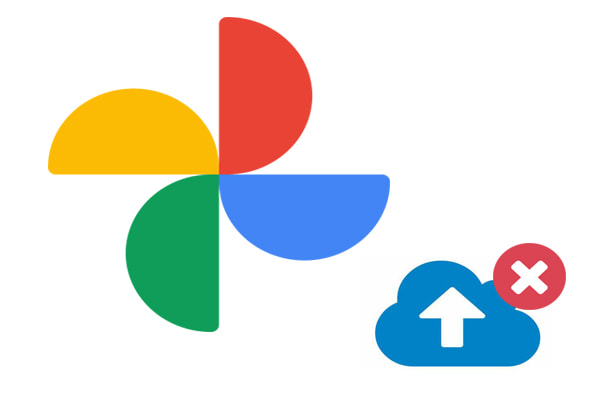 Part 1. Why Google Photos Backup Gets Stuck on Phone?
Part 2. How to Fix the Problem "Google Photos Stuck on Backing Up"
Part 3. Google Photos won't Back Up? Alternative Ways to Back Up Photos & Videos
Part 1. Why Google Photos Backup Gets Stuck on Phone?
Google Photos stuck on backing up or Google Photos backup is not working on your device? Many factors may contribute to this problem. And the main reasons are as below:
An error occurred in Google Photos.
Invalid internet connection.
the uploaded files are too large.
Your phone runs an outdated OS version and needs to be updated to the latest one.
Some Extensions or ad blockers blocked Google Photos.
Too much caches and data slow down the progression of the operating system.
Google Photos has bugs or is incompatible with the mobile phone OS.
Part 2. How to Fix the Problem "Google Photos Stuck on Backing Up"
The following tips show you how to fix the Google Photos backup slow or not working problem:
Solution 1. Check the Backup Status
There are several different scenarios. You can sign in Google account and tap Assistant at the bottom to check the status.
And if it writes:
Waiting for connection or Waiting for Wi-Fi: Change Settings, or connect to Wi-Fi or cellular network.
Back up & sync is off: Enable Back up & sync option to allow it to back up photos and videos.
A photo or video was skipped: Google Photos only allows to upload photos no more than 75MB or 100 megapixels and videos within 10GB. If the video or photo exceed the size, it will not be synced to Google cloud. So, if you see this notification, find the exceeded photos in Gallery app, change the photo or video size to meet the requirement and upload it again.
Google Photos says backup complete but not: Reinstall the app or contact 7 * 24hrs Google support.
Solution 2. Check the Backup Settings
You can go to Google Photos Settings and tap Back up & sync to check the following details:
Account: Make sure you are signing in with the same Google account.
Upload size: You can change the maximum size of the uploading photos & videos.
Back up photos/videos: If you are using the cellular data, you can change to Wi-Fi from here.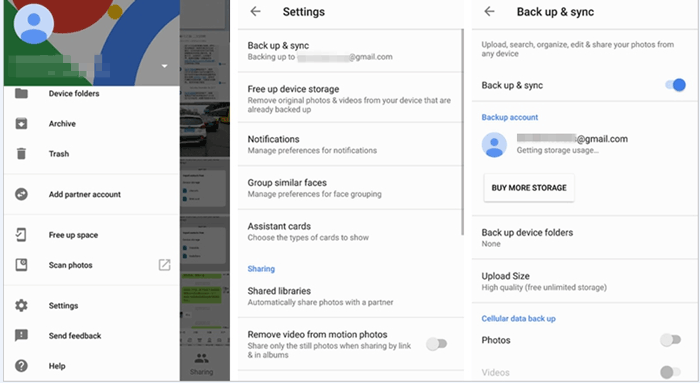 Solution 3. Clear Cache and Application Data
If you see the prompt "Getting your photos ready for backup", you can clear caches and app data of Google Photos to resolve this problem:
On Android devices, go to Settings > Apps > Photos > Storage > Select Clear Data & Clear Cache.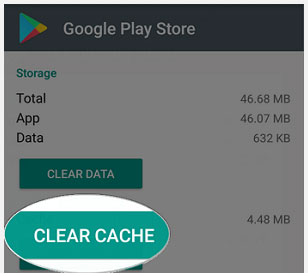 On iOS devices, open Settings > General > iPhone Storage > Google Photos > Tap Delete App. This will uninstall Google Photos app from your iDevice. You can install it from App Store once again after that.
Solution 4. Restart Google Photos
When Google Photos backup is not working on your device, you can force stop the uploading process and start again with these steps:
Restart the device > Delete your Google account from Google Photos > Add Google account to Google Photos again > Uninstall Google Photos > Install the latest version of Google Photos and sign in to check whether Google Photos backup stuck or not.
Solution 5. Make Sure if There Is Enough Storage Space
Google Photos backup needs enough cloud storage and local memory space to store data or upload photos. If the local storage runs out of space, Google Photos will not be able to scan all photos/videos before it gets stuck or slow. So, once you find the storage is not enough, you can pay for more cloud storage or clear the unnecessary data stored in local storage of your device.
Tips: If Google Photos backup takes a long time, you can check whether your phone has enough battery and memory space. If not, it will take a long time for Google Photos to access and read photos/videos from your device.
Solution 6. Set Up Folder Backup
When Google Photos backup gets stuck, you can also set up folder backup to fix this problem: Run Google Photos on your device and sign in > Tap Menu > Device Folders > Click the folder you want to back up > Hit the Switch next to Back up & sync.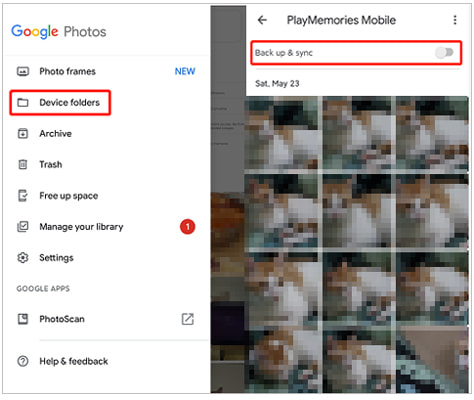 Solution 7. Turn off Ad Blockers/Extensions for Google
AdGuard is an ad blocker to get rid of annoying ads and online tracking, protect your device from malware and accelerate the surfing speed on the Web. While uBlock Origin is a free and cross-platform browser extension for content filtering with CPU and memory efficiency as a primary feature. Normally, they are used to avoid all fraudulent and phishing website and malware attacks when you browse something on the Internet.
However, these ad blockers or extensions have been reported some severe bugs, for example, they sometimes stop all Google apps from uploading or block the Internet. Thus, if Google Photos upload stuck on PC, you can disable such ad blockers/extensions with a few simple tricks:
Open the browser on your computer, click the three vertical dots at the top right corner > Find More tools > Select Extensions > Right click the extension you want to disable from the list > Hit Turn off button. Then, check whether uploading photos/videos in Google Photos becomes smoothly or not.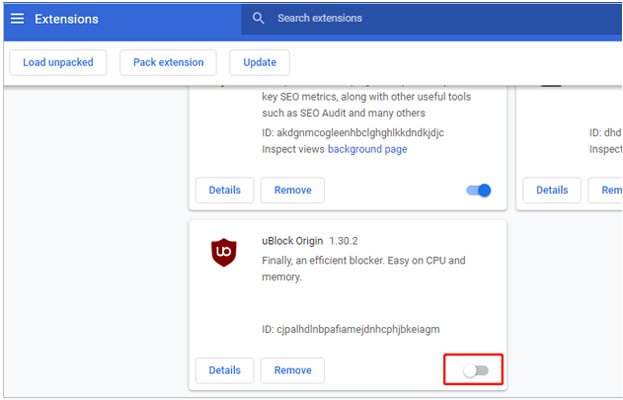 Solution 8. Switch off Battery Saver
The Android Battery Saver or Power Saving Mode monitors the battery usage and reduces power consumption by limiting background app activity, visual effects, sounds and any other features except for Data, Time, Weather and something like that. Hence, if you have enabled Power Saving Mode on your phone and Google Photos stuck on preparing backup, toggle off Power Saving Mode and try again:
Navigate to your device Settings > Battery > Switch off Power Saving Mode.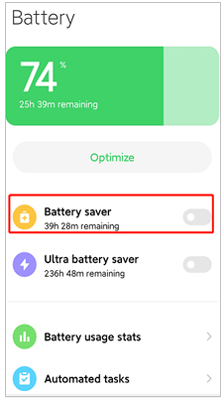 Solution 9. Remove SD Card
If the photos or videos you are uploading are in SD card, removing the SD card and inserting it back to your device again will fix this problem.
Solution 10. Update Google Photos to the Latest Version
Sometimes, if Google Photos are too old, it will cause the problem too. You can check if there is an up-to-date version, and update your Google Photos to the latest version. Most of the time, updating does solve the problem.
Solution 11. Upload Photos and Videos Manually
If you have tried all above solutions but Google Photos stuck on getting your photos all the time, you can manually upload photos or videos to Google cloud.
On Android devices, go to Gallery app, select the photo or video you want to back up and tap Upload icon above to upload to Google Photos.
On iOS devices, launch Google Photos app, choose the photos or videos you want to back up, click the three vertical dots and tap Backup.
Part 3. Google Photos won't Back Up? Alternative Ways to Back Up Photos & Videos
If you don't want to spend time resolving Google Photos backup stuck issue, you can pick an alternative app to back up photos/videos on your device. And here, we are introducing two easy-to-use Google Photos alternatives to you.
Coolmuster Android Backup Manager
Coolmuster Android Backup Manager is a pure backup and restore software for Android devices and it supports everything on your Android device, like contacts, messages, call logs, photos, audio files, videos, documents, eBooks, apps, etc. Using this powerful app, you can back up everything from your Android device to PC and restore the backups from PC to Android device in one click.
Besides, you will see the backups in different folders by categories and the restored files in relevant apps on Android phone after restoring, for example, you will find restored contacts in the Contacts app easily. Additionally, the restored data will merge with the current data on the target device, which means you will never worry about losing data after using this app.
Well, Coolmuster Android Backup Manager is widely compatible with Android phones & tablets running Android 4.0 and above versions (Android 10 included), such as Sony, HTC, LG, Motorola, Huawei, Google, ZTE, Xiaomi and Samsung Galaxy S20/S20+/S20 Ultra/Z Flip/Z Flip Thom Browne/S10+/S10/S10e/S/S9+/S9/S8+/S8/A70s, etc.

How to back up photos & videos on Android device?
1. Install and launch Coolmuster Android Backup Manager on your computer, and enter the Android Backup & Restore from the toolbox.
2. Connect your Android device to computer with a USB cable. Then enable USB debugging and grant permission on your phone as prompted. After this program recognizes your phone, you will see the main interface as below.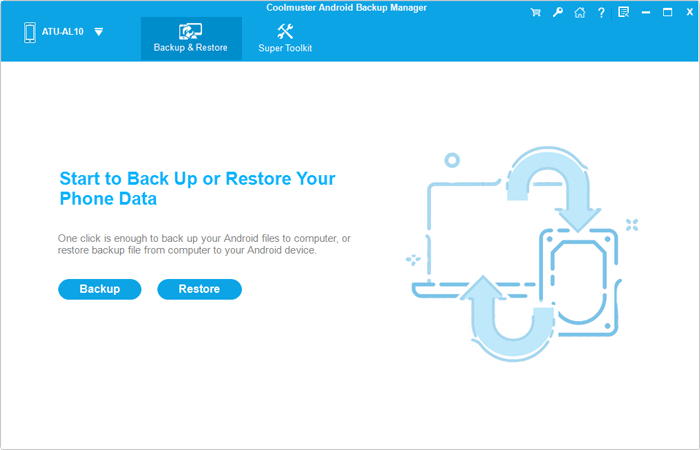 3. Click Backup from the main interface, check Photos and Videos from the list, select a location to store data and hit Back Up.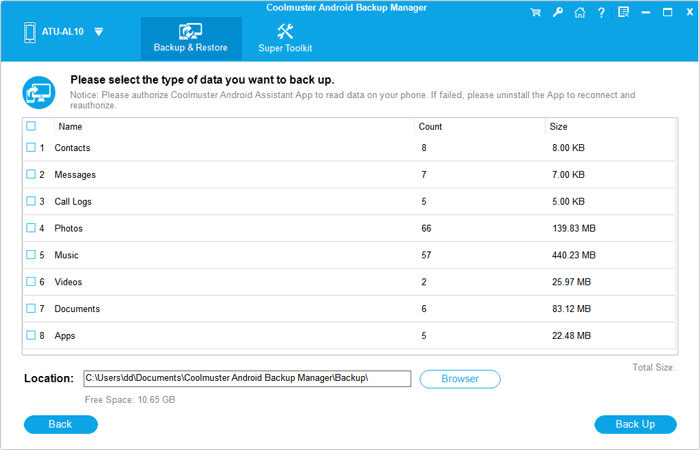 You may like:
8 proven ways on Android SMS backup and restore
How to back up and restore Android contacts in 4 ways
Coolmuster Android Assistant
Another Google Photos alternative is Coolmuster Android Assistant. It also supports to back up and restore all Android data on computer. But this one enables you to selectively import, export and manage Android data on PC. All in all, you can preview all Android data on computer, back up photos/videos to computer selectively, edit contacts, send & reply text messages, install & uninstall apps, etc.
Let's see how to do with it:
1. Launch this app on computer after installing and select Android Assistant module to enter in.
2. Connect your Android device to computer via a USB cable.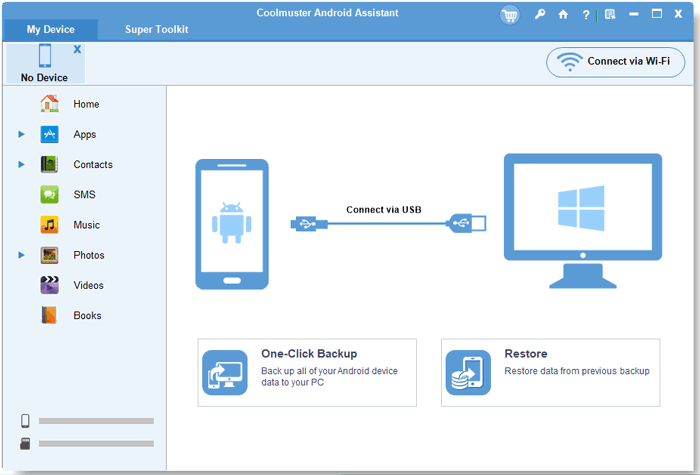 3. Once the computer detects your phone, you will see the interface as below. To back up photos, you can click Photos option from the left window, preview and tick the photos you want to back up and hit Export on the top menu to back up photos to PC. (Notes: To back up videos to computer, just select Videos from the left panel and repeat above steps.)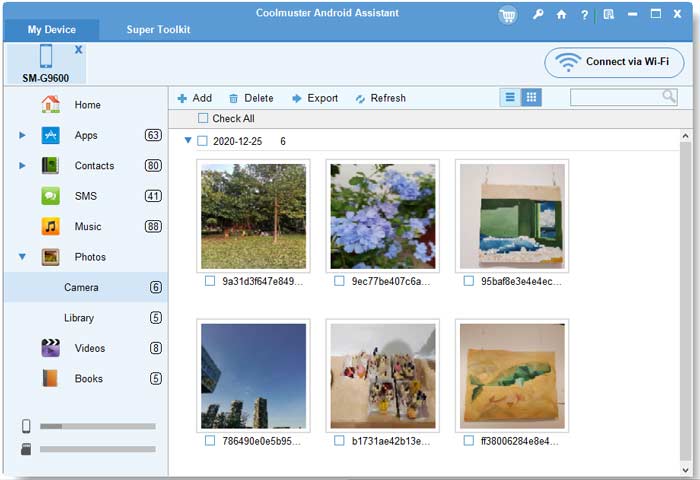 Further reading:
Top 6 ways to back up iPhone photos effectively
Final Thoughts
Google Photos allows you to back up photos and videos to Google cloud automatically. If Google Photos backup stuck on your device, you can refer to the 11 solutions to fix this problem. But to save time, I highly recommend to try Coolmuster Android Backup Manager or Coolmuster Android Assistant, which are efficient, absolutely secure, fast and easy to use.
Well, if you have any other ideas that work for fixing Google Photos backup stuck issue, or if you run into difficulties when using, feel free to leave a comment below.
Related Articles:
What to Do If Samsung Smart Switch Stuck at 99% during Transfer
Useful Tips to Fix Samsung Smart Switch Not Working (Completed Solved)
What If OnePlus Switch Not Working Occurs? (Troubleshooting & Alternative)
How to Fix When Your Samsung Phone Hang Again?
How to Fix Email Disappearing from iPhone 12/11/11 Pro/11 Pro Max [Solved]
[Simple Guide] How to Delete Apple ID without Password on iPhone?