If you use a Samsung mobile, you would surely understand the importance of its SD card which holds all your media be it images, videos, audio clips and even contacts if need be. However, there are several factors which can result in the SD card getting damaged and this can cause all the media saved in the card to get lost. These factors would include the following.
1. When the phone gets physically damaged
2. A virus enters the phone or SD card
3. The SD card is loaded with too much memory
Also, due to various reasons, your files could be possibly lost from your device. In this case, you may need to instantly recover the lost files from your Samsung SD card. So what do you do if you are trying to access your phone but are unable to? It might be those precious conversations, or those memorable pictures, but you would need to access your phone to get them back.
If this be the case, many people look for instant solutions to recover photos and other media from their Samsung SD card. With the smartphone being used as an alternative for camera by most people, you will see that some of the most precious as well as important photographs are stored in the SD card itself and must be recovered in case the latter gets spoilt due to any reason. Storing in your SD card will help you get back those photos easily, and Coolmuster Lab. Fone for Android can just make the entire process a lot easier.
What does Coolmuster Lab.Fone for Android offer?
If you ever face such a crisis and wish to recover photos from you Samsung SD card, then this software can be of great use to you. Being a representative data recovery software created especially for Android devices, it allows the user to recover both deleted and lost files from the external SD card as well as Android phone's internal memory card in a jiffy and that too without any hassles. With Coolmuster by your side, you can be rest assured that you will never ever lose valuable data from an Android device in the future.
Users can also download a beta version of this powerful program from its site in case they are unable to find or detect the data with the help of Lab.Fone or a user of Android 4.2.2 or above. With more than hundreds of thousands of users already using this recovery software to recover lost photos, videos, SMS messages and much more at the click of a button, you too can make life simpler by using it for your smartphone.
Extra Bonus:
How to Prepare for Android 6.0 Marshmallow
Simple Guide to Recover Lost Photos from Samsung SD card
Just follow these three simple steps and you will be able to recover lost photos from the SD card really easily. It takes only a few seconds and you can get back all that you have lost.
Step 1 – Choose "Android SD Card Recovery" mode on the top menu, and then you'll see an interface like below. Here, you'll be required to insert the Samsung SD card to your computer at first.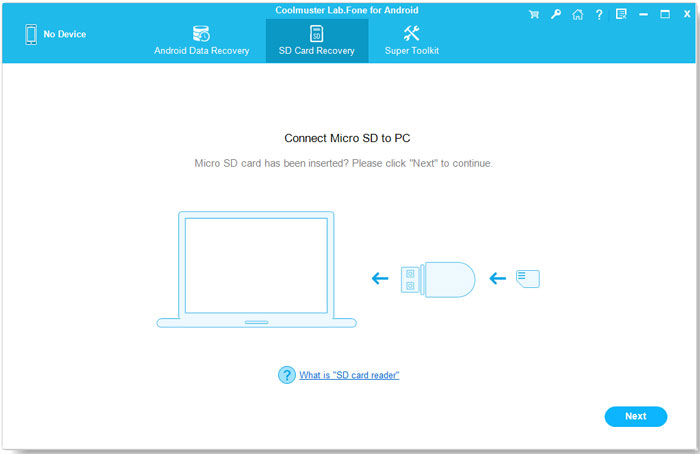 Step 2 – Click "Next" and all the inserted SD cards in your computer will be shown here. Just tick the disk drive for your Samsung phone that you wish to scan, and click "Next" to start the scanning.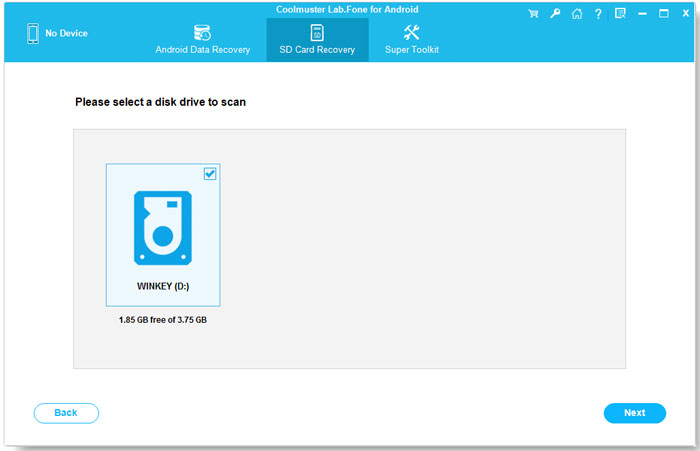 Step 3 – When the scanning is finished, all the recoverable file types are displayed, including Photos, Videos, Audio and Documents. You can tick off the "Photos" tab and then click "Recover" button to save them on your computer.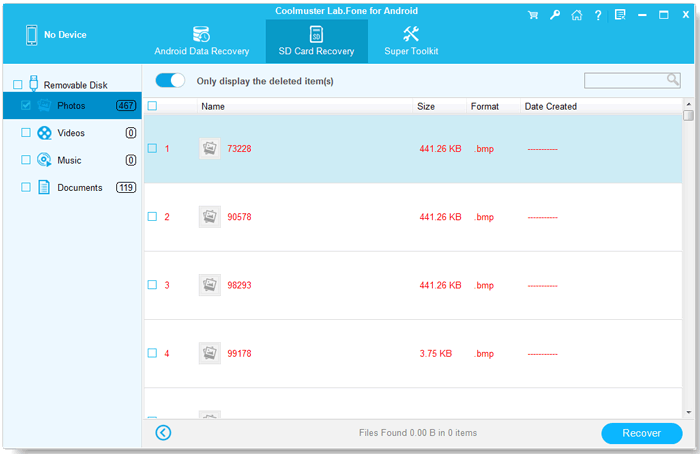 Words in The End:
With this software, photo recorvery for Samsung SD card cannot be more easier! Despite of this fact, never forget to back up your files. It is difficult to explain in words how important it is to back up files at all times not matter how trivial they are. As you can never tell when a file kept since ages becomes an important one, it is essential that you back up all the data on your Android devices from time to time and keep them in a secure folder in your home or office computer, though these lost files can be regained with the powerful recovery tool introduced in the above!
Related Articles:
Best Mail Apps for Android Phones You Must Have