Some days we just need to take a break from the daily grind and tune into the music that moves us. Music is one of the most powerful ways to rejuvenate your spirit after a long day at work or school. That's why it's important to have your favorite songs, albums, or playlists on your Android phone so that whenever you feel like taking a timeout, you can freely do that. One thing is for sure; you have to put music on Android if you want to listen to the songs at any time. This article will introduce you to some of the best methods to sync music to Android.
Method 1. How to Put Music on Android Using Flash Drive
One of the best ways to put music on your phone is via a Flash Drive. A flash drive is a storage device with a USB plug. The good thing about this method is that you won't have to download any programs on your phone. All you need to do is connect your phone to the computer, copy music onto the drive, and then transfer them to your Android.
You can use a USB C drive, provided your Android supports USB-C or a USB OTG adapter to connect the flash drive. The USB OTG adapter is the most convenient device. However, some devices don't support this option. Here is how do I put music on my phone via flash drive;
Step 1. Plug the Flash Drive into the computer
Plug in your flash drive to the computer, and after some time, the computer will automatically detect the flash drive, and it will appear as a new drive on the My Computer (for Windows users).
Step 2: Copy music files
Select those songs you want to add to your Android tablet/phone and copy them to the flash drive in a specific folder. Wait for the process to finish and right-click on the flash drive icon to see the "Eject" option. Click on it and eject it from the computer.
Step 3: Connect the flash drive to the USB OTG
Take the flash drive you just copied songs from the computer and insert it into the USB OTG, then take the OTG and connect it to your Android. Wait for the device to detect the OTG; if it's not detected, you have to enable it via settings.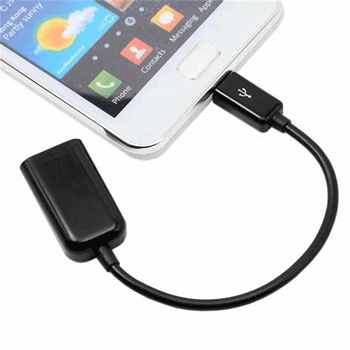 Step 4: Transfer songs
Open the "File Manager" app and look for the USB storage option. Select all the songs you want to add to your Android. Click on the "Copy" option and transfer them to internal storage. That's it! You can now listen to your songs the way you want.
You may like:
How to Remove Duplicate Songs from an Android Phone Effortlessly?
2 Solutions to Transfer Music from Android to iPhone
Method 2. How to Get Music on Android Using USB Cable
For those who want an easier way to add music to Android tablet/phone, you can use the USB cable. Connecting the device to the computer via a cable will ensure you have your favorite tunes on your Android phone. Here's how do I add music to my phone using a USB cable;
Step 1: Plug the USB cable from your computer into your phone.
Step 2: Wait for some time, and they will appear on the computer in the "My Computer" section. You have to ensure that the data transfer option is enabled on the device.
Step 3: Usually, it shows on the screen, and if not, swipe the notification panel down to see the USB debugging options. Choose the "File Transfer."
Step 4: Head to your computer and choose the music files you want to add to the Android phone. Copy them and paste them into your Android device's internal storage.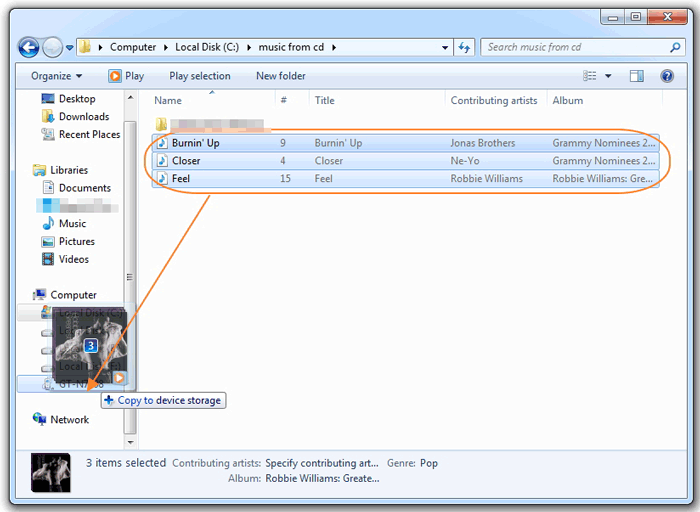 Method 3. How to Put Music on Android Phone With Google Drive
When it comes to putting music on your Android, there are so many methods you can use. If you are looking for an easier way to add music to your phone without hassle, consider using Google Drive. This cloud service allows you to store and sync your important files, documents, and other types of files to the cloud. With its 15 GB free storage, you can save songs and playlists and access them from anywhere and on any device. But, Google Drive does not allow downloading of a folder directly. You only get to download one file at a time. Below is how do you put music on your phone with Google Drive:
Step 1: Upload music files to Google Drive app on the web. Tap "New" in the upper-left corner, then select the "File Upload" option to individually upload the files. Also, you can upload a folder into the Drive in one go.
Step 2: Go on your phone and open the CloudBeats app, which looks like a cloud with headphones. Swipe left to get to "Files." Get this app from Google Play Store for free; it works with most cloud services.
Step 3: Click on "Add Cloud" and choose "Google Drive," then hit "Allow" to enable the app to access cloud storage.
Step 4: Head to the folder with music files, click on the three dots menu and choose "Download."
See more:
10 Best Music Manager for Android You Must Know
How to Transfer Music from Android to iPod in 2023? (3 Efficient Ways)
Method 4. How to Add Music to Android With AirDroid
AirDroid is a free Android app that allows you to transfer and manage files between your PC and phone. You can use it for transferring music, apps, playlists, images, and photos from your PC to your Android. The great thing about this method is that you don't have to plug your phone into a computer. The process is completely wireless. Just connect your Android phone, and you are ready to get your files! Here is how do I get music on my phone with the AirDroid;
Step 1: Install AirDroid on the computer and Android phone.
Step 2: Tap on the "Files" button.
Step 3: Choose the location you want to move the music files to; it can either be its internal or external storage. Then create a new folder.
Step 4: Drag and drop the files from the computer into this new folder.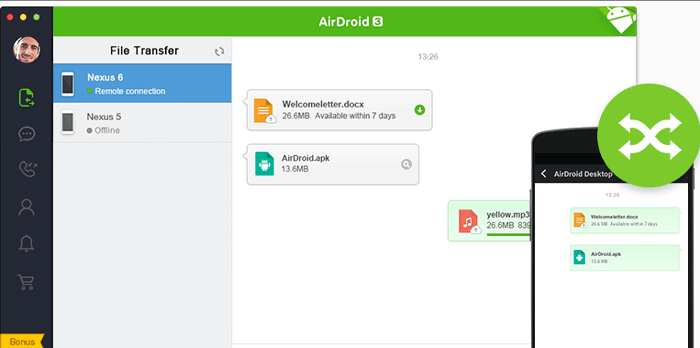 Method 5. How to Put Music on Android via Coolmuster Android Assistant
Transferring music files from your computer to your Android phone is now easier with the help of Coolmuster Android Assistant. All you have to do is to download the application and import the files. Android Assistant allows you to transfer music, audio, and video files from your computer to your Android device, and vice versa. You can also edit and manage Android data on the computer directly.
Top Highlights of Coolmuster Android Assistant
* Imports and exports music files selectively to and from Android devices.
* Data backup and restoration on Android phones in just a click.
* You can add, delete or edit music files on your computer.
* Supports various data types, including music, call logs, SMS, photo, videos, and more.
* Compatible with Windows and Mac OS.
Here is how to put music on Android phone using Coolmuster Android Assistant;
01 First, you need to download and install the Android Assistant on your computer. Connect your Android device to the computer with a USB cord and enable USB debugging on the phone.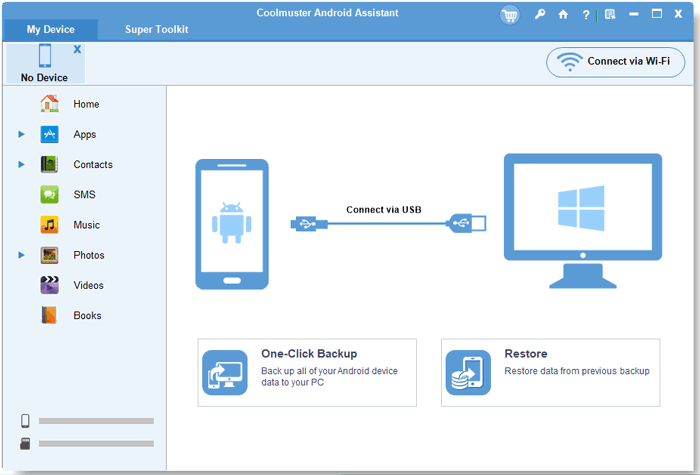 02 After the device is connected properly, the software will show its primary interface on the computer as it detects all data available on an Android phone.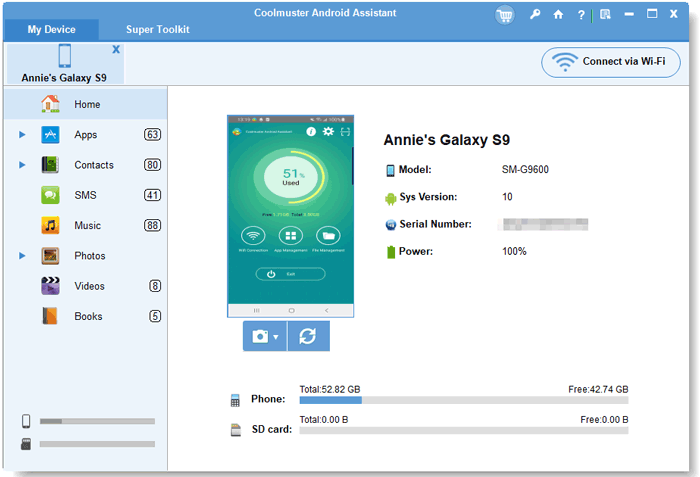 03 You'll now see all of your data on the left sidebar. Click the "Music" folder to show the songs. Then click the "Import" tab and choose the songs you want. Confirm the process to start to transfer music from computer to Android.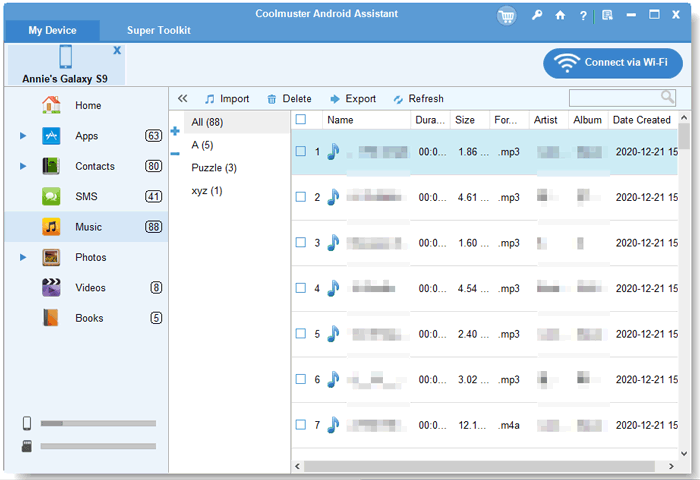 Video tutorial:
Conclusion
As you can see, there are many ways to save music to your phone. Whichever method you choose, the main idea is to get your favorite songs on your phone and enjoy listening to them anytime and anywhere. Coolmuster Android Assistant is the best tool to help you get music on your Android phone faster. You just need to connect your device to the computer and click a button to transfer all the songs you want quickly.
Related Articles:
How to Transfer Music from Mac to Android Effortlessly? Solved in 4 Ways
3 Simple Methods to Download iCloud Backup for Android in Minutes
Top 4 Easy Ways to Transfer Music from iPhone to Android
5 Best Ways to Transfer Music from Android to Android (Easy and Helpful)
How to Transfer Music from iPod to Android (2023 Updated)