Most modern-day computers, tablets, and smartphones have a built-in feature for screen recording to help you capture a video of what is happening on your screen. This feature is essential when you want to record a video on your devices for software review, problem demonstration, or video tutorials. But if you remove them mistakenly, do you know how to recover deleted screen recording videos on Android devices?
Maybe you are facing this problem, and want a reliable solution. So, you can get help from this article. We have brought together several ways to recover deleted screen recording video files without much hassle.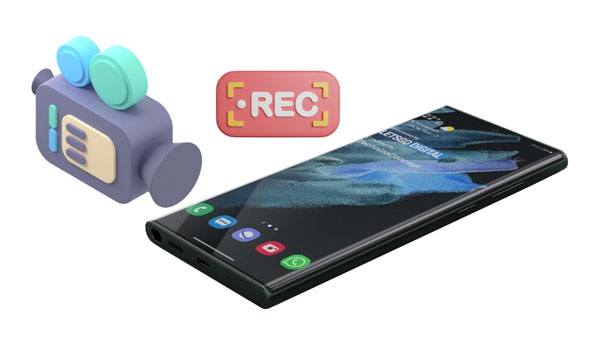 Part 1: Is it Possible to Recover Deleted Screen Recording Videos on Android?
Whenever you erase recorded video clips, you don't erase the video contents saved in the physical space but alter the deleted video's index, making it impossible to access. Before new files overwrite the original files' storage space, the erased screen recordings will be held on your disk temporarily.
Data recovery apps can scan the device in detail, build the lost or deleted files' index, and then locate the wanted videos. Getting back your erased or lost screen recordings is not an issue anymore when you have a video backup or system backup. You can restore videos from the backups directly.
Part 2: What to Know Before Recovering Recorded Videos on Android?
Recovering screen recordings is not that easy, like picking coins from your floor. Some mistakes may significantly reduce your chances of recovering your lost video successfully. It is highly recommended that you do the following so that the probability of your data recovery can increase:
1. Stop using your storage device or computer where the screen recordings were stored immediately. If new data is stored in that device, it may overwrite the data you intend to restore, leading to permanent loss of data or corrupted videos.
2. Use reliable and read-only tools to open the disk. You should be wary of any recovery tools, backup tools, or repairing tools that appear unreliable. Sometimes, these tools cause more harm to your videos and drive if used for recovering lost or deleted files, leading to further drive corruption and decreasing your file recovery chances.
3. Set aside another device for saving your recovered screen recordings. To prevent loss of data on your device in the future, it is recommended that you attach another drive with enough space to your PC to save recovered screen recordings.
See also: Can you recover your deleted videos from an iPad? Read this guide to find the solution.
Part 3: How to Recover Deleted Videos from Screen Recorder on Android?
The following section will discuss the most convenient ways to recover your permanently deleted and recently deleted screen recordings.
3.1 Recover Recorded Videos on Android Using Coolmuster Lab.Fone for Android
Coolmuster Lab.Fone for Android is a powerful and professional data recovery program that focuses on recovering deleted data from Android devices. It is able to restore your deleted screen recordings by scanning your phone memory thoroughly without backup.
After the scanning, you can select the recorded videos you need on the interface. With this software, you can also transfer your existing videos from Android to a computer without quality loss. Besides, you can use it to recover your deleted videos from an SD card.
Key features of this Android data recovery software:
* Perform a deep scan to locate and recover deleted videos from the screen recorder on an Android device.
* Capable of recovering Android deleted contacts, photos, SMS, and more.
* Restore the deleted videos, documents, music and photos from your SD card without effort.
* Provide two scanning modes: Quick Scan and Deep Scan.
* Work well with most Android phones and tablets with the newest versions, including Huawei, LG, Sony Xperia, Samsung Galaxy, etc.
Download Coolmuster Lab.Fone for Android below.
Below is how to recover deleted screen recording videos from Android via this software:
01Download, install and open the recovery software on your computer. Click Android Recovery, and connect your Android device to your computer through a USB cable. Allow USB debugging on Android and then click OK. Once your device is detected, the primary page will be seen. Check the Videos option.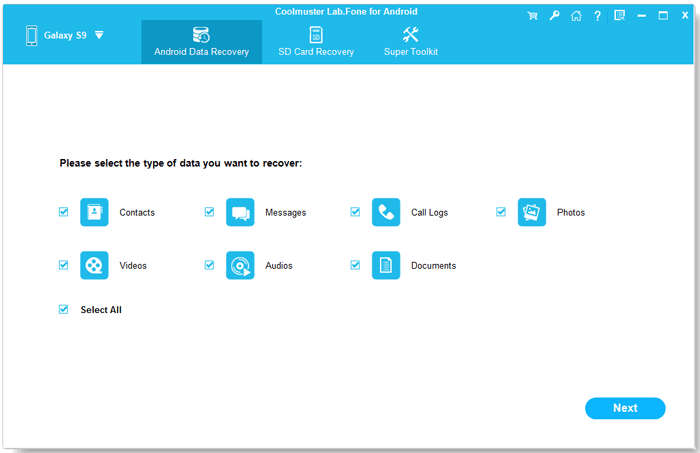 02You can choose the Deep Scan or Quick Scan mode on the computer to scan your files. To locate more deleted video files, it's advisable to go for Deep Scan.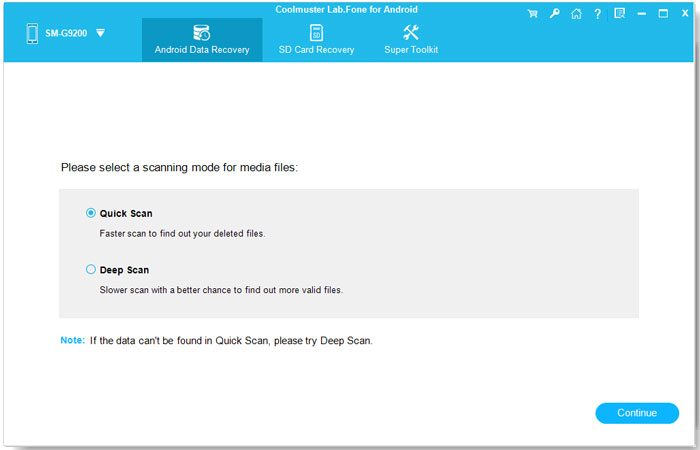 03The software will scan your videos for some time; next, you can select the Videos option and the video files you want on the interface. Then click Recover to restore your videos from your Android device and store them on the computer.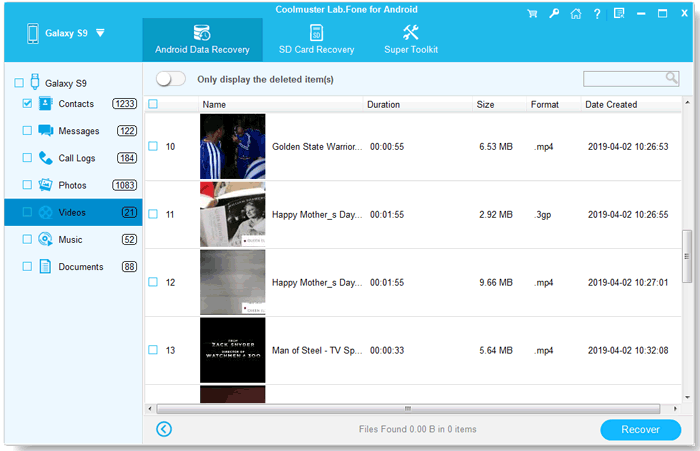 Read more:
Micro SD Card Recovery: How to Recover Deleted Files from Micro SD Card (Full Guide)
How to Recover Permanently Deleted Photos from iPhone? [Solved]
3.2 Restore Screen Recorded Videos on Android Using Google Drive Backup
Google Drive offers fifteen gigabytes of free space where users can back up their documents, photos, and videos. Therefore, if you have backed up your screen recordings to Google Drive, you can restore them to the phone easily in case you delete them.
Recover recorded videos on Android via Google Drive backup:
Step 1: Open the Google Drive application on your Android phone, or open its webpage in your browser. Click the My Drive tab.
Step 2: Now, you are able to see your backed-up videos, photos, and other files.
Step 3: Select your desired screen recordings. Next, download these videos.
See more:
9 Best Video Recovery Apps for Android (Free & Paid)
Seamlessly Play Army Commander on PC [With or Without Emulator]
3.3 Get Back Deleted Screen Recording Videos on Android Using Google Photos Backup
You will find a Google Photos application pre-installed when you buy a new Android phone or tablet. If you sync it, all your phone's videos and photos will be automatically backed up to it. Therefore, you can find your lost screen recording video files here and restore them to your Android device seamlessly. If you fail to get the video clips here, you can find them in the Trash/Bin folder.
Here's how to recover screen recorded videos from Google Photos Bin/Trash on an Android phone:
Step 1: Open the Google Photos application on your device, and log in to your Google account. Click on its menu icon. It is found on the top left corner of your screen.
Step 2: From the menu, tap Trash. Here you are able to see all your deleted videos and photos that you want to restore.
Step 3: Tap on these videos to select them. Once you have highlighted them, tap Restore.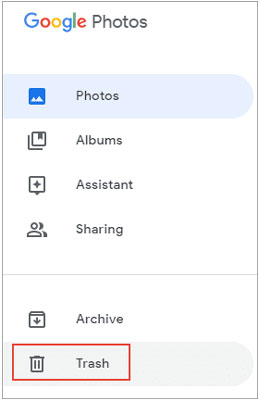 Learn more: If you want to copy your photos from your Android phone to a flash drive, please refer to this full guide.
3.4 Retrieve Screen Recorded Videos on Android Via Recently Deleted folder
The latest Android devices have a two-step deleting process to erase photos and videos from the device. When you delete a photo or a video from your Gallery app, it is temporarily saved in your Recently Deleted Files folder for thirty days. After thirty days, they are automatically deleted from your phone if you don't restore them. Therefore, you are free to restore your deleted screen recordings any time you want before the expiry of this period.
That is to say, if the missing photos and video clips are still saved in this folder, users can restore them easily to the Gallery app.
Below is to recover recorded videos on Android from the Recently Deleted Files folder:
Step 1: Open your Gallery application and tap Albums.
Step 2: Scroll through and select the Recently deleted tab.
Step 3: Here, you will find all your recently deleted photos and videos. Tap on all the videos you wish to restore to select them.
Step 4: Click the Restore button to recover them.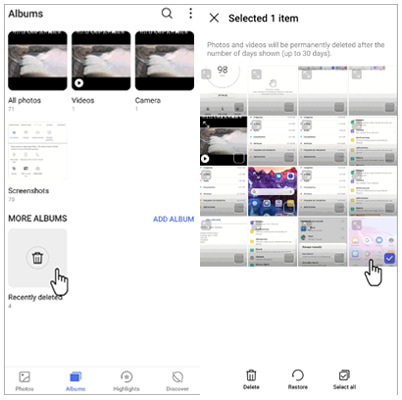 3.5 Retrieve Deleted Videos from Screen Recorder App Using Specific Screen Recording Folder
You can recover your lost or deleted screen recording videos on your Android device using the screen recording application's folder. On Android, File Manager applications store all apps' media. Therefore, you can find your Screen Recordings folder there, where all your deleted screen recordings are saved. However, not all devices have this feature. If you cannot find the app's folder on your smartphone, you will fail to retrieve your videos.
Bonus Tip: Protect Your Data From Getting Lost Forever
Below are tips that will help you protect your device's screen recordings which will save you the time and energy you would use to restore them from your Gallery app in case they get lost in the sfuture:
1. Back up your video files at least once every week.
2. Stop using your device immediately once you notice the video clip has been erased.
3. Use a phone case of good quality to prevent damage to the hardware.
4. Use a data recovery App for the highest chances of successful recovery.
The Bottom Line
Now you have learned how to retrieve your deleted recording video clips from your Android device without necessary backup using Coolmuster Lab.Fone for Android. This software will drag your deleted recorded videos and other files effectively. And you can use it to back up your Android data to your computer. Also, if you have backups, you can restore your screen recording videos in other easy ways.
Related Articles:
How to Recover Deleted Photos from Snapchat on Android in 4 Proven Ways?
Top 5 Android SMS Recovery Apps You'd Better Know [Tutorials Included]
Transfer Text Messages from Samsung Phone to Computer | Top 6 Ways
How to Transfer Files from Android to PC without Effort | 7 Approaches
How to Transfer Music from Computer to Android in 6 Ways
The Favorite Methods to Transfer Videos from Android to Mac, without Struggles