How to Recover Lost Screenshots on Android?
Screenshots are currently the most important thing on the internet. They have been the mirrors to a person's character and the basis of gossip laden discussions. Screenshots have broken relationships, helped identify the cheaters in a relationship as the partners join all dots and distribute the screenshots to their friends for their inputs. They have been used to shame bigots and trolls for their disgusting opinions, acted as tools against cyber bullies, been harbingers for information and memories, storehouses of knowledge for students as they save notes and important information via this feature and much, much more. Therefore, how to recover lost screenshots on Android becomes a more concerned problem for those who have lost or deleted screenshots on Android phones or tablets.
There are myriad tools available on the internet database to help you retrieve deleted screenshots from your Android device. As this data is floating around in caches, it becomes easy to retrieve it but what is required is a convenient, easy to use software that is fast and effective in accomplishing this feat. One of the software for this purpose which is highly recommended due to its superlative performance is the Coolmuster Lab.Fone for Android (with its Mac version - Lab.Fone for Android Mac). Here are the things you can easily achieve when you use this tool:
- Recover screenshots lost or deleted from Android phone or tablet with original quality and format;
- Retrieve lost sent and received text messages and store them in html format (see guide of Android SMS recovery);
- Retrieve lost contacts, email addresses along with embedded profiles and job descriptions intact, all in html format;
- Easy recovery of call details, time of calls, duration of calls logs in a printable html format (see how to recover call logs on Android);
- Restore all media files like images, videos, audios and store them in a computer friendly format.
Coolmuster Lab.Fone for Android supports overall Android phone brands, including Samsung, HTC, LG, Sony, Motorola, Huawei, ZTE, Google and so forth. Read the following article to see how to use it to recover screenshots on Android.
Tutorial: Retrieve Deleted Screenshots on Android Phone
Step 1. Launch Android Screenshots Recovery
Launch the Lab.Fone for Android after you downloaded and installed it on your computer and connect your Android device to the computer via USB or WiFi. Make sure to enable USB debugging on your phone, otherwise, the computer will be unable to detect and furthermore link your device.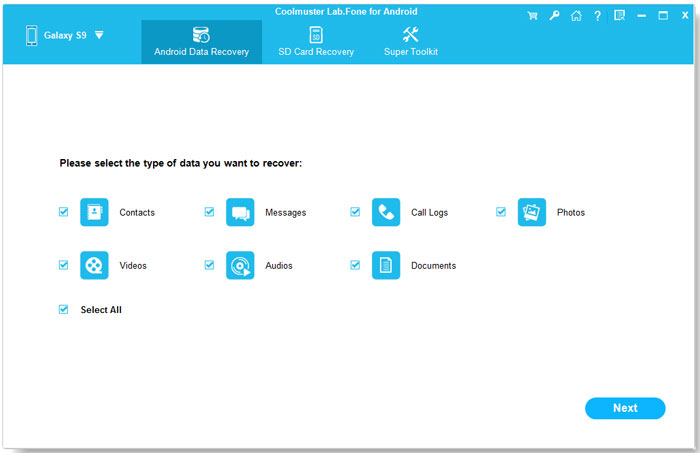 Step 2. Scan Android device for lost screenshots
Scan your Android device for lost data and select the file categories respectively that need to be recovered. Here, you should choose "Photos" category and after the program scan out all the images, you can preview to select the screenshots you need.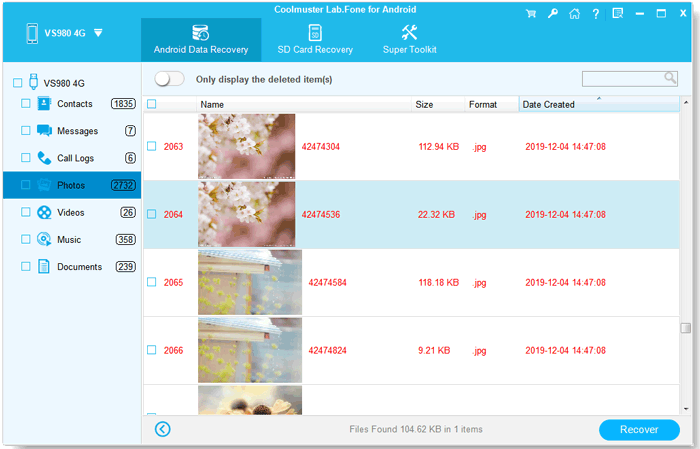 Step 3. Recover screenshots on Android
The lost and deleted screenshots are colored in red. Just tick off the ones you want back and click the button of "Recover" to save them on your computer. Do not disconnect the Android device to the compute during the recovery process.
Tips: You should backup the screenshots from your Android to computer from now on, with the help of Coolmuster Android Assistant, to prevent them from losing once again.
Related Articles:
How to Recover Messages from Broken Android Phone
Recover Messages from Android with Black Screen
Add a comment