"My Samsung Galaxy A70 is just over a year old, and it suddenly turned to a black screen with some apps still operating. My daily alarm still rings, phone calls kept coming but unfortunately, I could not answer them because of the black screen. I am begging you, Samsung, to do something on my phone. I did some force restarting by pressing the Volume down and Power buttons, recharged my phone, and some other tricks to no avail..."
- Excerpted from Samsung Community
How do I fix my Samsung black screen of death quickly? If you run into this problem during an online game, video playing, or chatting and want to find a way out, check the top nine efficient solutions below to fix the Samsung sudden death in minutes.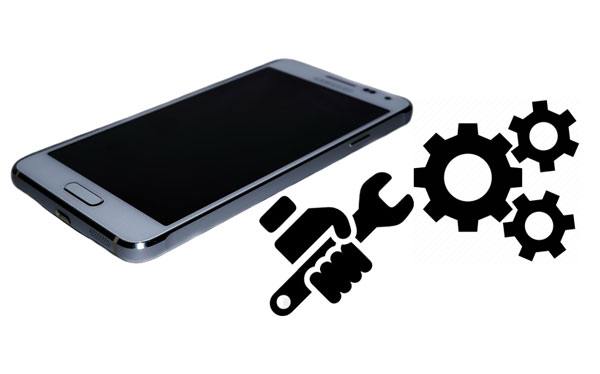 Part 1. What Causes the Samsung Black Screen of Death?
Part 2. Symptoms of Black Screen of Death on Android Devices
Part 3. How to Fix Samsung Black Screen of Death
Bonus: How to Avoid Samsung Black Screen of Death
Part 1. What Causes the Samsung Black Screen of Death?
Generally, Samsung A20/Galaxy S6/S8 black screen is caused by hardware or software issues. Below are some most possible scenarios responsible for Samsung black screen of death:
System crash.
Insufficient memory space.
Improper software update.
Drop your phone in water or onto the ground.
Incompatible applications run on your device.
Run out of battery.
Poor performance of an obsolete device.
Virus or malware attacks.
Corrupted official firmware.
Place your phone close to lids or boxes with magnets.
Expose your phone to extreme heat or cold environments.
The LCD connectors get loose.
You have enabled the Dark screen mode on your Samsung device.
Other hardware damages.
Part 2. Symptoms of Black Screen of Death on Android Devices
If one of the following phenomena appears on your Android device, your Samsung Galaxy S6 is suffering sudden death:
The green light keeps blinking, but your phone is irresponsive.
Your smartphone takes prolonged or forever to complete one operation.
Start rebooting and freezing unceasingly.
Automatically restart the device and behave strangely.
Die without restarting again eventually.
Part 3. How to Fix Samsung Black Screen of Death
Don't worry if you are experiencing a Samsung black screen of death. You can troubleshoot the problem with the nine easy tricks below.
Trick 1. Soft Reset Your Samsung Phone
It is a primary operation to fix the Samsung Galaxy S6 black screen of death. Just power off your Samsung device, take out the battery, and place the battery back to its original slot again. Then, restart your phone to check whether the problem exists.
Trick 2. Hard Reset Your Samsung Phone
If the soft reset cannot fix the Samsung Galaxy S8 black screen of death, you can hard reset it. However, this will erase all content and settings on your device. Therefore, if needed, back up your Galaxy S8 before repeating the instructions:
Power off your device > press and hold the Volume + Home + Power buttons simultaneously until the Android logo appears on the screen. Next, use the Volume buttons to select the Wipe data/Factory reset option > confirm the selection with the Power button > choose the Yes, delete all user data option.
Then, wait for the device to finish factory reset. Once done, pick the Reboot system now option and press the Power button to confirm. Later, your device will automatically reboot.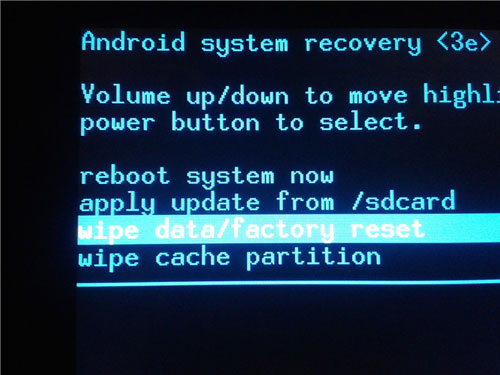 Maybe you need: Is your Samsung Galaxy screen not responding? If so, follow this guide to repair it.
Trick 3. Disable the Dark Mode on Samsung
Have you turned on the Dark Screen mode on your device? If yes, it's no wonder your Samsung turns a black screen. To switch off the Dark Screen mode on your Samsung phone, open Settings > Accessibility > Vision > disable the Dark Screen mode.
Trick 4. Charge Your Samsung Device
Sometimes, there is nothing wrong with your Samsung phone except for the drain of the battery. If you cannot power on the device, connect it to a nearby power source for half an hour, whether the charging symbol appears or not. Next, restart your device by pressing and holding the Volume Down + Power buttons altogether for 10 seconds.
If it reboots automatically, it may have solved the problem. If not, try other solutions to fix the Samsung sudden death.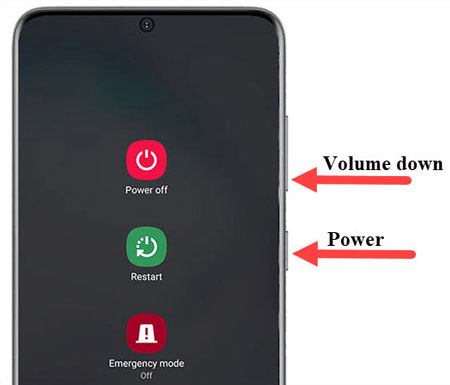 Trick 5. Remove the SD Card
In other cases, an incompatible SD card will also result in the Samsung black screen of death. To resolve this issue, turn off your Samsung phone and take out the SD card from it. After a few seconds, restart your phone to see whether the black screen issue disappears.
Trick 6. Boot Your Samsung into Safe Mode
Booting your device into Safe mode is another common solution to fix the Samsung black screen of death. To start with, switch off your Samsung device and press and hold the Power button for 10 seconds to power it on again. When the Samsung logo displays on the screen, press and hold the Volume Down button until the Lock Screen shows.
Finally, click the Safe mode at the lower-left corner to enter the Safe mode.
If you want to exit the Safe mode, pull down the drop-down screen from the home interface, tap the Safe mode enabled notification, and restart your Samsung device.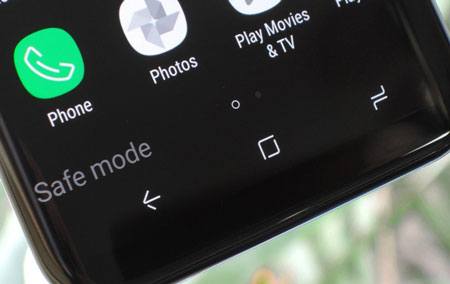 Trick 7. Boot Your Samsung into Recovery Mode
Also, you can boot your device into Recovery mode to fix the Samsung black screen of death. Here's how:
Turn off your Samsung device > press and hold the Power + Volume Up + Home buttons at the same time until your device vibrates > release the Power button while keep holding the rest buttons until you see the Samsung logo. At last, choose the Wipe cache partition option using the Volumes buttons.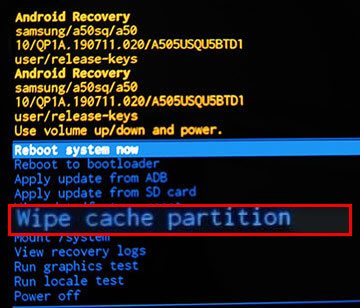 Trick 8. Take It to the Samsung Store
If you cannot fix the Samsung black screen of death successfully, taking it to the nearby Samsung Store will be a wise choice. A professional technician will check your device and repair it for you. Don't forget to bring along the receipt with you if your device is still under warranty.
Trick 9. Try the Professional Samsung Repair Tool
Assume that your Samsung device is out of warranty or there is no Samsung Store nearby your home. At this moment, a professional Samsung repair software will play the same role as a Samsung technician. Samsung System Repair is such a handy tool that fixes all Android system issues in a few minutes, including the Samsung black screen of death, and it works with most Samsung models from different carriers.
The highlights of Samsung System Repair:
* Fix various Samsung system issues like a pro: Black screen of death, OTA update failure, stuck in a boot loop, apps crash, Play Store not working, device not turning on/off, etc.
* High success rate, fast speed, and safe to use.
* Easy operation without professional tech skills.
* Apply to various Samsung models from AT&T, T-Mobile, Sprint, and Verizon, including Samsung Galaxy S9/S8/S7/S6/A90/A20/A9s/A8s/Note 2, etc.

To fix Samsung black screen of death automatically:
1. Connect your Samsung Galaxy to the computer.
After launching the Samsung repair tool on your PC, tap the System Repair module on the interface and connect your Samsung device to the PC via a USB cable. Next, choose the Android Repair mode from the left panel.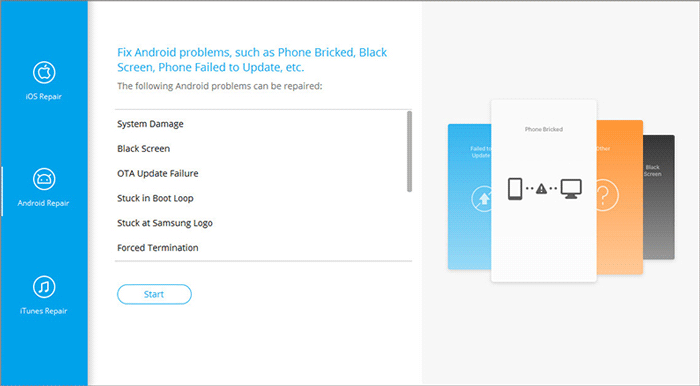 2. Confirm the device information and operation.
Please select the correct information of the device in the relevant columns, check the I agree with the warning option and tap Next to continue. On the pop-up window, type 000000 to confirm the operation and hit the Confirm button to proceed.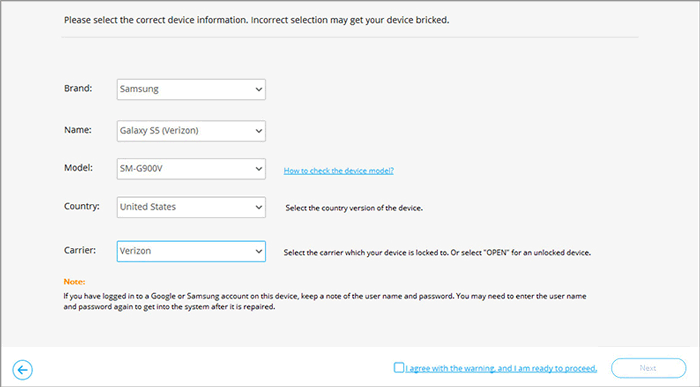 3. Fix Samsung's black screen of death.
Enter your device into the Download mode with the on-screen instructions. Once finished, tap Next to start downloading the firmware necessary for the repair and allow it to repair your device automatically. When all the process is complete, your Samsung device will back to normal.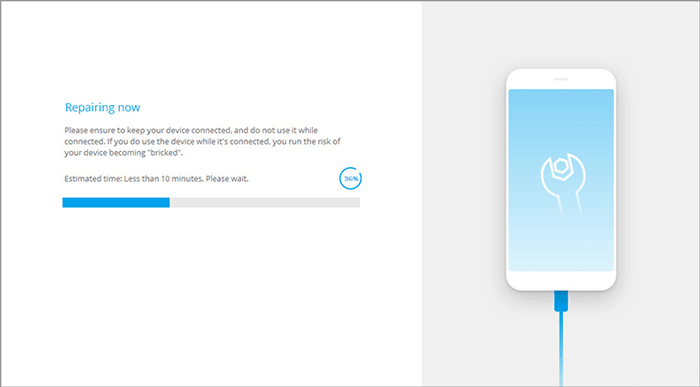 Further reading:
5 Effective Ways to Fix Android Black Screen of Death Issue
[Odin Mode Android] How to Get Out of Odin Mode on Samsung Devices?
Bonus: How to Avoid Samsung Black Screen of Death
Below are some helpful tips to prevent the Samsung black screen of death from happening in the future:
Keep your Samsung device up-to-date with the latest version of the operating system.
Regularly Back up your Samsung data to a PC or elsewhere to avoid data loss.
Never install applications from any unknown sources.
Don't charge your Samsung phone for too long.
Install a dependable antivirus app to protect your device from viruses or malware.
Replace the battery if it drains too quickly.
Final Thoughts
With the detailed troubleshooting methods mentioned above, you will undoubtedly fix the Samsung black screen of death. If you don't want to try all the tricks one by one, make Samsung System Repair your prior choice. It has a higher success rate than other common methods. Moreover, the automatic detection and repair process frees you from heavy manual work as well.
If this guide solves your problem successfully, please share it with more people.
Related Articles:
Top 9 Android Phone Repair Software to Fix Common Android Issues
Useful Tips to Fix Samsung Smart Switch Not Working (Completed Solved)
How to Fix Android Phone Blue Screen of Death?
9 Ways to Fix Android Tablet White Screen of Death in 2021
7 Simple Tricks for Samsung Cloud Backup Failed Problem (Updated)
Apple iPhone Black Screen of Death? Here Are the Best Solutions