"Hi, I have a Samsung Galaxy A72 SM-A725F/DS. When my phone is locked for a while in my pocket, the touch screen becomes unresponsive, and I have to hard reboot it. After reboot, the touch screen works perfectly fine. My phone is not rooted and still has original firmware. Some help would be much appreciated."
- XDA forums
With the development of touch screen technology nowadays, the smartphone touch screen has become smarter and more sensitive than before. However, people still cannot avoid errors like the touch screen not working on Samsung phones. Don't panic when you are troubled by the Samsung Galaxy screen not responding issue. You can refer to the following methods to fix the glitches in minutes.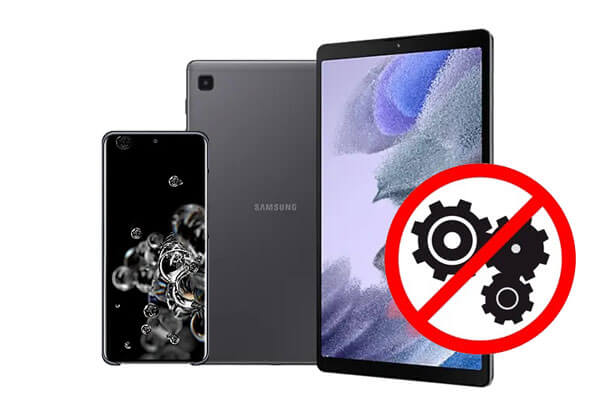 Part 1. Why Did My Touch Screen Suddenly Stop Working?
Various reasons may cause the Samsung touch screen not working problem, including:
Corrupted applications made the touch screen insensitive.
Outdated Android OS version.
The screen protector made the Samsung display/touch not work.
Damaged touch screen aroused by water damage, magnetic field, extreme climate, etc.
System crashes or software bugs.
Wrong Android settings.
Part 2. How Do I Fix My Samsung Unresponsive Touch Screen?
Below are several things you can do to fix the Samsung touch screen monitor not working error. Let's check the Samsung j8 touch not-working solutions together.
Solution 1. Restart Your Phone
When the bottom of the Samsung screen is not working, the first attempt is to restart your device.
Here's how:
For Samsung phones with a Power button:
Press and hold the Power key for a while until a menu appears.
Click Restart and confirm with the Restart button.
For Samsung devices with a Side button:
Swipe the screen from top to down to launch the Quick settings window.
Click the Power icon > Restart > confirm with the Restart option.
If the touch screen doesn't work at all,
Press and hold the Volume Down + Power/Side buttons together for 10 seconds.
Wait until the device is turned off.
Press and hold the Power/Side button to turn it on again.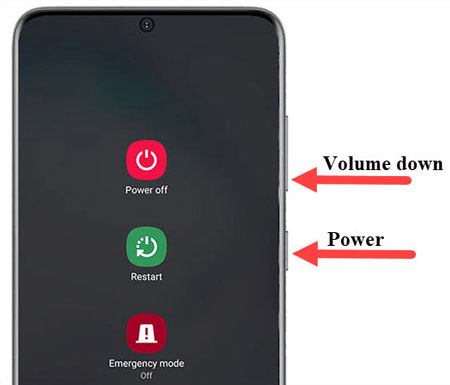 See more:
You can breezily flash a dead Android phone with this guide. Let's read it if needed.
If you want to enjoy Army Commander on your Windows computer with a large screen, go through this tutorial. It will tell you how to do it.
Solution 2. Force Restart Your Phone
You can also force restart your Samsung phone if the Samsung A31 touch screen is not working after an update. For that,
Press and hold the Volume Down + Power buttons simultaneously for 20 seconds.
When the phone is back on, check if the screen becomes responsive.
Solution 3. Check the Charger
If the charge is broken, it may not charge the device and cause the touch screen not working issue. You can now use another working charger to supply power for your device. Also, it's better not to use the touch screen when charging.
Solution 4. Update the Software to the Latest Version
If you can somehow access the device Settings, continue with the following steps.
Open the device's Settings > Software update.
Click Download and install.
If a newer version is available, tap Install now, Schedule install, or Later, based on your time.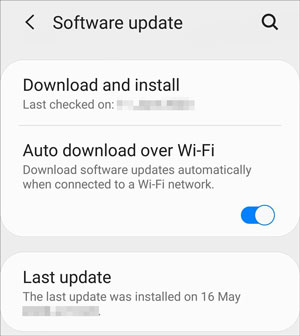 Solution 5. Optimize Device Performance
Another way to fix the touch screen not working on the Samsung issue is to optimize the device's performance. Doing so will fix glitches or bugs and improve the system's smoothness.
Head over to Settings > Device care.
Click Optimize now to scan the wasted files and space.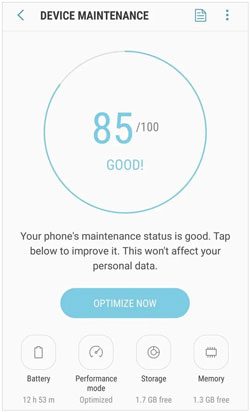 Solution 6. Remove the Memory Card & SIM Card
When executing multiple functions simultaneously, your phone heats up quickly, affecting system performance and touch screen sensitivity. You can eject the memory card and SIM card to fix the issue.
Note:Please un-mount your SIM and memory card before removal; your data may get deleted.
Solution 7. Remove the Phone Case/Screen Protector
As mentioned above, the screen protector or case will also give rise to the problem "Samsung Galaxy screen is not responding". Thus, you can remove them to see whether the screen responds properly.
Solution 8. Disable Touch Sensitivity
Sometimes, if you enable the Touch Sensitivity but put no protective film on the screen, the touch screen may run too sensitively and malfunction. You can disable the feature from Settings > Display > turn the Touch Sensitivity off.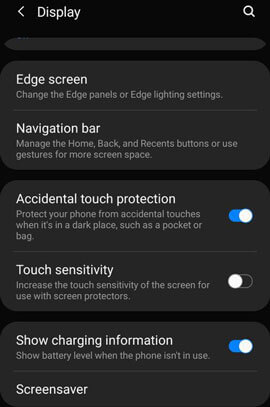 You might like: Want to work out the Android boot loop issue? Here are 11 helpful tips for your reference.
Solution 9. Charge the Device
If the phone battery is worn out, but you don't realize it, the Samsung touch screen may also not work. You can connect your device to a nearby power source and get it fully charged. Next, power it on to see if the screen responds or not.
Solution 10. Clean the Screen
Assume your Samsung touch screen is not working because it is polluted with dirt, oil, or water. You can clean the phone touch screen to improve the conductivity of your fingers on the digitizer.
Switch off your Samsung phone.
Use a piece of clean & dry cloth or an alcohol pad to scrub the screen.
Wipe out the liquid with a dry microfiber cloth and make it air-dry before using.
Guess you like: With this recovery guide, you can effortlessly recover deleted Android files from a tablet.
Solution 11. Restart Your Samsung Phone in Safe Mode
You can boot your device into Safe mode to see whether the installed apps are the culprit.
Press and hold the Power button until you see the power-off menu on the screen.
Click the Power Off option > Reboot > hit OK if it confirms whether to reboot to Safe mode.
If the device works well after rebooting, you can ensure that the installed apps are the case.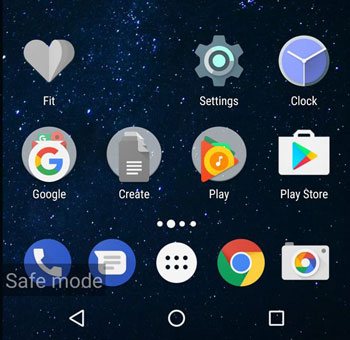 Solution 12. Boot Your Samsung in Recovery Mode
Similarly, you can also boot your device into Recovery mode to resolve the Samsung touch screen not working issue. However, it will erase everything from your phone. If necessary, please back up your device before starting the process.
Solution 13. Factory Reset Your Device
Please ensure to back up your device before performing the factory reset on your device.
Open Settings > General Management > Reset.
Click Factory data reset > Reset.
Confirm the operation with your Samsung account password and hit Delete All.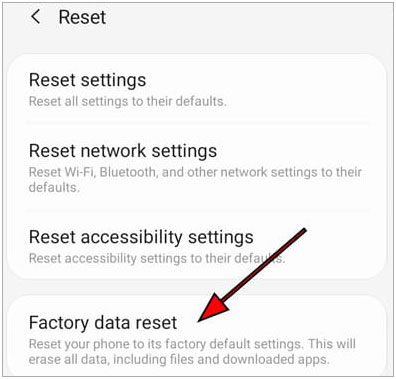 See also: Are you looking for powerful Android data recovery software? If yes, refer to this article, and select one from the list.
Solution 14. Fix the Samsung System Issue in One Click
What if none of these methods works? It's time to choose the professional Android Repair tool to fix the unknown Android system issues in one click. It supports various Android system problems like the black screen of death, the touch screen not working on Samsung, app crashing issues, Android boot loop, etc.
Worth to mention that it works well with all mainstream Samsung phones, such as Samsung Galaxy S22 Ultra/S22+/S22/S21/S21+/S21 Ultra/S20/s10/S9/S8/S7/J8, etc.

Free Download for PC
How can I fix the unresponsive touch screen in Samsung A72 in one click?
01Open the software on your computer after installation and tap Repair > Android Repair. Next, connect your Samsung phone to the PC via a USB cable.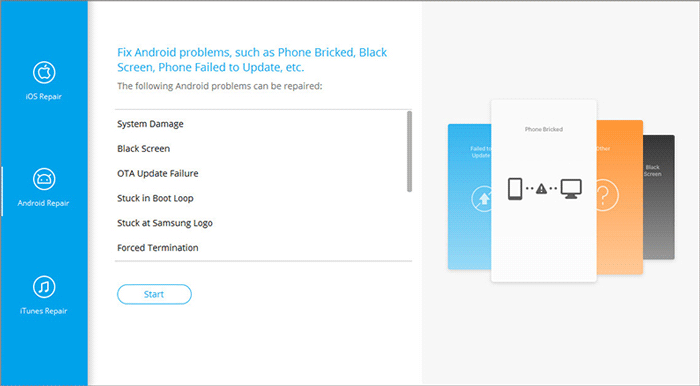 02Select the correct device information on the interface and type 000000 to confirm the warning before tapping Next.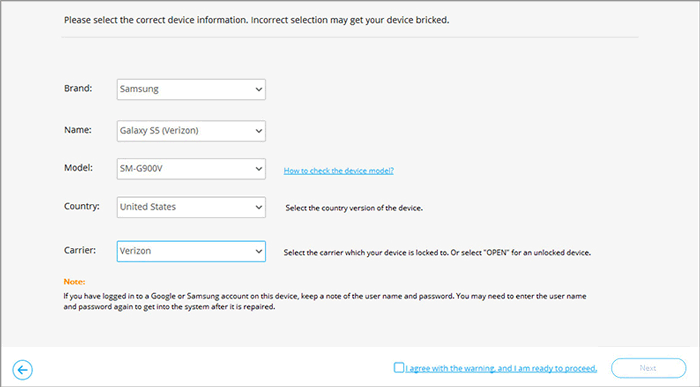 03Follow the on-screen prompts to boot your device into Download mode. Then, click Next to download the Android firmware and flash the new firmware to your device. Later, it will fix your Android device successfully.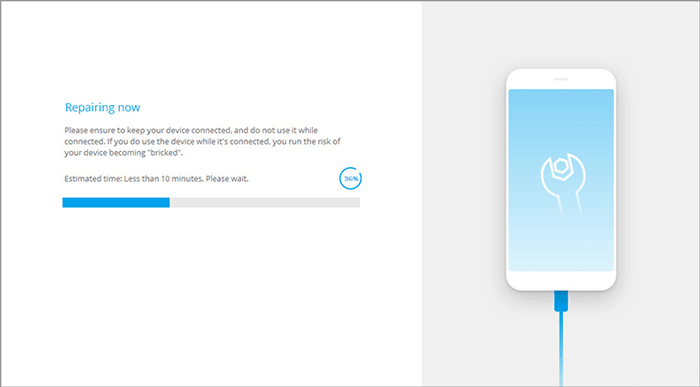 Further reading:
Top 9 Android Phone Repair Software to Fix Common Android Issues
Fix the iPad Touch Screen Not Working Problem in 12 Pro Ways(All iPad Series Supported)
Solution 15. Repair for the Physical Damage
Suppose your Samsung phone touch screen gets smashed. In that case, you can send it to a nearby Samsung service center for repairing it. It may cost you a bit. Thus, ensure that your device is still under warranty, and don't forget to bring the purchase receipt with you.
Final Thoughts
It's not wise to get depressed with the "touch screen is not working on Samsung phones". You can try out the above measures to resolve the problem yourself. And I highly recommend you try Android Repair, which is easy, fast, and has a higher success rate than any other way. Of course, you can also ask the Samsung Support Center to repair it if you don't mind costing money.
If you think the tutorial is helpful, please share it with others.
Related Articles:
How to Fix Android Touch Screen Not Working - Can't Unlock Issue In Minutes? (15 DIY Tips)
How to Control iPhone with Broken Screen Effortlessly? (6 Proven Ways)
Samsung Phone Hang at Startup Screen? Check 11 Solutions Here
How to Recover Data without USB Debugging when the Android Screen Is Irresponsive?
How to Recover Data from Broken or Dead Samsung Galaxy S/Note?