Best Samsung Contacts Editor: Edit Samsung Galaxy/Note Contacts on PC
Over the past decade, the well-received and award-winning mobile device producer, Samsung, has been developing and launching different series of multifunctional high-end smart phones, particularly the Galaxy S and Note series, which are fashion-forward and have enormous popular appeal in both eastern and western countries. Not only does Samsung invest heavily in research and development on its products, but it also provides excellent after-sales service and has been actively involved in social welfare activities. As a reliable and world-famous brand, Samsung has won a vast number of faithful consumers. Are you one of them? If you are, you must have enjoyed the convenience and entertainment provided by your device.
You may know exactly how to manage your data on the phone. For instance, how to add, edit or delete your contacts, how to send, edit or erase your text messages, how to download or install programs and apps, and how to create or delete media files. However, it will be time-consuming and cumbersome if you have to manage them one by one instead of in mass. Provided that all the data can be managed on the computer, it would be time-saving and much easier to operate. However, unlike media files like videos, music and photos, which can be moved to computer via USB connection. Contacts information are saved in the phone's internal memory and SIM card. To extract them out from here and transfer to computer for editing, we need third-party software to help us.
Coolmuster Samsung Contacts Editor is Worth Trying!
Coolmuster Android Assistant (for all Windows versions) or Coolmuster Android Assistant for Mac is a highly recommended Android data manager that can be used as a Samsung contacts editor to help Samsung users edit their contacts on a PC with ease. Under the help of this Samsung Contacts editing software, all you need is a USB cable to connect your phone with the PC and a few clicks on the mouse. Editing contacts on the PC is more convenient than editing them on the phone, since both the keyboard and the screen of the PC are much bigger than that of the phone. It also allows you to delete your contacts in batches and thus saves you a lot of time. Plus, this tool as well enables you to transfer and back up Android contacts to your PC, better manage them, and recover the wrongly deleted ones in a second.
Not any other third-party software is needed when it's running, for it works well independently. No matter what Samsung series your phone belongs to, Samsung Galaxy S6/S5/S4/S3/S2/S or Samsung Note 5/4/3/2, or whether it's outside the range, such as HTC, Motorola, LG, ZTE, etc., as long as it's an Android phone, it can seek assistance from this tool.
How to Modify/Edit Contacts on Computer for Samsung Galaxy S6/Note 5?
Step 1. Connect Your Samsung Phone to Computer
First of all, click above button to download and install this Contacts Editor on your PC (here we set Windows version as an example). Launch it and then connect your Samsung phone to the computer through a USB cable. If it is the first time to run this software, you may encounter the following picture that require you to enable USB debugging on your phone at first. If your device can be detected by the program, you can directly skip to the next step.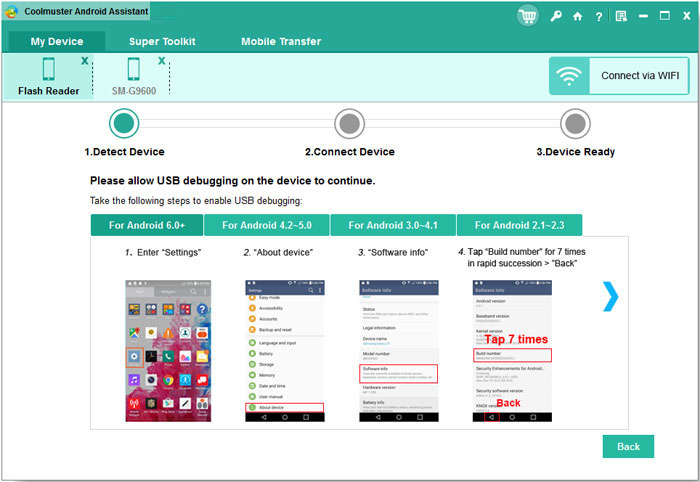 Here is an article telling you how to enable USB debugging on your Android devce.
After enabling the USB debugging, click "Allow" on your phone to allow the program super user authorization when an Superuser Request pops up. Then, all your phone infomation, including phone model, system version and storage space size will be shown in the main interface like below.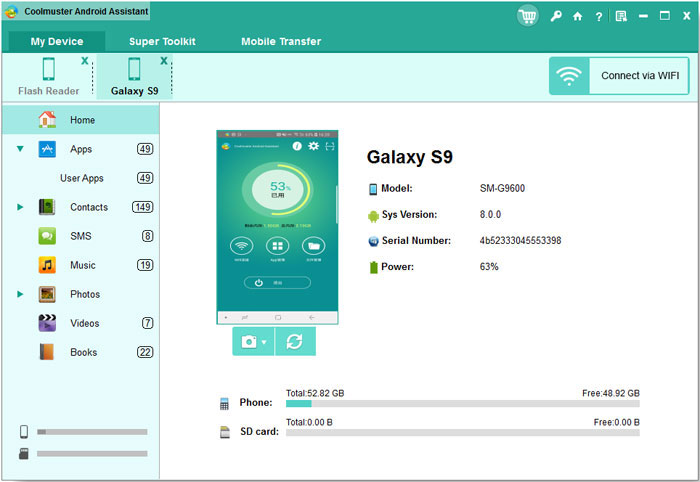 Step 2: Navigate to the Contacts window
All your phone data will be detected and categorized on the top menu automatically. For this topic, you just need to go to click the "Contacts" icon to enter the Contacts window. Turn to the left panel and click on the "All Contacts" option, then, all the contacts in your Samsung phone will show in list on the right window. Mark the contacts you want to edit on your computer and click the button of "Export".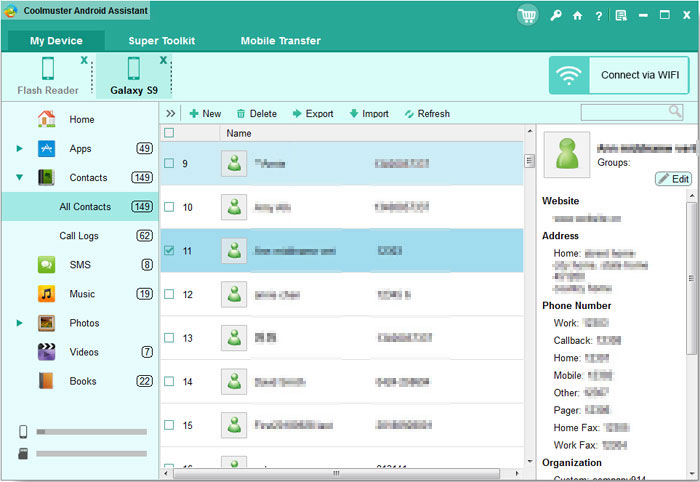 Step 3. Start to edit exported contacts on PC
A "Path" dialog will pop up after you clicking on the "Export" button, from which you can choose an output location for the exported contacts. After a few seconds, all the selected Android contacts will be transferred to the specific output location, as editable format of TXT. Now, you can freely edit the output Samsung phone contacts through your PC.
Video Tutorial
Related Articles:
Save Android Phone Contacts to Excel Format (CSV or XLS)