Are you trying to send mass text without group message on Android? If yes, then you are not alone. There are many Android users who want to do this, but they are not sure how to achieve it in an effective manner. It is not as simple as you might think if you also care about effectiveness. You should be very selective in the way you opt to conduct such task, especially if the text reflects a very important message.
Not placing emphasis on this could lead to privacy concerns that could escalate to a great extent; thus, it would be better to prevent than lament in the long run. Let's check how to send send mass text on Android here.
Part 1: How to Send Text to Multiple Contacts on Android Directly
Part 2: How to Send Mass Text without Group on Android with Android Assistant
Top Reasons Users Opt to Send Same Text to Multiple People, without It Being a Group Message
The reasons are endless as to why one would opt to send mass text without it being a group message. Even so, there are some more common than others. Keeping contacts private is the most common reason. Sending a mass message as group could make the details of contacts easily visible.
This is not a good thing if one is sending a promotional message or one that contains private information. Contacts could be visible and thus running the risk of being bombarded with spam; thus, a lot of people do not opt for group message whey they send multiple texts.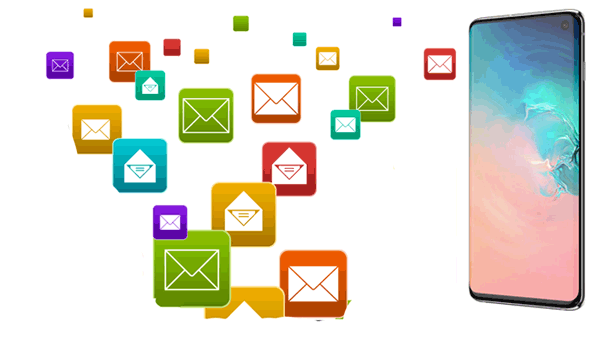 Part 1: How to Send Text to Multiple Contacts on Android Directly
If you want to find out how to send mass text utilizing Android directly, you should first know that this is not a solution that provides you with a guarantee of any kind when you send multiple texts at once. The more messages there are to be sent, the more risky it would be to implement due to the easy visibility of each contact. So, you should use at your own risk every time.
Procedure:
Step One: Click on Android Messages
Step Two: Click on 'Menu' and then click on 'Settings.'
Step Three: Click on 'Advanced' and then click on 'Group Messaging.'
Step Four: Click on 'Send an SMS Reply to All Recipients and Get Individual Replies.'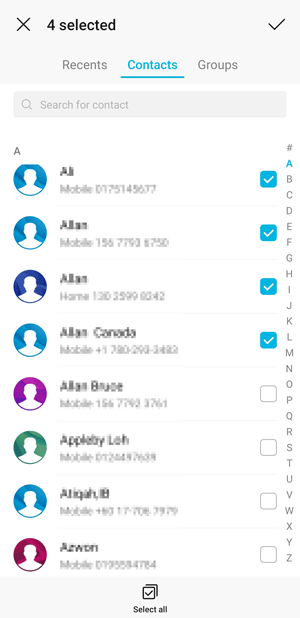 As you can tell, finding out how to send text to multiple contacts on Android with this solution is quite simple. You can send multiple text message sender on it, but do not count on it if you have a lot of contacts, as there has been some users who have noted several errors that have taken place right away, including the aforementioned.
Learn more: If you want to retrieve your text messages from an old phone number, you can try these ways.
Part 2: How to Send Mass Text without Group on Android with Android Assistant
The 'Multiple Text Message Sender' - Coolmuster Android Assistant (for Windows and Mac) can send mass SMS without group on Android from PC. Besides, you can also send and receive Android SMS from computer with it, and delete, export, import, reset, resend, forward, and copy text messages on your Android phone.
If you want to know how to send multiple text, without encountering any type of issue, this particular platform would be the best option to consider implementing. It is very easy to use and functions quite fast so that you have one less worry on your mind and thus move on to the next task on your device.
Besides, it works well with almost all Android devices, including Samsung Galaxy S23/S22/S21/S20/S20+/S20 Ultra/S10/S10+/S10e, Sony Xperia XZ Premium/XZ1, HTC U12/U11+/U11, Xiaomi 9/9 SE/8, HUAWEI P80/P60/P50/P40/P40 Pro/P30/Mate 40/Mate X/Mate 20/Mate 10 Pro, etc. So you can totally have a try.
Procedure:
Step One: Launch the multiple text message sender on PC.
The first step is to download, install, and launch it on your computer if you have not already done so.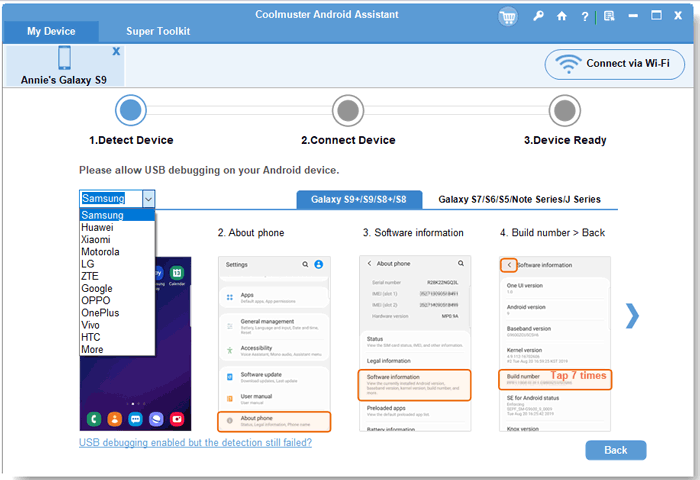 Step Two: Connect Android phone to PC.
Connect device to your computer with a USB cable or Wi-Fi. After successfully detecting your device, you might see the main interface as below.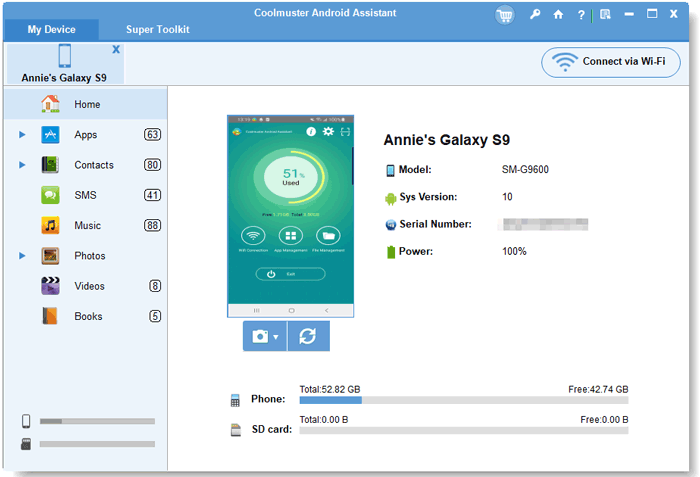 Step Three: Start to send bulk sms from PC using mobile.
Click on 'SMS', which will be located on the left panel. Once you do, all your messages will become apparent on the right. Now, you will be able to send multiple text at once to multiple contacts.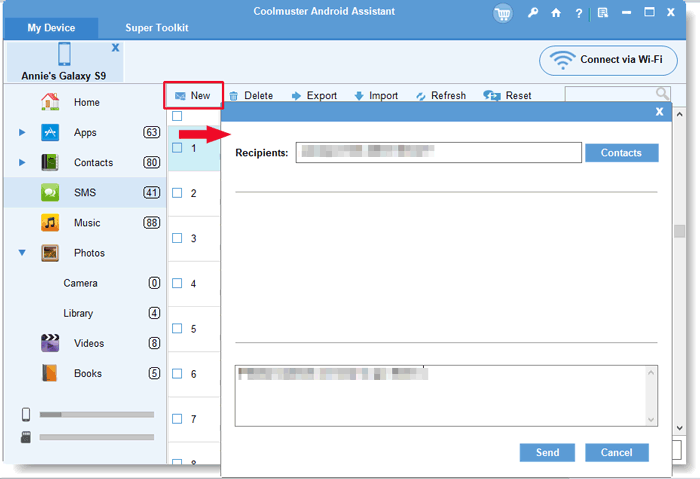 Wait for the sending process to take place. That is how to mass text without group with this particular solution.
Video Tutorial:
Tips: What else does the Coolmuster Android Assistant can do for you?
With the Coolmuster Android Assistant, you can do so much more than sending mass text without group. You can transfer and manage any type of data on it, manage multiple android devices at the same time, backup device, restore device, among many other things that can come in handy at any moment in time.
For example, if you want to backup Android messages, you can choose whichever messages you want to backup or just backup all text messages from your Android phone using this Android Assistant. To backup all messages, go to 'Super Toolkit' > 'Backup' > choose 'Messages' > 'Back Up'. Done!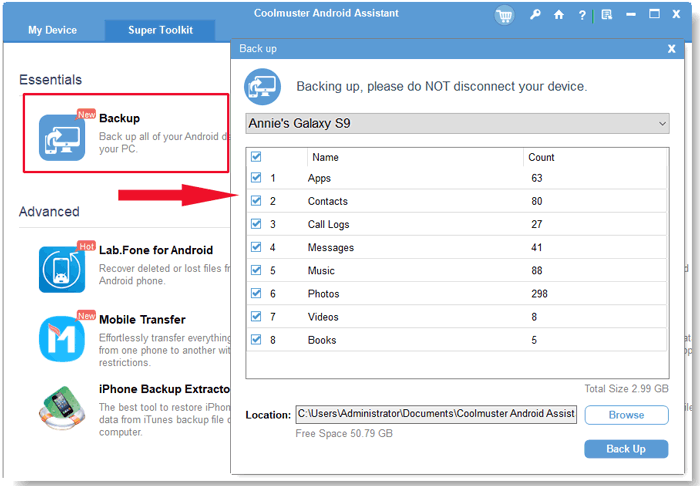 As you can see, not only SMS is supported to manage, but also the contacts, apps, call logs, music, photos, videos, books and more. You can easily manage SMS and other Android files with it.
This is why this solution keeps being downloaded by numerous individuals on a daily basis. Its popularity keeps augmenting every day, and it definitely does not appear that this is going to come to a halt anytime soon. It has already garnered countless positive reviews. Try it out to see what the huge positive buzz that surrounds it at the moment is all about.
Sending Same Text Message to Many Recipients in a Discrete Manner
Even if the text message you are sending is not of importance, it is still vital that you send it to recipients in a discrete manner and thus not in a group message. It is always best to be discrete with messages than not to be, if you want to avoid any type of possible issue that could arise from not doing so. You should always view every contact as a valuable detail that should be treated just as you would want your contact to be treated.
Related Articles:
Transfer Text Messages from Phone to Mac/Windows Computer
How to Send SMS from Computer (Windows & Mac) to Mobile Phone?
How to Print Text Message Conversation from Samsung Note/Galaxy?
Best Android Message Manager You Can't Miss
1-Click to Sync Outlook Contacts with Android Mobile Phone