Text messaging has become a ubiquitous way of staying connected with those we care about and managing the daily tasks in our lives. However, we all know how irritating it can be to constantly check our phones when new messages come in. Luckily, you can read text messages online with a computer, saving you time and effort in the long run.
It doesn't matter if your phone is lost, damaged, or left somewhere else, you can still check text messages online. Whether it's an iOS device or Android powered one, there are multiple ways to help keep track of your text messages without losing any important ones! With these helpful ways, you'll never be out of the loop no matter where your mobile may lay forgotten. So, read on to learn ways to read text messages online.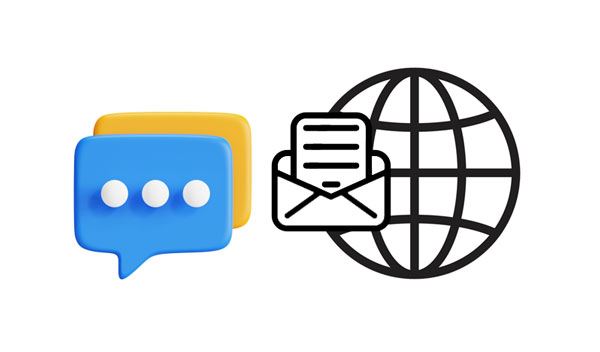 Part 1: How to Read Text Messages Online for Android
Are you looking for a good way to view text messages chats online for your Android phone? Actually, there are several ways to do that. Have a look!
1.1 Read My Text Messages Online via Coolmuster Android Assistant
Can I access my text messages online while using an Android? Absolutely yes, the best way is to use Coolmuster Android Assistant (Windows/Mac). This powerful app allows you to check messages conveniently from your computer. Apart from checking messages, you can still export your Android messages to your computer in various file formats such as XML, HTML, CSV, .bak and .txt. You can also send, forward, resend, copy, and delete chats directly from the computer.
On top of that, it is a super reliable tool that's easier to use. You'll have your precious chats on the computer in just a click. Most importantly, it supports text messages, contacts, videos, photos, music, etc. Its wide compatibility with Android phones is an added advantage.
Main features of Coolmuster Android Assistant:
* Help you read all text messages on your computer.
* Allow you to manage your text messages without hassle, including receiving, forwarding, answering SMS, etc.
* An all-around Android manager for easier data management.
* Transfer your Android music, photos, videos, apps, and more to your computer at once.
* Import your SMS files from your computer to Android without effort.
* Back up and restore your Android data in 1 click.
* Work on Windows and Mac computers.
* Supports Android 4.0 and upper.
Download this Android SMS checker.
Here's how to read text messages online for Android via this software:
01Install the Program on Computer and Connect Android Phone
First, install the software on your computer, launch it and connect the Android phone to the computer using a USB cable. Ensure USB debugging is enabled. Wait for the software to recognize your device.
02Choose the SMS Folder from the Window
After connected, you'll see all files displayed on the left sidebar. Hit the "SMS" icon to open the managing window that shows a list of all texts in the right section. Then you can directly view your Android SMS on the interface.
03Manage Your Android Texts
To reply to your messages, you can tap the "New" icon on the menu, and enter the content and recipients. Then click "Send" to send the messages to others.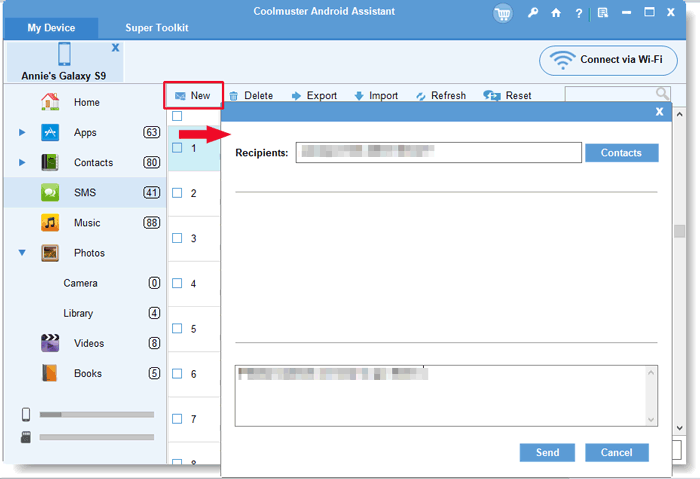 To export your messages to your computer, you can select the SMS you want by checking, and press the "Export" button. Choose the output location to save the chats and press the "OK" button to transfer your text messages. Wait for some time for the messages to be exported to the computer.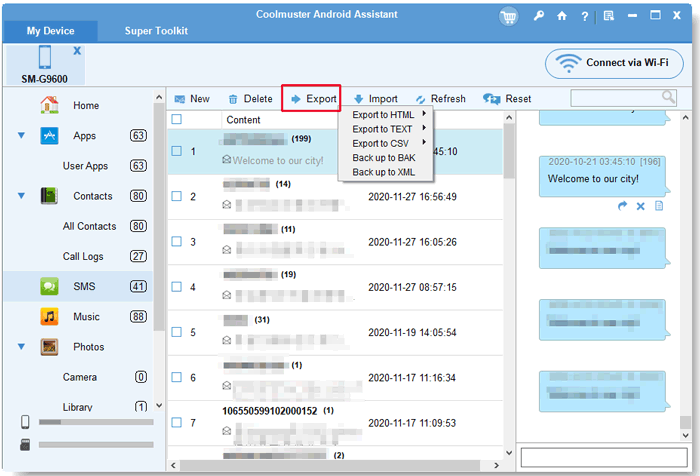 Read also: If you want more ways to transfer SMS from Android to a computer, you can open this link.
1.2 Access Text Messages Online via Google's Messages for Web
Feeling like you missed out on the modern tech revolution? Don't worry anymore Google has got your back. With its texting app, Messages for Web, you stand a chance to view text messages online and with ease. The app comes with a web client where you login and start reading your messages online on a computer. The best thing is that it shows the same messages as those on the phone, giving you access to private or group conversations without picking up a phone. Cool right?
So dust off your tech-savvy and read those text messages without having to switch between devices or juggle too many apps. But keep in mind that carrier fees still apply when using this service.
Before you try this technique method, you should have a device running on Android OS 5.0 and above. Also, your phone and computer must be connected to the internet. Lastly, you should install the Google Messages app on your Android.
Here are steps to check my text messages online via Google Messages:
Step 1: Install the Google Messages application on an Android device and make it the default messaging application.
Step 2: Click on the three-dot menu and look for "Messages for Web". Proceed to the "QR code scanner" option. You'll see the QR code displayed on the device's screen.
Step 3: Now go to the web browser and open Messages for Web. Doing that will lead you to a QR code on the homepage. Then scan the code using your phone to connect the computer and Android phone remotely. Once done, you'll see all your text messages on the computer.
Step 4: You can try opening any chat conversation and view. Additionally, you can start a conversation, delete a text etc. Tap any conversation to view it. You can delete a message, start a new conversation, and more.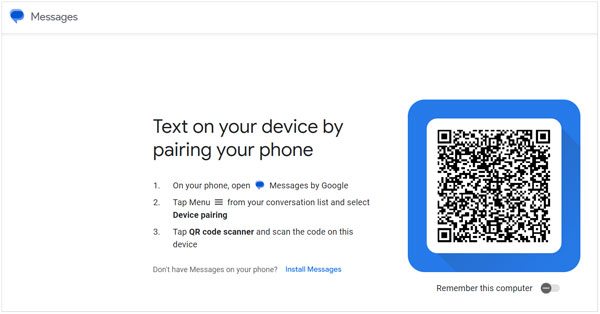 You might need: How to Print Text Messages from Android [Clear Steps]
1.3 Check Text Messages Online with AirDroid
How can I read my text messages online? Well, AirDroid makes it incredibly easy. This app has been designed for all Android devices and functions wirelessly, allowing you to control your phone remotely. Not only can you monitor texts but calls too. Plus, you can manage the app conveniently via a browser-based platform, so no extra downloads are needed on your PC, making it highly reliable and incredibly convenient.
Steps to read the last text message online using AirDroid:
Step 1: Install the app on the phone and sign in.
Step 2: Head to "Me" on the app and choose "Security & Remote Features". Once done, turn on the "Desktop Notification" feature.
Step 3: Now go back to the "My Devices" page and click the "AirDroid Web Scan" button. You'll see the QR code on the screen.
Step 4: Go to AirDroid Web, and then scan the QR code shown on the phone application to establish a connection. Now start handling SMS and notification from the browser window.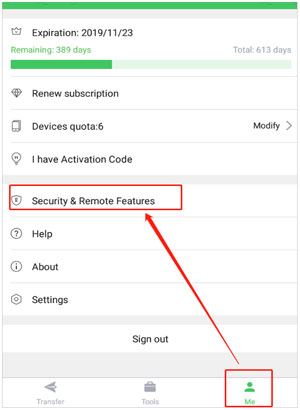 Learn more: Why can't your messages transfer to your new iPhone? Solve this problem via these 9 methods.
Part 2: How to Read iPhone Text Messages Online
How can I check my text messages online if using an iPhone? Below are the ways to read iPhone text messages online.
2.1 Read iPhone Text Messages Online via Coolmuster iOS Assistant
If you want an effortless way to view and read your iPhone messages on a PC, Coolmuster iOS Assistant is the best choice. This program allows you to easily access your text messages on a larger display and never miss a beat! Additionally, exporting and printing out any selected ones is possible after viewing them. If managing your iPhone messages is important to you, you can still use this tool to efficiently manage your files on the computer. It's the perfect tool for anyone who wants to stay connected without all the hassle. Plus, it's super easy to use.
Top highlights of Coolmuster iOS Assistant:
* Enable you to easily read iPhone text messages on a computer.
* Transfer SMS from your iPhone to your computer in one click.
* Allow you to remove your unwanted SMS from your iPhone on your computer.
* Let you save text messages on the computer in formats like TEXT, HTM, and CSV.
* Support transferring photos, SMS, call logs, music, and books from an iPhone to a computer in just a click.
Download this iOS data manager.
Now, here are detailed steps on how to read iMessages online via Coolmuster iOS Assistant:
01Launch the Software
First, you must download Coolmuster iOS Assistant on a computer and install and open it.
02Connect iPhone to Computer
Connect the iOS device to the computer with a working lighting cable and hit the option for "Trust" when asked.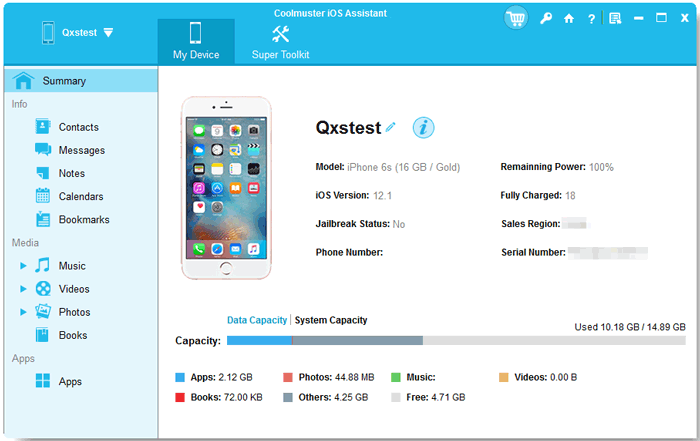 03Read Your iMessages
You'll see all your device's files displayed on the screen. From the left panel, click on the "Messages" icon. Now read or view your messages from the right panel with ease. Still, you can choose the SMS you wish to transfer and press the "Export" option on the top menu.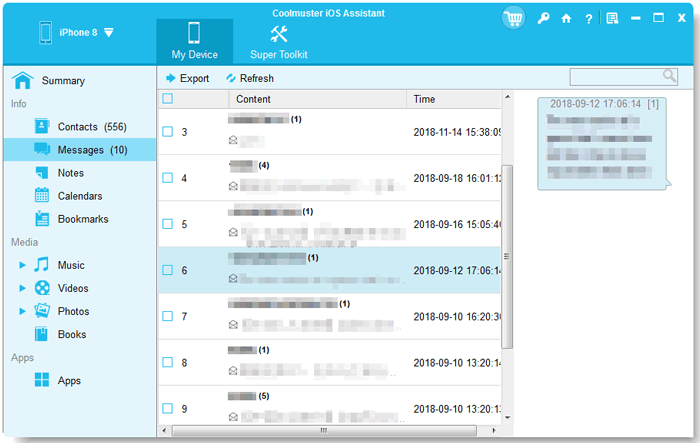 2.2 Check Text Messages Online on iPhone Using iCloud Sync Feature
Are you an iPhone user looking to conveniently read your texts on a Mac? Fortunately, Apple has created the perfect solution for you with their iCloud synchronization feature. This useful tool will make all your SMS messages stored in iCloud available on a Mac device. No need to continually check your iPhone during office hours. Not only can you view older messages from your desktop, but you can also send new ones without ever picking up the phone.
Remember, you must ensure the iPhone and Mac are signed into the same Apple ID. Also, ensure you have a good internet connection.
Let's now see how to read text messages online on a Mac computer:
Step 1: Head to Settings on your iPhone, look for "iCloud", and turn on the "Messages" option.
Step 2: On Mac, open the Messages application and press "Preferences".
Step 3: Underneath the iMessages option, tick the button for "Enable Messages in iCloud". That is it! You can now start reading and sending iCloud messages from your Mac.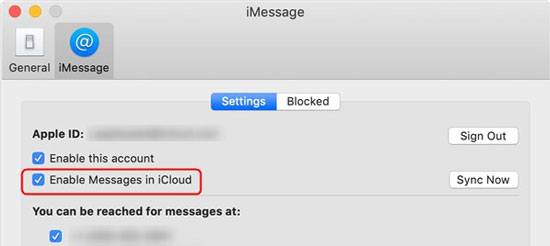 Additional Tip: How to Read Someone Else's Text Messages Online for Free
Do you want to read someone else's text messages without them knowing? Well, there is now a way to read another person's text messages online - using mSPY. mSPY is the perfect solution for accessing text messages on computers and Android devices. The program effectively screens actions performed on the device while creating logs of all activities conducted. This powerful monitoring tool lets you check texts on smartphones, tablets, and PCs.
How to use mSPY:
Step 1: Install the application from Play Store or Apple Store.
Step 2: You must have the device you want to track, open its inbox and check the confirmation email and login credentials. Login to Control Panel, and follow setup instructions to install and set up the app.
Step 3: Once done installing and set up, the app will start following the events on the device being tracked. The activity online will be seen from the app's dashboard.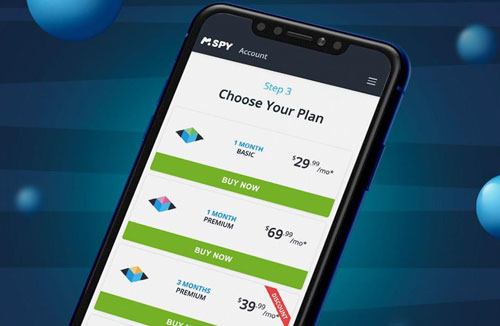 Conclusion
Can you read text messages online? Of course yes. In fact, it's as easy as a pie nowadays, thanks to technological advancements. The methods mentioned here will help you know how to access text messages online without a hitch. Coolmuster Android Assistant and Coolmuster iOS Assistant are by far the most suitable choices for Android and iPhone users due to their convenience, broad compatibility options and top-notch features.
Related Articles:
10 Methods to Fix iPhone Text Messages Disappeared Issue
Best 4 Ways to Transfer Messages from iPhone to Mac. You Don't Want to Miss It!
2 Ways to Recover Deleted Text Messages from Android SIM Card
How to Recover Deleted Viber Messages on iPhone (with/without Backup)
How to Recover Snapchat Messages on iPhone in Four Hassle-free Ways?
[Full Guide] Where Are WhatsApp Messages Stored On Your Device?