Now, no matter what apps you want to download, you can always find it in the mobile market, like alarm clock apps, antivirus apps for Android phones, and many more. Some of these apps may life easier, while others are actually fun and entertaining. Regardless of the reason for its installation, a user may also decide to uninstall the app for a variety of reasons. With this being said, here are some of the most common reasons for uninstalling an app.
- App Crashes a lot
Even though an app may be installed because it provides a function that a user really needs, the user may need to uninstall the app because it gives to many problems. In some cases, the app may work for a little while with no problems at all. However, later it begins to crash and stops working completely. Apps that crash can be very frustrating so in many situations the user will simply decide to uninstall the app to eliminate any further issues and problems.
- App No longer Needed
It's not uncommon for a user to install so many different apps on their Androids that they begin to have problems. Two of the most common issues involve running out of space for more storage and their devices beginning to run its operations very slow. In these and other similar situations, the user will need to free up space to increase its performance. So, they may need to uninstall apps that they no longer use.
- Other Common Issues
While apps crashing a lot and apps are no longer needed are two of the most common, other reasons for uninstalling an app may include apps taking too long to load, annoying notifications popping up or the app does not do what the user expected.
Possible problems you may encounter when uninstalling apps from Android phones
The process of installing apps on an android device is a relatively simple and very straight forward process. The same is true for the uninstall process too, but users can encounter problems with these procedures. Some of the most problems common usually involve the App being set as administrator so it can not be deleted because of special access requirements. On the other hand, the app may be described as bloatware, which is part of the android operating system that cannot be uninstalled. Therefore, getting around these issues will require special manual instructions or other step by step procedures.
Better Choice: Easily Uninstall Android Apps in One Click
The process of uninstalling an app on an Android device has been made easy since users can use the Coolmuster Android Assistant to successfully complete the uninstallation. This is software that has been designed to perform a variety of different functions including uninstalling apps using an automated process. In addition to completing an uninstallation, it has several other key features that consists of the following:
- Back up and restore phone's data on PC with 1 click.
- Push photos, videos and music. from PC to an Android phone.
- Add, delete, and edit contacts on PC.
- Reply and send text messages directly on the computer.
- Install & uninstall apps from computer.
The process of uninstall an app using this software is very simple and it only takes a 2 step process that's easy for virtually any user to follow and complete. Here are the steps listed below:
Step 1. Connect the Android device to the user's computer
Once connected, the user will need to launch the Android apps remover on their computer and then link it to their Android phone or their Android tablet to the computer via an USB data cable. After this program detects the device, it will then show it in their primary window along with all its data being displayed, in categories, on the top menu.
Step 2. Delete apps from Device in 1 click
On the top of the menu, navigate to "Apps" on the top menu. Click on it and the user will see a list of installed apps. To remove the app that is no longer needed, the user should select the app and the "Uninstall" button. The app will be deleted immediately.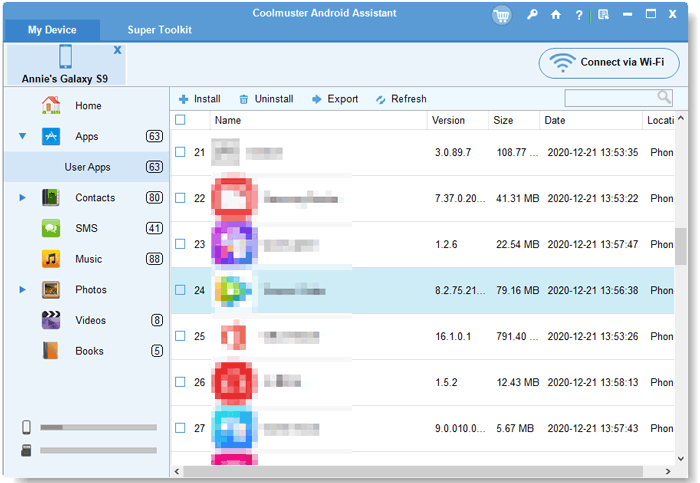 For more specific steps, you can watch the below video guide and uninstall Android apps step by step:
So want to delete some apps from your Android phone now? Just go ahead!
Conclusion
The uninstallation process can sometimes present challenges, such as apps being set as administrators or classified as bloatware. To address these problems, a convenient solution is to use Coolmuster Android Assistant. This software simplifies the uninstallation process and offers additional features like data backup and restore, file transfer, contact management, and more. With just two easy steps of connecting the Android device to the computer and selecting the app to uninstall, users can efficiently remove unwanted apps from their Android phones or tablets.
Related Articles:
Video Guide on Android File Manager
How to Back up Samsung SIM Card
How to Recover Deleted Photos from Snapchat on Android