Snapchat is one of the most amazing instant message-sharing applications, with millions of active users daily. If you wish to share some good moments with your family and pals, Snapchat is the app for you. It gives you a fast and fun way of sharing your moments with others. Immediately you open the app, you'll go directly to the camera, and with just a tap, you'll have a snap. While Snapchat is secure and more popular, it still has some flaws. One is that it erases data after a certain prescribed period which may annoy most people. But, don't worry you accidentally delete Snapchat messages and photos. After reading this article, you'll be able to recover Snapchat photos on Android like a pro.
Part 1. Is It Possible to Recover Deleted Snapchat Photos?
Q1. Are deleted snaps gone forever?
Snapchat servers are specially programmed to delete all Snaps after all the recipients have seen them. All unopened direct snaps are deleted after 31 days. Moreover, those unopened snaps sent out to Groups are automatically deleted after seven days.
Q2. Does Snapchat have a recycle bin?
Yes. To locate the recycle bin, go to your device's gallery and find the deleted memories. Proceed to find the "Snapchat" folder. If it's not available, check the Bin or Trash folder.
Q3. Is It Possible to recover deleted Snapchat photos?
The best thing about Snapchat is that it keeps the deleted pictures for some time which gives users time to retrieve them when deleted by mistake. However, restoring these pictures can prove to be a little difficult since they are stored in Snapchat's trash folder. To restore deleted Snaps, go to your phone's "Gallery" and look for the "Trash" folder. If you locate the particular memories you wish to recover, click on the memory and tap "Restore."
Once the set period limit is over, your Snapchat photos will instantly vanish. Nevertheless, the photos only disappear in the Snapchat system but will still be available in the Android device storage. If that's the case, any way to recover Snapchat photos? The three methods elaborated on below will help you recover Snapchat pictures.
You may like:
Repair It When Snapchat Location Is Wrong! [Functional Guide]
How to Transfer Text Messages from Android to Computer (Windows/Mac)
Part 2. Recover Snapchat Photos on Android Using Google Drive
One of the best cloud services is the Google Drive which allows Android users to save their files to the cloud (back up Android photos to cloud). Usually, it offers 15GB of storage space which is enough for your photos. Still, you can use Google Drive to recover deleted snaps on Android without using a PC. It's very easy to recover deleted Snapchat memories on Android from Google Drive. Here is how to go about it.
Step 1: Open the Drive on the mobile device and tap on "My Drive," and you will find the Snapchat photos, among other uploaded data.
Step 2: Select the pictures that you wish to retrieve.
Step 3: Click on the images and choose "Download." This will successfully recover the deleted pictures on the Android device.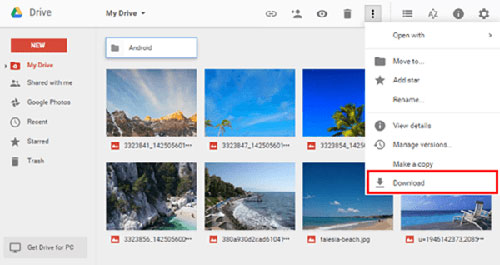 Part 3. Recover Snapchat Pictures on Android Using Google Photos
Android devices have a pre-installed version of the Google Photos application. Once you set your device with your Google account, your snaps are saved to the cloud automatically. Google Photos app can easily help you find Snapchat photos and lets you retrieve Snapchat pictures on Android devices. To get old Snapchat pictures back on an Android using Google Photos, do this;
Step 1: Open the Google Photos application on an Android phone.
Step 2: Tap on the top left corner to see an option for "Trash." Click on it to show all the deleted snaps.
Step 3: Select those pictures you wish to restore and click on "Restore."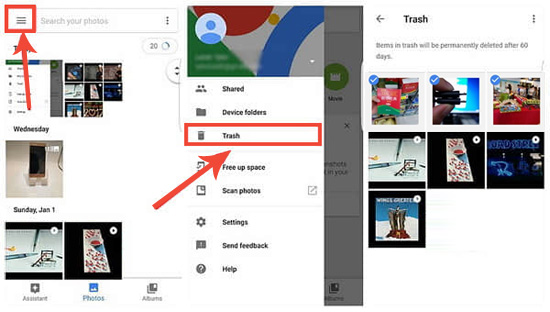 All of the deleted pictures will now be on your Android device.
Note that the pictures or videos in the Trash file of the Google Photos are only accessible for the first 60 days. Once done, they will be permanently deleted from the application.
See more:
How to View Text Messages on Computer for Android Phone Users? (Solved)
How to Recover Deleted Photos from Android Phone [Top 6 ways]
Part 4. Recover Deleted Photos from Snapchat With Cache Files
This is another good way to restore photos from Snapchat. Android devices have a unique feature that saves cache for individual applications. Thus, if you lose your Snapchat pictures, you can retrieve them from the Cache files.
Step 1: Access the File Manager on your phone, look for the "Android" folder and click on it.
Step 2: Tap on the "Data" folder and select com.snapchat. Android.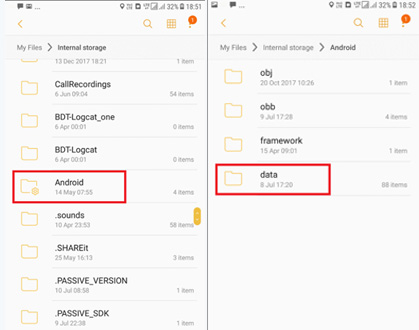 Step 3: Tap on the "Cache" folder, and proceed to "received_image_snaps."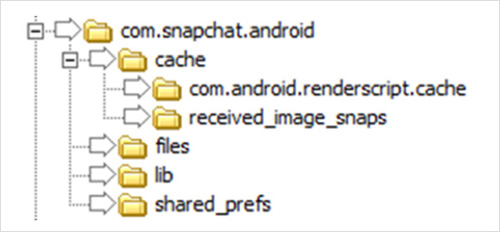 Then open the folder to recover the photos you want.
Part 5. Recover Deleted Photos from Snapchat on Android via Android Data Recovery
If you are looking for a safe and fast solution to recover deleted Snapchat messages and photos on Android phone, then you should not miss Android Data Recovery, an excellent Android Snapchat Recovery tool that not only helps you recover all deleted Snapchat data from Android phone, but also recover contacts, messages, call logs, WhatsApp, photos, videos, audio files, etc.
Free download this Android Snapchat Recovery tool on your PC or Mac.
01 Connect your Android phone to computer
Use a USB cable to connect your Android phone to the computer. Launch the Android Data Recovery tool and it will detect your phone automatically. Then, choose the "Picture Library" category from the main window.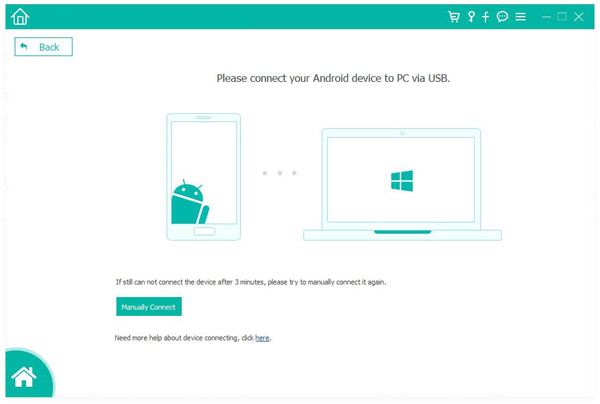 02 Root Android phone
During the data scanning, the program will require you to root your Android phone. Just follow the instructions on the program window to grant permission from your Android phone to this Snapchat photo recovery tool.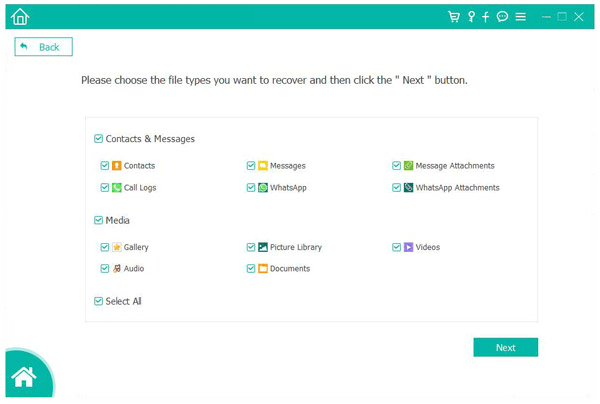 03 Recover Snapchat photos from Android
After the scan, preview and select your deleted Snapchat photos that are marked as red. Then, click "Recover" to get back your wanted Snapchhat pictures.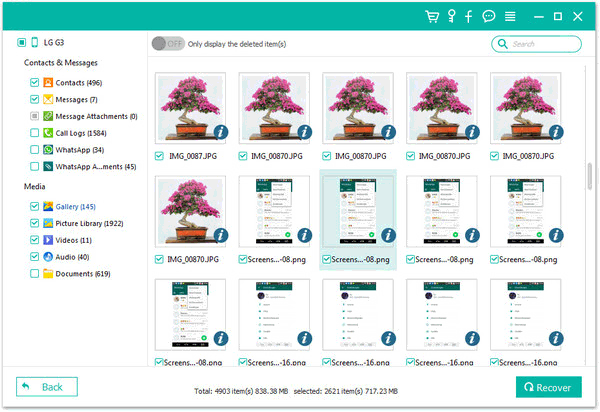 Bonus: Save Snapchat Pictures to Prevent Data Loss
The Snapchat algorithm is set to automatically and permanently format an image after all the recipients have viewed it. Though the image is formatted on the app, it is saved on the Android device's or PC's cache memory. There are some helpful ways you can save your Snapchat images so that you can still have them even after they get deleted;
Capture a screenshot - Capturing a screenshot is an effective strategy to save images. However, it is essential to note that the sender will get a notification that you captured a screenshot.
View Snapchat Stories - Pictures uploaded to the Snapchat application are visible for only 24 hours, after which they will be permanently deleted. Nevertheless, Live Story or Local lets users view the pictures after 24 hours.
Memories - "The Memories" or "The Archives" helps to save your pictures and does not format them.
Conclusion
If you are an enthusiast of Snapchat, you have perhaps noticed your memories getting lost after some time. Just know that retrieving the deleted snaps from the Snapchat app is possible. All the Snapchat photo recovery strategies mentioned in this guide will assist you in getting back your snaps.
Related Articles:
Back Up Text Messages from Android to PC or New Phone [Full Guide]
Top 11 Android SMS Manager Apps - Manage Messages for Android Easily
Ultimate Guide on How to Recover Deleted Camera Photos from Android
[Proven] How to Transfer WhatsApp to New Phone Easily? (Android & iPhone)
How to Transfer Kik Data from iPhone to Computer
[3 Solutions] How to Transfer WhatsApp Chats from Android to Android