How do you ensure that your smart phone is virus and malware free? While most of us have anti virus installed on our PC's, not many of us have one for our smart device. This is mostly because of the false assumption that our smart devices cannot fall prey to viruses and malware. While Apple devices are resistant to viruses, Android and Windows devices are not. And that is why you need an anti virus app even for your Android phone or tablet.
How can an anti-virus app help?
We are using our Android phones and tablets to download games, songs, videos, browse the internet and carry out every task that we did on our computers. Much like computer, our Android devices can also get attacked by virus. If you avoid that somehow, then there are problems of spyware, adware and malware.
We all know what virus attacks lead to – loss of data, missing contacts and even total malfunctioning of the phone. Adwares and spywares make the device slow and it lags or hangs up. Spywares can also steal personal information like financial details, etc. So in order to save yourself, you need an Android antivirus app.
Top 5 Android Antivirus Apps
Here is a look at some of the best antivirus apps that you can get for your Android phone and how they would help you.
Famous for PC antivirus, Avast's app version has over 100 million installs. It protects against all type pf attacks, scans your phone and can lock it remotely. It has a range of powerful tools to safeguard your device. With this professional antivirus app, you are free to surf on the internet, download any files as wanted, or even make phone calls and text messages. No virus or infected files will have access to get into your device!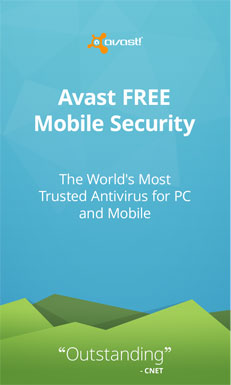 It is a powerful antivirus that is growing in popularity and comes with scanning and real time safety. The unique Stagefright Advisor helps you resolve specific threats. This security app shield your device from malware under whatever situation, be it smart phone, tablet or phablet. And all your personal files like photos and SMS will be securely kept. More importantly, the light on system resources helps save battery power.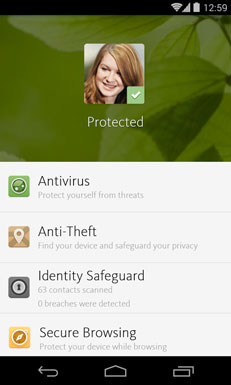 3. TrustGo Mobile Security
Along with normal antivirus features, it has a privacy guard option to track the permissions used by apps. It also has useful system manager, data backup facility and more. This is autually an all-in-one software for your Android devices. As a security scanner, this app will automatically scan for your device and remove virused, malware, spyware and trojans that can steal your data. Also, this software enables you to easily search and download apps whose safety is guaranteed. And data backup and restore in the cloud can be pretty easy within this app.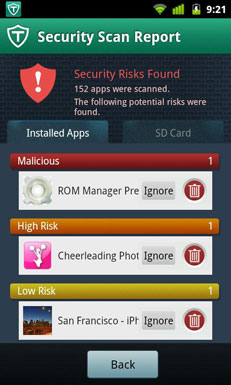 A popular name in PC market, AVG is a lighter app with strong security. Real time protection, database updates, device scanning- everything is there. Additionally you have task kill feature, remote device wiping, monitoring tools, etc. This app is able to delete all the risky files from your device whenever it automatically detect such files. More importantly, you can also rely on this application to protect your mobile device from theft, since the location can be easily pinpointed by Google GMaps.
It is the simplest and lightest antivirus. If you want you can run it without any configurations. There is also a heavy version which works like a charm. The professional app automatically scans any new apps that are downloaded to your Android device for viruses. Instead of downloading and storing virus signatures directly to Android devices, Antivirus Free uses in-the-cloud services to check online for the latest safeguards to outbreaks. Real time safety and easy scanning is its advantages.
Along with an antivirus, why don't you check an awesome Android assistant that gives you unlimited control on your Android device? Coolmuster Android Assistant - one step solution to all your app management needs. You can control your apps and create backups and use them to restore your device. All your data like music, movies, messages, apps, texts and more can be transferred easily to a desktop. When you need mobility, your device can be synced with computer using Wi-Fi.
How to Manage Downloaded Apps?
Be it downloading apps or uninstalling apps or backing up useful apps, this software can always make it within simple clicks! Below is the video guide on using this professional assistant to manage downloaded apps directly on the computer.
Words in The End:
This Coolmuster Android Assistant is quite functional and professional, right? And it can offer more than this. With this software, you can even send group messages from the computer and manage all your contacts effectively. Your videos can be transferred to a computer and enjoyed on a large screen. Same goes for your songs. Any app can be downloaded to desktop and moved to a SD card with ease. The software is totally safe as it performs read-only actions and keeps your data untouched. Below is the free trial versions! You can get the right version and try it out by yourself!
Related Articles:
How to Prepare for Android 6.0 Marshmallow
Best Phone Tracking Apps for Android Phones
Easy Ways to Copy Videos from PC to Android