ZTE Data Recovery - Recover Lost Files from ZTE Phones
My friend Andrew is one of the ZTE users, and whenever I see him, he's holding his phone sending messages to his girlfriend. Although they're in a long distance relationship, they stick to each other like glue by texting. Last week he told me he was in trouble, for he deleted an extremely important message from his girlfriend by mistake, and was to blame for his carelessness. He just want to know if he can recover deleted data on ZTE phone.
There may be times when you make such a mistake with your text messages as Andrew, and I guess you're upset as much. In recent years, with the increasing number of ZTE users, losing data become more and more common problem in our life. Thus, there is an increasing demand for how to retrieve deleted data on ZTE.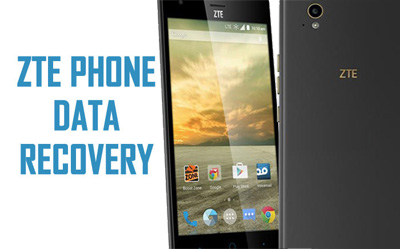 You may be interested in:
How to Recover Deleted Call Logs from Android?
How to Recover Call History from Samsung Galaxy?
Following are some situations when you lose data from ZTE phone:
Erroneous deletion: People who are careful can still make mistakes. Maybe you originally wanted to delete a duplicate photo that you didn't need, but accidentally selected another very important one. Accidental deletion is the most common cause of data loss.
Formatting the phone: For various reasons, such as slow operation of the mobile phone, ZTE Android mobile phone users need to format the mobile phone. However, if you forget to back up important files on your phone before formatting, you will inevitably face the result of losing files on your phone.
Reset ZTE smartphones: In general, when people encounter problems on ZTE mobile phones that they don't know how to solve them, they are more willing to reset their phones to solve them. Resetting your phone resets all settings on your phone to their original settings. Not only that, it also deletes all the files you have saved on your ZTE phone.
Virus Attack: Due to the openness of Android, Android smartphones are vulnerable to viruses. When you download an infected file or connect your phone to a virus-infected system, such malware can enter your phone, destroy the system, cause the phone to be damaged and lose data.
If you have encountered any of the situations above and lost your files from ZTE Android phone, the Rule No.1 is STOP using your ZTE device at once! Otherwise, you may lose the chance to recover them back once they have been overwritten by new data. Below we will introduce two methods to recover lost and deleted contacts, SMS, photos, etc. on ZTE device.
Method 1: Recover Lost Data from ZTE Phones with Android Recovery Software
Method 2: Restore Deleted Files on ZTE Phones from Backup File
Method 1: Recover Lost Data from ZTE Phones with Android Recovery Software
You can get a user-friendly program to help you recover all the lost content from your ZTE phones efficiently. Coolmuster Lab.Fone for Android (with its Mac version - Lab.Fone for Android Mac) is the software that I want to recommend to you to recover deleted and lost photos, videos, music, contacts, text messages, call logs and documents on your ZTE mobile phones and tablets like ZTE Blade Z MAX/X Max/Max 3/Axon 7/Grand X4/Nubia Z17. The best thing about this software is that it's very simple to use, you can finish the data recovery process with a few simple steps.
Apart from ZTE phones, the software also supports other Android devices. If you need this, you can download the trial version of Lab.Fone for Android for free. The following steps guide you through the process of ZTE data recovery.
Step 1. Plug ZTE phone to computer
After installing the Lab.Fone for Android on your PC and connecting the ZTE phone to the same computer using a USB cable, the software will immediately portray an interface like the following picture.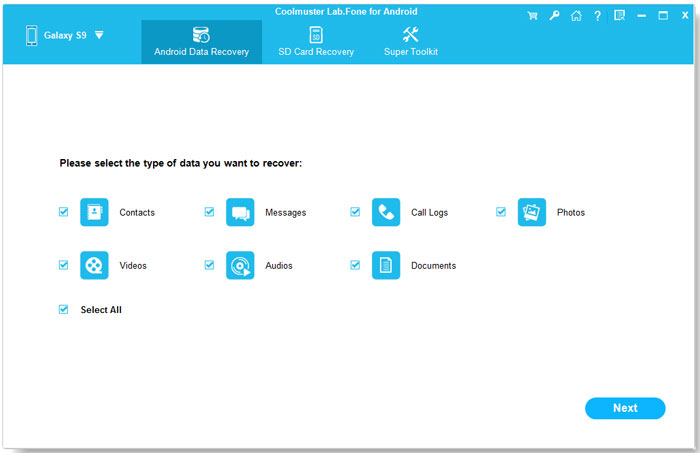 Tips: if you haven't enabled the USB debugging on your phone, the Android data recovery tool will be failed to detect your phone. Therefore, you can follow the instructions in the article to learn how to open USB debugging on your phone. And if you want to recover contacts, text messages and call logs from ZTE, you need to root the ZTE phone to make sure the process being conducted correctly.
Step 2. Scan lost or deleted files on ZTE phone
All the recoverable file types are displayed on the program interface, including contacts, text messages, call history, photos among others. Just choose the file types that you need and click "Next". Then, the recovery software will begin to scan the data of your ZTE mobile.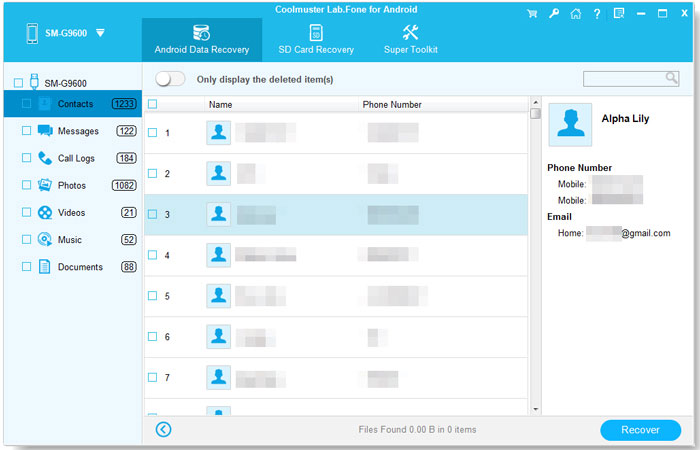 Step 3. Start the ZTE data recovery process
After the scan, all your selected files will be displayed for you to preview. Just select the ones you need and then click on the "Recover" button on the bottom right of the program window and select a location to store the files on your computer.
The ZTE data recovery process is successfully completed. Coolmuster Lab.Fone for Android is really an efficient and secure program to get back lost data from Android phones in various models. All the recovered data will be retrieved without any data loss, and you can view them on your computer directly.
Method 2: Restore Deleted Files on ZTE Phones from Backup File
Today, there are many backup applications and cloud services available to mobile device users to back up data and files from their devices. If you are fortunate enough to back up your device to these apps and cloud services before losing important data, you can effortlessly recover deleted files from your previous backups.
Restore from a local backup: If you have used a backup application to back up your device, you can open this application. Use the recovery feature on the app to restore backup files to your phone. For example, Coolmuster Android Assistant provides one-click backup and restore capabilities. The backed up files are stored on your computer, then you only need to select the backup file and click the "Restore" button. Finally all data will be pulled back to your phone. You can refer to the specific guide.
Restore from cloud backup: The cloud backup option most commonly used by Android phone users is Google Drive, which allows you to back up contacts, photos, messages and other content on your device to its servers. Once you are accidentally experiencing data loss, you can log in to your Google account and restore your backup data online to your phone.
Related Articles:
How to Recover Text Messages from Broken Samsung Phones
How to Remove Duplicate Contacts from Android Phone
Recover Deleted Photos from Android Phone