Keeping up with the ever dynamic technological advances of today is quite a task. Apple has however been on the fore front to bring these changes to the market amongst a host of other technology firms. With the launch of the Apple Watch, this tech giant has been busy thinking of ways to take technology to the next level. The watch has caused quite a buzz due to its countless features and usability options aimed at making our lives so much easier and as for the technology fans, they can all agree that this device is a step in the right direction. This article is meant to give you a step by step guide on how to make the best of your Apple watch. There are numerous things you can do with this device and here you will find the most useful tips&tricks about Apple Watch and anything else you need to know about this magnificent device. Just read this article and follow the instructions to solve the problem you may feel confused.
1. How to Make A Call with Apple Watch?
If you were wondering, yes it is possible to make and receive calls with your Apple Watch. Though intended for short calls, the device comes equipped with a built-in microphone and speaker to enable you converse with your friends right on your wrist. Actually, there are 3 options available when you want to make a call on your Apple Watch. The easiest and most convenient way is to make the call with Siri. You can do it as follows:
- Simply, begin by holding the digital crown on your watch to activate Siri or simply say "Hey Siri". Tell Siri the people you want to call for instance say "Call Edith". If there is more than one option in your phone book simply tap on the number you want.
- Further, you can also make the call with the friendship app accessible on your Apple Watch by pressing the side button to open the app. Proceed by turning the digital crown to select the person you want to call and tap the call button.
- Lastly, you can make the call with the phone app by launching the app from the home screen of your watch. Then, choose Contacts, favorites or recent and select the person you want to call.
Related: How to Recover Deleted Call History from iPhone?
2. How to Send & Response Messages on Apple Watch?
You can receive messages through your apple watch and when you do, you will not need to remove the watch from your wrist. When you're been reminded a new message on your Apple Watch, you only need to raise your wrist and you will be able to tell the sender and read the message by itself. To dismiss the message, simply lower your wrist. However, if you want to reply it, you can scroll down with the circular wheel on the side of your watch to find the reply button. When you tap on reply, your Apple Watch will give you a list of smart replies that are relevant to the message. It is also worth noting that, you can add your own short smart replies. You can also tap the dictate button and speak to your watch then press send. You can actually send either as an audio message or as a text message.
Furthermore, Apple has incorporated use of emoji's accessible by taping reply then tapping the smiley face icon. You can scroll down to select the appropriate emoji.
Can't Miss:
How to Recover Deleted or Lost Text Messages from iPhone
How to Transfer Text Messages from iPhone to PC/Mac
3. How to Take A Screenshot with Your Apple Watch?
Taking a screenshot with your Apple Watch could be a simple task for every user. You only need to press and hold the side button, then simultaneously press and release the digital crown. A camera shutter sound and a white flash will follow and your screenshot can be viewed on the Apple phone paired with your watch. It's that simple!
4. How to Check & Listen Voicemail on Apple Watch?
If you get a voice-mail, you can listen to it via your watch by following four simple steps:
- First of all, on the home screen of your watch, launch the phone app.
- Secondly, tap on voice-mail and select the one you would like to listen to.
- Tap the play button and your voice-mail starts to play immediately.
- On the screen, you can find some buttons like pause, fast-forward or even rewind. You can use them according to your own needs.
5. How to Check the Calendar on Apple Watch?
If you want to look up a date, set a reminder or view your daily schedule, the Apple Watch is designed to help you do all that on your wrist. Begin by pressing the digital crown button that by now you know takes you to the home screen. Tap on the calendar app which will then launch the calendar with today's view and your upcoming events in chronological order. To see upcoming dates, scroll down with your fingertips or twist the digital crown button towards you.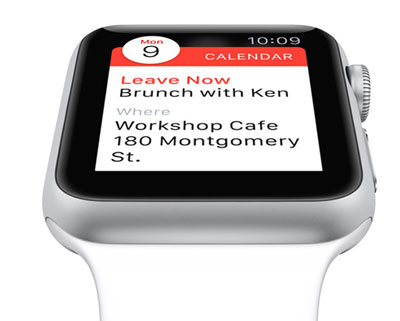 Tips:
How to Recover iPhone Calendar on Mac/Windows
How to Transfer Calendar from Apple to Android
6. How to Launch App with Siri on Apple Watch?
As long as you know the name of the app you want to launch, there is no need of scrolling through folders to find it. Simply press and hold the digital crown button and launch siri on your home screen. Tell siri the app you want to launch, then everything will be done. For instance, if you wish to run Facebook app on your Apple Watch, you only need to say "launch Facebook" and then, the app will automatically be launched.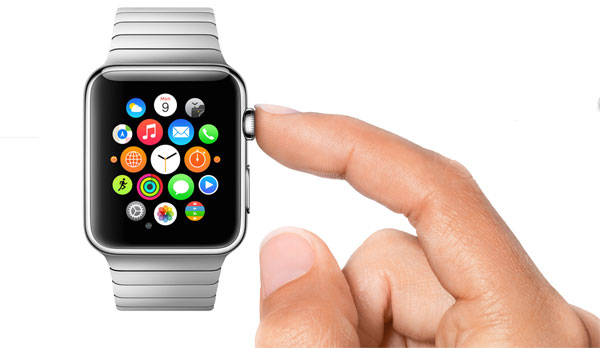 7. How to Mute Your Apple Watch?
If you are going to a meeting or you just want your Apple Watch to be silent, press the digital crown until a watch face appears. Swipe up and reveal the settings glance and tap on the mute button. It is worth noting that to un-mute, simply follow the same steps and press on the un-mute icon.
8. How to Set up Apple Pay?
To set up Apple pay, begin by opening the Apple Watch app on your phone and select my watch. Select "passbook" and Apple pay. Then, tap debit card or add credit and Apple will prompt you to enter the credit card on file or the security code. However, you can select add a different credit or debit card if you don't want to use the one on file. A camera view finder appears and at this point position your debit or credit card in the frame and the app will automatically scan it for any relevant information. Once added, it will be listed as activating and once be activated, a notification will be sent to your apple watch. You are now ready for Apple pay!
9. How to Sync Music on Apple Watch?
Go to your home screen and search for Apple Watch. Go to music then synced playlists on Apple watch app. Here you will see a screen with a list of all available playlist. Tap the playlist you want to sync and when you see a sync pending message, syncing has begun on your Apple Watch. It is advisable to wait for the sync to complete before using your Apple Watch.
10. How to Take Photos on Apple Watch?
Start by pressing the digital crown on your watch and tapping on the camera icon. At this point the camera app on your apple watch will connect to your iPhone. A preview of what your iPhone camera is seeing will appear on your watch and by tapping the shutter button at the centre of the screen, you can take snapshots. The photos will however be saved on your iPhone camera roll.
Related:
How to Transfer Photos from iPhone to Computer
How to Recover Deleted or Lost Photos from iPhone
11. Ping Your iPhone with Apple Watch
Press the digital crown until the watch face appears. Then, swipe up from the bottom to open the glances interface and proceed to swipe left or right to locate the settings glance. You will find the ping button on the leftmost glances screen. Tap the ping button and your iPhone should emit a high pitched sound even when on silent mode. It is worthwhile to note that, this feature will only be useful when your Apple Watch is connected to your iPhone either via Bluetooth or the same Wi-Fi network. For people with hearing loss or deafness, you can tap and hold the ping button causing your iPhone to flash its LED light.
12. How to Measure Heart Rate?
Begin by going to the clock face of your Apple Watch and then swipe up from the bottom to access glances. Continue by swiping left and right until you see a heart rate glance. Proceed to open the workout app, tap on activity and get started. You can then swipe left or right to view heart rate. It is paramount to note that, Apple Watch will try to measure your heart rate every ten minutes but will not record it if you are in motion or if your arm is moving. The best thing about this feature is that all your heart rate measurements will be stored in the health app which might come in handy later.