You might use two phones for work purposes, and need to sync important data like your business calendars and memos between the two different mobile phones. Or you might simply need to sync your calendars with somebody else at home or at work, who uses a different device to you. The good news is that the Android and iOS devices, though technically incompatible, can be persuaded to interact with one another quite efficiently. You will be fully able to sync Apple calendar with Android devices as long as you have an efficient iOS to Android file transfer tool to help you to do that.
The great thing is that we can have the iOS to Android Transfer now to help syncing calendar from iPad, iPhone, iPod to Android. This third party app is the fact that it can be used to transfer and sync so much more than just calendars. It will safely move everything from contacts to text messages, photos, videos, music, and more, between an Apple device like iPhone, iPad, iPod and Android devices like Samsung, HTC, LG, Sony, Motorola, or vice versa. Plus, the entire syncing process can be completed in no more than three easy steps.
iOS to Android Transfer comes with both Windows and Mac versions, and offers you with free trial version. Therefore, if you are still hesitate to purchase the software, you can click the following button to get the demo version to have a free try.
Steps of Syncing iPad/iPhone/iPod Calendar with Android Device
First of all, please install the iTunes on your computer to make sure the Mobile Transfer can run properly.
Step 1. Launch the Apple to Android transfer software
Download, install and launch the iOS to Android Transfer on your computer. Once its primary interface pops up, you can choose "Phone to Phone Transfer" option to enter the transferring window.
Step 2. Connect your iOS and Android devices with computer
Connect your iPhone (or iPad, iPod) and Android phone or Android tablet to the computer via 2 USB cables. The mobile transfer tool will detect and display them as Source and Destination devices. You can tap the "Flip" button to change their positions.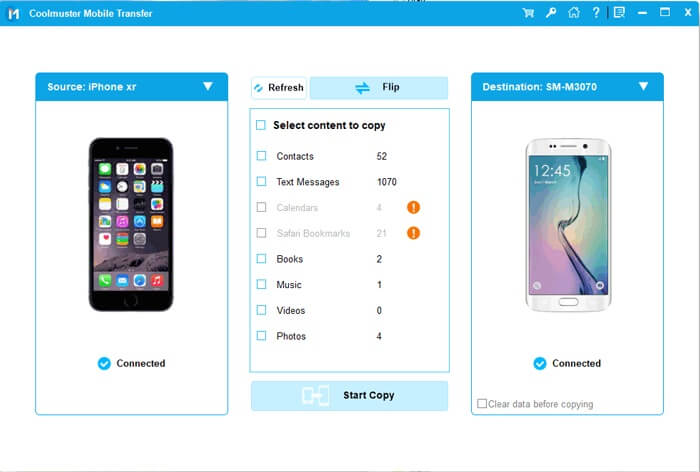 Step 3: Start to sync Apple calendar with Android
Since the iOS to Android Transfer transfer all contacts, SMS, photos, videos, music, apps, calendar and more together as default, you should uncheck other file types except "Calendar". Then, click on the "Start Transfer" to begin the transferring process .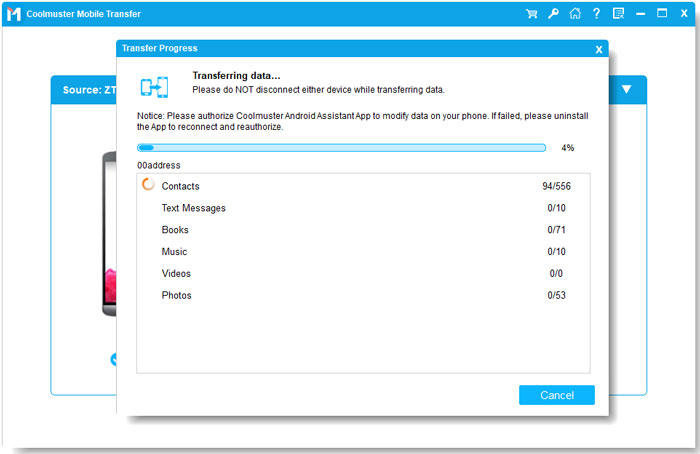 iOS to Android Transfer promises a risk free transfer, so all of your data will arrive at the destination device intact and in the same condition that it left the source device. This is important as many of the other transfer and syncing apps available online tend to involve slight losses of data, which can end up causing not so slight problems for users.
Related Articles:
How to Move Photos, Videos, Music & More from HTC to iPad
Transfer Contacts between Nokia and Android
How to Fix the iPhone Stuck on the Emergency SOS Mode Issue?
11 Simple Ways to Fix the iPhone Keeps Restarting Problem [Ultimate]