Photoshop is one of the best photo editing software available on the market. Many people use it every day to edit their photos. Recently, Apple has introduced High-Efficiency Image File Format or HEIC, a new photo file format for all devices running iOS 11 and later. However, you may experience problems opening the HEIC file in Photoshop due to the format's incompatibility. If you are one of those experiencing this issue, do not worry. In this article, we will guide you on how to open HEIC files in Photoshop. Continue reading to learn more.
Part 1. Can Photoshop Open HEIC Files?
If you frequently use Adobe Photoshop, you know it can open almost any image. Photoshop works perfectly with many file formats, including GIF, JPG, PNG, PSD, TIFF, BMP, etc. However, using an older version of the Adobe Photoshop application may fail to open photos and images captured in HEIC format. You must first convert the HEIC image to JPG before opening it in Adobe Photoshop.
The older version of Adobe Photoshop does not have in-built adaptations to support the HEIC file format. This means users cannot open files encoded with HEIC format as it does not recognize them as photos. Currently, the latest version of Adobe Photoshop supports HEIC photo format. However, you will need an extra codec on Windows 10. When it comes to Mac, you need to make some adjustments.
Part 2. How to Open HEIC Files in Photoshop on Windows and Mac
Below are some ways of opening HEIC image in Photoshop on Windows 10/11 and Mac:
2.1 How to Convert HEIC Files to JPG in Photoshop by a Professional Tool
The best way of opening HEIC images in Photoshop on Windows is by using a professional application. Coolmuster HEIC Converter sets a precedent among the available tools due to its outstanding capabilities. This peerless application enables users to convert HEIC files into various file formats, such as JPEG, PNG, JPG, etc. Additionally, the application allows you to enhance the quality of your image without compressing it.
The Coolmuster HEIC Converter application can convert multiple HEIC images simultaneously, saving the user time, and does not disclose your uploaded images to any other party. All you need to do is to use Coolmuster HEIC Converter to convert HEIC to JPG/JPEG/PNG and then open the files in Photoshop.
Key features:
Convert HEIC to JPG/JPEG/PNG.
Keep the quality of the image.
Support batch image processing.
Allow users to preview HEIC files before changing file formats.
Retain the EXIT info after converting HEIC to JPEG/JPG.

Free Download for PC
Below is how to convert HEIC to JPG using the Coolmuster HEIC Converter application:
01Begin by downloading, installing, and launching the application into your PC.
02Add the image into the application. You can add the image into the application by dragging and dropping them or hitting the "Add HEIC" button.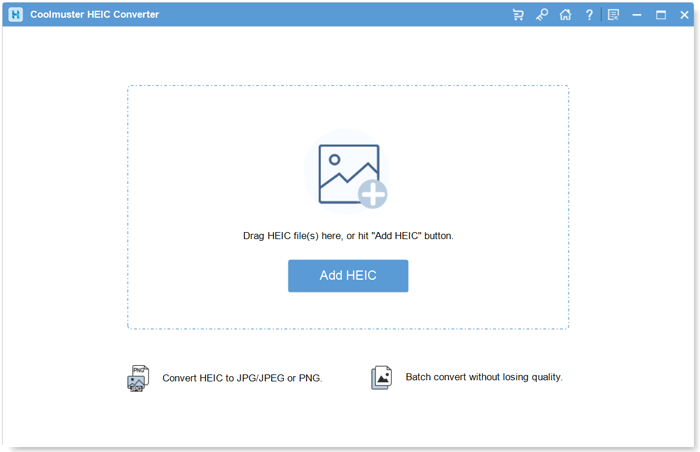 03Choose your target images and select the output file as "JPEG/JPG", and enable the "Keep Exif Data" feature to save your image's original data.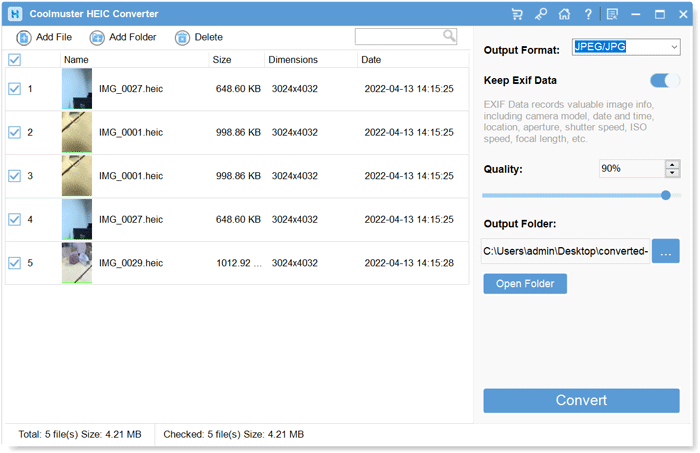 04Finally, hit the "Convert" button to convert your HEIC image to JPG.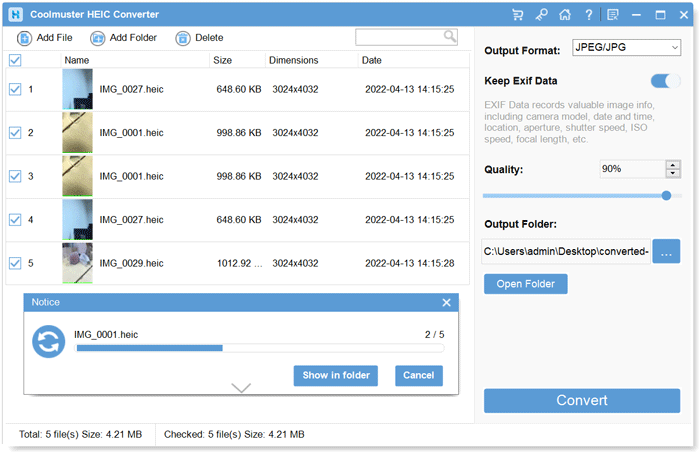 You can now open the converted image using the Photoshop application.
Read More:
[Solved] 5 Ways to Convert HEIC to JPG in Google Photos
How to Convert HEIC/HEIF Images to JPG/JPEG Format? [Free]
2.2 How to Open HEIC Files in Photoshop on Mac
Adobe Photoshop on Mac devices supports opening HEIC images. It ensures that you can seamlessly edit the image without external conversions. Here are steps to follow to open HEIC files on Mac via Photoshop:
Step 1. Ensure you have updated your Adobe Photoshop to the latest version. Open the app and then click "Edit" on the top menu bar, then select "Preferences" and choose the "Camera Raw" option.
Step 2. Select "Automatically open JPEGs with settings" in the File Handling column. Select "Automatically open all supported JPEGs and HEICs" from the dropdown menu. Now you will be able to open HEIC in Photoshop.

See Also:
Convert Photos from HEIC to JPG on iPhone: Things You Need to Know
HEIC Format on iPhone: What Is an HEIC Image?
2.3 How to Open HEIC Image in Photoshop on Windows
If your device runs on Windows 10, you will find that Photoshop will not open HEIC images. This is because the Windows operating system does not support HEIC files. However, Microsoft provides a free Photoshop HEIC plugin that allows users to open HEIC images on Photoshop. Here are steps to open HEIC images on Windows:
Step 1. On your Windows computer, go to Microsoft Store and search "HEIF Image Extensions". Download the plugin and then install it. Then try to open the HEIC image in Photoshop.

Step 2. If still, you are not able to open the HEIC files. You can use the MS Photos app to convert HEIC images to JPG. To do this, click "Edit & Create", hit "Edit" and select "Save a copy". Your image will now be converted to JPG format. Now open the converted image in Photoshop.
Can't Miss:
11 Best HEIC to JPG Converters on Windows and Mac
[Solved] How to Open HEIC Files in Android Effortlessly?
2.4 How to Open HEIC Files in Photoshop Using Adobe Lightroom
Easier versions of Windows, such as Windows Vista, 8/8.1/7, do not recognize HEIC images. So you need to convert HEIC files into JPG format to view them in Photoshop.
Adobe Lightroom is a powerful software that allows you to convert images from one format to another. It supports many image file formats, including HEIC, JPEG, PNG, GIF, SVG, etc. Below are steps to follow to convert your HEIC Files to JPG using this tool:
Step 1. Go to the Adobe Lightroom website, download and install the Lightroom software on your computer.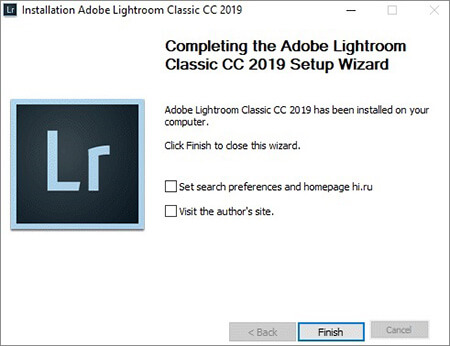 Step 2. Open the software and then click "File Import". Then tap on "Add Photos".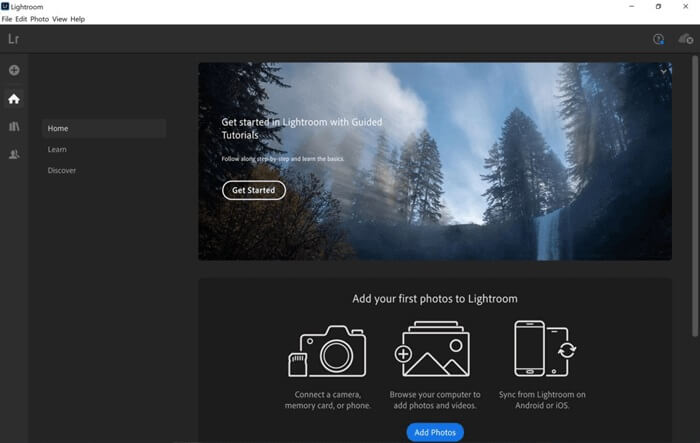 Step 3. Select the HEIC file you want to open and click the "Import button".
Step 4. After the HEIC file has been imported into the software, you will find it in the Lightroom editing area for editing.
Step 5. Click on the "save as" button and then select "JPG" from the list. Then click "enter". Now the saved image will be in JPG format. You can easily open the JPG image in Photoshop.
May Like:
CopyTrans HEIC Review: Is CopyTrans HEIC Safe, Free, and Best to Use?
iMazing HEIC Converter Review & Its 7 Alternatives
2.5 How to Convert HEIC Files to JPG Through CloudConvert
CloudConvert is a web conversion tool that can easily convert HEIC files to JPG. It supports almost all documents, such as presentations, archives, spreadsheets, e-books, and photos. This online software can convert image files while retaining the EXIF data. It also allows processing multiple image conversions at once. Here are steps to follow to convert HEIC and JPG files using CloudConvert online tool:
Step 1. On your computer browser, go to the CloudConvert website. Then create a user account.
Step 2. After signing in, click "Select File" to add the HEIC file you want to convert. You can also select multiple images and choose "JPG" as the output image format.

Step 3. Now click the "convert" button and wait for the conversion process to complete.
Step 4. Once done, click the "download" button. A new image will be downloaded into your PC with JPG format. Now open the JPG image using Photoshop.
Conclusion
You now understand how to open HEIC files using Photoshop. You can use any of the above-discussed methods to convert the HEIC files to a file format supported by the Photoshop application. However, we recommend you use Coolmuster HEIC Converter because it is easily usable, fast, and reliable.
Related Articles:
How to Convert HEIC to PNG Online or Offline? (6 Simple Methods)
HEIF vs. HEIC: What Are Them & What You Should Know About Them
HEIC V.S. JPEG: What Is the Difference between HEIC and JPG? (Comprehensive Guide)
HEIF/HEIC Image Viewer: How to Open/View HEIC Images on Windows/Mac/Android? [Free]