How to Easily Airdrop between iPhone and Computer
Airdrop is a program which was offered for Mac for a long time. It was introduced in iPhones with iOS Yosemite and gave a better way to the users to share files between Apple devices. It is a way to connect all your iOS gadgets and sync them for data transfer. Now, let's see how easily airdrop from iPhone to computer or airdrop from computer to iPhone.
Related: How to Make Full Use of Airdrop
Part 1. How to Airdrop from iPhone to Computer
Looking to make the Airdrop file transfer process simpler? We can help here. Just follow these steps and you will be able to transfer all the files you need, from your iPhone to your computer easily, without any problems.
Step 1. On your Mac, access the menu bar in the Finder and select Go and then Airdrop. A new window appears. You can turn on the Bluetooth and WiFi using a button on the screen. Choose "Allow me to be discovered by" option to receive files from people other than stored in your contacts.
Step 2. On your iPhone, launch the Control Center. Then tap on Airdrop and choose receive from everyone or from your contacts list.
Step 3. Your Mac will be displayed on the Airdrop list on the iPhone.
Step 4. Now, you can select the files and tap "Share" option to continue the process. Choose your Mac in the pop-up and wait for the start of the transfer. Then, your Mac will be prompted to save or decline the content being sent. Click on Save option on your computer to begin.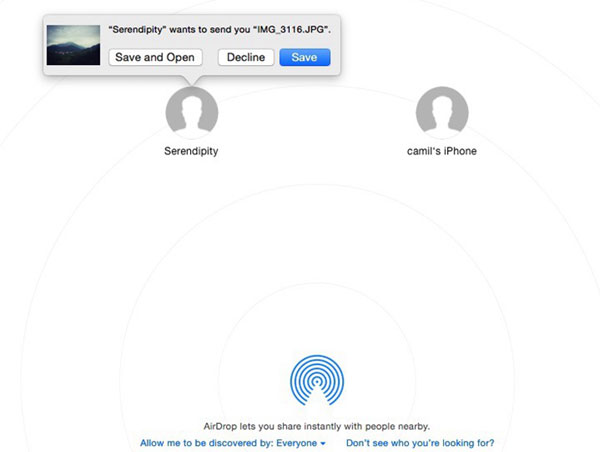 You Might Also Want to Know:
* Transfer Music from iPad to Mac Computer
* How to Transfer iTunes from PC to Mac
Part 2. How to Airdrop from Computer to iPhone
Wondering how you can go ahead to sync your computer and iPhone in simple easy steps with Airdrop? Just follow these simple steps and you would be fine!
Step 1. After you have activated Airdrop on your Mac and iPhone, use the Finder to select Airdrop on the left menu.
Step 2. This will reveal all the nearby Airdrop users including your iPhone. Now both of the devices are synced. You can just drag and drop files on the device image and hit Send to transfer data.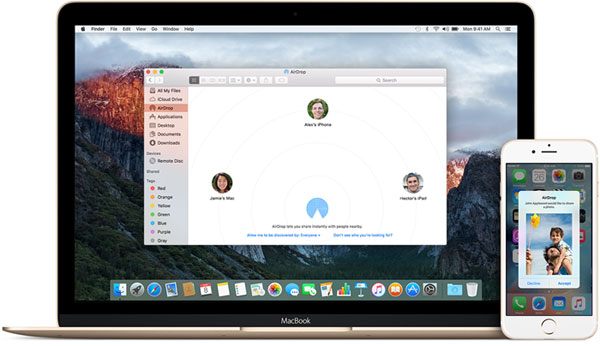 While the process is easy there are some things that you need to check. Understanding the problems will help you to ensure that you don't have any problems in future or during the process. There are many problems which may occur when you want to transfer content between iPhone and computer:
- The iOS versions of the devices may not be compatible and cause interruptions.
- Many users have reported problems in syncing.
- The nearby devices do not always appear in the Airdrop window.
- Wifi is not available or stable.
- Many people are not aware about the function and method of using the tool.
Airdrop is not a professional solution when you want o transfer iOS content in a simple and effective manner. You should go for a reliable tool which gives you the best results.
Extra Bonus: Easier Way to Sync Data between iPhone and Computer
If you are looking to make the process easy for all your activities, we would suggest you to use iOS Assistant (Windows/Mac) software. It brings you this awesome program which enables you to export important data from your iPad, iPod and iPads to computers and Mac. It works for different file types like music, videos, photos, notes, Audiobooks, TV shows and others. You can backup all that you need, easily, and transfer data between all your devices.
Apart from transfer, you can also manage your data perfectly with the help of the program. It helps you to quickly track your files by using the convenient search bar by entering the file name. It is also possible to view them in list or thumbnail modes for increased usability. There are no limitations and the program works successfully for all your data. It is 100% safe and very easy to use which makes it the perfect option.
Related Articles:
Transfer Kik Data from iPhone to Computer