We all understand the significance of keeping backup data. What will you do if you ever find yourself in a situation where your iPhone is lost or stolen? The smartest solution is to ensure that those important contacts have been securely backed up onto virtual platforms. Is there a method to copy iPhone contacts to Gmail? Are you keen to discover how exactly this process works? Read on to learn how to back up iPhone contacts to Google.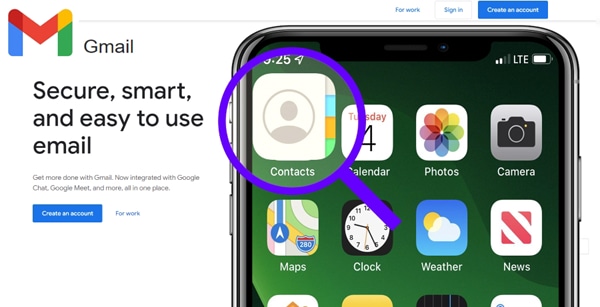 Short Answer: Contact Backup - iPhone to Gmail Instead of iCloud?
iCloud has always been the go-to option for backing up your iPhone contacts. However, Google's Gmail platform offers an easy way of backing up your entire contact list.
The benefit of using Gmail to back up your contacts are:
Compared to Google Drive's generous 15GB of free storage for all users, iCloud can only provide a meager 5GB.
With Drive, transferring data to a host of non-Apple devices is simple.
Google Drive offers all-inclusive, free photo storage, an unbeatable way to keep your photos safe and accessible.
Note: Google Drive is not better than iCloud regarding the data types it supports. It only allows you to back up contacts, calendars, photos, videos, and files from your iPhone, compared to iCloud, which supports vast data types.
Method 1. How to Transfer iPhone Contacts to Gmail Without iCloud
Do you need a secure way to save iDevice contacts to Google? You can use a third-party application to transfer your contact data from your iPhone to Gmail. One of the best options is Coolmuster iOS Assistant. This application is a great choice to back up iPhone contacts, messages, photos, and other data.
Some of its key features:
Supports transfer of contact data from iPhone to Gmail.
Transfer multiple data types, such as contacts, images, music, etc.
Preview the selected contacts before transferring.
With an intuitive user interface allowing you to transfer your iDevice contacts data to Gmail effortlessly.
Follow the below simple steps to learn how to save contacts on Google on iPhone:
01Start the procedure by downloading, installing, and launching the Coolmuster iOS Assistant.
02Connect the iPhone to the Computer using a working lighting cable. This will enable the application to detect your device. Typically, the software will detect your linked device automatically, and a pop-up window should appear on your Computer. Choose your device's "Trust" option and press "Continue" to proceed to the next step.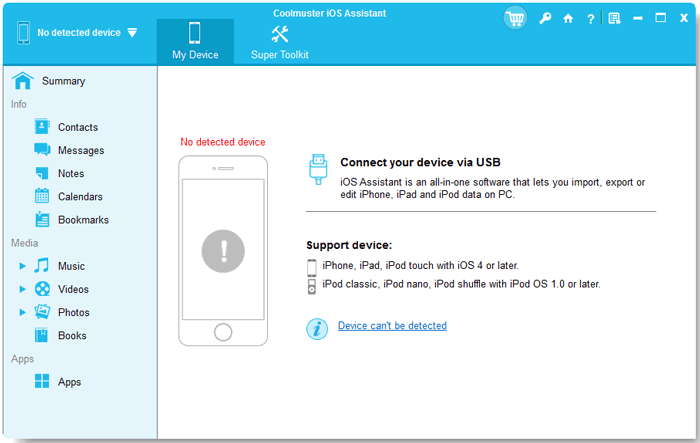 03Export the contacts from your iPhone to the Computer. Select the contacts you wish to save and click "Export" on your Computer's screen. This will enable you to transfer them securely onto your Computer for future use.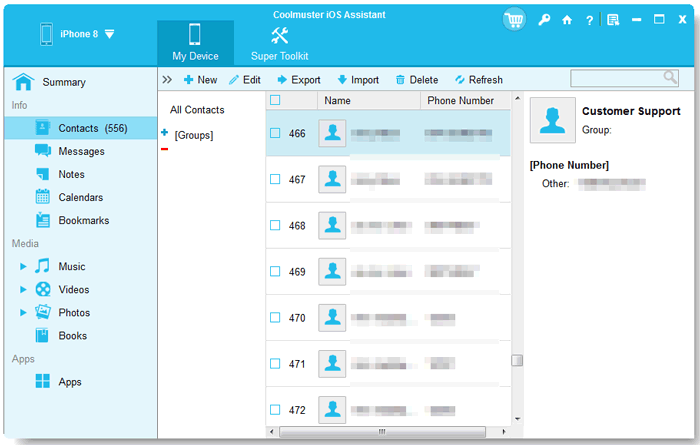 04Finally, head over to Gmail using your Computer's browser and hit the "Sign in" button at the top right corner of your screen. Once you are signed into the Gmail account, you can compose a new email message. Attach the exported contacts as an attachment and then send it to any other desired email address.
Let's see if these could also help:
How to Copy Contacts from iPhone to SIM (4 Feasible Ways)
How Can I Transfer Files from PC to iPhone without iTunes? [5 Ways]
Method 2. How to Save Contacts on Google in iPhone via Email
To swiftly copy your iDevice contacts data to Gmail, utilize iCloud. Follow these straightforward steps to copy contacts to a Gmail account:
Step 1. Launch the "Settings" application on the iPhone, and tap on the "Apple Account" button from the "Settings" menu. Then access your iCloud account by selecting the "iCloud" option.
Step 2. Toggle on the "Contact" option to enable the syncing feature.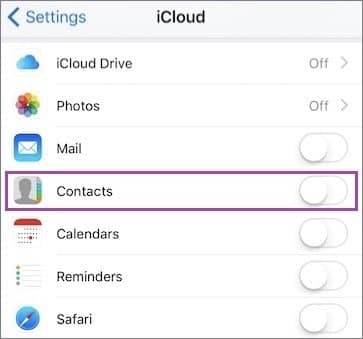 Step 3. Enter your iCloud sign-in credentials and log into iCloud in web page.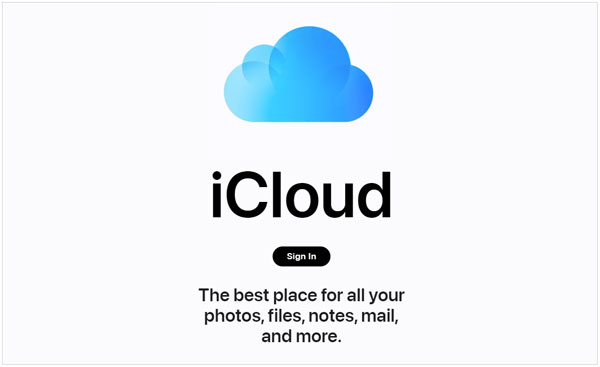 Step 4. Select the "Contacts" folder and choose your preferred contacts from the available list.
Step 5. Tap the "Settings" button and hit the "Export vCard" button from the menu.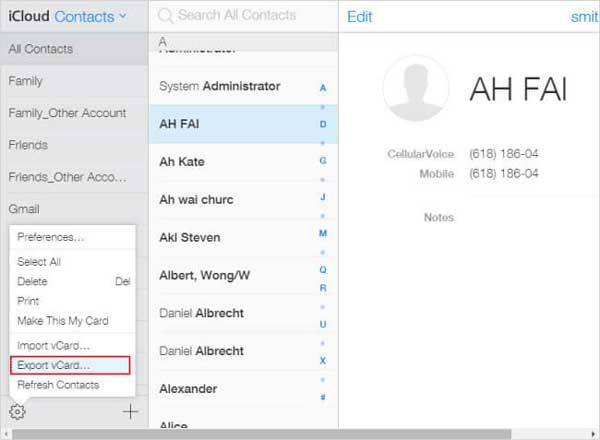 Step 6. Navigate to the Gmail contacts older version and tap on the "Import Contacts" button. Select the contact file and hit on the "import" option. You will now discover that your contacts are stored in the Google contacts list. With this, you have backed up contacts to a Google account.
Read more:
How to Transfer Data from iPhone to PC without iTunes [9 Methods]
How to Transfer Music from iPad to Computer? Top 3 Ways You Can't Miss
Method 3. How to Export iPhone Contacts to Gmail Using the Settings App
iPhone Settings provide a simple method to import iPhone contacts to Gmail. It backs up all your contact information into Google and synchronizes associated Gmail contacts onto the device.
Follow these simple steps to import your contacts data to Gmail:
Step 1. Launch the "Settings" application on iPhone and select the "Password and Accounts" option.
Step 2. Hit "Add Account", tap the "Google" button and key in the necessary information. Click on the "Next" button to add your Gmail account.
Step 3. Hit the "Save" button after verifying your account and enable the "Contact Sync" feature. Hit on the "Save" button to confirm your action.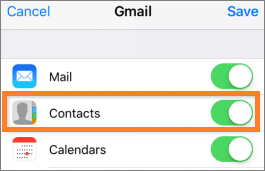 Method 4. How to Back Up iPhone Contacts to Gmail via Google Drive
If you wish to avoid your contacts being automatically transferred to Google, there is an alternative. Download the Google Drive application on the iPhone and back up the contact list into a secure, cloud-based storage plan in no time.
Follow the simple steps below:
Step 1. Begin the process by downloading and installing Google Drive into your iPhone.
Step 2. Open the Google Drive app and hit the "Google Drive" on the left side of your iPhone's screen.
Step 3. Tap the "Settings" button and finally hit the "Backup" button.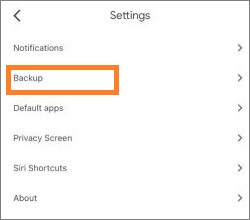 Step 4. Enable the "Contacts" feature and back up data to Google Contacts.
Step 5. Tap the "START BACKUP" button and click on the "Ok" button to allow the application access, and the backing up process will begin.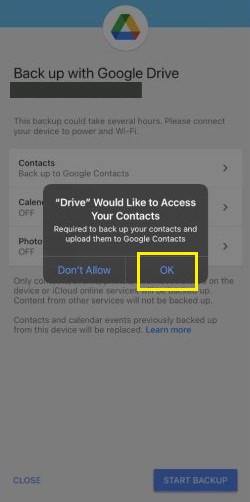 Once you finish these steps, you can save iPhone contacts to Google effortlessly.
See also:
3 Ways to Transfer Text Messages from iPhone to Computer? [Can't Miss]
How to Print Text Messages from iPhone/Android for Court?
Method 5. Export iPhone Contacts to Gmail Using iTunes
iTunes is an effective Apple tool for backing up your iPhone contacts, allowing you to move the contacts from one device to another. Ensure you have the newest iTunes version installed on this device, or you may run into errors. Once exported, import the file to Google; however, if syncing is enabled on your phone, remember to turn it off first! Otherwise, iTunes will not be able to access those saved contacts. (iTunes Error 4005?)
Here is a simple step-by-step guide regarding how to back up contacts on iPhone to Gmail with iTunes:
Step 1. Use a lighting cable to connect the iPhone to your PC.
Step 2. Launch iTunes on your Computer and click on the "Device" and "Info" buttons.
Step 3. Select the "Sync Contacts" checkbox and choose "Windows Contacts" or "Google Contacts".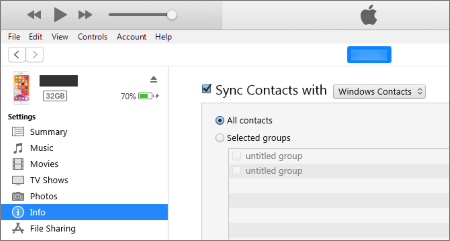 Step 4. If you go with "Google Contacts", follow the instructions on your screen to synchronize iPhone contacts directly into Google. After this, visit Google Contacts and verify that all your information has been successfully transferred. If you pick the "Windows Contacts" option, hit the "Sync" button to transfer contacts onto your Computer. You can then import those iPhone contacts into Google.
Conclusion
Backing up your iPhone's contacts to Google is easy with the above methods. However, you can make the process easier by using Coolmuster iOS Assistant, which backs up contact data to Gmail in a few clicks. By backing up your iPhone contacts regularly, you will never worry about data loss or accidental deletion.
Related Articles:
How to Sync iPhone and iPad? Check the Full Guide Here
How to Transfer Music from iPhone to Computer Effectively? (4 Tips)
How to Transfer Music from iPod to iPod [Must Read]
[3 Ways] How to Transfer iBooks from iPhone to PC
[Fixed] How to Transfer Photo Albums from iPhone to PC?