In the age of smartphones and digital photography, losing precious photos can be a heart-wrenching experience. Thankfully, with services like iCloud, restoring your photos has become a relatively straightforward process. iCloud, Apple's cloud storage service, allows users to securely back up their photos and other data, ensuring that memories are never lost. In this article, we will guide you through the steps on how to restore photos from iCloud.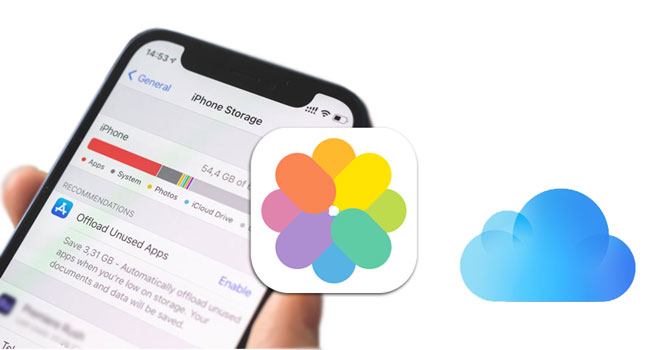 Part 1. FAQs on iCloud Photo Recovery
Q1. How do I check if my photos are backed up on iCloud?
To check if your photos are backed up on iCloud:
Step 1. Go to "Settings" > [your name] > "iCloud" > "Photos".
Step 2. Ensure that "iCloud Photos" is turned on.
You can also go to "Settings" > [your name] > "iCloud" > "Manage Storage" > "Photos" to see the storage used by your photos.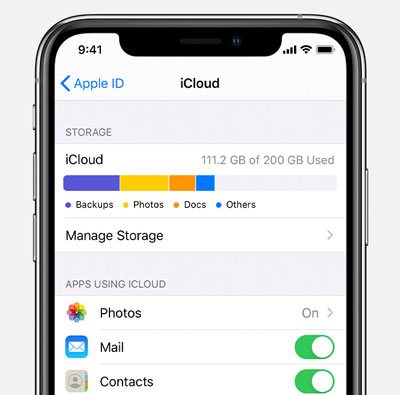 Q2. Why did photos disappear from my iPhone?
Many factors may cause photos missing from your iPhone, like:
User Deletion: If you accidentally deleted photos, they might be in the "Recently Deleted" folder. Check the Photos app, go to "Albums" > "Recently Deleted", and see if you can recover them.
iCloud Photo Library Settings: If iCloud Photo Library is enabled, changes made on one device reflect on all devices connected to the same iCloud account. If photos were deleted on another device, they might disappear from your iPhone, too.
iCloud Sync Issues: Sync issues with iCloud can lead to photos not showing up. Check your iCloud settings and ensure that iCloud Photos is turned on.
Different Apple ID: If you sign in with a different Apple ID, you will not see the photos either. So, sign out the wrong Apple ID and sign in with the correct one.
The Hidden Album: Check whether you have put some photos in the Hidden album. Just open the "Photos" app > tap "Albums" > select "Hidden" > pick the photos you want to unhide > tap "Share" > "Unhide".
Q3. Is it possible to recover deleted photos?
Yes, probably. When you delete a photo from your iPhone, it will still exist in the database until new data occupies its space and overwrites it. Therefore, you can recover the deleted photos from your iPhone directly with a professional data recovery program before the new files overwrite them. Or, you can restore photos from iCloud backup if you have turned on iCloud Photos previously.
You May Like:
[Solved] How to Download Photos from iCloud to iPhone in a Snap
[Solved] How to Sync Photos from iCloud to Android in 3 Flexible Ways?
Part 2. How to Restore Photos from iCloud
Then, how do I retrieve photos from iCloud? We introduce seven ways in this part to help you retrieve photos from iCloud. Let's take a look one by one.
Method 1. How to Get My Photos Back from iCloud Selectively via iPhone Photo Recovery
iPhone Photo Recovery is a user-friendly iPhone data recovery software that simplifies the process of restoring photos from iCloud. The software allows you to scan your iCloud backup selectively to identify and recover the specific photos you need. You have the flexibility to choose between restoring individual photos or entire folders, saving them directly to your computer.
Furthermore, the program excels in thoroughly scanning your iPhone, swiftly recovering missing photos from the device's memory. Additionally, it can retrieve photos from a pre-existing iTunes backup, providing a comprehensive and efficient photo recovery solution.
Key Features:
Safely restore the lost photos from iCloud/iTunes backup.
Recover lost data from the iPhone without backup in one click.
Support various data types, including contacts, messages, photos, videos, notes, and more, catering to diverse user needs.
Preview all the content and select only the wanted files to recover.
Work with different data loss scenarios: accidental deletion, system crash, iOS upgrade failure, lost/stolen/disabled iPhone, water damage, screen smashes, etc.
The highest speed and success rate.
Support all iPhone models (iOS 17 included), Windows 11/10/8.1/8/7, and macOS X 10.7 or higher.
Here is how to restore photos from iCloud using iPhone Photo Recovery:
01Download and install iPhone Photo Recovery on your computer.
02Launch the application and choose the option "Recover from iCloud Backup File". Log in to your iCloud account.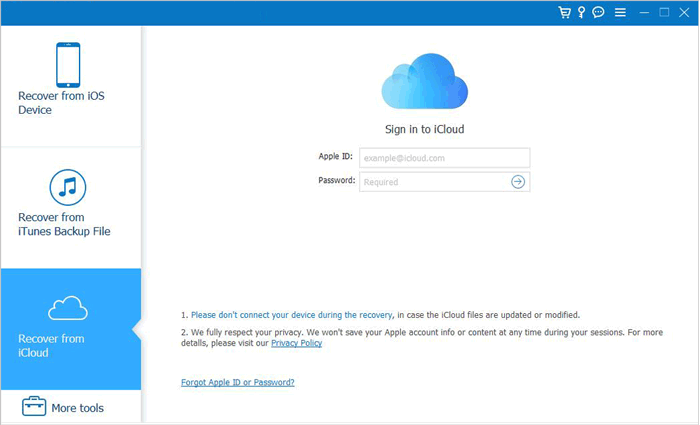 03Choose the iCloud backup file you want to restore from the list and tap the "Download" button.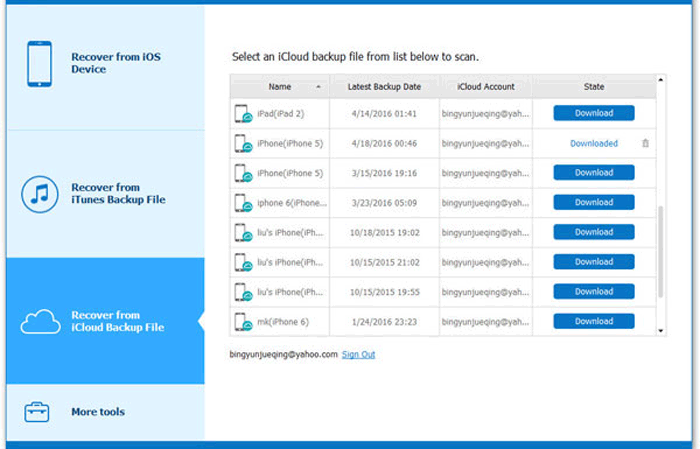 04Once downloaded, click "Photos" on the left window, preview and tick the photos you wish to restore, and hit the "Recover" button to save them to your computer.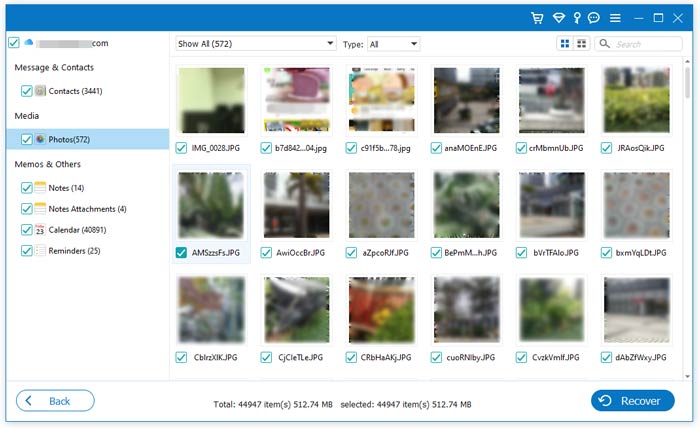 Further Reading:
How to Restore from iCloud Backup Without Reset? [2 Quick Solutions]
How to Recover Photos from iPhone without iCloud [With Tutorial]
Method 2. How to Recover Photos from iCloud Recently Deleted Album
Usually, when you delete a photo from your iCloud Photo Library, it doesn't vanish immediately. Instead, it is in the "Recently Deleted" album, which typically lasts 30 days. Here is how to retrieve photos from iCloud Recently Deleted album:
Step 1. Open iCloud.com from a browser and sign in with the same Apple ID and password you used on your iPhone.
Step 2. Navigate to "iCloud Photos" by clicking on the corresponding option on iCloud.com.
Step 3. Locate and access the "Recently Deleted" album situated on the left side of the screen.
Step 4. Opt for the specific photos or videos you wish to retrieve, followed by selecting the "Recover" option to initiate the restoration process.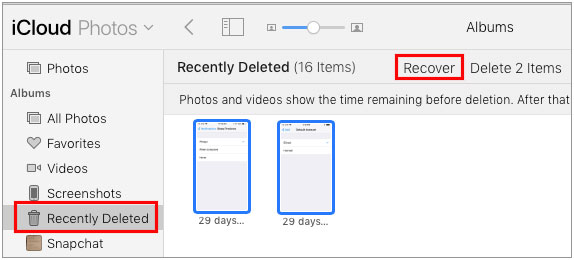 Method 3. How to Retrieve Photos from iCloud Backup
If you have previously backed photos from your former phone using iCloud Backup and aim to transfer them to your new iPhone, consider using iCloud Backup for the restoration of your photos.
It's important to note that this way will erase all data on your device, and you should proceed with caution. Here is how to find old photos on iCloud:
Step 1. Go to the "Settings" menu, select "General", tap on "Reset", and then choose "Erase All Content and Settings".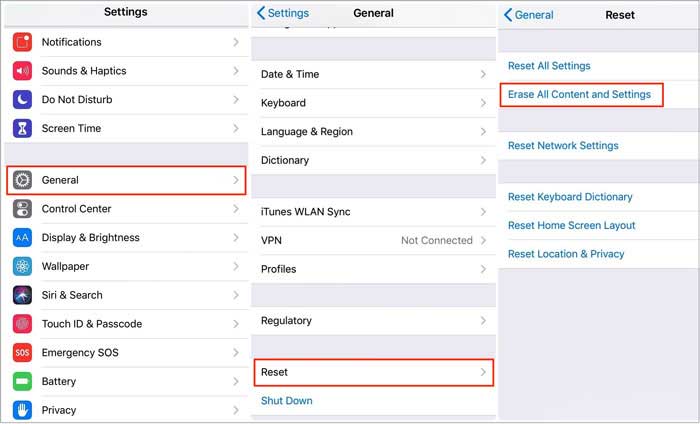 Step 2. Set up your iPhone as new until you reach the "Apps & Data" screen. Tap "Restore from iCloud Backup" on this screen and select the most relevant backup file.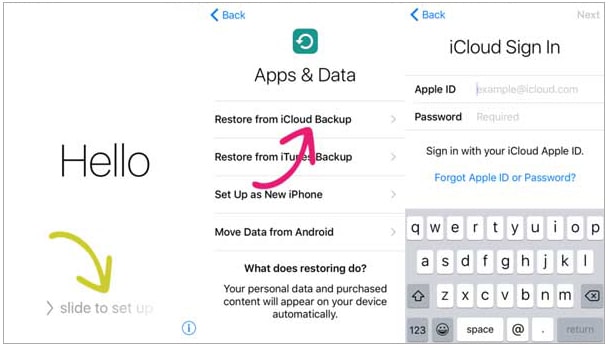 Step 3. Hit the "Restore" button to get photos back from iCloud.
Learn More:
Restore from iCloud Paused? Fix It with 9 Solutions Here!
How to Transfer Data from iCloud to Samsung Phone Seamlessly?
Method 4. How to Get Photos Back from iCloud Website
If you delete photos that have been uploaded to iCloud, once iCloud Photos is enabled, all deletions will be reflected on iCloud.com. Therefore, you can manually download them from the iCloud website to recover them to your device. Here is how to retrieve a photo from iCloud:
Step 1. Open your web browser and navigate to the iCloud.com website.
Step 2. Sign in using your Apple ID credentials.
Step 3. On the iCloud home page, click on "Photos" and choose the photos and videos you wish to recover.
Step 4. Click on "Download" to initiate the recovery of iCloud photos on your device.

Method 5. How to Recover Photos from iCloud Photo Library
Can photos be retrieved after deletion from iCloud Photo Library? Indeed, if you've activated iCloud Photo Library on your iPhone and utilized iCloud for Windows previously, you have the option to retrieve deleted photos by downloading them from iCloud Photo Library to your PC or Mac. The following steps outline the process to extract photos from iCloud.
5.1 How to Access Old iCloud Photos on a Windows PC
Step 1. Install and open iCloud for Windows on your computer.
Step 2. Click "Options" next to "Photos" and set it up according to your demands. Later, tap "Done" and "Apply".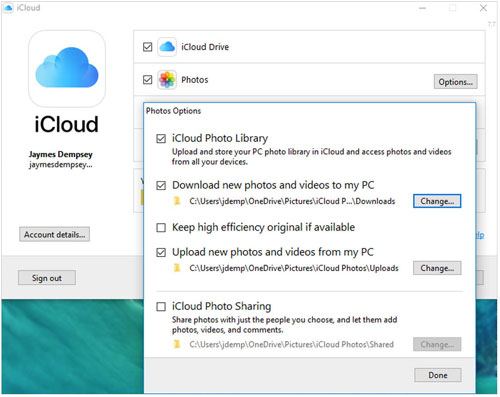 Step 3. Click "Download Photos and Videos" and wait for the download process to complete. Then, you will see photos in the designated folder on your computer.
5.2 How to Get Old Pictures from iCloud on Mac
Step 1. Launch the "Photos" application on your Mac.
Step 2. Navigate to the top menu, click on "Photos", and select "Preferences".
Step 3. Within the Preferences menu, opt for "iCloud". Check the box next to "iCloud Photos", and select "Download Originals to this Mac".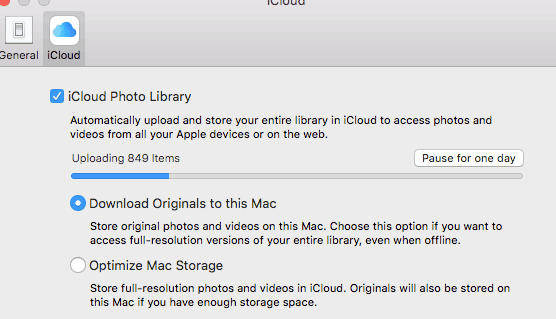 Also Read:
Do Photos Stay on iCloud if Deleted from iPhone? How to Recover Them?
[Without Password] How to Recover Photos from Locked iPhone 15/14/13/12/11
Method 6. How to Recover Photos from iCloud to iPhone
If you've moved photos from your iPhone to iCloud and subsequently deleted them from your iPhone, you can efficiently restore iCloud Photos. Here is how to look at old pictures on iCloud:
Step 1. Open the "Settings" on your iPhone.
Step 2. Tap on your "Apple name" > "iCloud" > "Photos".
Step 3. Activate "iCloud Photos" and opt for "Download and Keep Originals" to seamlessly restore iCloud Photos.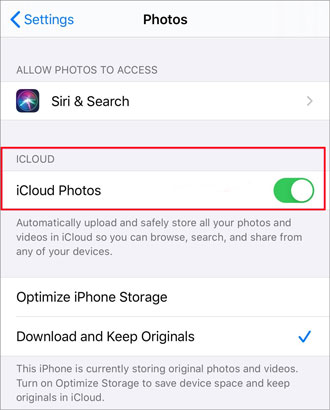 Summing Up
Do you know how to recover photos from iCloud now? If you prefer an easy and fast way to restore photos from iCloud backup, I highly recommend you try iPhone Photo Recovery. Otherwise, you can select Apple's way to get it done, but you may fail if you don't fulfill the preconditions.
Anyway, select one way from above to get back your photos. If you encounter any problems during the process, please let us know in the comments.
Related Articles:
[100% Success] How to Recover Deleted Photos from iPhone without Computer
6 Brilliant Ways to Recover Deleted Instagram Photos on iPhone without Pain
4 Ways to Recover Photos from Dead iPhone (All-inclusive)
How to Upload Photos to iCloud in 4 Easy Approaches?
How to Fix Photos Missing from iCloud? [8 Essential Solutions]
How to Back Up iPhone to iCloud and Restore iPhone from iCloud Backup Fast