Easy Way to Recover Files from iPad without iCloud Backup
Any device including iPhone is vulnerable to data loss. It is not always possible to prevent loss of data and you need to have a backup to make things right. You can either make a backup on iCloud or iTunes using your device. Then it is possible to recover your data like contacts, messages from iCloud. We will show you how to retrieve contacts from iCloud in easy ways.
Related:
Reasons Why You Need A Phone Backup
How to Sync iPhone Contacts to iCloud
How to Restore iPhone Contacts from iCloud?
Never lose out on your important contacts. You can restore your iPhone contacts from iCloud with the following easy steps.
Step 1 - Take your iPhone and open the Settings tab in it.
Step 2 - Choose iCloud by tapping on it.
Step 3 - Check if the Contact option is turned on. If it is already activated, turn it off and slide to on again. This initiates a download of the backed up contacts from iCloud. Select the Delete option when asked by the device to choose what to do with existing contacts.
Step 4 - You can also choose merge Contacts if your device prompts for it. All your contacts will now be synced with your device.
Extra Bonus: How to restore iPhone contacts without iCloud backup?
We may not always have an iTunes or iCloud backup, or it may be outdated. The only way to get back your contacts and other important files is Coolmuster iOS Rescuer. It can directly retrieve data from your device even if there are no backups.
- Use your device to retrieve data even if it is broken or malfunctioning.
- Recover 9 types of data including contacts, messages, photos, calendars, camera roll, safari, etc.
- Deep scan to trace files already deleted or lost.
- Quick preview to ensure you recover the correct files.
Also Read:
* How to Recover iPad Notes without iCloud Backup
* How to Restore iPhone from iPad Backup
Here is a look at how you can restore iPhone contacts without iCloud backup. It is simple to restore the iPhone contacts in these simple few steps:
Method 1: Using your iOS device
Just follow these simple steps and you will be done.
Step 1. Launch the installed software on your computer. Connect the device with your computer using the USB cable. The interface will give you an option to scan your device after it is automatically detected. You just need to click on Start Scan option to continue the process.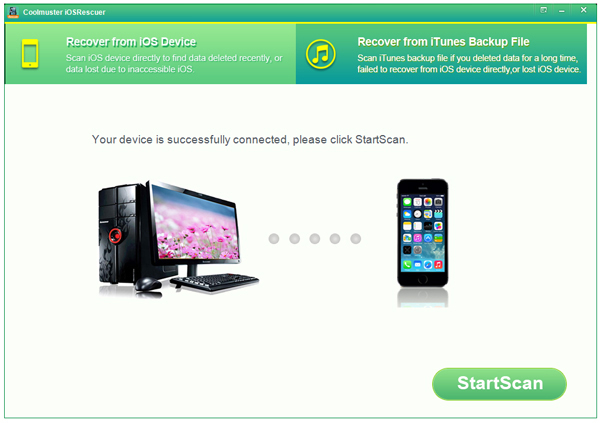 Step 2. All your lost data including contacts will be retrieved by the program. They will be sorted in categories and displayed in a menu. You can find them on the left side of the interface. Click on Contacts to preview the list. Then hit the Recover button to get back lost contacts and other files.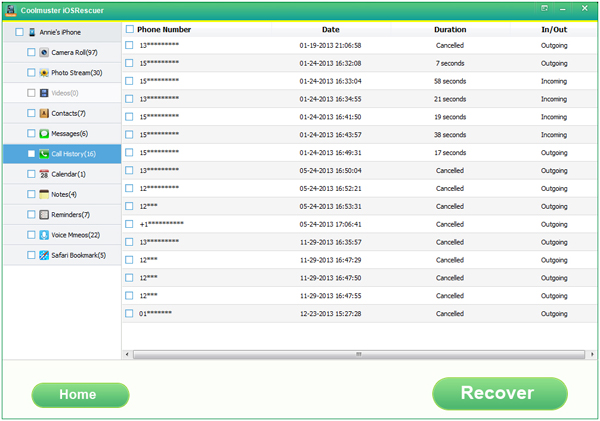 Method 2: Extracting iTunes backup files
Here is how you can extract iPhone contacts from iTunes backup files in simple, easy steps:
Step 1. You can get back deleted contacts directly from iTunes backup without needing your device. Run the program and click on Recover from iTunes Backup File tab on the upper part of the interface. You will see a list of iTunes backups synced from your device. Click on a suitable backup and click Start Scan.
Step 2. All your data on the device will be displayed in categories. Choose Contacts from the menu and press the Recover button. Your contacts will now be saved in your PC.
This is all that you can do to restore iPhone contacts with or without iCloud. The steps are easy and you would be done with it before you know it.
Related Articles:
Guide on iPad File Recovery without iCloud Backup