It's crucial that iPhone users know about how to back up messages to iCloud. What will you do if you accidentally delete some important messages? You can easily recover lost messages by restoring them from your iCloud backup if you already have an iCloud backup. Always ensure you upload messages to iCloud on time to avoid permanently losing text once they are deleted. Would you like to know how to upload messages to iCloud? Continue reading through this article to learn how you can easily do that.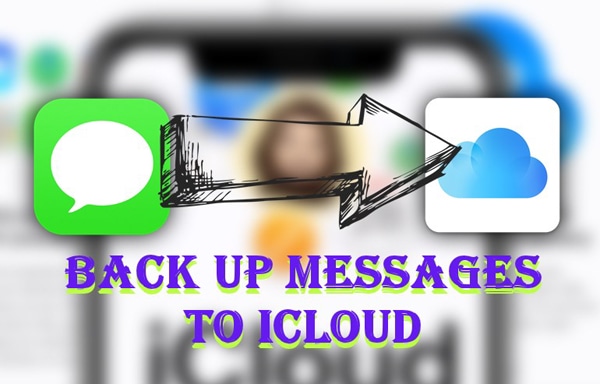 Part 1. Why Use iCloud to Back Up Your iPhone's Messages
Apple offers iCloud sync as a feature to enhance the seamless experience for its users. However, the free iCloud plan provided by Apple only includes 5 GB of storage, which is often insufficient for users. As a result, many people have to subscribe to the premium iCloud+ plan eventually. Nonetheless, backing up text messages to iCloud has many advantages.
Below are some reasons why you should consider to upload messages to iCloud:
1. It offers secure and reliable storage for your iPhone's messages - iCloud is a safe and secure platform for backing up essential conversations since it encrypts your data before saving it on its remote servers. This ensures that your messages are securely stored.
2. Enables you to access messages from any device - iCloud allows you to access your messages from any device connected to the internet.
3. Helps in restoring deleted messages - if you delete some important conversations, iCloud helps you restore them quickly without any problems.
4. It offers automatic backup of messages - iCloud automatically backs up your messages if you enable the feature in the settings. This means all your messages are always backed up without you having to do it manually.
See also:
How to Copy Contacts from iPhone to SIM (4 Feasible Ways)
How to Transfer Music from iPad to Computer? Top 3 Ways You Can't Miss
Part 2. How to Back Up Messages on iCloud
There are several methods of backing up your iPhone's messages data to iCloud. Some of the methods include:
Method 1. How to Save iMessages to iCloud via Your iPhones Settings
Do you want to back up iMessages to iCloud using your iPhone's "Settings" application? Below are the simple steps regarding how to back up iMessages to iCloud that you should follow:
Step 1. Ensure that your iPhone is connected to a reliable network. Launch your iPhone's "Settings" application and tap the [Your Name] button.
Step 2. Tap on the "iCloud" option. If your device runs on iOS 10.2 and below, open the "Settings" application and scroll down to find iCloud.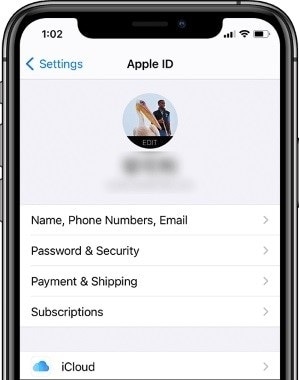 Step 3. Toggle the "Messages" option to green.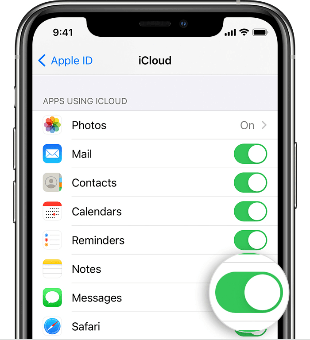 Note: Ensure you have sufficient space in iCloud before you begin the backing-up process. Upon signing in to iCloud, you will receive 5 GB of free iCloud storage. If you require additional storage, you may purchase it from your iPhone, with plans starting from 50 GB for a monthly fee of $0.99 (USD).
Method 2. How to Move Messages to iCloud by Backing Up the Whole iPhone
You can back up your iPhone messages on an iCloud full backup. Below are some simple steps on how to backup text messages data to iCloud by backing up the whole iPhone:
Step 1. Ensure your iPhone has enough power and is connected to a stable internet connection. Open the "Settings" application on the iPhone. Hit on your "Username" and tap on "iCloud".
Step 2. Tap on the "iCloud Backup" option from the available list.
Step 3. Turn on the "iCloud Backup" feature and hit the "Back Up Now" button and remain connected to the Wi-Fi network until the iCloud messages backup process is completed. Here's how to download iCloud backup with ease >>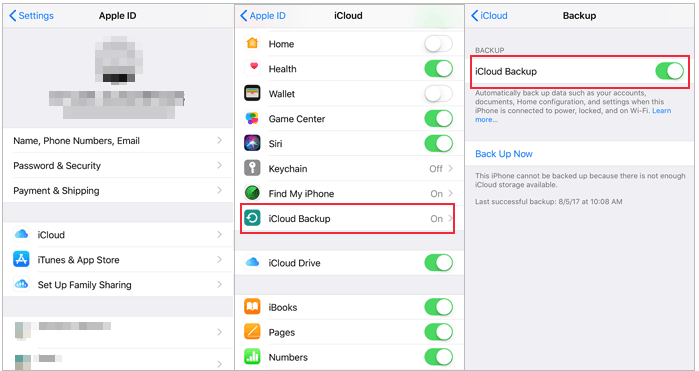 Read more:
3 Ways to Transfer Text Messages from iPhone to Computer? [Can't Miss]
How to Transfer Data from iPhone to PC without iTunes [9 Methods]
Bonus: How to Back Up Messages to Computer Without iCloud
Are you looking for the most convenient way to back up messages to your computer without iCloud? The best option would be to use a third-party assistant such as Coolmuster iOS Assistant. This is a professional iOS data management tool designed to help you easily back up, restore, and manage your messages. It enables you to back up your messages and other data types, such as videos, notes, contacts, etc.
Coolmuster iOS Assistant Key Features:
Back up and restore messages and other data types easily
Support the transfer of files between iOS devices and PC/Mac
Compatible with different versions of iOS as iOS 16
Enable you to preview and select data before backing up
Want to learn how to save messages without iCloud using Coolmuster iOS Assistant? Follow the steps below:
01Download and install the Coolmuster iOS Assistant on your computer. Then, launch it and connect your iPhone device to your computer using a USB cable. Click on the "Trust" popup on your iPhone, and Coolmuster iOS Assistant will automatically detect your connected device. Now hit on the "Continue" button to proceed.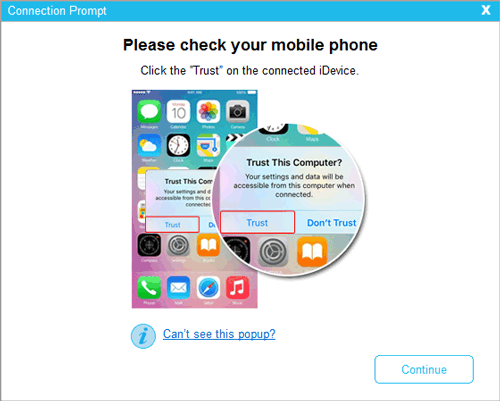 02Transfer your iMassages to the computer. This software can transfer everything including contacts between your iPhone and PC. Tap the on the "Message" option at the left corner of the screen, select all the messages you want to back up, and click on the "Export" button to save your messages to your computer.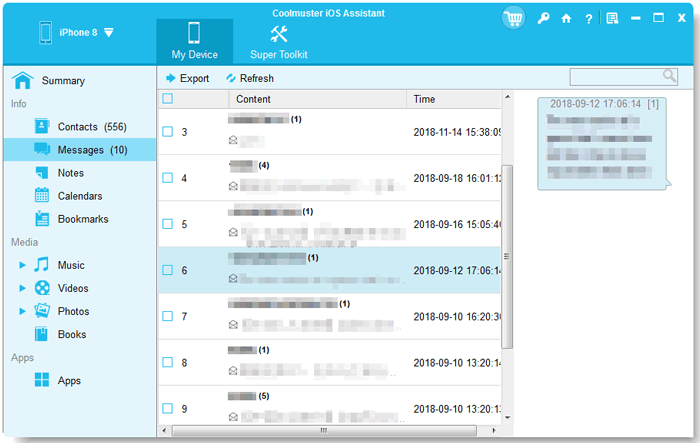 03Wait for the export process to complete. Once the process completes, your messages will be saved on your computer as a backup.
More relevant articles:
How to Transfer Music from iPod to iPod [Must Read]
How to Sync iPhone and iPad? Check the Full Guide Here
FAQ About iCloud Messages Backup
Q1. How long does iCloud messages backup take?
The duration for backing up your messages to iCloud relies on the volume of data you are backing up. It should only require a few minutes if you are backing up only a few hundred or a thousand messages. However, if the data is extensive, it could take multiple hours.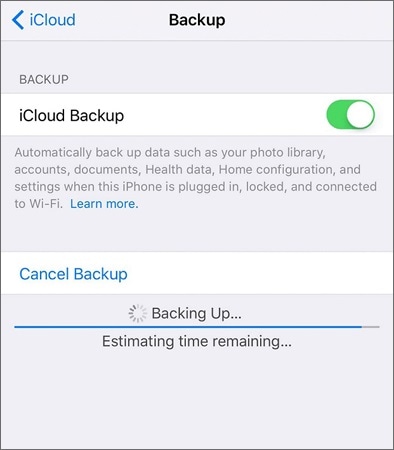 Q2. Do I need to purchase additional storage to back up messages on iCloud?
Yes, if you require more space than the initial 5 GB of free storage allotted when signing into iCloud, you will need to purchase additional storage from your iPhone device with plans starting from 50 GB for a monthly fee. You can find more useful solutions in this article: What to do if I ran out of iCloud storage>>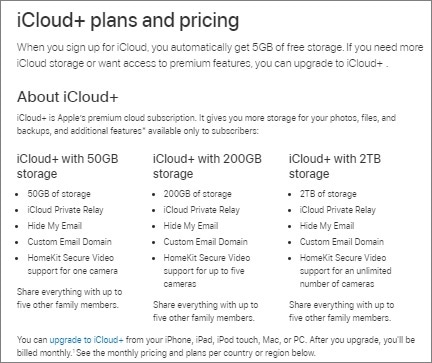 Q3. Is there an alternative method to back up messages without iCloud?
Yes, you can use third-party software such as Coolmuster iOS Assistant to back up and manage data on your iPhone device without using iCloud. The software is easy to use and enables you to back up, transfer and restore iPhone data easily.
Conclusion
Backing up your messages to iCloud is a simple process and provides a convenient way of storing data on the cloud. The above are ways to back up messages to iCloud. Additionally, you can backup your messages to computer conveniently via Coolmuster iOS Assistant. This professional tool allows you to manage, transfer and back up all iPhone data to the computer in just 1 click. In addition, it has an easy-to-use interface and useful features that make it a perfect choice for people who want to backup their messages without relying on cloud storage.
Related Articles:
Full Guide on How to Access iPhone Files on PC without iTunes
How to Print Text Messages from iPhone/Android for Court?
5 Ways to Sync Notes from iPhone to Mac
How to Put Music on iPod without iTunes? (4 Effective Ways)
How to Add Ringtones to iPhone from Computer (Best Ever)