One Click to Restore Text Messages from iCloud
When you are updating your phone, you will lose all your data, even the messages, then you will need to back up the data and then, restore all the important messages.
Before updating your phone, you need to backup your data and messages. But, first, you need to learn the difference between iCloud and iTunes. Then choose the option that is better for you. To save your data in iCloud, follow the below procedure.
Step 1 - Connect your device to a Wi-Fi network.
Step 2 - Tap settings. Choose iCloud from it.
Step 3 - Scroll down and tap on backup to make sure that iCloud is turned on.
Step 4 - Tap Backup now.
Step 5 - Stay connected to Wi-Fi till the backup process is completed.
Step 6 - Make sure that your Wi-Fi is turned on.
Step 7 - After the procedure is over, you can check if your backup is finished or not. Tap settings > iCloud > Storage > Manage storage.
Step 8 - Select your device and you will find your backup saved with the time and date.
Related:
* How to Backup iPhone Contacts to iCloud
* How to Backup Photos from iPhone to iCloud
User Guide: How to Restore Text Messages from iCloud
The procedure is simple but a bit lengthy. To restore messages from iCloud, follow this procedure.
Step 1- When you turn on your iPhone 7 Plus/7/6S Plus/6S/6 Plus/6/5S/5/4S/4 or iPad Pro/Air/mini, you will see a Hello on your screen. You need to delete all the content, so as to start the backup process.
Step 2 - Follow the steps that appears on your screen till reach the Apps and data on your screen. Then choose Restore from iCloud backup.
Step 3- Sign in to your iCloud account.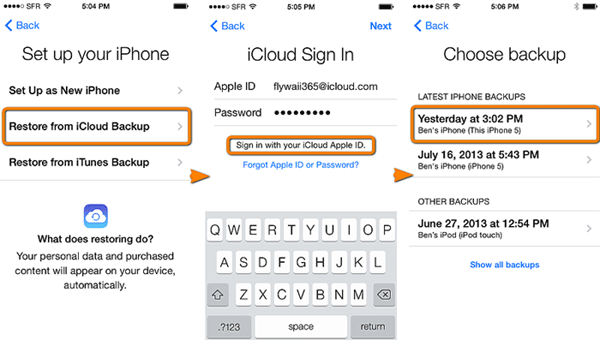 Step 4- Choose the backup that you want to be restored.
Step 5- Stay connected till your messages are restored. Now you can finish the setup and wait for all the data to be restored.
Learn More:
* How to Restore iPad from iCloud
* How to Restore Apps from iCloud
What if you lost iPhone/iPad text messages without iCloud backup?
If you forgot to backup your data on iCloud, then do not fret. There is a way you can restore your messages without a backup. Coolmuster iOS Data Rescuer software is a new data recovery application that helps in recovering lost and deleted data from iPad/iPhone. It extracts data from iDevices or iTunes.
Here is how the process is when you are trying to restore your text messages from any iDevice, whether it be an iPhone or an iPad.
Step 1 - Install Coolmuster on your computer. Connect your iPhone/iDevice through a USB cable. Then, you will find a tabular column. You can choose Restore from iDevice or Restore from iTunes Backup.
Step 2 - In this step, you will have to tap on Start Scan to let the app scan your data. Once the scanning is done, you can see all the data even the deleted one.
Step 3- You can find the data in thumbnails. Choose the messages you want to recover, and tap on Recover. All your data will be recovered.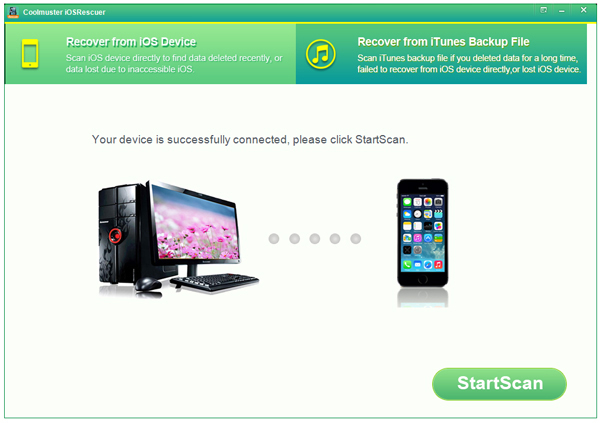 Restoring from iTunes With Coolmuster iOS Data Rescuer
Step 1 - Follow the same procedure as above. Choose Restore from iTunes Backup in the first step.
Step 2- After scanning, you can find, the data in the categories. Select the messages, you want to recover and tap "Recover". Your messages will be restored.
That is all that you need to do with this professional assistant. It's safe and it's easy.
Related Articles:
How to Restore iPhone without Updating