Our text messages hold valuable and sentimental information, ranging from affectionate words from our loved ones to evidence for legal purposes. However, it's common to unintentionally delete significant messages while clearing storage space on our iPhones. As such, it is essential to know how to restore messages from iCloud.
Fortunately, you can easily restore deleted messages to your iDevice if you have backed them up using iCloud. We will guide you through restoring messages from iCloud to an iPhone. Continue reading through this article to learn more: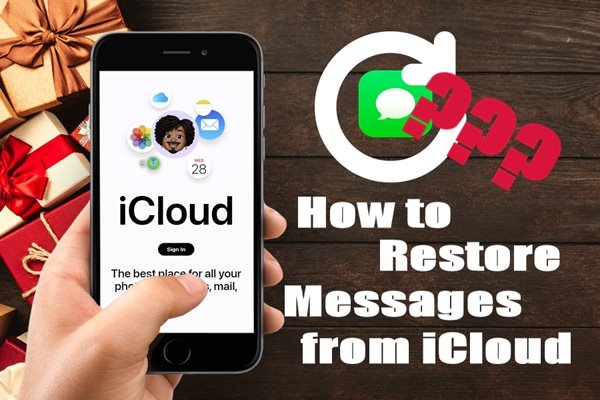 Part 1. How to Prepare to Recover Text Messages Through iCloud
Follow these tips to prepare yourself to restore your messages with iCloud:
1. Enable the "Message Backup to iCloud" Feature
To ensure that your messages are backed up on iCloud, check that the automatic Backup is enabled for messages and merged mails (if applicable). To do this, run the "Settings" application, tap on "General", hit on the button named "iCloud", and toggle on the Backup option for these data types. Without this Backup, you cannot restore your messages from iCloud.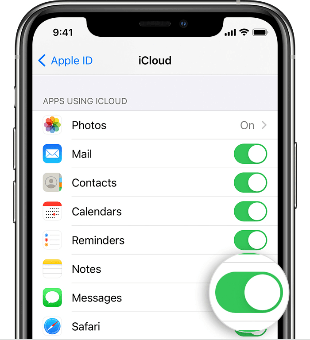 2. Enable the "Automatic Backup" Feature
Don't wait for the worst to happen. Make sure your essential information is safeguarded! Activate iCloud's automated backup option in your device settings and rest easy, knowing your data will be backed up regularly. Taking this simple step not only protects you from unpleasant surprises but also provides reliable access to messages any time you need them.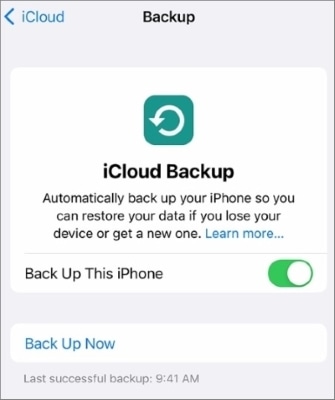 3. Manually Back Up Your Data Frequently
If your phone malfunctions, even with automatic Backup turned on, it's a good idea to take a manual backup of your data before erasing or handing it over to someone else. Go to your iCloud settings and select "Backup now" to manually back up your iPhone. You can also check when the last Backup was taken from this page.
4. Always Ensure That You Have Enough iCloud Storage Space
You can access your iCloud from any location and manage it remotely. To restore iMessages from iCloud seamlessly, checking for sufficient storage to accommodate your data is essential. Open iCloud settings and click "Manage storage" to view your total iCloud storage. This will show whether your messages are saved on the cloud or not. Additionally, you can delete unnecessary data to optimize space.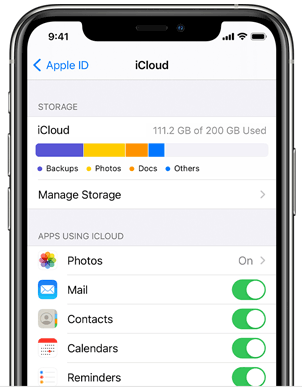 Got question? Read:
Why Is iCloud Backup Stuck? How to Solve iCloud Backup Not Working?
14 Proven Fixes to iPad Not Backing Up to iCloud & iTunes
Part 2. Learn How to Restore iPhone Messages from iCloud
Below is the complete guide for restoring messages from iCloud. Read on to see if any of the methods would suit you.
Solution 1. How to Retrieve Messages from iCloud Directly
iCloud messages recovery does not offer the option to preview Backup file content. As such, a professional data recovery tool comes in handy. A professional third-party application can easily enable you to view the content of your iCloud backup files and recover the selected messages quickly. An excellent example of a powerful data recovery tool is iPhone Data Recovery.
This data recovery tool can recover over 20 file types from iOS devices, iCloud, and iTunes backups. It has advanced Intel acceleration and hardware configuration, which allows for fast scanning speed and a high success recovery rate. Compared to similar products, it is superior and recommended as the best choice. Its intuitive user interface makes it easy to use and an excellent choice for novice users.
iPhone Data Recovery Key Features:
Recovers lost data from iOS devices, iTunes backups, and iCloud backups.
Support 20+ file types recovery, including messages, contacts, call history, photos, videos, etc.
Recover lost files due to an iOS device crash or factory reset.
Intuitive user interface that is easy to use.
High recovery rate and fast scanning speed.
Below are the steps to recover text messages from iCloud using iPhone Data Recovery.
01Begin by downloading iPhone Data Recovery from the official website and install it on the computer.
02Tap on the "Recover from the iCloud Backup File" option after launching the application and log into the iCloud account using your credentials. Tap the "Trust" popup button if you have set two-factor authorization. After that, you will receive a verification code on your iPhone. Key in the code into the software interface.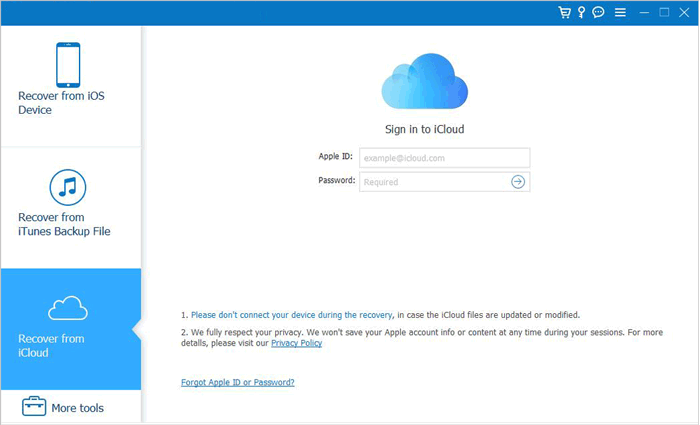 03Scan and recover messages. There are two ways to scan and recover messages on iCloud using iPhone Data Recovery.
Way 1: Selecting Your Target Data
You need to select the type of data that you wish to recover. Select "Messages" as the recovery data type and click the "Start" button to begin scanning.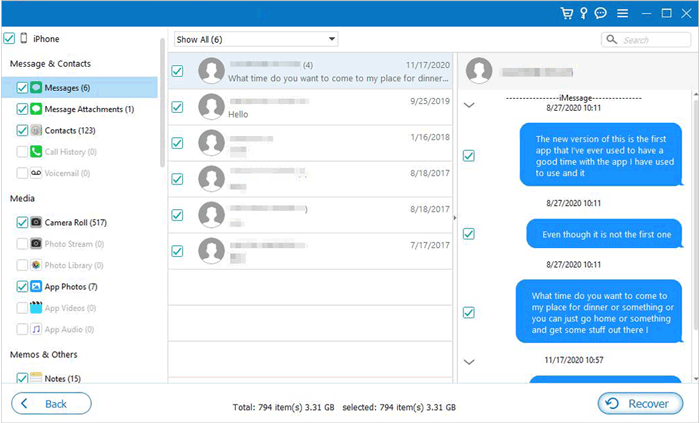 The scanning will take a while, wait for the scanning process to complete, select your target data and finally hit the "Recover" button to move the messages to your computer.
Way 2. Scanning from iCloud Backup
You need to click the "iCloud backup" button to view the Backup files available on your iCloud. Pick the backup file of your choice and click on the "Download" button.
A popup showing available data types on your iCloud backup will be displayed. Select your desired data items (Messages) and click on the "Next" button.
iPhone Data Recovery software will begin the scanning process. After the scan, iPhone Data Recovery will display a list of messages that can be recovered from your iCloud Backup. Select your desired messages and click the "Recover" button to save them to your computer.
Read more relevant articles:
How to Recover Photos from iPhone without iCloud [With Tutorial]
How to Retrieve Deleted Text Messages on iPhone with or without Backup
Solution 2. How to Recover Messages from iCloud Backup
How do I retrieve text messages from iCloud Backup? If iCloud Backup is enabled in Settings, you can easily restore text messages from previous iCloud Backup files. However, you must reset your device to factory settings before restoring, which erases all data and requires you to set up your iPhone again. This is risky, and it is recommended that you ensure that the deleted messages are included in your iCloud Backup before proceeding.
Step 1. Confirm that your target messages are available on your iCloud Backup.
Confirming that your target messages are available on your iCloud Backup before starting the process is prudent. To confirm, you need to run the "Settings" application, tap on the "Your Name" button and hit the "iCloud" button. Proceed to the "Manage Storage" option and click the "Backups" option.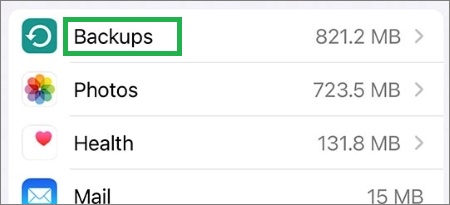 You will be able to view all the available backups. Tap on the available backups to see their information. Proceed to the following steps if your target messages are available on the backups.
Step 2. Reset your iPhone.
To begin, you must delete all the data from your device. However, ensure you have taken a complete data backup to a secure location beforehand. Reset your device by launching your iPhone's "Settings" application, tapping on the "General" button, tapping on the "Reset" button, and finally, hitting on the "Erase all content and settings" and confirm the action by entering your device's passcode.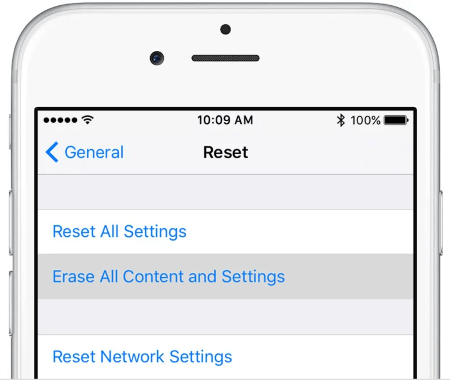 Step 3. Restore your messages from iCloud.
Please wait for some time. Your iPhone will restart on its own, and you will be able to see an Apple logo displayed on the screen. After completing the setup process on your iPhone, you will be prompted to restore your data. Tap the "Restore from iCloud Backup" option and log into the Apple account using your credentials. Select the most recent Backup to begin to restore messages from iCloud Backup.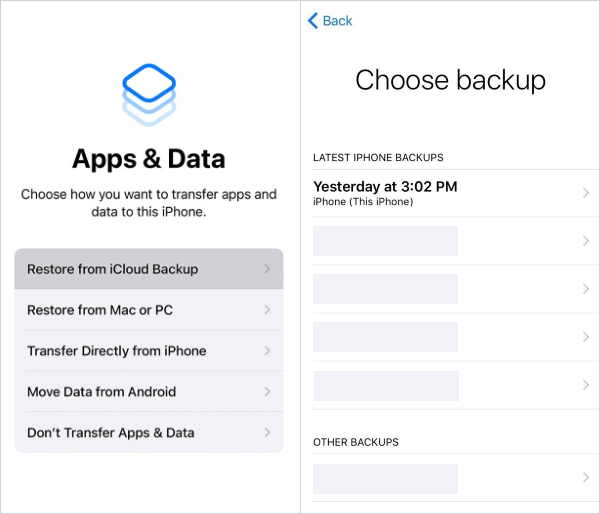 See also:
Contacts & SMS Recovery for SIM Card in iPhone
How to Fix Touch ID Not Working on iPhone in No Time? (Incredibly Simple)
Solution 3. How to Get Messages Back on iPhone from iCloud Messages
If you need to recover lost text messages, downloading them from iCloud is easy. All it takes is a bit of patience because it can take up to two days for the download process to complete. The best thing about this method is that you will not be required to reset your iPhone. Follow these simple steps to get your messages back:
Step 1. Launch your iPhone's "Settings" application and tap on the profile picture or your name. Then go to the "iCloud" option.
Step 2. Toggle the button next to "Messages" toward the right and then toggle it to the left.
Step 3. A popup message will appear with some options. Tap on the "Disable and Download Messages" to confirm the action.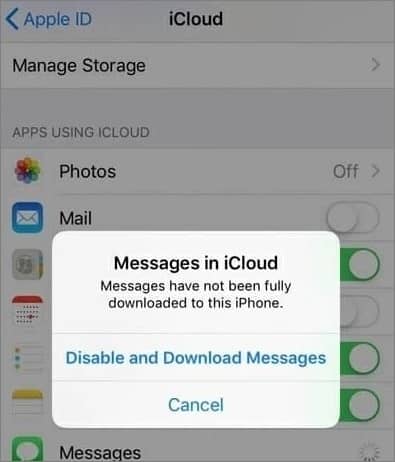 Conclusion
Now you know how to get old messages from iCloud using the methods discussed in this article. However, the most efficient method of recovering messages from iCloud is using iPhone Data Recovery. It is highly recommended because it is easy, has a high success rate, and, most importantly, offers an intuitive user interface that makes it the best choice for novice users.
Related Articles:
iPhone Calendar Disappeared: How to Recover Calendar App & Events on iPhone
How to Fix the iPhone Transferring Data Stuck Issue Effortlessly? 14 Quick Tricks Here
List of 10 Best iPhone Backup Extractor Software
[Fixed] How to Extract Photos from iPhone Backup?
How to Undo a Restore on iPhone
iPhone Calendar Disappeared: How to Recover Calendar App & Events on iPhone