As is known to all, Facebook, naming after a colloquialism for the directory given to students at some American universities, now has been increasingly popular around the globe. Now, it has turned into a social media platform which attracts more and more users. This Facebook platform allows users to upload words, photos, short videos so as to share the funny moments with their friends and families. Also, if you see some amusing videos on the Facebook platform, you can also download Facebook videos to your iPhone or iPad so as to please yourself whenever you are down.
So do you know how to upload videos to Facebook or download Facebook videos to your iPhone/iPad? Don't worry! This passage will tell you how to do it!
Part One: How to Upload Videos to Facebook?
After modifying videos with professional video editor, you may want to upload your masterpiece to Facebook, so as to invite your friends to enjoy it with you!
Way 1: Directly from iDevice
> Open your iPhone or iPad to find the videos that you want to upload to Facebook. Click on it when you find the video.
> Tap on the bottom left of the screen and you will see a Mail option, which will bring up an email screen.
> If you want to write some captions for the video, you can type the words in the subject line. This message will appear as text along with your video.
> Now type in your post-by-email Facebook address. If you forget this address, just click on More Options under the status tool and select Upload Photo. Then use the email address under Post it by email.
> Then your video will be automatically posted to Facebook. One thing worth your attention is that videos posted through your phone are public by default, so you need to adjust the settings if you want these videos to be posted as private.
Way 2: Using Facebook App
If you have already download Facebook application on your iPhone, you can try the way as instructed in the below:
Step 1. Open the installed Facebook application on your iPhone, and sign in right Facebook account and password.
Step 2. Click on the option of News Feed. Then select Photo > Take Photo or Video or Choose from Library to select a video that you want to upload to Facebook.
Step 3. Write down a video title in the supplied box if needed, then click Done button to begin the uploading process.
Now, just wait for the process to be finished. During the file uploading process, make sure that the Wifi environment is stable, or otherwise your video may fail to be uploaded to Facebook. After uploading your videos to Facebook, you may have found some amusing videos on the Facebook circle, so how can you download Facebook videos to your iPhone/iPad?
Part Two: Download Facebook Videos to iPhone/iPad
In order to download any Facebook videos to iPhone/iPad as you wanted and needed, a professional downloader like Video Downloader for Facebook is what you will need!
Step 1. After downloading this Video Downloader for Facebook on Apple store, open it on your iPhone/iPad with double clicks. After that, enter your Facebook account to synchronize with this app. And then tap on the Home button. Now, you will see the below interface. Choose the option of Public Viral to continue.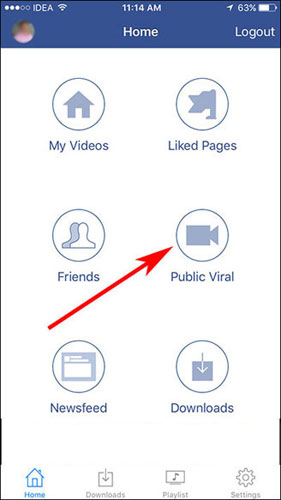 Step 2. Now, you are free to download videos from My Videos, Liked Pages, Friends, Public Viral, and News Feed as you needed and wanted by clicking the top right icon as pictured in the below.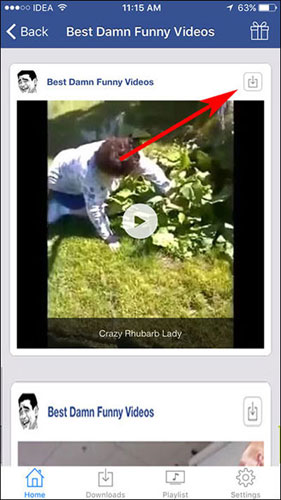 Step 3. You can then view all your downloading process in the Downloads tab. Once it is finished, you are free to enjoy these interesting videos whenever you want even if the internet is inaccessible.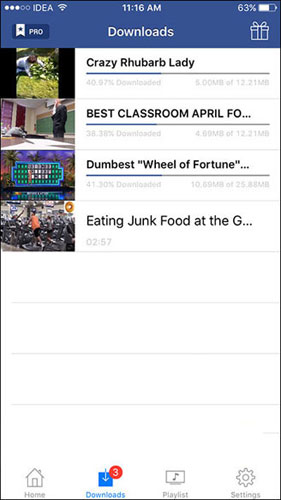 Write in The End:
If you have saved many videos with your iPhone or iPad and didn't upload them to your Facebook, why not consider transferring these videos from your iPhone to computer with this Coolmuster iOS Assistant software. This software allows you to transfer all types of files from iPhone/iPad/iPod to computer as a backup in case of sudden data losses without any difficulty. This is exactly the software you are looking for? Then what are you waiting for? Just choose the right version of this software and give it a try by yourself!
Related Articles:
How to Export iTunes Library between Computers
Where to Get Free Movies for iPhone/iPad/iPod
9 Top-ranking Titanium Backup Alternatives to Back Up Your Android Phone Easily
How to Add Ringtones to iPhone 14 from Computer (Best Ever)
How to Save WeChat Messages from iPhone to Computer [Fixed]
How to Retrieve Deleted Text Messages on iPhone with or without Backup