With superior video cameras on iPhone/iPad/iPod devices and powerful apps that bring post production to your fingertips, creating a great video can all be done easily in the palm of your hand! Now, you can shoot any videos when on a special day, such as Christmas Day, Thanksgiving Day and etc. to memorize the intimate and precious time spent with your families and friends. Those unforgettable memories can surely be a big fortune of your life, right? Here, a list of best video editors for iPhone were given for your reference. Let's get them one by one!
Top 1 - iMovie (
$4.99

)

iMovie allows you to enjoy your videos like never before due to its streamlined design and intuitive Multi-Touch gestures. With this powerful application, you are able to freely browse your video library, share favorite moments, create beautiful movies and watch them on your device. There are eight themes that each have a set of titles, transitions, AND music. Users are also able to record audio directly into the timeline. For iPhone 6S users, the newest 3D touch feature even allows you to quickly start a new project from the Home Screen or Peek at a movie from the Projects browser. After polishing your videos, you can also publish it in HD straight to YouTube, Facebook, Vimeo and etc to share your works with others.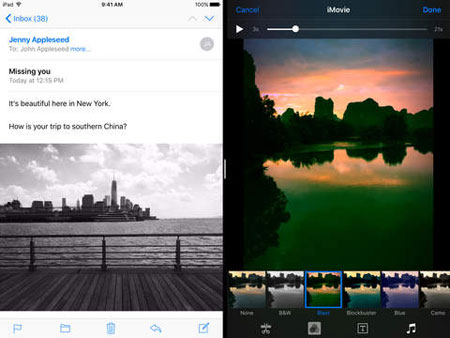 You Can Click Here to Download iMovie >>>
Top 2 - CinemaFX for Video (
$1.99

)

With this application, you can also be a master of Hollywood films. As the most comprehensive video editor for iOS products, this application allows you to add all different gorgeous look and feel to your videos with ease. This app includes several effect packages that bring a new look to videos with stylistic themes such as Egyptian Gold, Charmed Glow, Dark Comic, Surveillance Cam, Vampire World, WWII, Indian Summer, 70s Dusty, and many more. You can easily stack up to 3 effects together, preview the effects side by side in comparison with the original video. With this application, you are free to adjust settings for selected effects to create your own styles. Moreover, you can directly upload your masterpiece to YouTube or email to your friends or families without any restriction.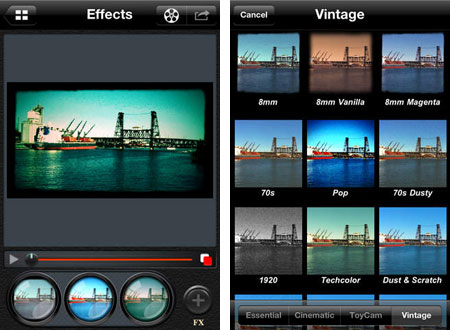 Top 3 - Tempo Video Editor (Free)
This Tempo Video Editor can allow you to fully manage the tempo of you video. You are free to slow it down or speed it up as you wanted and liked while ensuring that they play in real time. Moreover, with this application, you can add music to your videos in Tempo, and your music will play nice and steady even if the tempo of your video is changed. With this application, yo can have great fun in your daily life. Tempo is the ultimate app for slowmo & timelapse.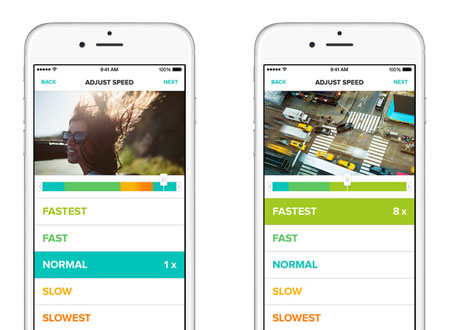 Top 4 - Video Editor FREE (Free)
Video Editor Free offers you the chance to add photos, music, voices and transitions to your videos as wanted. You are free to trim, merge, and share your video clips as liked. The feature of precise frame-by-frame trimming enables users to decide the beginning and ending of their own videos, you can cut any clips as needed and wanted. Multiple video clips can be quickly rearranged with the drag-and-drop feature. You can merge different videos in one without any restrictions. In a word, with this application, you are free to modify your videos completely to your own taste. But one thing needed to be remembered is that 99 cents are required for adding extra files like music, photos and etc. to your video.
Top 5 - Splice (
Free

)

The feature of drag and drop timeline within Splice allows you to freely trim, crop and adjust the speed of your videos and edit all aspects of the video. With free filters, songs, sound effects, text overlays, transitions, and precise editing tools included, users can easily add special sound affects, music tracks and boarders that can be bought to enhance the video as needed. With this application, you can perfectly make videos like a pro, on your iPhone without any hassle.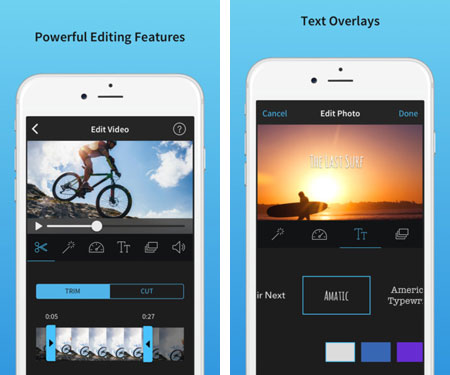 You Can Click Here to Download Splice >>>
Top 6 - Animoto Video Maker (Free)
Want to make fun videos wherever you are? This Animoto Video Maker can do it! With this application, you can directly choose photos & video clips from your camera roll or import from iCloud and Dropbox and then you can personalize your video by changing the styles, adding music or photos as you wanted. With this application, you can actually turn your photo album into a beautiful music video. Once you have done, you can share it via Messages, email, Twitter, and Facebook and impress the socks off your friends and family!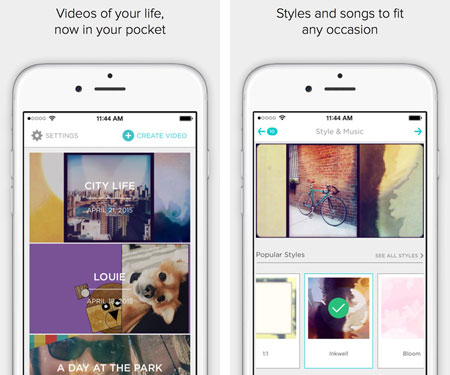 You Can Click Here to Download Animoto Video Maker >>>
Words in The End:
Now, with the useful video apps mentioned in the above, you can actually make special videos as you wanted and liked. The flourishing of applications indeed has penetrated in our daily life, you can use photo apps to beautify your photos; you can rely on contacts apps to manage your contacts lists in order; you can choose messaging apps to freely connect with your friends and families without costing much; you can download book apps, game apps, or music apps when you want to entertain yourselves; you can get weather apps to get informed of the weather conditions at any time and any place; you can download free ringtones apps to set your own personalized ringtones. More and more different applications keep cropping up, in an effort to facilitate your life to the best! Once you have downloaded too many applications on your iPhone, iPad or iPod, you can use the best iOS Data Manager to manage all your apps in good order and keep them as a backup, so you can easily find them whenever you want and you won't lose these practical tools anymore!
Related Articles:
Free Audiobook Sites for iPhone and iPad